All aboard for a 'star tern'…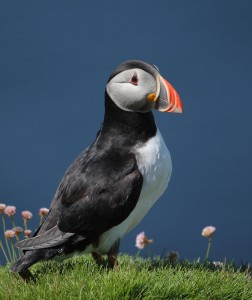 We leave Eastwood by people carrier at 9am and drive north to the Durham Wildlife Trust Low Barns reserve, with the possibility of Kingfisher and various warblers at this wooded wetland reserve. After lunch and a stroll here, we arrive in the picture postcard village of Warkworth on the Northumberland coast, in good time for dinner at The Sun Hotel. This 17th century coaching inn, situated on the bank of the River Coquet, immediately below the imposing 12th century castle is a tried and tested favourite with our groups.
On one day we drive a short way north to Seahouses for a boat trip to the fabulous Farne Islands. Weather permitting we sail with a packed lunch, landing on Staple Island in the morning and Inner Farne in the afternoon. These islands are one of Britain's most important seabird colonies and will be alive with twenty different breeding seabirds in their thousands. Many are very confiding and allow really close views so bring a hat! The low cliffs of Staple have huge colonies of Kittiwake, Shag, Razorbill and Guillemot, while Inner Farne offers nesting colonies of Common, Arctic and Sandwich Terns, plus Eider and Puffin.
On another day we explore this bird rich stretch of coast, where the Northumberland Wildlife Trust Hauxley reserve offers the chance to see a range of waders such as Redshank, Curlew, Bar-tailed Godwit, Oystercatcher, Lapwing, Ringed Plover and Turnstone. At nearby Druridge Bay, the dunes will be alive with singing Meadow Pipit, Linnet, Stonechat, Skylark and Grasshopper Warbler with its strange insect-like 'song'. A number of lagoons here attract many birds including scarce Little Gulls, and on previous visits we have also seen Barn Owl, Spoonbill and White-winged Tern! Weather permitting we also take a short boat trip around Coquet Island, home to 40,000 breeding seabirds, including Britain's only colony of rare Roseate Terns. We complete this 'tern fest' with a visit to a Little Tern colony on the Durham coast on our way home, giving us the opportunity to see all five of Britain's breeding terns in one short trip!
Cost £345 Waiting list only.
What the price includes:
Return transport from the Nottingham area, three nights' en-suite accommodation with breakfasts, bird checklist and the services of your guide.
Please note that as the boat trips (approximately £50) are weather dependant, they are not included in the tour price, and neither is the Farne Island landing fee of £27.30, as this is free for National Trust members.
Deposit: £100
Single supplement: £90