This is a great time to visit the Lancashire coast between Formby Point and Morecambe Bay, when tens of thousands of waders and wildfowl will be arriving from much further north, including around 30,000 Pink-footed Geese from Iceland and Greenland!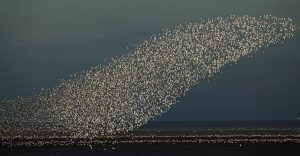 Leaving Eastwood at 9am by people carrier, we drive north to arrive at the Moore Nature Reserve, in time for an afternoon walk, with a packed lunch in one of the hides. On this varied reserve, we may see a variety of wildfowl and woodland birds. Continuing north, we have four nights in Newburgh village at The Red Lion Hotel, one of the oldest inns in the area, with excellent reviews on Trip Advisor. From here we have three full days to explore the nearby Lancashire coast between Formby Point and Leighton Moss. It is but a short drive from the hotel to the Mere Sands Wood reserve, which we shall explore on foot, where we have another chance to see a variety of wetland and woodland birds, including Redpoll and Willow tit. Moving on we visit the very nearby Martin Mere Wildfowl and Wetlands Trust reserve, in time for lunch in the visitor centre, followed by an afternoon watching thousands of water birds such as Bewick's and Whooper Swans, Pink-footed Geese and Ruff, while a good range of raptors, including Barn and Short-eared Owls are also possible. Next day, we visit Leighton Moss, a fabulous flagship RSPB reserve, famous for Bitterns, Marsh Harriers and Bearded Tits, while other possibilities here include Pintail, Water Rail, various waders, Red Deer and even Otters! A quick visit to nearby crags may also produce Peregrine and Raven. Next day we have a short drive to the Marshside RSPB reserve, to coincide with a late morning high tide, pushing spectacular flocks of wildfowl and waders such as Wigeon, Golden Plovers and Black-tailed Godwits close inshore, attracting a variety of raptors such as Sparrowhawk, Merlin and Hen Harrier. Continuing a short way south along the coast, we come to Formby Point, home to photogenic Red Squirrels. On Friday we return home via Pennington Flash Country Park, where the hides may produce water birds like Goldeneye, Water Rail and Snipe. After lunch in the visitor centre, there will be a final roll call of the birds seen, and so by 'home time' we should have a really good bird list!
Cost £430 Only one place left.
What the price includes:
Return transport by people carrier from the Nottingham area, four nights' en-suite accommodation with breakfasts, bird checklist and the services of your guide.
Deposit £100
Single supplement: £125