Straddling the equator, 600 miles west of the South American coast, is a remote and spectacular volcanic archipelago, nicknamed 'The Enchanted Islands', inhabited by an astonishing array of unique creatures, which inspired Charles Darwin to formulate his Theory of Evolution by Natural Selection in 1859. The animals here are so incredibly tame and obliging that going ashore is like becoming invisible, as one literally has to step over the fearless wildlife! Due to their isolation, many of the islands' species are endemic, such as the five species of mammal and twenty different reptiles, including numerous prehistoric looking Marine Iguanas, the only lizard which feeds at sea, capable of diving down to thirty feet, and the iconic lumbering Giant Tortoises, which have such a long lifespan that some present day individuals may have been around when Darwin published his theory! There are also thirty-four endemic bird species, including the celebrated Darwin's Finches, of which there are seventeen, all derived from a common ancestor, and each now occupying its own niche thanks to a remarkable variation in bill size and shape, ranging from the deep heavy bill of the Large Ground Finch, to the fine pointed beak of the Warbler Finch. In addition to these extraordinary land birds, there are large colonies of equally approachable seabirds including around 18,000 pairs of the majestic Waved Albatross, which perform their comical courtship displays on Española (also known as Hood, as each island has both Spanish and English names). No wonder then that The Galapagos are ranked as the fifth most important birding site in the whole world!
A good choice of vessel is vital to the success of any cruise and there is no better choice than the Cachalote Explorer, a beautifully decorated modern motorised vessel, which meets all international maritime regulations and safety standards. With only eight air-conditioned en-suite cabins, this is no cruise liner, and so you could be one of just sixteen privileged passengers enjoying first class service on this intimate Galapagos adventure, which offers the opportunity to snorkel in clear water with inquisitive Galapagos Sea Lions, turtles, a multitude of colourful fish and harmless Hammerhead and White-tipped Reef Sharks! In between these bouts of excitement, we can relax on comfortable cushioned seats on any one of three different wooden decks, as we sail between the islands, before going ashore to meet the 'friendly natives'. Throughout this amazing journey, we will hopefully be accompanied by Juan Tapia, the top local guide, and the only one able to imitate the calls of each of Darwin's Finches!
During the cruise, the usual daily routine will be as follows; breakfast at 7am, followed by a land visit of about two hours. Wherever possible we then have the option of snorkelling before lunch on board, followed by sailing for about one to three hours at most. There may be another opportunity for snorkelling in the afternoon, followed by another land visit of around three hours. We have to be back on board by 6pm. Dinner on board is followed by a review of the day's sightings and a briefing on the next day's activities, including whether the landings will be 'wet' (by wading ashore onto a beach from a dinghy) or 'dry' (by landing onto flat rocks or a jetty). Longer sailings will be made overnight.
Words cannot adequately prepare the visitor to such a paradise for nature lovers and wildlife photographers, and even non-birding partners will be enthralled by the experience, so don't miss the boat, and join us on this ultimate wildlife cruise!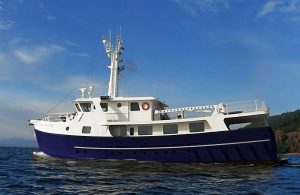 Day 1 We depart Heathrow airport on an early morning flight with Iberia, via Madrid to Quito, where we arrive late afternoon and transfer to the lovely Casa de Campo Tababela, in bird rich gardens not far from Quito. Dinner and overnight at Casa de Campo Tababela.
Day 2 We have a free day at the 'Casa', where you may choose to enjoy the birdlife in the grounds, or visit the old colonial centre of Quito, which is a UNESCO World Heritage Site. Dinner and overnight at Casa de Campo Tababela.
Day 3 From Quito, we have an early morning flight to Baltra (South Seymour) where we should encounter our first Small Ground Finches, hopping around outside the airport. We will be welcomed by our local guide here and transferred by a short ferry to Santa Cruz (Indefatigable), where we drive into the lush highlands to see the Giant Tortoises, along with possibilities like Small and Medium Ground Finches, Large and Small Tree Finches, Galapagos Dove, Galapagos and Vermillion Flycatchers, Smooth-billed Ani, Dark-billed Cuckoo and the Woodpecker Finch, which uses twigs as tools to ease insects out of crevices in tree bark! After lunch in a local restaurant, we take a private bus to Puerto Ayora where we visit the Charles Darwin Research Station, which houses a Giant Tortoise and Land Iguana breeding programme and often has Cactus and Vegetarian Finches in the grounds. There will also be time to explore the local town before boarding our yacht around 5pm. Throughout the cruise, we may be shadowed by Frigatebirds, Galapagos Petrels and Elliot's Storm Petrels, and we could see various whales and dolphins at any time! Dinner and overnight aboard the Cachalote Explorer.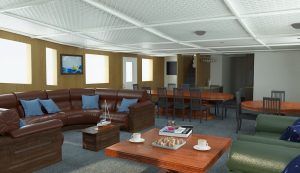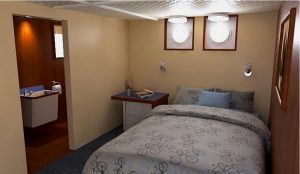 Day 4 This morning we visit South Plaza, a small arid but picturesque island, covered by a forest of Prickly Pear cacti, and inhabited by large yellow Land Iguanas and Galapagos Mockingbirds, with graceful Red-billed Tropicbirds gliding along the cliff tops. In the afternoon, a relatively short sail south takes us to Santa Fé (Barrington) where a 'wet' landing on a white sandy beach will allow close views of a colony of Galapagos Sea Lions, nesting Brown Pelicans and endemic Swallow-tailed and Lava Gulls, while possible land birds include Galapagos Hawk, Galapagos Mockingbird and Yellow Warbler. There will also be a fabulous opportunity to swim with the friendly Sea Lions here. Dinner and overnight aboard the Cachalote Exporer.
Day 5 Today we visit San Cristóbal (Chatham), the easternmost of the islands, with its own Chatham Island Mockingbird. After a pre-breakfast snorkel, possibly with Hammerhead Sharks, we sail to Witch Hill, a volcanic cone, where we make a 'wet' landing on a lovely sandy beach with several trails to explore. The beach is home to a colony of Galapagos Sea Lions and Blue-footed Boobies, with possible waders like American Oystercatcher, Willet, Wandering Tattler and Least and Spotted Sandpipers. After lunch, we have a longer than normal sailing to Puerto Baquerizo Moreno, where we take a bus to the Galapaguera caldera, which contains the only freshwater lagoon in these arid islands, and is a good place to see more Giant Tortoises. Dinner and overnight aboard the Cachalote Explorer.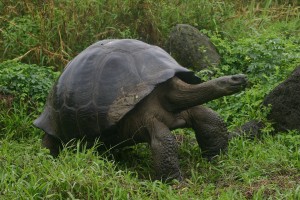 Day 6 We have the luxury of a full day on remote Española (Hood) which is the southernmost of the islands and one of the most exciting, with fantastic snorkelling opportunities in Gardner Bay, where the long white sandy beach is littered with hundreds of Marine Iguanas and playful Galapagos Sea Lions. Once ashore we must get past the welcoming party of inquisitive shoelace-tugging Hood Mockingbirds, before we can marvel at the fabulous wealth of life here including Nazca Boobies, Great Frigatebirds, Red-billed Tropicbirds and Swallow-tailed and Lava Gulls, while this is the only place we can see the Waved Albatrosses on land, at very close quarters! From the cliffs of Punta Suarez, we can also watch a spectacular blowhole, which regularly shoots a jet of surf sixty feet into the air! Today will definitely be one of the highlights of the cruise. Dinner and overnight aboard the Cachalote Explorer.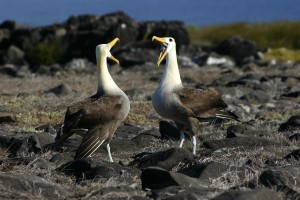 Waved Albatross courtship display
Day 7 Today we visit Floreana (Charles) with a 'wet' landing at Punta Cormorant, where the coastal lagoon attracts deep pink Greater Flamingos, plus Great Blue Heron, Yellow-crowned Night Heron and White-cheeked Pintail. Offshore, the Devil's Crown is a submerged volcanic crater, with another great opportunity to snorkel with a multitude of tropical fish, turtles and possibly Hammerhead Sharks! After lunch back on the yacht we make another 'wet' landing, this time at Post Office Bay, where eighteenth century whalers left mail in a barrel to be collected by other ships returning home. Dinner and overnight aboard the Cachalote Explorer.
Day 8 This morning we have another snorkelling opportunity, this time at Dragon Hill back on Santa Cruz, where the saline lagoon offers another chance to see water birds such White-cheeked Pintail, Black-necked Stilt and the really pink Flamingos. During lunch we sail to Santiago (James) for a 'wet' landing at Sullivan Bay, to visit an alien landscape inhabited by tiny cacti, Painted Locusts and endemic Lava Lizards. The interesting 'rope' patterns in the unearthly jet black lava, only solidified just over 100 years ago! Dinner and overnight aboard the Cachalote Explorer.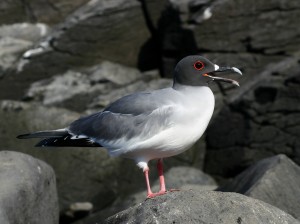 The endemic Swallow-tailed Gull
Day 9 After a long overnight sailing, we arrive at isolated Genovesa (Tower), the most northerly of the islands on this cruise, where a dinghy ride along the cliffs may provide close views of Galapagos Fur Seals, Galapagos Shearwaters, Red-billed Tropicbirds and Swallow-tailed and Lava Gulls, while a landing at Prince Philip's Steps will bring us close to a multitude of other seabirds including Great Frigatebirds, Red-footed and Nazca Boobies and swarms of Wedge-rumped Shearwaters which are preyed upon by the dark-faced endemic subspecies of Short-eared Owl. Dinner and overnight aboard the Cachalote Explorer.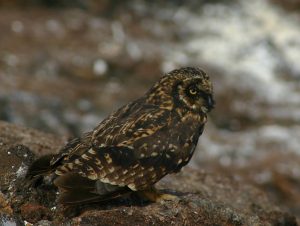 Short-eared Owl
Day 10 Having returned south across the equator overnight, we spend our last morning of the cruise back on Santa Cruz, with a tranquil dinghy ride through the mangroves of Turtle Cove, where Golden and Marbled Rays swim just below the surface of the clear water, along with Green Turtles, while the mangroves provide perches for Striated Herons and Brown Pelicans, all at close range as usual. From here we return to nearby Baltra for a mid morning flight back to Quito, where we arrive mid afternoon, in time for those not taking the optional mainland Ecuador extension to check in for an evening overnight flight back to Heathrow, via Madrid. Dinner and overnight in flight.
Day 11 You arrive at Heathrow airport this afternoon.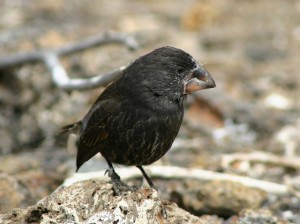 Large Ground Finch
Cost £4580 Only one place left.
Your participation in this cruise will help to finance the continued conservation of this unique ecosystem.
What the price includes:
Return flights from London Heathrow to Quito, via Madrid, with Iberia, two nights' full board en-suite accommodation at Casa de Campo Tababela near Quito, return flights from Quito to Galapagos, Galapagos Migration Card and National Park entry fee (120USD), seven nights' full board en-suite cabin, plus snacks and purified water during the cruise, all transport in Ecuador, all on shore excursions with licensed English-speaking guide, snorkel gear (excluding wetsuit, which can be hired on board for about 30USD), gift bag, field checklist and the services of your guides.
Deposit: £1900
Single supplement: £2995
Ecuador ~ Andean Highlights (Optional Extension) 24th July to 1st August 2019
The lofty Andes have a range of habitats which vary with the altitude, and so Ecuador has the world's fourth longest bird list, despite its small size! To minimise travelling time, with just two lodges, this extension concentrates on the area around Quito, which has more than 10% of the world's second largest bird family, the dazzling Hummingbirds, and so we may see up to thirty different species of these stunning little birds, including the amazing Sword-billed and Giant Hummingbirds, as well as a multicoloured spectrum of other exotic species, such as Golden-headed Quetzal, Toucan Barbet, Plate-billed Mountain Toucan, Andean Cock-of-the-Rock, numerous Tanagers and even the mighty Andean Condor! No wonder this area is ranked number 64 in the world's top 100 birding sites! Throughout this fantastic trip we shall be accompanied by Juan Carlos Calvachi, one of Ecuador's top bird guides, who knows all the songs and calls.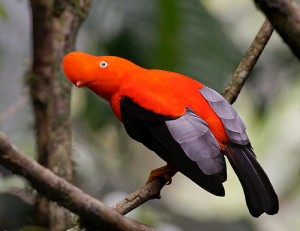 Andean Cock-of-the-Rock
Day 1 On our return to Quito from The Galapagos, we will be met by our local guide and transferred to the lovely Casa de Campo Tababela not far from Quito. The lodge is set in bird-friendly grounds with a list of over fifty species, such as Rusty Flowerpiercer, Golden-rumped Euphonia, Golden-bellied Grosbeak and the remarkable Black-tailed Trainbearer. Dinner and overnight at Casa de Campo Tababela.
Day 2 We drive to the nearby Bellavista area at 7300 feet, where the pristine cloud forest, festooned with wispy moss and red bromeliads, is roamed by the rare Spectacled Bear! Here we have the chance to see an enviable selection of birds like Sickle-winged Guan, Red-billed Parrot, Plate-billed Mountain-Toucan, Crested Quetzal, Masked Trogon, striking Crimson-mantled and Powerful Woodpeckers, Gorgeted Sunangel, Collared Inca, Red-crested Cotinga, Green-and-Black Fruiteater, Cinnamon, Golden-crowned and Ornate Flycatchers, Slaty-backed and Yellow-bellied Chat-Tyrants, Smoke-coloured Pewee, Turquoise and Beautiful Jays, Tanager Finch, Beryl-spangled, Blue-and-Black, Blue-capped and Grass-green Tanagers and many others. This afternoon we head for the Septimo Paraiso Lodge, 5600 feet above sea level in the upper Mindo valley, where we will be in 'seventh heaven' for the next four nights, as this elegant vintage style lodge with luxurious en-suite rooms and two swimming pools, serves excellent cuisine, amidst a lush cloud forest with an amazing biodiversity. Dinner and overnight at Septimo Paraiso Lodge.
Day 3 This morning we drive to Silanche, a small reserve at 1600 feet with tropical rainforest, where we have the chance to find lowland species like Choco and Yellow-throated Toucans, Pale-mandibled Aracari, Choco Trogon, Guayaquil, Black-cheeked and Cinnamon Woodpeckers, Black-striped, Plain-brown and Spotted Woodcreepers, plus Scarlet-browed, Silver-throated, Blue-necked, Golden-hooded, Rufous-winged and Grey-and-Gold Tanagers. We drive to Mirador Rio Blanco for lunch and an opportunity to watch their great feeders which attract hummers like Green Thorntail, White-whiskered Hermit, Green-crowned Brilliant and Andean Emerald as well as Orange-bellied and Thick-billed Euphonias and several other mid elevation birds. Dinner and overnight at Septimo Paraiso Lodge.
Day 4 We have a day trip to the Mashpi area, birding from 6000 feet down to 2700 feet, where a small reserve called Amagusa has feeders which attract  fantastic Choco endemics like Velvet-purple Coronet, Empress Brilliant, Purple-bibbed Whitetip, Violet-tailed Sylph and  Moss-backed, Rufous-throated, Flame-faced, Glistening-green and Black-chinned Tanagers. Other possibilities in this productive area include Cloud Forest Pygmy-Owl, Bronze-olive Pygmy-Tyrant, Black Solitaire, Indigo Flowerpiercer, Orange-breasted and Scaled Fruiteaters and many more cloud forest and subtropical species. Dinner and overnight at Septimo Paraiso.
Day 5 A short drive takes us to a fantastic Cock-of-the-Rock lek, where up to a dozen of these flamboyant males form a raucous social gathering, posturing and squabbling noisily every morning before quietly disappearing into the forest! This should be one of many highlights from this part of the tour. Next we pay a visit to Angel Paz, the famous 'Antpitta man' who has trained Yellow-breasted, Ochre-breasted, Moustached and even Giant Antpittas to feed on worms out of his hand! We may also see Dark-backed Wood-Quail and Rufous-breasted Ant-Thrush here, before enjoying a typical breakfast (not worms!) served in the grounds, while watching the fruit feeders with birds like Toucan Barbet, Golden-naped and Golden Tanagers, Crimson-rumped Toucanet and others. In the late morning we drive to a cave for a picnic lunch and then walk twenty yards into the cave to see the weird and wonderful Oilbirds roosting inside the cave barely ten feet away from us! After a very exciting day with many highlights we return to the lodge. Dinner and overnight at Septimo Paraiso.
Day 6 Today we leave Septimo Paraiso and visit the Yanacocha reserve at 11400 feet, with a picnic lunch. The temperate montane forest here offers fabulous birds like Sword-billed Hummingbird, Buff-winged Start-frontlet, Great Sapphirewing, Scarlet-bellied, Black-chested and Hooded Mountain-Tanagers, Barred Fruiteater, Rufous and Tawny Antpittas, Superciliaried Hemispingus, Glossy and Masked Flowerpiercers and several others. Dinner and overnight at Casa de Campo.
Day 7 We have a day trip to Antisana Volcano National Park, with stunning scenery which rises to 19000 feet, although we will be birding from the roadsides between 11000 and 13000 feet, where we hope to see several Paramo specialities like Caranculated Caracara, Black-faced Ibis, Andean Gull, Silvery Grebe, Black-chested Buzzard-Eagle, Giant Hummingbird, Shining Sunbeam, Many-striped and Streak-backed Canasteros, Andean Tit-Spinetail, Bar-winged and Stout-billed Cinclodes, Plain-capped Ground-Tyrant and Plumbeous Sierra-Finch, as well as the majestic Andean Condor. Dinner and overnight at Casa de Campo.
Day 8 We have a leisurely morning to enjoy the bird life at the lodge before leaving for the airport to check in for a late afternoon flight home, via Madrid, with Iberia. Dinner and overnight in flight.
Day 9 We arrive at Heathrow airport around 3pm.
Cost as an extension; £1995
Cost as a separate tour; £2895
Single supplement; £195
Deposit; £900 This will be waived for those already booking the Galapagos cruise
What the price includes:
Return flights from London Heathrow to Quito, via Madrid, with Iberia, seven nights' full board en-suite accommodation including snacks, all transport and reserve entry fees in Ecuador, bird checklist and the services of your guides.
Additional information:
The flight time to Madrid is 2 hours 30 minutes and the onward flight to Quito is 10 hours 55 minutes. The return flight to Madrid is 10 hours 40 minutes and the onward flight to Heathrow takes 2 hours 25 minutes.
A visa is not required for British citizens to visit Ecuador.
It is advisable to be vaccinated against Hepatitis A and Typhoid. There is no risk of Malaria.
In The Galapagos in July, temperatures range from 19 – 26°C, and so the average is 22.5°C. This is the cooler 'dry' season, with little or no rain, except for the possibility of light drizzle in the highlands, and so it is an ideal time to visit. In Quito in July, temperatures range from 10 – 20°C, and so the average is 15°C, with about 1 inch of rain, which is roughly half the amount we get in the UK in the same month.
We shall be staying in two comfortable and charming lodges, in superb wildlife rich locations, with very little travelling on each day.
Both tours involve easy walks with excellent photo-opportunities and we can expect to see over 250 bird species in addition to several special mammals and reptiles.