Never seen an Otter? Well now's your chance!
The islands of Islay and Jura are blessed with superb scenery, a rich heritage and are vibrant with wildlife. On Islay there are flocks of wild geese in their tens of thousands, gathering in anticipation of the spring thaw in Greenland. Peak numbers include up to 35,000 Barnacle Geese (70% of the Greenland population) grazing alongside 14,000 White-fronted Geese of the Greenland sub-species; spectacular sights and sounds, and among this throng it is sometimes possible to pick out the odd vagrant Snow Goose or 'true' Canada Goose. Loch Indaal, a large sea loch, attracts numerous Red-throated, Black-throated and Great Northern Divers, occasional Whooper Swans and pale-bellied Brent Geese, plus Slavonian Grebe, Long-tailed Duck, Common Scoter, Wigeon, Red-breasted Merganser, up to 2,000 Scaup, Black Guillemot and various waders including Purple Sandpiper, as well as Rock Pipit, Twite and Snow Bunting. As if this were not enough, Islay is a stronghold of the rare Chough, bouncing on the air with fingered wings, and both islands are also home to a wealth of raptors including Merlin, Kestrel, Sparrowhawk, Peregrine, Hen Harrier, Buzzard and majestic Golden and White-tailed Eagles. Swarming with birds, Islay in late winter offers some of the best birding anywhere in Britain, in a wild landscape, where ancient high standing stone crosses have witnessed the history of this Gaelic isle through three millennia! On a previous trip we enjoyed daily sightings of Otters on Islay, and on Jura, over four previous visits, we have a 100% success rate for very close views of Otters! Other mammal sightings should include Red, Roe and Fallow Deer, Common and Grey Seals, Rabbit, Hare, and wild 'Spanish Armada' Goats!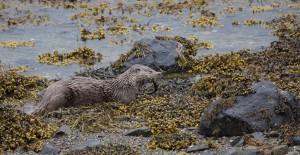 We depart Eastwood by people carrier at 8am and drive north of the border to Kennacraig in time for the early evening ferry to Islay. Once on Islay, we have five nights at the highly acclaimed Bridgend Hotel, which has been a traditional coaching inn for over one hundred and fifty years. Located at the heart of Islay, not far from the bird rich Loch Indaal, and ranked the number one hotel on Islay by Trip Advisor, this is the ideal base for exploring the delights of Islay, which include the rugged Oa peninsula, the 1200 year old standing stone cross of Kildalton, Loch Indaal, a bird rich sea loch, and the Loch Gruinart RSPB reserve. We shall also take the ferry across to nearby Jura to spend a day exploring this even wilder island.
Cost £845 – Waiting list only.
What the price includes:
All ground transport between Eastwood and Islay, return ferries from Kintyre to Islay, five nights half board en-suite accommodation, return ferry to Jura, all excursions, bird checklist and the services of your guide.
Deposit: £100
Single supplement: £150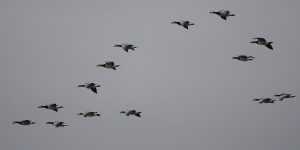 Barnacle Geese