The English coast between Portland Bill in the west and Pagham Harbour in the east, with several RSPB reserves in between, is a very productive birding area, particularly in Autumn. Breeding specialities such as Little Egret, Peregrine, Mediterranean Gull, Little Tern, Kingfisher, Bearded Tit and Cetti's and Dartford Warblers are joined by a variety of regular summer migrants such as Garganey, Osprey, Hobby, Whimbrel, Turtle Dove, Yellow Wagtail, Ring Ouzel, Redstart, Whinchat and Spotted and Pied Flycatchers, which gather here prior to leaving. There are also vast numbers of newly arrived wildfowl and waders, with internationally important numbers of Brent Geese, Grey Plover, Dunlin and Black-tailed Godwit, as well as the possibility of Pintail, Avocet, Little Stint, Ruff and Green, Wood and Curlew Sandpipers. At this exciting time a good selection of rarities is also likely which could include Spoonbill, Honey Buzzard, Yellow-legged Gull, Black Tern, Wryneck, Melodious, Subalpine and Yellow-browed Warblers, Red-backed and Woodchat Shrikes, Ortolan Bunting and maybe even something from further afield such as some of the North American waders! For example, Autumn 2015 produced a long-staying Long-billed Dowitcher!
We leave Eastwood by people carrier at 9am and break our journey south with a visit to the RSPB Otmoor reserve, famous for a good number of Hobbies, while Red Kite is also possible. Journey's end is the fabulous Chilworth Manor Hotel, an Edwardian manor house, in a peaceful setting amidst 12 acres of beautifully landscaped grounds. This is the ideal location for heading in either direction along the coast and over the next four days we shall visit the key sites such as Portland Bill, Radipole Lake, Lodmoor, Brownsea Island, Titchfield Haven and Langstone and Pagham Harbours, according to incoming news of rarities, and so we should end up with an enviable list of top quality bird sightings.
Cost £590 – Only one place left.
What the price includes:
Return transport from the Nottingham area, four nights half board en-suite accommodation, ferry to Brownsea Island, bird checklist and guidance.
Deposit £100
Single supplement: £160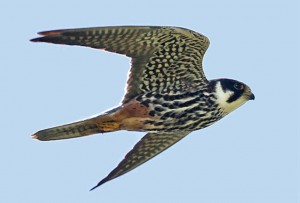 Hobby