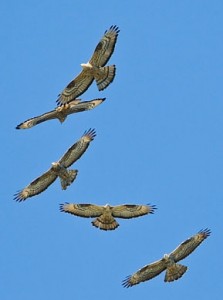 Honey Buzzards over Batumi
Join us on a journey to the farthest fringes of Europe, where the Pontine Mountains along the border with Turkey to the south are further east than Jerusalem! Mountainous Georgia is a land of exceptional beauty with a range of diverse ecosystems including magnificent mountains, alpine meadows, lakes and rivers, semi deserts, a Black sea coastline and forests which cover 40% of the country. With a list of over 330 bird species including specialities like Caspian Snowcock, Caucasian Black Grouse, Eastern Rock Nuthatch and Red-fronted Serin, these mountains are ranked number 35 in the World's top 100 birding sites! Meanwhile, the coastline near Batumi, where the mountains meet the sea, creates a spectacular bottleneck for birds migrating south to Africa and southern Asia, and the sheer number of birds can top 100,000 in a day, making this one of the greatest migration watchpoints on Earth! Our visit is timed to coincide with the largest diversity of raptors, which can include seven species of Eagle; Booted, Short-toed, White-tailed, Imperial, Steppe, Spotted and Lesser Spotted, as well as plenty of Black Kites, Montagu's and Pallid Harriers, Rough-legged and Honey Buzzards, Goshawks and Levant Sparrowhawks, plus Red-footed and possibly Saker Falcons. With up to forty annual records, this is also the best place in the western Palearctic to spot a Crested Honey Buzzard from eastern Siberia! Other large migrants can include Dalmatian and White Pelicans, Black and White Storks and even Demoiselle Crane. Meanwhile, the nearby Chorokhi Delta offers an exciting list of possibilities such as Broad-billed, Terek and Marsh Sandpipers, Collared and Black-winged Pratincoles, Gull-billed and White-winged Terns, Scops Owl, Wryneck, Thrush Nightingale, Short-toed Lark, Green Warbler, Golden Oriole, Red-throated Pipit, Citrine Wagtail and Red-breasted Flycatcher.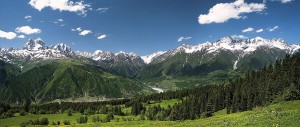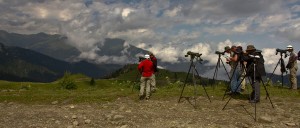 We have an early morning flight from Heathrow, via Istanbul, to Batumi, where we arrive in the evening and meet our local English-speaking guide and driver, who will be with us throughout the trip. From here we have a short drive to our first hotel, where we have a four night stay, while watching the spectacular raptor migration and visiting the Chorokhi Delta. Each day here will be a combination of raptor watching in the morning, from at least two nearby sites, along with afternoon birding in the delta. Next we drive east through the scenic Goderdzi Pass, with birding stops along the way, for a two night stay in Abastumani. The main attractions of this mountainous region are Caspian Snowcock, Caucasian Black Grouse, Krüper's Nuthatch and Red-fronted Serin, but we will also be on the lookout for Golden Eagle, Pygmy, Long-eared and Eagle Owls, Lesser Spotted, Middle Spotted, White-backed and Black Woodpeckers, Horned Lark, Crossbill, Alpine Chough and hopefully Wallcreeper. Continuing our journey east, we have a night near Vardzia, a stunning twelfth century cave complex close to the Turkish border, where we may see Egyptian Vulture, Long-legged Buzzard, Chukar, Crag Martin, Bee-eater, Hoopoe, Black-eared Wheatear, Blue Rock Thrush, Western and Eastern Rock Nuthatches, Lesser Grey Shrike, Rose-coloured Starling, Rock Sparrow, Black-headed and Ortolan Buntings and the impressive Lammergeier. Finally we visit the Javakheti Plain, a high plateau with grassland and lakes near the borders with Turkey and Armenia, where we can look for a variety of water birds such as Red-necked and Black-necked Grebes, Squacco Heron, Ruddy Shelduck, Ferruginous Duck, Velvet Scoter, Common Crane, Glossy Ibis, Armenian and Pallas's Gulls and possibly Sociable Lapwing. After a final night near Tbilisi, we fly from here back to Heathrow via Istanbul.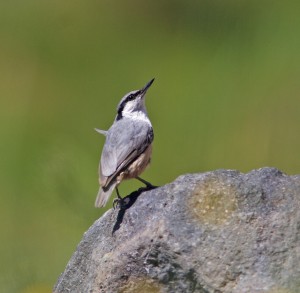 Eastern Rock Nuthatch
Cost £1595 – Waiting list only.
What the price includes:
Outward flight from Heathrow to Batumi via Istanbul with Turkish Airlines, return flight from Tbilisi to Heathrow via Istanbul with Turkish Airlines, all ground transport in Georgia, eight nights full board accommodation, all excursions and reserve entry fees, bird checklist and the services of your guides.
Deposit £500
Single Supplement £160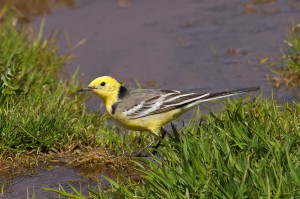 Citrine Wagtail