This productive trip has been so popular that I ran it twice in 2012, and again in 2013 and 2017, seeing around 86 species on each occasion, including fabulous views of Bittern, Water Rail, Bewick's Swan, Spotted Redshank, Barn and Short-eared Owls, plus a flock of Cranes, an Otter and rarities such as Black-necked Grebe, Great White Egret, Spoonbill, Lesser Scaup and Long-tailed Duck. Then of course, there are also the spectacular Starling murmurations to marvel at as huge numbers come in to roost.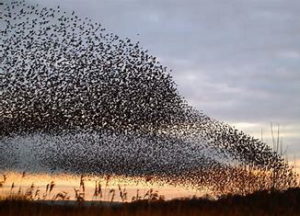 We depart 7 Wood Street, Eastwood (where I have room to park on a gated drive) by people carrier at 9am and drive south to Chew Valley Lake, the third most important site in Britain for wintering wildfowl! After lunch at the cafe here, several hides on the shoreline offer views of water birds such as Goldeneye, Goosander, may be Scaup or Smew, and hopefully Water Pipit. There is also a large Gull roost and so we can look out for scarcer species such as Mediterranean, Yellow-legged and even Ring-billed Gulls. From here it is a short drive south into Somerset, to the Bear Inn in time for dinner. Street is the ideal location for exploring this productive part of the West Country, where we shall spend the next two days in the nearby Somerset Levels, enjoying pub lunches and visiting RSPB and National Nature Reserves such as Greylake, Ham Wall, Shapwick Heath, Westhay Moor and Catcott Lows. Birds on offer here include plenty of wildfowl plus Little and Great White Egrets, Bittern, Kingfisher, Cetti's Warbler, Siskin, Redpoll and an enormous spectacular show of Starlings coming in to roost. With so much prey on the menu there should also be raptors like Barn and Short-eared Owls, Marsh and Hen Harriers, Sparrowhawk, Buzzard, Peregrine, Kestrel and Merlin. On top of all this there are also a few recently reintroduced Cranes to look out for! On the last day, we return north via the famous Slimbridge Wildfowl & Wetlands trust reserve on the Severn estuary, where thousands of waders like Dunlin, Curlew, Redshank, Ruff, Little Stint, Black-tailed Godwit and Golden Plover are joined by thousands more wildfowl, including Bewick's Swans, White-fronted Geese and Pintail, again attracting the raptors. The grand finale to this spectacular show is the afternoon 'swan feed' where crowds of wild Bewick's Swans, geese and ducks gather right outside a large hide, ready for a wheelbarrow full of wheat to be thrown to them by the warden. Departing the area around 4pm, we should be back in Eastwood by about 6.30pm, recharged by a fabulous break. I hope you can join us.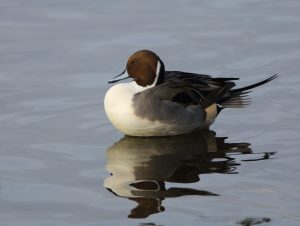 Cost: £305 Only one place left.
What the price includes:
Return transport by people carrier from Eastwood, three nights' bed and breakfast en-suite accommodation (we qualify for a 20% discount on dinners at The Bear Inn), entry fee to Chew Valley Lake, bird checklist and the services of your guide.
Deposit: £100
Single supplement: £95