With three islands, a remarkable variety of incredibly spectacular landscapes and some of the world's rarest endemic birds, this tour offers an irresistibly delicious blend of ingredients.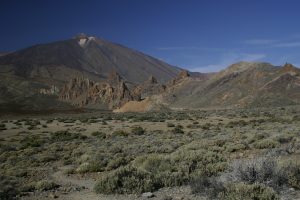 Mount Teide
We begin on the island of Tenerife, dominated by the enormous volcanic massif of Mount Teide, looming over an awesome unearthly landscape of lava flows and strange rock formations. This national park is encircled by a crown of pine forest, inhabited by endemic Blue Chaffinches, which are so tame they give knockout views. On lower slopes the bushes ring with the songs of endemic Canary Island Chiffchaffs and the delightful genuine wild Canary. We shall also seek out Sardinian Warbler, Rock Sparrow, regionally endemic Berthelot's Pipits and African Blue Tits and the rare Barbary Falcon. Our base for three nights will be the Hotel Villalba in Vilaflor, the highest village on Tenerife, not far from Mount Teide.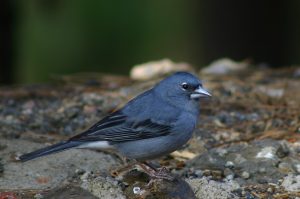 Blue Chaffinch
One day will be spent on the neighbouring island of La Gomera, where the lush evergreen native Laurel flora, clings precariously to the slopes like Andean cloud forest. From a number of stunning miradors we shall look out for rare Plain Swifts and endemic Laurel and Bolle's Pigeons, while woodland walks should produce the endemic Tenerife Goldcrest, if not already seen on Tenerife. Even the ferry crossing to La Gomera should be rewarding, with the possibility of Cory's Shearwaters and Pilot Whales, which are regular here. Thanks to their geographic isolation on the fringes of Europe, even the common Chaffinch sings differently and has a distinctive plumage which is very handsome and well worth seeing.
We also fly to Fuerteventura for four nights at the Hotel Rural Mahoh, a renovated nineteenth century stone farmstead in the village of La Oliva, and a real contrast in climate and landscape. Closer to the North African coast, this is a real desert island with birds to match. This is the only place on earth to see the Fuerteventura Chat, and is probably the best place in the world to find the furtive Houbara Bustard, which at this time of year, reveals itself with a flamboyant courtship display involving males racing around like fluffy white balls as they throw back their heads and pout their frilly necks. To add to the excitement we can also expect such specialities as Ruddy Shelduck, Egyptian Vulture, Barbary Partridge, Stone Curlew, Cream-coloured Courser, Black-bellied Sandgrouse, Lesser Short-toed Lark, Spectacled Warbler, Southern Grey Shrike, Spanish Sparrow, and Trumpeter Finch, as well as friendly Barbary Ground Squirrels, while any shoreline should yield Yellow-legged Gull and waders like Whimbrel, Sanderling, Turnstone and Kentish Plover.
Southern Grey Shrike
Our two hotels have been carefully chosen for their traditional atmosphere in quiet mountain and desert village locations. What more could you want from a tour?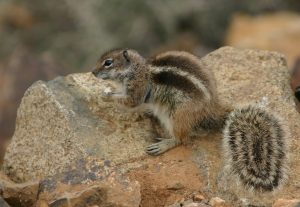 Barbary Ground Squirrel
Cost £1395  waiting list only
What the price includes:
Outward flight from Birmingham to Tenerife with Jet2.com, domestic flight from Tenerife to Fuerteventura, return flight from Fuerteventura with Jet2.com, return ferry to La Gomera, seven nights' half board en-suite accommodation, all transport in the Canaries, bird checklist and the services of your guide.
Deposit: £350
Single supplement: £120