With spectacular sea cliffs, lonely moorland, wildflower meadows and marshes, the birdlife on Orkney is prolific and varied, with half a million seabirds alone! Only Saint Kilda has more populous seabird colonies! Meanwhile, Orkney's breeding densities of birds like Red-throated Diver, Pintail, Hen Harrier, Curlew, wild Rock Dove and Short-eared Owl are unmatched in mainland Britain! No wonder the RSPB is the single largest landowner in this wonderful archipelago, with twelve reserves!
Orkney is also a treasure trove of ancient history with an average of three archaeological sites per square mile! Highlights of this rich historic heritage include the beautifully ornate Italian chapel built from Nissan huts by Italian prisoners of war, the twelfth century red sandstone Saint Magnus cathedral, Maeshowe, a neolithic chambered cairn, aligned with the midwinter sunset and inscribed with twelfth century Viking graffiti, the Dwarfie Stane, Britain's only neolithic burial chamber cut from a single block of sandstone, the Ring of Brodgar, an evocative and mysterious perfect circle of 36 standing stones erected 4000 years ago, the amazing stone age village of Skara Brae, buried by sand for 5000 years, and now revealing intact fully furnished houses with stone beds, cupboards, hearths and shelves, and the Knap of Howar, the oldest preserved 'house' in northern Europe, occupied by farmers 6000 years ago!
Day 1 You have a morning Loganair flight from Birmingham via Aberdeen to Kirkwall where I will transfer you to the 4* Lynnfield Hotel in Kirkwall. Dinner and overnight at the Lynnfield Hotel.
Day 2 We take the ferry from Kirkwall on a scenic route north between numerous islands to Westray, with the possibility of spotting Killer Whales, dolphins, seals and Great Northern Divers along the way. This afternoon we visit the Noup Head RSPB reserve, a seabird 'city' with thousands of Gannets, Kittiwakes, Guillemots and Fulmars nesting on the 250 foot high cliffs. Dinner and overnight at the Pierowall Hotel on the waterfront of this small village.
Day 3 After a short ferry crossing we explore Papa Westray on foot, where the fabulous North Hill RSPB reserve is home to the rare Scottish Primrose as well as Puffins, Razorbills, Black Guillemots and Arctic Terns, harried by Great and Arctic Skuas. We may also hear and even see the rare Corncrake, and time permitting, we shall also visit the 6000 year old Knap of Howar 'farmhouse'. Dinner and overnight at The Pierowall Hotel.
Day 4 We take the ferry back to Kirkwall, with time this afternoon to visit the local sights including Saint Magnus cathedral and the Italian chapel via the Churchill barriers, with the possibility of Little Terns along the way. Dinner and overnight at the Merkister Hotel on the shore of Loch Harray.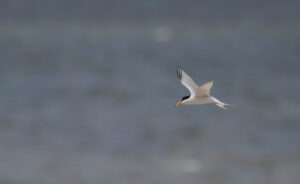 Days 5 & 6 We have two full days on Orkney Mainland where we visit the Cottascarth and Birsay Moors RSPB reserves in search of local specialities like Red-throated Diver, Hen Harrier, Merlin, Golden Plover, Snipe, Short-eared Owl, Rock Dove and Cuckoo.
We also visit the seabird colony at Marwick Head, another spectacular RSPB reserve, where thousands of auks and Kittiwakes are harried by Great and Arctic Skuas and maybe a Peregrine. We also visit Maeshowe, the Ring of Brodgar and amazing Skara Brae. Dinners and overnights at the Merkister Hotel.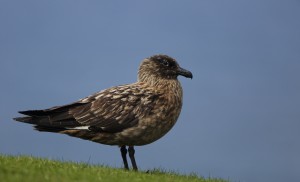 Day 7 We take the ferry across Scapa Flow to Hoy, home to more seabirds and the usual raptors, plus  majestic Golden and White-tailed Eagles, Twite and Mountain Hares. Other attractions here include the spectacular Old Man of Hoy and the neolithic Dwarfie Stane burial chamber. Dinner and overnight at the Merkister Hotel.
Day 8 After a morning at leisure in our fabulous setting beside Loch Harray, we transfer to the airport for an early afternoon flight back to Birmingham via Inverness.
Cost £1825      Waiting list only.
What the price includes:
Return flights with Loganair from Birmingham to Kirkwall, via Aberdeen/Inverness, seven nights' half board accommodation, all road transport on Orkney Mainland, Hoy and Westray, return ferries from Orkney Mainland to Hoy and Westray, and from Westray to Papa Westray, bird checklist and the services of your guide.
Single supplement: £385
Deposit: £700