After the year we have had, we all deserve a bit of a treat, and where better to enjoy a well earned break than in the luxurious splendour of the very grand four star Hardwick Hall Hotel, an impressive seventeenth century 'house' overlooking a lake in 120 acres of marvellous parkland. With a rating of "8.7/10 Fabulous" on Booking.com, this is the ideal base for a short tour of some of northeast England's top locations for wildlife including Teesmouth National Nature Reserve and the nearby Saltholme RSPB reserve, Druridge Bay on the Northumberland coast and Upper Teesdale in the North Pennines Area of Outstanding Natural Beauty. At this exciting time, we can also hope for news of incoming rarities and so one never knows just what might turn up.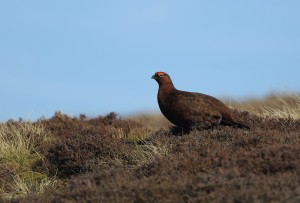 Red Grouse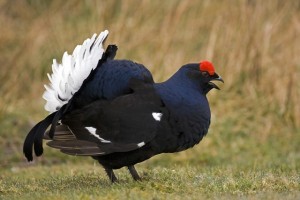 Black Grouse
We leave Eastwood by people carrier at 9am and drive north to the Durham Wildlife Trust Low Barns reserve. With a variety of habitats including woods, meadows, open water, reedbeds and riverside, this is one of the county's foremost wildlife sites where possible sightings may include Goosander, Bittern, Snipe, Kingfisher, Roe Deer and even Otter. After lunch and a stroll between the hides here, we drive to the nearby Hardwick Hall Hotel, where there may be time to explore the grounds before settling in for a delicious dinner.
On one day we drive a short way east to explore Teesmouth and the Saltholme RSPB reserve, in an extraordinary blend of industry and nature. Thousands of waders such as Knot, Dunlin, Lapwing, Black-tailed Godwit and Golden Plover flock to this area each autumn, along with Water Rail and Twite, attracting raptors such as Merlin, Peregrine, Hen Harrier and Short-eared Owl. Meanwhile, the sandy beaches and breakwaters attract Grey Plover, Sanderling, Purple Sandpiper, Rock Pipit and Snow Bunting, with the possibility of Eider, Red-breasted Merganser, Goldeneye, Scaup, Common Scoter and a variety of gulls and divers out to sea. As well as all the birds, we can expect incredibly close views of Common Seals which haul out well inland along the Greatham Creek.
On another day we head north to the bird rich coast of Druridge Bay, where the Northumberland Wildlife Trust Hauxley reserve offers the chance to see a range of waders such as Redshank, Curlew, Bar-tailed Godwit, Oystercatcher, Ringed Plover and Turnstone, as well as Skylark, Meadow Pipit, Stonechat, Linnet and Red Squirrels. Along the bay, a number of lagoons attract many birds and previous visits here have produced some remarkable sightings including Barn Owl, Spoonbill, Glaucous and Little Gulls, White-winged Black Tern and even a Baikal Teal!
On another day we head for the hills of Upper Teesdale, one of England's largest national nature reserves, with one of Britain's largest populations of Black Grouse. Other local specialities include Red Grouse and Raven, plus Dipper and Grey Wagtail along this scenic stretch of the Tees valley, while the riverside woods may produce Siskin and Redpoll.
On the last day we break the journey south with a visit to the Saint Aidan's RSPB reserve in the Aire valley floodplain near Leeds, with numerous trails through a variety habitats, offering a range of possible sightings including Marsh Harrier and Sparrowhawk amongst many others.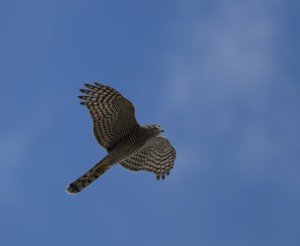 Sparrowhawk
Cost £575  Waiting list only.
What the price includes:
Return transport from the Nottingham area, four nights' half board en-suite accommodation in a four star hotel, bird checklist and the services of your guide.
Single supplement: £180
Deposit £200