This remarkable adventure offers a unique opportunity to combine intimate encounters with some of nature's largest and smallest creatures; majestic Monarch Butterflies in their millions and magnificent Grey Whales at arm's length!
We begin in the cool forested mountains of central Mexico at around 9000 feet, where the Monarchs congregate each winter in spectacular numbers. Estimates range from 60 million to one billion butterflies! To get here they will have flown up to three thousand miles from as far north as Canada! How they all find their way to the same area is a mystery but they arrive each November, with peak numbers in January and February, forming such dense clusters that tree branches actually bend under the sheer weight of so many butterflies, even though each one weighs less than a gram! As the cool morning air warms up the clusters 'come to life' in an amazing frenetic fluttering blizzard with clearly audible wing beats! This has to be one of nature's most wonderful phenomena. Little wonder that this area is a UNESCO World Heritage Site. The region also offers the possibility of several endemic bird species like the striking Red Warbler and Blue Mockingbird.
Next stop is Mexico's Baja California peninsula, the second longest in the world, measuring almost 800 miles from north to south. With boundless desert colonised by cacti as tall as trees, a mountainous spine rising to over 10,000 feet and over 2500 miles of rugged coastline, this "Untamed Peninsula", with stunning vistas at every turn, is one of the wildest places on earth! The region is home to a rich biodiversity with a variety of land, sea and shorebirds, including six endemics; Cape Pygmy Owl, San Lucas Robin, Grey Thrasher, Belding's Yellowthroat, Baird's Junco and the tiny Xantus's Hummingbird. Along the shore live Northern Elephant Seals, California Sea Lions and endemic Guadalupe Fur Seals, while nowhere else on earth has such a large and varied population of whales as the Sea of Cortez, described by Jacques Cousteau as "the largest living aquarium in the world!" Here it is possible to see Blue, Humpback, Fin, Sperm, Killer, Pygmy Killer, Minke, Bryde's, Sei and Short-finned Pilot Whales, as well as hundreds of Bottle-nosed, Long-beaked and Pacific White-sided Dolphins! Meanwhile the Baja coast is the end point for the longest migration of any mammal, where 36 ton Grey Whales congregate after a 6000 mile journey from the Bering Sea to give birth to their calves. These 'friendly whales' voluntarily seek close encounters with people and may look you in the eye while you stroke them! Enjoying wildlife doesn't get any better than this and you will never forget such a momentous experience! But it doesn't stop here as we also have the chance to swim with sea lions and the awesome Whale Shark, which is the world's largest fish, growing up to 40 feet long and weighing 20 tons! No wonder 'Baja' is a paradise for nature lovers seeking the tranquillity of one of the world's most beautiful desert landscapes, combined with the excitement of a close encounter with a hefty Whale Shark or a 50 foot Grey Whale!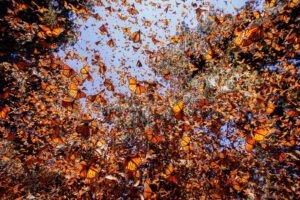 Monarch Butterfly phenomenon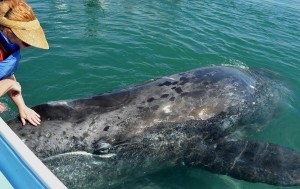 This could be you stroking a Grey Whale!
Watch this space for more details coming soon.