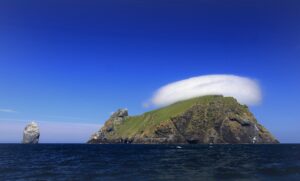 Stac Lee and Boreray
Embarking from Oban, this fabulous cruise visits numerous fantastically scenic islands such as Mull, Rhum, Canna, Barra, North and South Uist, the Monach Isles, Skye and the 'enchanted' Shiant Isles. Our ultimate goal is Saint Kilda, an exceptionally remote archipelago of four small islands 45 miles west of the Outer Hebrides, and yet inhabited for some two thousand years until 1930! Weather permitting, we hope to anchor for two nights in Village Bay off Hirta which has Britain's highest cliff, towering 1397 feet above the sea! Nearby Soay is home to the Soay Sheep, an ancient breed, similar to its ancestral wild Mouflon, while smaller Dun has a colony of over a quarter of a million Puffins! Slightly further away is rugged Boreray, home to 20% of the world's Gannet population! Saint Kilda is also one of the very few places in the British Isles where the hard to see Leach's Petrel actually breeds, as it is restricted to islands within 45 miles of the Atlantic continental shelf. This remarkable must-see location is now a National Nature Reserve and a UNESCO World Heritage Site. As well as all the seabirds we can also hope to see a wealth of other wildlife such as Orca and Minke Whales, dolphins, porpoises, seals, huge Basking Sharks, Red Deer, Otters and exciting birds like White-tailed and Golden Eagles, Hen Harrier, Corncrake and Twite.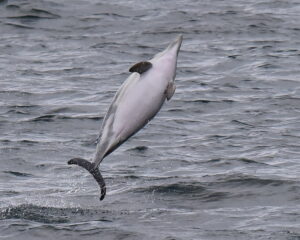 Dolphin breaching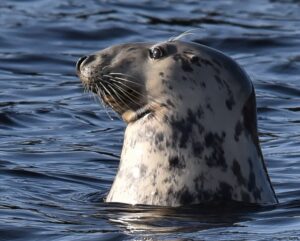 Grey Seal
On this voyage of discovery, we sail aboard the Seahorse II. Originally built as a ferry for the Norwegian fjords and refurbished as a seven-cabin cruiser, the vessel is powerful enough to reach the far-flung Outer Hebrides but small enough to anchor in secluded tranquil bays. Our three man crew consists of an experienced local skipper, an ever helpful bosun and a chef, serving excellent meals amid the ever-changing breathtakingly dramatic scenery. You could be one of no more than eleven privileged explorers, able to enjoy this extraordinary cruise, with landings at some stunning and remote locations to experience the beautiful landscapes and their fabulous wildlife.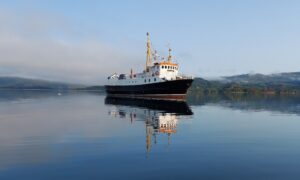 Seahorse II
We depart Dunstaffnage Marina, 3 miles north of Oban, at 1.30pm and sail west into the Firth of Lorn, whilst enjoying afternoon tea. The exact itinerary will remain flexible and determined by the skipper according to weather conditions, tides and wildlife sightings but we hope to visit most, if not all of the locations, proposed on the map below.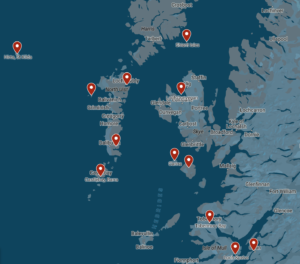 Our highlighted locations may begin with Loch Spelve on the Isle of Mull, a sheltered sea loch with a healthy population of Otters and shore birds like Ringed Plover, Oystercatcher and Common Sandpiper.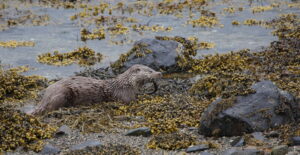 Otter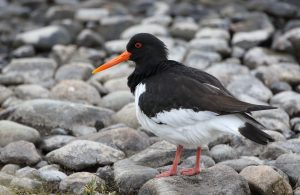 Oystercatcher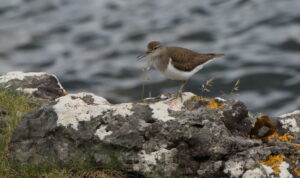 Common Sandpiper
Sailing west along the scenic Sound of Mull, we may well spot White-tailed Eagles en route to the colourfully picturesque waterfront town of Tobermory. Passing the Point of Ardnamurchan, the most westerly point of mainland Britain, we pass the islands of Muck and Eigg on the approach to Rhum. This entire island is a National Nature Reserve with several pairs of Golden Eagles, a healthy population of Red Deer and Britain's largest colony of Manx Shearwaters, numbering in excess of 100,000 pairs! Doubtless we shall encounter plenty of these birds during the cruise. A little further west is Canna, one of the most beautiful of the smaller isles, with more eagles, a rich sand-loving flora known as Machair and 600 foot cliffs which plunge into the sea.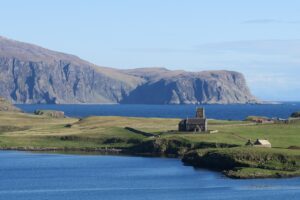 Canna
Continuing west across The Little Minch we reach the Outer Hebrides where we may call at Castlebay on Barra, in sight of Kisimul Castle, the fifteenth century seat of the chief of Clan Macneil.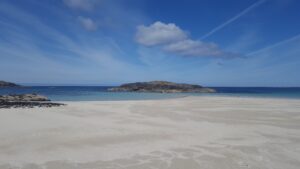 A typical Hebridean scene on Barra
West of North Uist we reach the Monach Isles, another National Nature Reserve with one of the largest Grey Seal colonies on earth! The low lying Machair of these Western Isles is also a stronghold of the elusive but vociferous Corncrake.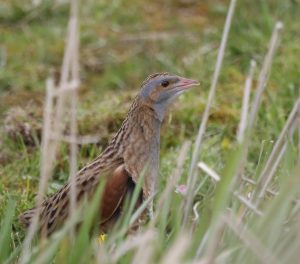 Corncrake
By now we should be less than forty miles from Saint Kilda and its awesome seabird colonies, where, weather permitting, we hope to go ashore on Hirta to explore the long-abandoned village, meet the local Soay Sheep and find the oversized Saint Kilda Wren, which is endemic to this remote archipelago.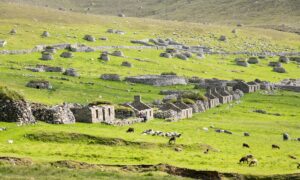 The abandoned village on Hirta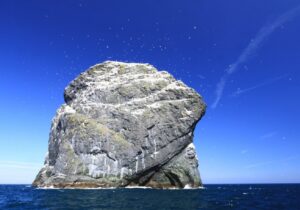 Gannet colony on Stac Lee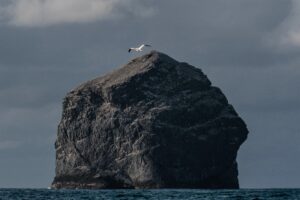 Gannet colony on Stac Lee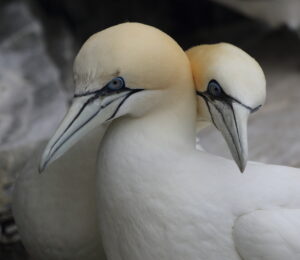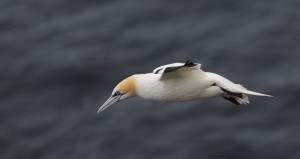 Gannets
On our return journey we plan to visit the tiny but stunningly wild and beautiful Shiant Isles which are home to one of the largest seabird colonies in the northern hemisphere with some 300,000 birds including 7% of Britain's Razorbills and over 200,000 Puffins making up a tenth of the British population! At the end of the cruise, we arrive near Oban around 11am. This really is a superlative cruise so don't miss the boat.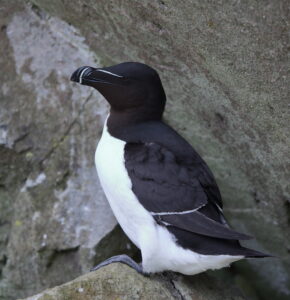 Razorbill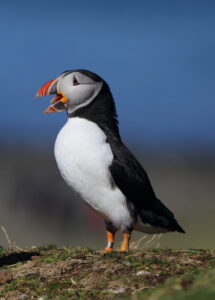 Puffin
There are three single cabins with wash basins and a shared bathroom, two semi-ensuite twin cabins with wash basins, toilets and a shared bathroom and two ensuite cabins which can be made up as doubles or twins. With only six cabins available it is essential to book promptly.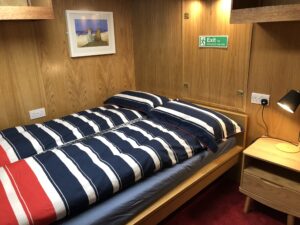 Ensuite double cabin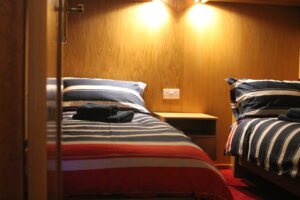 Ensuite twin cabin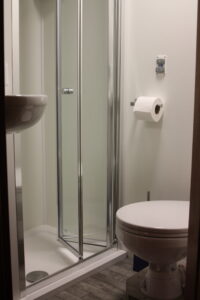 Ensuite bathroom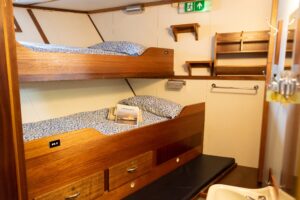 Semi-ensuite twin cabin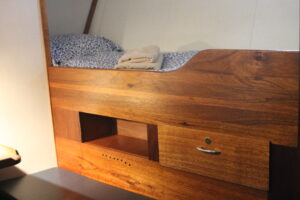 Single cabin
Cost;
Single cabin; £3590 Only two of these now available.
Semi-ensuite twin cabin; £3790 per person or £7580 for single occupancy
Ensuite double/twin cabin; £3990 per person or £7980 for single occupancy
Deposit; £900
What the price includes;
Ten nights' full board cruise, including snacks with morning coffee and afternoon tea, complimentary pre-dinner aperitif and wine or lager with each two course dinner, towels and bed linen, the services of your crew and guide during the cruise and wildlife checklist.
Additional information;
Transport between the Nottingham area and Oban can be arranged if there is sufficient demand. If you are making a single booking and wish to share, please let me know as soon as possible and I will contact you as soon as I have someone willing to share.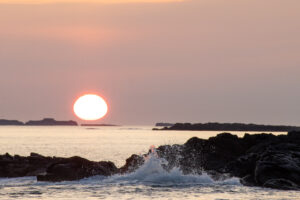 Hebridean sunset