Welcome to 'Eagle Island'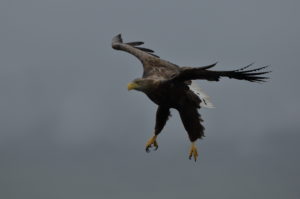 Mull is indeed a fantastic island, and a paradise for wildlife and nature lovers, and it has been so popular in the past that this will be my tenth trip there in the last fourteen years! The varied habitats provide wonderful wild scenery, including rugged high mountains, moorland, forests, dramatic cliffs and 300 miles of unspoilt coastline. So, if it's Eagles you want, this is the place to be. In addition to healthy populations of both Golden and White-tailed Eagles, Mull is home to a wide variety of other raptors including Hen Harrier, Short-eared Owl, Peregrine, Sparrowhawk, Kestrel, Merlin and Buzzards galore. On top of all this, we can also expect to see Red Deer, Common and Grey Seals and hopefully Bottle-nosed Dolphin and Otter.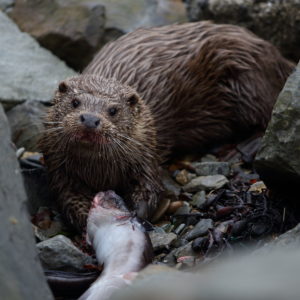 We depart Eastwood by people carrier at 8am and drive north, possibly via Glasgow airport, if we need to pick up any other clients en route. From here we drive to Oban for the ferry across the Firth of Lorn to Mull, arriving in time for dinner at The Glenforsa Hotel. This Norwegian style log cabin hotel on the shores of the Sound of Mull near Salen, offers excellent cuisine with spectacular views from the restaurant, where we may also spot Otters and Eagles! During our five night stay we shall explore the island at a leisurely pace, and in spite of the rugged terrain, we shall enjoy the scenery and wildlife on a number of fairly easy level walks. An undoubted highlight will be a three hour 'Sea Eagle Adventure', where Eagles regularly swoop down for fish as close as 25 feet away from the boat (honestly!). They often fly directly overhead and one can hear the wind rushing through their awesome 8 foot wings! In addition to this raptor fest, we can hope to see other exciting birds like Red-Breasted Merganser, Arctic Tern, Black Guillemot, Cuckoo, Rock and Tree Pipits, Whinchat, Redstart, Wood Warbler, Dipper, Crossbill, Siskin, Redpoll, Hooded Crow, Raven and lingering Great Northern Divers in magnificent summer plumage. Another highlight will be a day trip to the Treshnish Isles where the seabird colonies provide close encounters with thousands of Guillemots, plus Fulmars, Shags, Kittiwakes, Razorbills, and of course, Puffins, virtually at arm's length! During this cruise we shall also visit Fingal's Cave on the isle of Staffa, and we may also be lucky enough to see Gannet, Great Skua, Eider, Twite and even Dolphins or a Basking Shark. During the week, we shall also visit the small island of Iona, with its early Christian abbey founded by Saint Columba, where we hope to pinpoint one of the breeding Corncrakes. On previous visits we have enjoyed close full length views of calling birds! If you still need persuading check out the trip reports on this website from previous years' tours. I hope you can join us.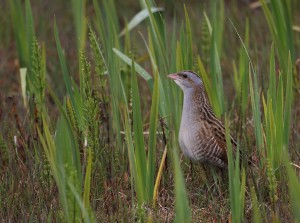 Cost £995 waiting list only.
What the price includes:
Return transport from either the Nottingham area or Glasgow airport to Oban, return ferry to Mull, five nights' half board en-suite accommodation, all excursions on Mull, including ferry to Iona, day trip to the Treshnish Isles and 'Sea Eagle Adventure', plus bird checklist and the services of your guide.
Deposit: £260
Single supplement: £245