Join us on an amazing journey in one of the most remote and pristine countries on earth…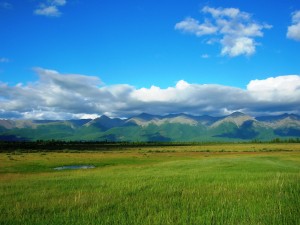 A typical Mongolian Landscape
Mystical Mongolia is an awesome treasure trove of breathtakingly beautiful untamed landscapes, where high mountains, alpine forests, deserts and vast steppes, inhabited by a tiny population of nomadic pastoral horsemen, are also home to a spectacular assembly of birds and mammals.
This remarkable tour offers the realistic chance of finding the secretive and almost mythical Snow Leopard, without the need for strenuous high altitude hikes in cold thin air, after sleeping on the floor in a tent! We will be based in clean and comfortable spacious Yurts, equipped with beds and electricity, with access to flush toilets and hot showers, and catered for by a highly professional local crew, driving well maintained modern four wheel drive vehicles. The camp is at an altitude of about 6000 feet, amidst the stunning mountain scenery of the Altai Mountains, near the border with China, where eight out of the previous ten tours have witnessed twenty different sightings of the majestic Snow Leopard! That's an amazing success rate for such an elusive creature, thanks to the tracking skills of a small dedicated team of scouts, who scour the wild terrain on horseback. Meanwhile we can also hope to see other exciting mammals like Pallas's Cat, Saiga Antelope, Siberian Ibex, Black-tailed and Mongolian Gazelles, Tarbagan Marmot, Long-tailed Souslik, Pallas's Pika, Argali, the world's largest species of wild sheep, the rare Przewalski's Horse, the bizarre Kangaroo-like Siberian Jerboa and even the shy Grey Wolf.
The 130 plus possible bird list on this trip includes enticing specialities such as Altai Snowcock, Bearded Vulture, Steppe Eagle, Long-legged and Upland Buzzards, Demoiselle Crane, Greater Sand Plover, Pallas's Gull, Pallas's Sandgrouse, Hill Pigeon, Amur Falcon, Isabelline Shrike, Azure-winged Magpie, Azure Tit, White-crowned Penduline Tit, Mongolian Lark, Daurian and Güldenstädt's Redstarts, White-winged Snowfinch, Mongolian Finch, Long-tailed Rosefinch, Pine Bunting and the strange Henderson's Ground Jay, while the dashing Saker Falcon is the national bird of this stunning country.
This exciting tour, perfected over several years by my friends from Ecotours Wildlife Holidays, offers the chance to explore this fascinating country, while contributing 2% of the profit to promote Snow Leopard conservation.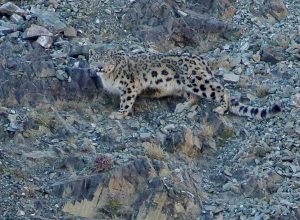 Snow Leopard seen in 2018 ~ Ecotours Wildlife Holidays
Day 1 We check in for an overnight flight from either Birmingham or Heathrow (according to your preference) to Ulaanbaatar, via Istanbul with Turkish Airlines. Dinner and overnight in flight.
Day 2 On arrival in Ulaanbaatar, we shall be met by our local guide and transferred to our first hotel. There should be time for a riverside stroll on the outskirts of the city, to encounter the first of many of the typical birds of this exciting region, such as Booted Eagle, Black-eared Kite, Pacific Swift, Eurasian Hoopoe, Amur Falcon, Azure-winged Magpie, Red-billed Chough, Daurian Jackdaw, Azure Tit, White-crowned Penduline Tit, Citrine Wagtail, Long-tailed Rosefinch and the dapper Daurian Redstart. Dinner and overnight in Ulaanbaatar.
Day 3 We leave the capital and check in for a domestic flight to Khovd in the far west of this immense wild country, where our local team will take us on an interesting four wheel drive journey to our camp, in a virtually uninhabited area, facing a mountain range in one direction, with a semi desert of sand dunes and lakes in the other direction, where we will be based for six nights. Dinner and overnight in camp.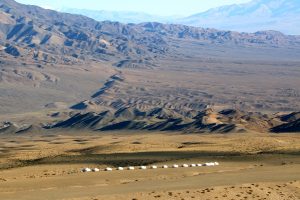 The Altai Yurt camp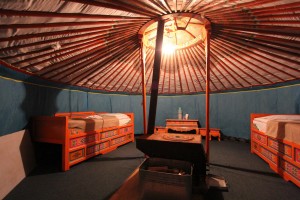 A typical Yurt
Days 4 – 8 The main priority will of course be to locate a Snow Leopard, and our visit coincides with the period when these awesome cats are most often seen hunting or guarding their prey. The terrain here is considerably easier to negotiate than in other traditional Snow Leopard habitats, and our drivers will take us as close as possible to the observation sites, and so any walks will be easy to moderate, rather than strenuous, and at a relaxed pace. While our scouts are out searching the slopes, we can patiently stake out known territories, while also soaking up the spectacular scenery, and watching for other signs of life, such as the playful Tarbagan Marmots, which whistle to each other to signal the appearance of a soaring raptor, or the herds of Argali Sheep and Siberian Ibex, grazing precarious rocky ledges. We will also be in touch with local shepherds who will let us know if they have any sightings or lose one of their stock to a leopard. There should always be something of interest to see while waiting for a leopard to appear, including Altai Snowcock, Himalayan Griffon, Bearded and Black Vultures, Steppe Eagle, Saker Falcon, Horned Lark, Güldenstädt's Redstart, Mongolian Finch and White-winged Snowfinch.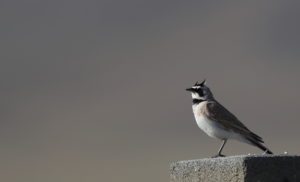 Horned Lark
We will also spend time in the semi desert area adjacent to our camp on the lookout for Pallas's Sandgrouse, Isabelline Shrike, Isabelline and Desert Wheatears, the highly sought Henderson's Ground Jay and the odd-looking Saiga Antelope with its bizarre swollen snout. We shall also visit the wetlands around a huge lake where Whooper Swan, Ruddy Shelduck, White-headed Duck, Dalmatian Pelican, Pallas's Gull and Whiskered and Gull-billed Terns breed, while the surrounding grasslands are home to Asian Short-toed Lark, Richard's Pipit, Pallas's Reed Bunting and the elegant Demoiselle Crane.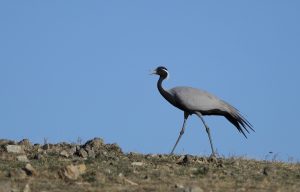 Demoiselle Crane
After dark, Siberian Jerboas 'come out to play' around the camp, and as they busily feed on insects, they can be approached and watched by torch light at very close range. On another evening there will also be a visit by a local group to perform some traditional music and dance, providing a rare insight into the region's ancient cultural heritage. Dinners and overnights in camp.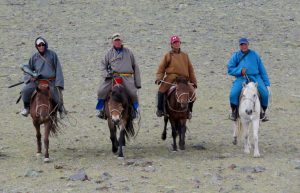 The local scouts
Day 9 We must now leave this incredible place and return to Khovd for a flight back to Ulaanbaatar, where we will be met and transferred in a couple of hours to Hustai National Park for a one night stay in another Yurt camp. Dinner and overnight in camp.
Day 10 We have a full day to explore this picturesque national park, home to beautiful Przewalski's Horses, the world's only truly wild species of horse, as well as Long-tailed Sousliks, Red Deer, Mongolian Gazelles and two packs of Grey Wolves! The local avifauna includes Daurian Partridge, Golden Eagle, Upland Buzzard, Lesser Kestrel, Pied Wheatear, the large Mongolian Lark and the striking Meadow Bunting. At the end of the day we transfer to another camp at nearby Manul Mountain. Dinner and overnight in camp.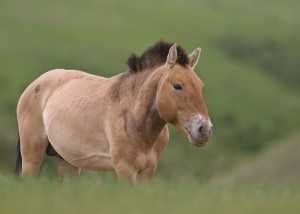 Przewalski's Horse
Day 11 We have a full day to explore the area, which offers a very good chance to see the rare Pallas's Cat, as well as Mongolian Gazelle, Corsac Fox, Grey Wolf and Argali, the world's largest species of wild sheep. Dinner and overnight in camp.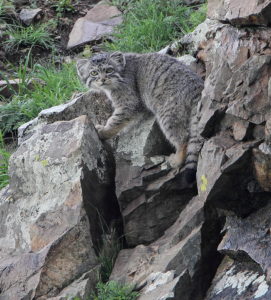 Pallas's Cat
Day 12 After further exploration of Manul Mountain, we return to Ulaanbaatar for an overnight stay.
Day 13 We transfer to the airport to check in for an early morning departure to Birmingham or Heathrow, where we arrive the same afternoon.
Cost £6340  
What the price includes:
Return flights, according to your preference, from either Birmingham or London Heathrow to Ulaanbaatar, via Istanbul with Turkish Airlines, internal return flights between Ulaanbaatar and Khovd, eleven nights' full board accommodation including tea, coffee, biscuits and mineral water, all ground transport in Mongolia, field checklist and the services of your guides.
Deposit: £1320
Single supplement: £395
Additional information:
The flight time from Heathrow to to Ulaanbaatar is about 10 hours 15 minutes.
A visa, obtained on line from the Mongolian embassy, is required by British citizens wanting to visit Mongolia.
It is advisable to be vaccinated against Hepatitis A and Typhoid. There is no risk of Malaria.
The climate of Ulaanbaatar in August is fairly dry with 0.6 inches of rain, while temperatures range from 9 – 23°C, and so the average is 16°C. Elsewhere, temperatures will vary with altitude.
Most of the tour will be spent around 6700 feet, sometimes potentially up to around 12400 feet, and most of the walking is easy, and always at a gentle pace. No clients have suffered from altitude sickness on this tour.
The hotels are of a good standard but below the standards of Western international hotels. All hotel rooms are ensuite. The camps offer clean, comfortable and simply furnished Yurts, with shared toilet/shower blocks. For many visitors a stay in these camps is one of the highlights of the tour.
Ground travel is by modern, comfortable, well maintained Japanese four wheel drive vehicles driven by excellent local guides. There will usually be three clients per vehicle, with radio contact between the vehicles.
We can expect to see around 130 species of birds plus 15 – 20 species of mammals, with good photo-opportunities.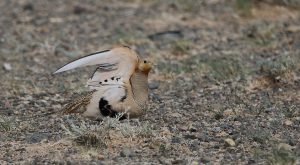 Pallas's Sandgrouse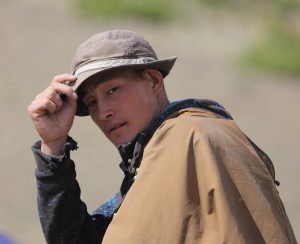 A local Horseman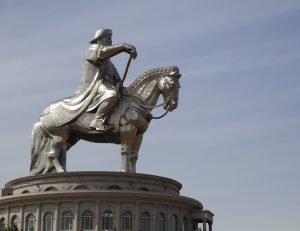 The Genghis Khan statue