On the way from Entebbe airport, exotic roadside sightings include Black-headed Heron, Pied Crow, Eastern Grey Plantain-eater, Common Bulbul, Broad-billed Roller, Blue-naped Mousebird and Sooty Chat. So, here we are at last at the lovely Nkima Lodge, named after the resident Red-tailed Monkeys, where other residents include the impressive Great Blue Turaco and African Wood Owl, which shows well after dinner.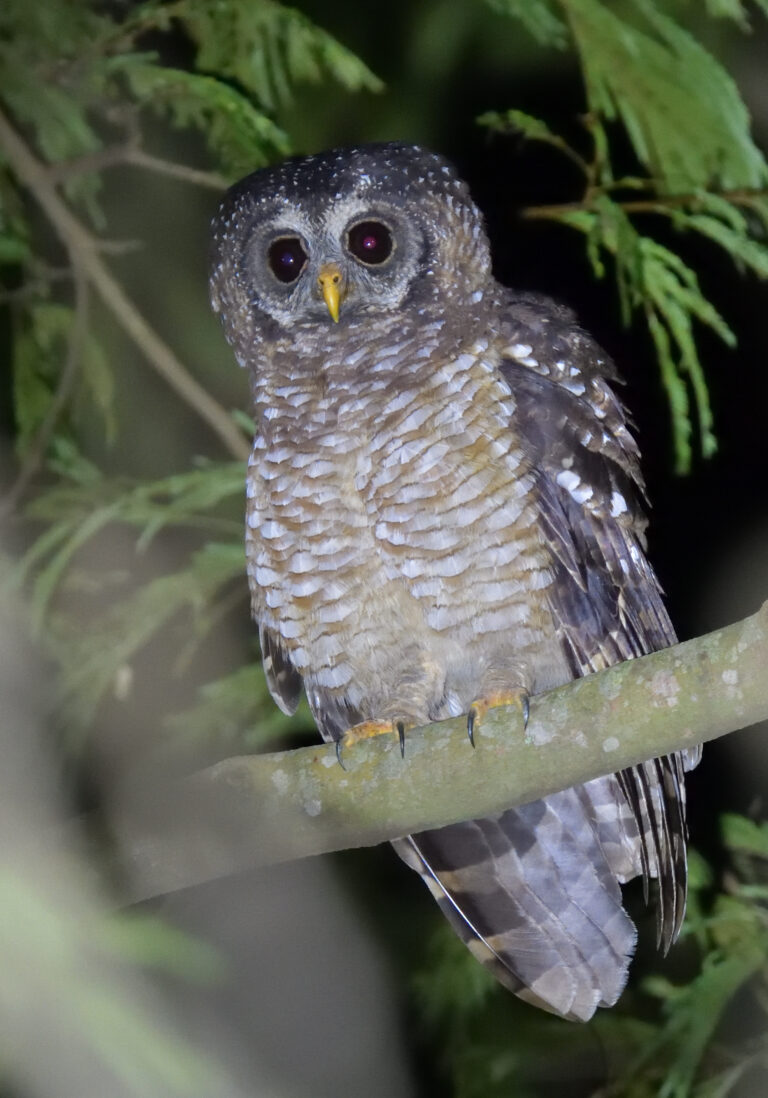 This morning we drive to the nearby Mbamba (Lungfish) Swamp, spotting numerous birds along the 'road' such as Red-eyed Dove, Rufous-naped Lark, Lesser Striped Swallow, African Thrush, African Blue Flycatcher, Fan-tailed Widowbird and Bronze Mannikin. On the edge of the swamp, new birds include Hadada Ibis, African Marsh Harrier, Northern Grey-headed Sparrow, African Pied Wagtail and Village Weaver. From here we board a small wooden boat and head into the swamp, where we soon spot birds like Long-tailed Cormorant, Black Crake, Long-toed Lapwing and Grey-headed Gull. Our main target here is the Shoebill and we soon come face to face with this awesome prehistoric looking bird, starring at us just 15 yards from the boat! At four feet tall, it's so close it won't all fit into the camera view! We also see Allen's Gallinule, Purple Heron, Pied Kingfisher and Winding Cisticola, but then we abandon ship due to a thorough soaking by heavy rain, so we were very lucky to enjoy such an intimate encounter with the Shoebill just before the rain came.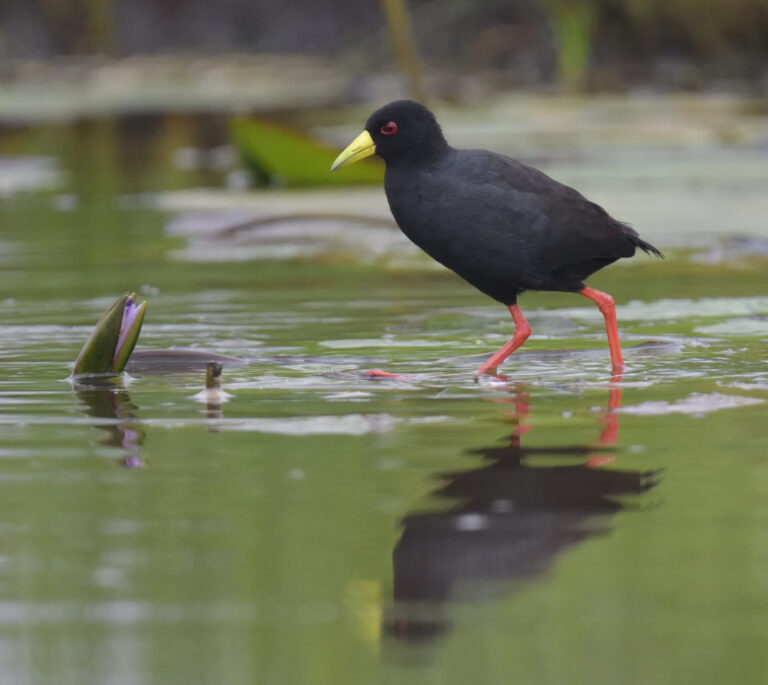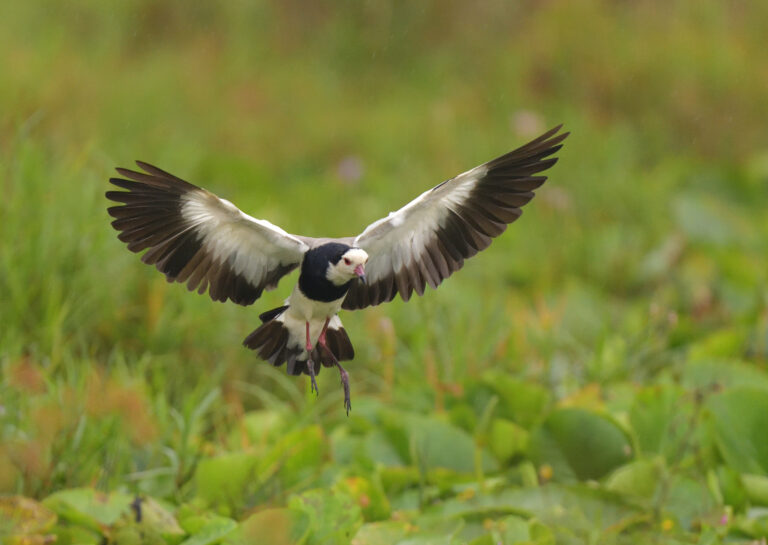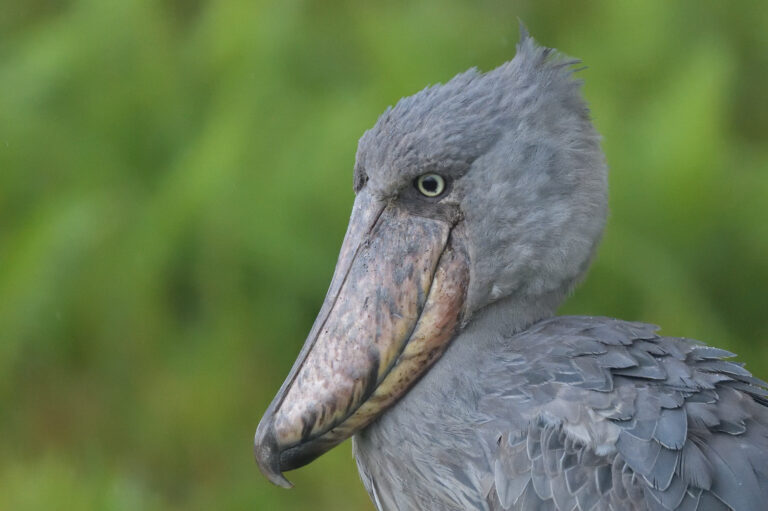 After lunch back at the lodge we set off on a long drive south, across the equator, where a stop for a group photo with an equator sign produces fast-moving Little Swifts. Continuing south, new birds include Rüppell's Long-tailed Starling, Lilac-breasted Roller, Palm-nut Vulture, Marabou and Yellow-billed Storks, Speckled Pigeon and Laughing Dove, while a brief roadside stop beside some rice fields produces Little, Intermediate and Cattle Egrets as well as Hamerkop, African Open-billed Stork and Sacred Ibis. Leaving the main road for another bumpy dirt track to our next lodge, we start to see big game like Warthog, Impala and Plains Zebra and add Helmeted Guineafowl, Wattled Lapwing, Ring-necked Dove, Brown (Meyer's) Parrot, Grey-backed Fiscal Shrike and Trilling Cisticola to the growing bird list. By early evening, we arrive at the wonderful Mihingo Lodge, where the smiling friendly staff welcome us with moist face towels and a nice cold fruit juice. Perched on a rocky ridge, overlooking the sprawling savanna below, the view from the lodge is stupendous, and as dusk arrives, small bats fly in and around the open dining area!
This morning we set off on a game drive in the adjacent Lake Mburo National Park, where the bushes are alive with a variety of birds and in the first hour alone we find new birds like Crested Francolin, Spectacled Weaver, African Paradise Flycatcher, Emerald-spotted Wood Dove, Red-necked Spurfowl, Bare-faced Go-away-bird, Green-backed Cameroptera, Spot-flanked Barbet, Striped Kingfisher, Scarlet-chested Sunbird, noisy Arrow-marked Babblers and dazzling Violet-backed Starlings which sparkle like amethysts in the morning sunshine.
Arriving at a very busy water hole, we find Water Thick-knee, Wattled Lapwing, Dwarf Bittern, Grey-hooded and Woodland Kingfishers and two Broad-billed Rollers making spectacular fly-bys as they swoop down to drink, while an old Cape Buffalo wallows in the shallow end.
The next water hole is even more lively with a few Eland and loads of Zebra and Buffalo all around the edge, attracting dozens of Yellow-billed Oxpeckers, as well as submerged Hippos, and amid the crowds we find Senegal Lapwing at the water's edge. Moving on, new birds include African Grey Hornbill, Little Bee-eater, Crested Barbet, White-backed Vulture, Green Woodhoopoe, Black-headed Gonolek, Fork-tailed Drongo and White-browed Coucal, while new mammals include Dwarf and Banded Mongooses and Nubian Giraffe, with plenty of Zebra crossings along the way.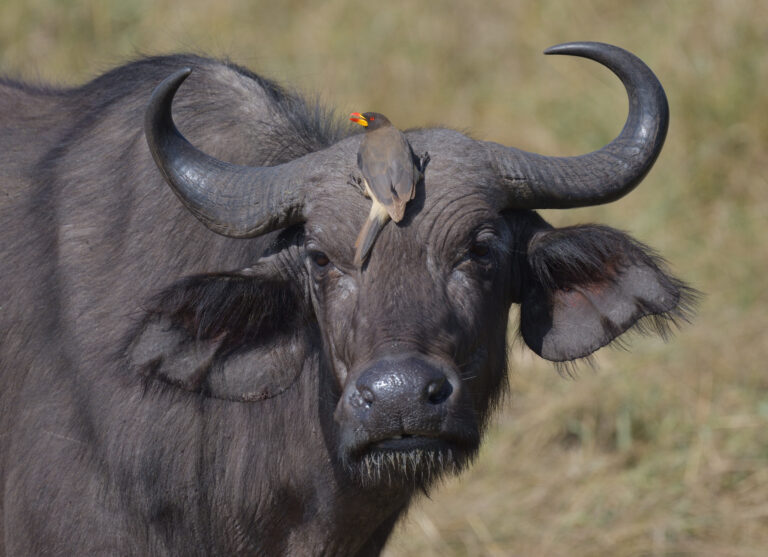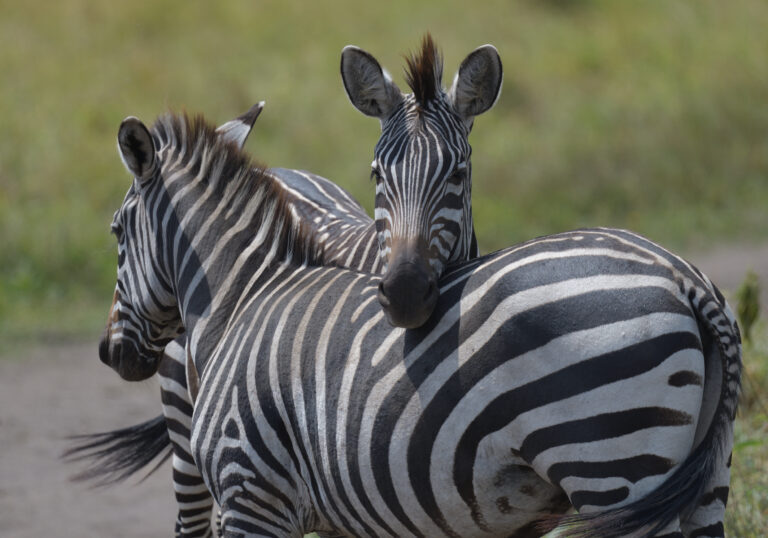 This afternoon, we have an African Queen-style boat trip on Lake Mburo. Once aboard I mention to the captain that we are looking for a Finfoot and within three minutes we spot a female swimming secretively under the bushes overhanging the lake! Next, we see Malachite Kingfisher, Swamp Flycatcher and Striated Heron, with plenty of Hippos in the water and White-headed Saw-wings hawking insects over the lake. As the boat chugs along the edge of the lake, we spot another female African Finfoot, this time with two well grown chicks in tow! With the Finfoot well and truly nailed, the captain mentions White-backed Night Heron and guides us to a bush overhanging the water where he points out a pair of these rare herons with two well grown chicks all lined up on a low branch. Heading back to port we spot another female Finfoot with one chick, and then twenty minutes later a grey-necked male, making four adult Finfoots, or should it be Finfeet!? By now we had also seen around a dozen African Fish Eagles perched around the edge of the lake as well as several dozen Pied Kingfishers.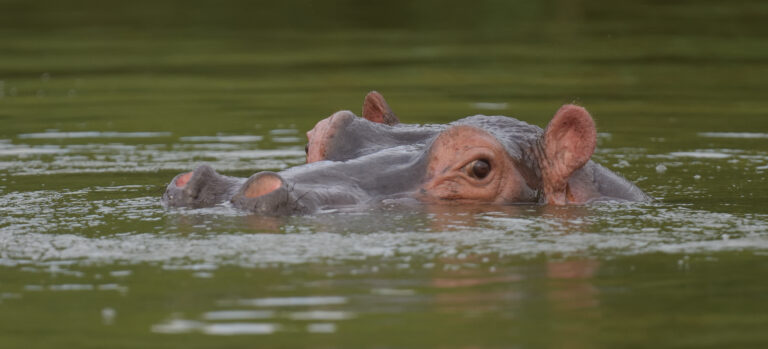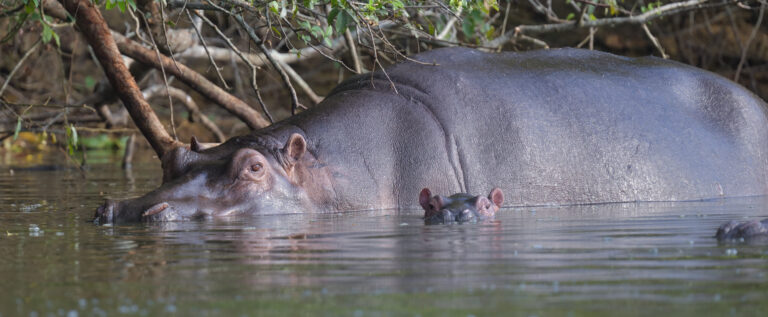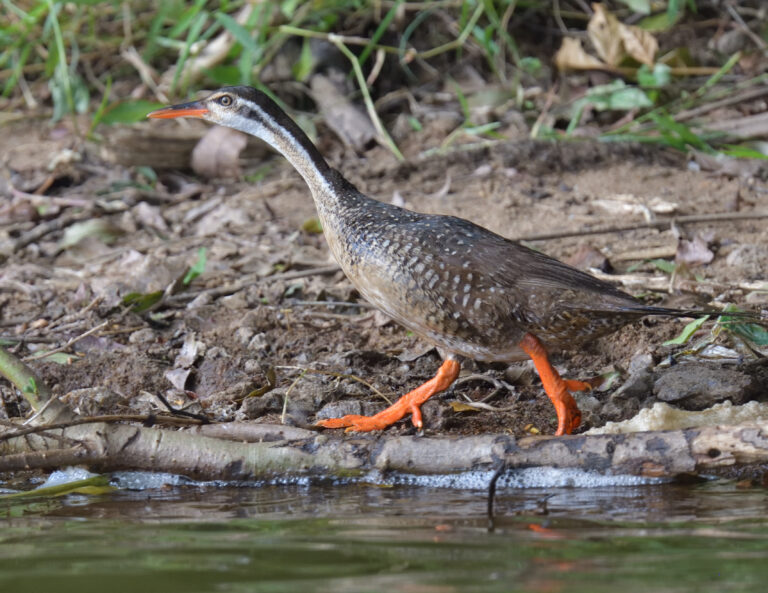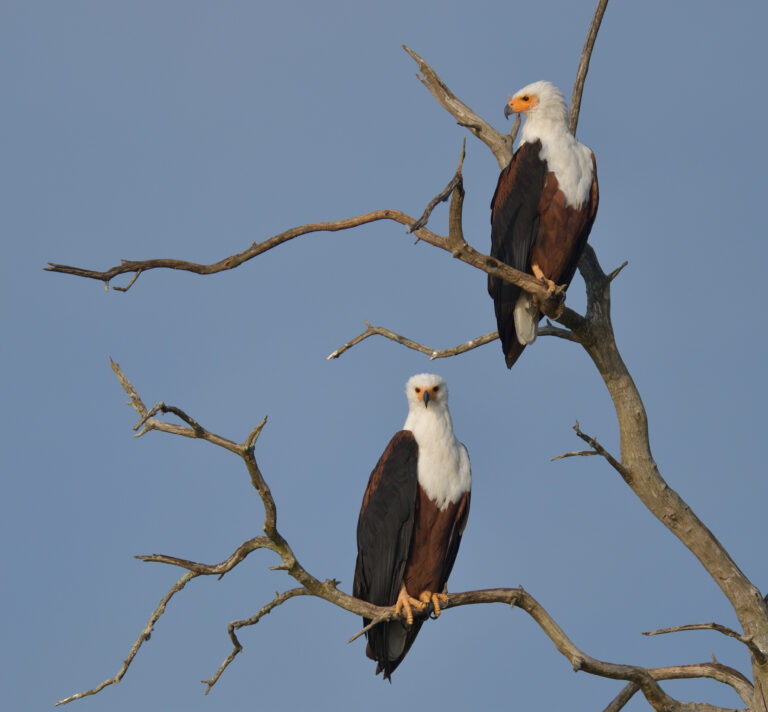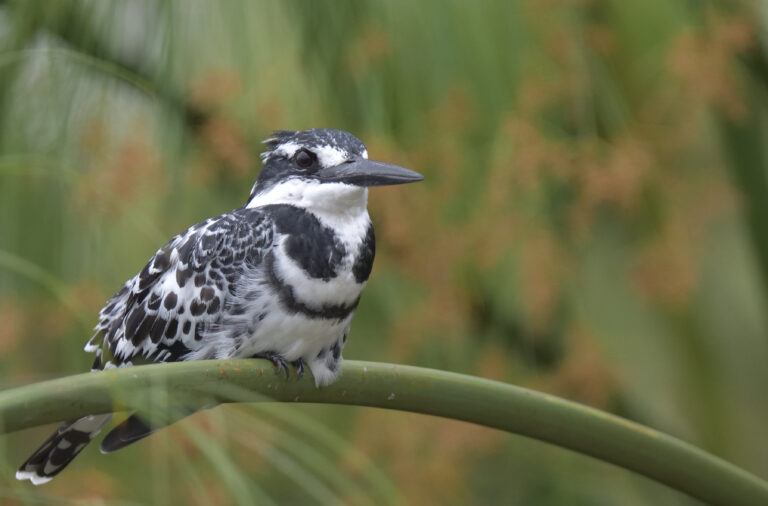 On the drive back to the lodge, Lynne spots a "pretty storky thing!" and a closer look reveals a magnificent five foot tall male Saddle-billed Stork hunting in the ditch right beside the track! Back at the lodge, the excitement continues with the appearance of a Thick-tailed Bushbaby after dark on the sun deck! We certainly did pack a lot in today.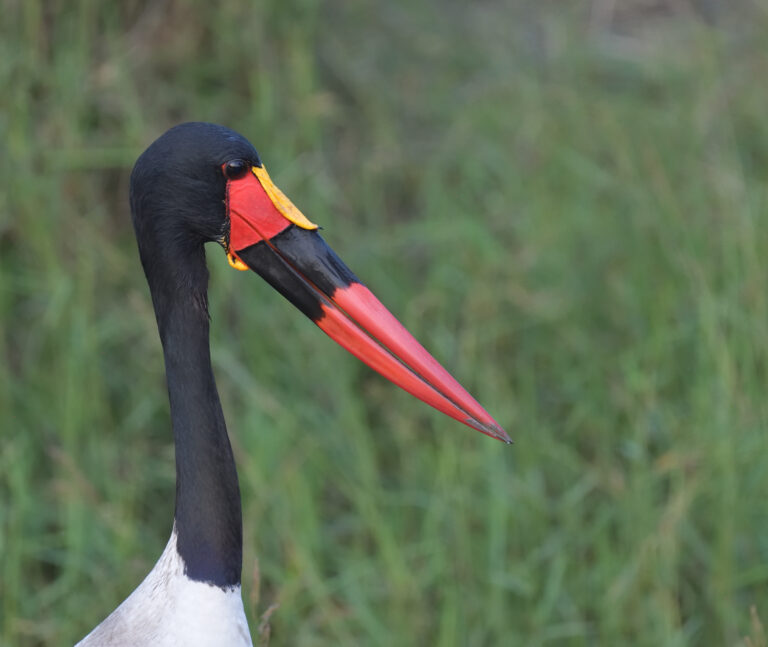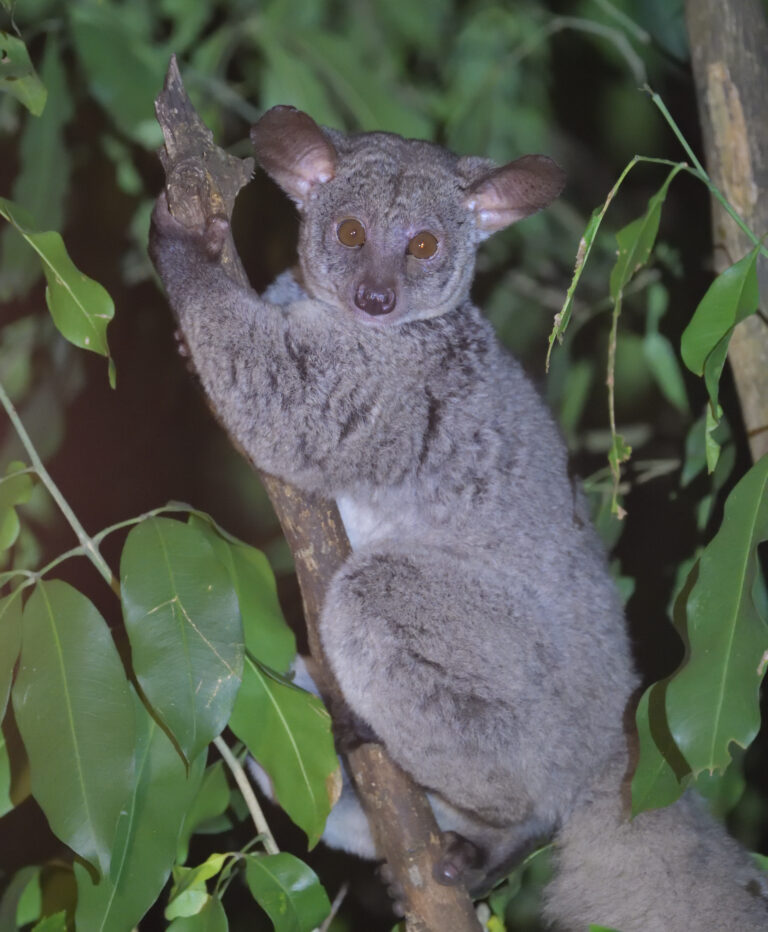 During breakfast overlooking the swimming pool this morning, the Baboons around the edge completely disregard the No Heavy Petting sign! After breakfast, we start the long journey to Bwindi in the far southwest of Uganda and soon see Yellow-throated Longclaw and the very handsomely marked Golden-Breasted Bunting. At the entrance gate to the national park, our local guide Alex arranges a show. By playing the call of a Black-collared Barbet, he attracts a rival Red-faced Barbet to the top of the tree in front of us and then, after playing the call of a Red-faced Barbet, a Black-collared Barbet flies in to land on the very same branch as the first barbet!
On the bumpy track back to the main road we also enjoy views of Plain-backed Pipit, Marico Sunbird, Crowned Lapwing, Wattled Starling and another Black-headed Gonolek, as well as Ankole cattle, which are a local breed with remarkably large horns and the largest of any cattle breed worldwide!
Along the main road, passing through towns with busy markets crammed with people selling melons, mangos, pineapples and especially bananas, and through banana, sorghum and, as we get higher, tea plantations, a few roadside stops produce good views of Long-crested Eagle, African Stonechat, Cape Wagtail, Yellow Bishop, Streaky Seedeater, Western Citril, Cinnamon-chested Bee-eater, Chubb's Cisticola, Grey-crowned Crane, Uganda's national bird, and for some, the secretive Papyrus Gonolek. After meeting L'Hoest's Monkey, journey's end is Bakiga Lodge in Ruhija village on the edge of Bwindi Impenetrable Forest National Park, at an altitude of around 7500 feet.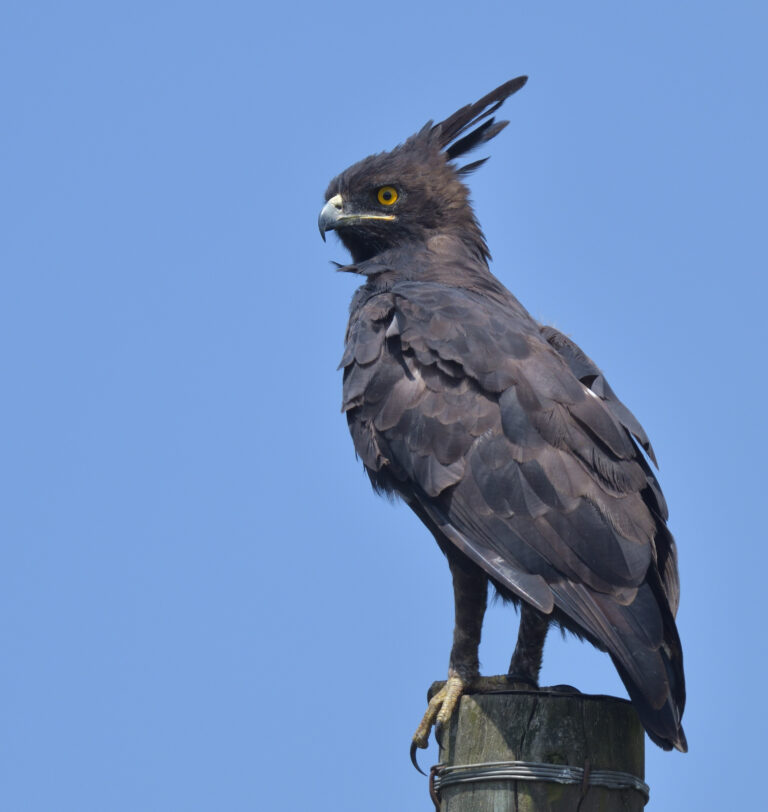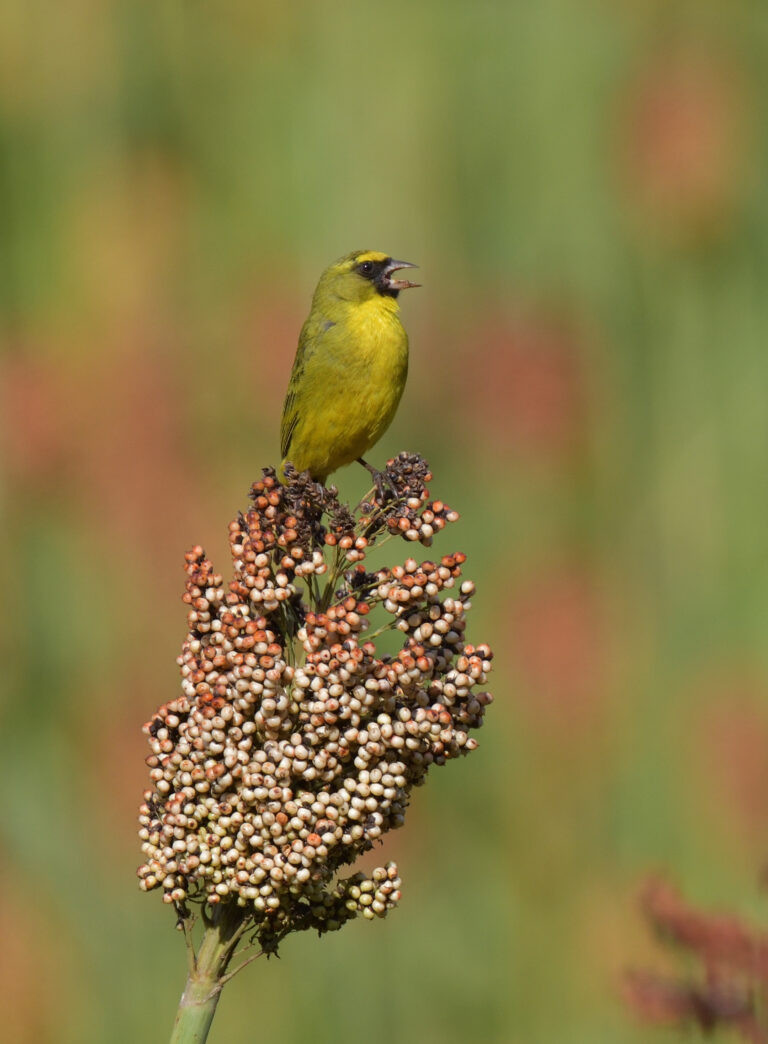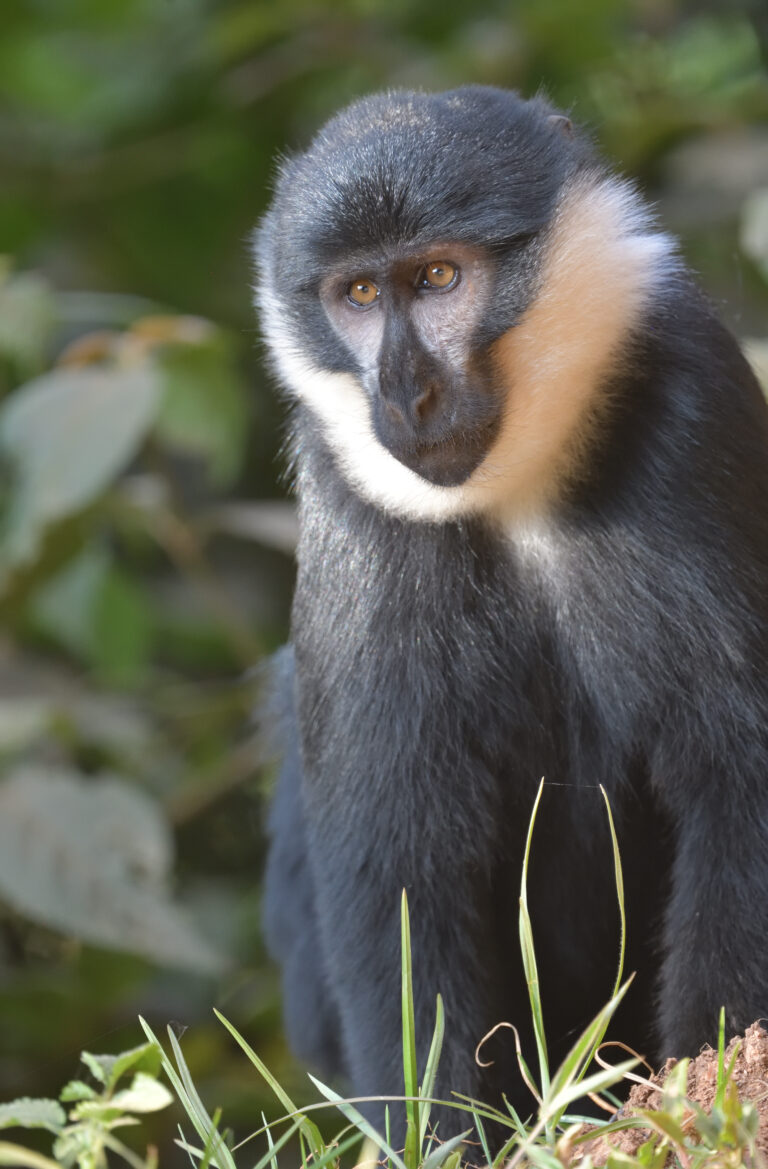 Today is the big day when we go trekking in search of Mountain Gorillas. The process begins with singing and dancing performed by a group of local women and then we are allocated to the Bitukura group, along with a Park Ranger and our personal porters. Prepared for a long hike, with packed lunches, water, rain gear and locally made long bamboo hiking staffs, we set off at 9.10am on a narrow trail through thick bracken and other shrubs but after just twenty minutes, the local trackers point to a large male Gorilla high up in one of the tall trees, reaching out to break off branches with his long powerful arms! From here we must leave our baggage, put on face masks, and follow the trackers down the steep slope towards the Gorilla, where we soon meet his troop. By now the male has descended the tree and the family is moving slowly through the dense bracken, including a baby riding on its mother's back. Our magical hour with these magnificent creatures now begins at around 9.35am as one of the two silverbacks decides to sit down in the shade for a rest and so we sit down to join him less than ten yards away! Eventually he gets bored with his audience, scratches his chin and bulldozes his way through the dense shrubbery, while a younger Gorilla actually brushes right past us to follow him! Then a second silverback appears a few yards to our right and takes up a reclining pose rather like a super model. Making eye contact with the dark brown eyes of such a gentle giant at such close quarters is an unforgettable moving experience and one wonders what might be going through his mind as he stares at us.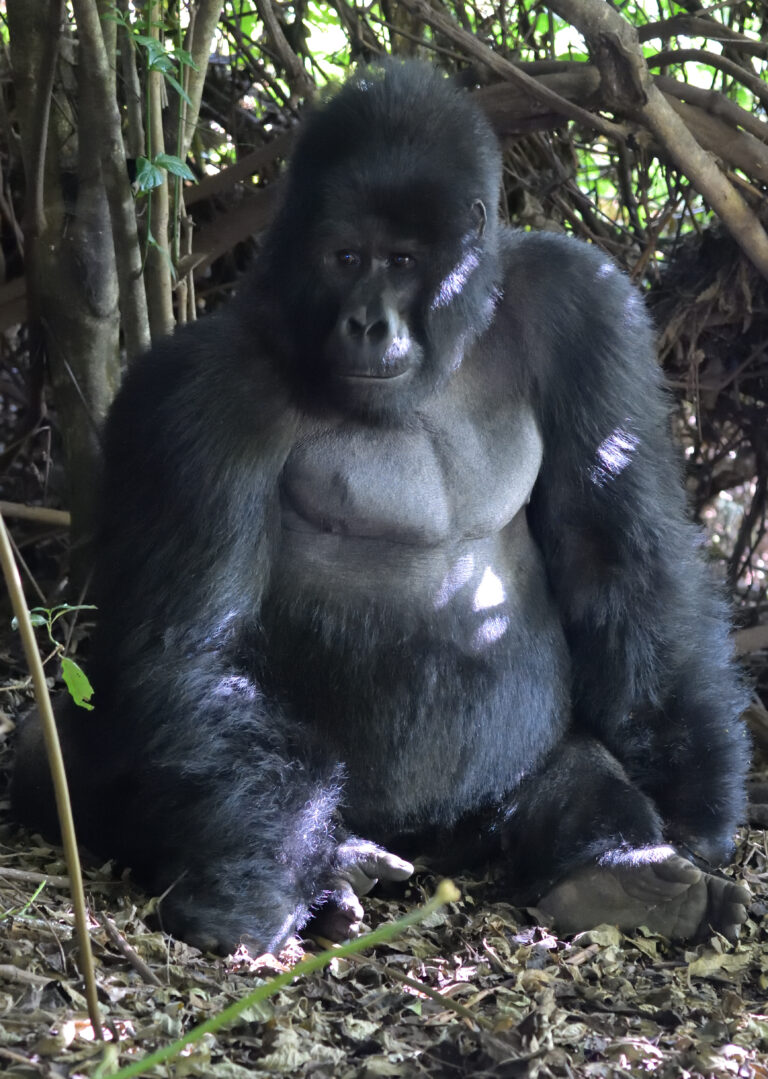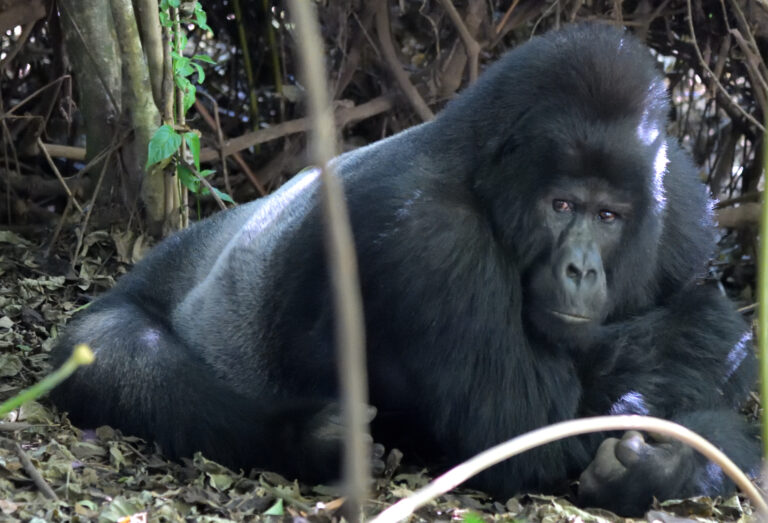 Moving on we follow the rest of the troop who are now high up in another tall tree until, one by one, they descend effortlessly in seconds like firemen down a pole! By now our time with these ten Gorillas is almost up and we must leave these wonderfully placid apes who quietly go about their daily lives with barely a murmur, unlike the beastly King Kong of the cinema. Just before we leave, one of the smaller Gorillas walks straight past me and gently pats me on the arm with a fist, as if to say, "step aside Man, this is my jungle!".
After a 'walk in the park' with the Gorillas, we spend the afternoon birding along the dirt road not far from where we saw the Gorillas earlier and spot three more species of primate; Black-and-white Colobus Monkeys, a troop of Grey-cheeked Mangabeys and a Blue Monkey. In just half an hour, from one spot overlooking the thickly forested steep slopes, the bird list includes, in order of appearance, Slender-billed Starling, Yellow White-eye, five Great Blue Turacos in one tree, Mountain Greenbul, Grey-throated Barbet, Blue-headed Sunbird, Banded Prinia, Grey Cuckooshrike, Slender-billed Greenbul, Stripe-breasted Tit, Mountain Buzzard, Black Saw-wing and Black-and-white-casqued Hornbill. Moving on to a new vista, we also find White-rumped and African Black Swifts, White-starred Robin, Northern Double-collared Sunbird, Western Green Tinkerbird and a singing Mountain Yellow Warbler with a bright red gape, and on the drive back to the lodge, a Black-fronted Duiker crosses the road ahead of the jeep. What a memorable day that was.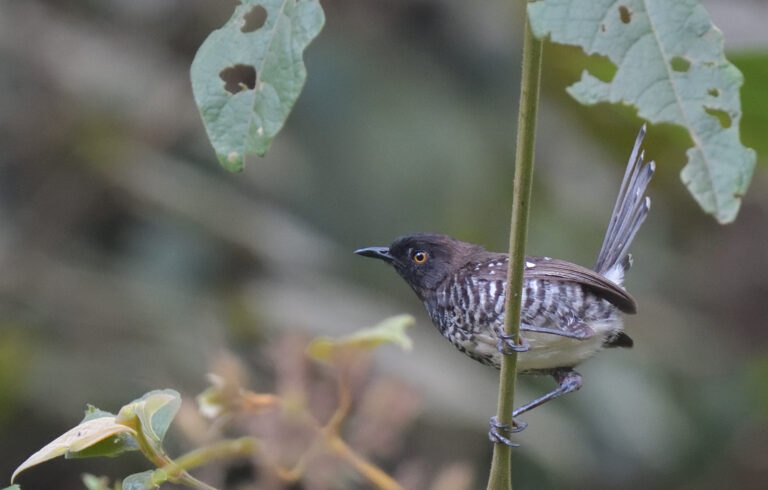 This morning we meet up with site guide Amos for 'Operation Broadbill' and head off on a long hike into the 'impenetrable forest'. Early birds here include Black-and-white-casqued Hornbill, White-chinned Prinia, Chubb's Cisticola, African Emerald Cuckoo, Mackinnon's Shrike, Northern Puffback and a red-capped male Olive Woodpecker. Next, we find two of the local endemics; Yellow-eyed Black Flycatcher and Strange Weaver, and then watch Great Blue and Black-billed Turacos chasing each other in the same treetop! Although none are biting, there must be plenty of flies as we next spot White-eyed Slaty, African Dusky and White-tailed Blue Flycatchers. About three miles into this pristine tropical forest, festooned with mosses, we reach a tree with a nest of woven moss and plant fibres hanging from a low branch and sit down with a tube of Pringles, while waiting for the target bird to show. Ten minutes later, Amos spots the bird sitting quietly in a tree lower down the slope. Hooray, it's the stunning African Green Broadbill, with a lovely sky-blue breast. Mission accomplished, on the way back along the trail, we also find Brown-capped Weaver, Sharpe's Starling, Yellow-whiskered Greenbul, a roving band of White-headed Woodhoopoes and the locally endemic Archer's Robin Chat.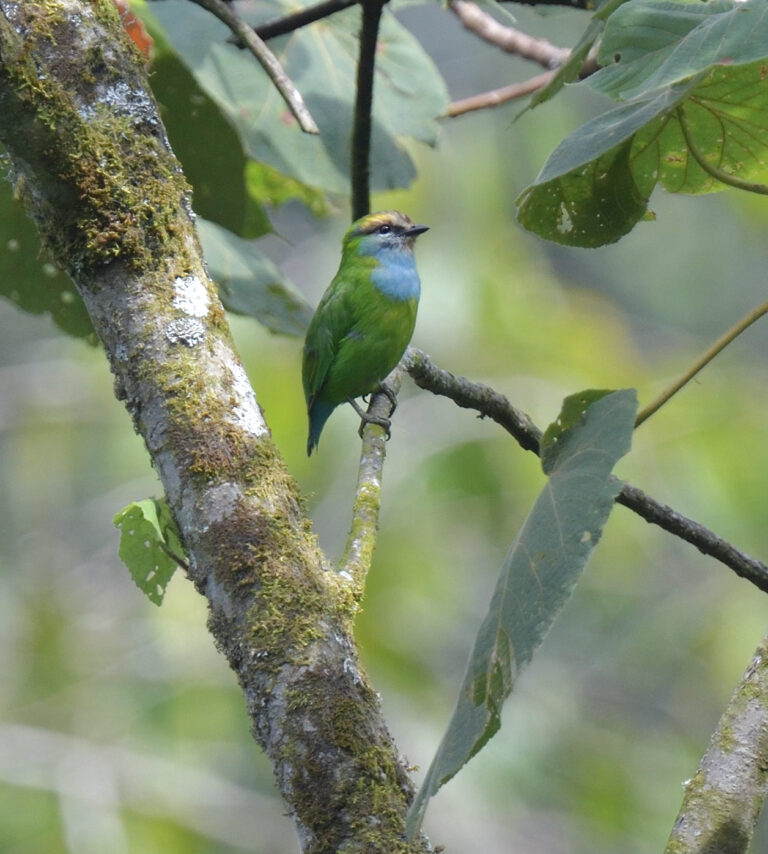 After a late lunch back at the lodge, we drive west, on a slippery dirt road in heavy rain, to Haven Lodge in Buhoma, with a panoramic view of Bwindi's rolling forested hills, laden with mist after the recent rain.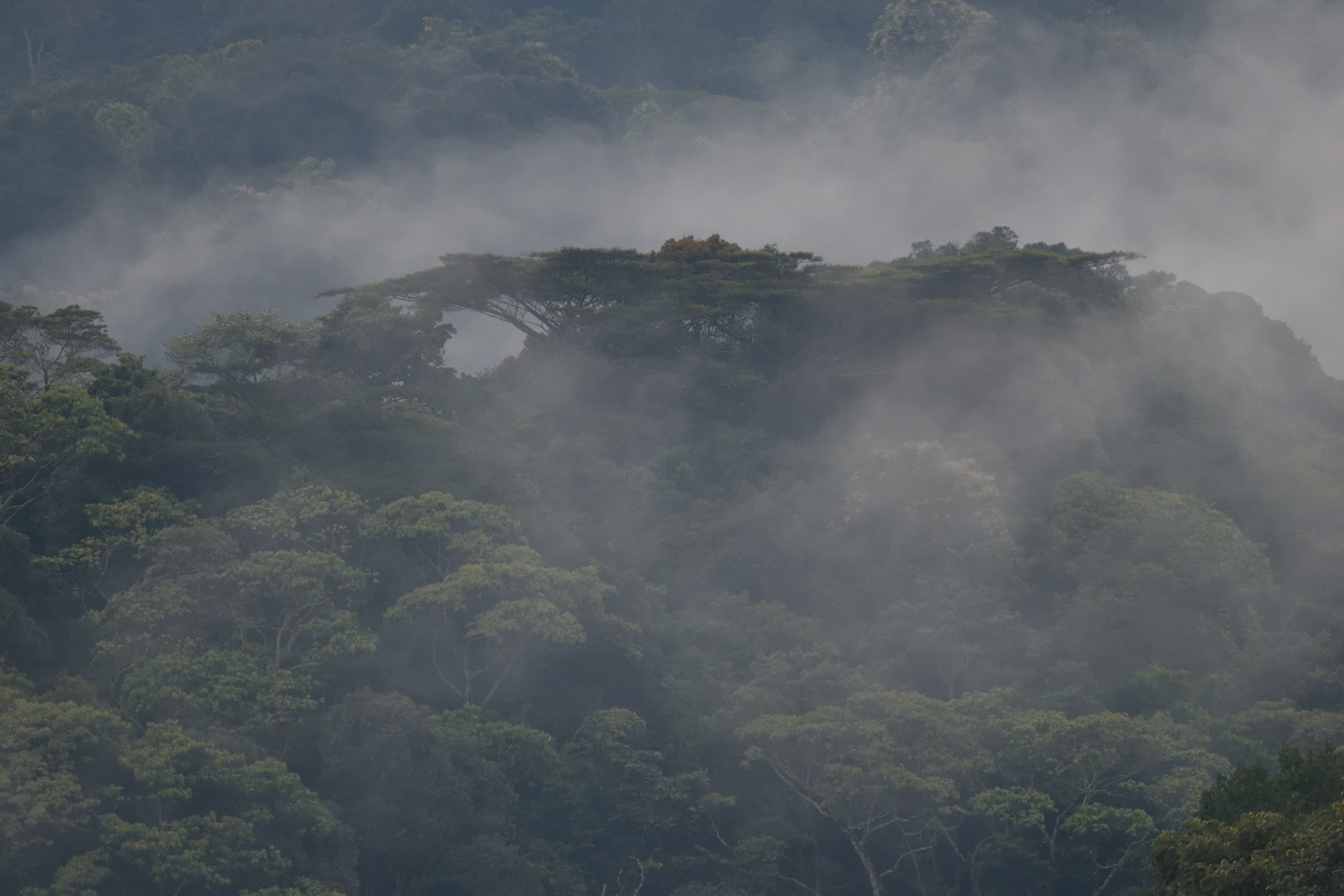 This morning we meet up with Apofea, another local guide, for an easy walk through the nearby forest, starting with Angola Swallows sitting on the village wires while waiting for the day to warm up. An African Blue Flycatcher puts on a good show, while a nearby pair of White-eyed Slaty Flycatchers are busy nest building. The flurry of activity continues with Bocage's and Lüdher's Bush Shrikes, a vocal Grey-capped Warbler and a very agile, fast moving Red-legged Sun Squirrel. Moving on, we find Black-necked Weaver, Green-headed and Collared Sunbirds, Little Greenbul, Petit's Cuckooshrike, Dusky-blue Flycatcher, White-breasted Negrofinch, a male Brown-throated Wattle-eye which lacks the female's brown throat, with very close views of more Yellow White-eyes and White-chinned Prinias. Then, a piercing piping call attracts our attention to a patch of dense undergrowth where some of us eventually manage to see the super-skulking but attractive, Black-faced Rufous Warbler. From here we deviate off the track to make a circuit along a clear fast flowing river and along the way we find a giant millipede, a L'hoest's Monkey and a remarkable variety of colourful butterflies, as well as more new birds like Cassin's Honeybird, a male Red-headed Malimbe and a white-bearded Red-tailed Greenbul.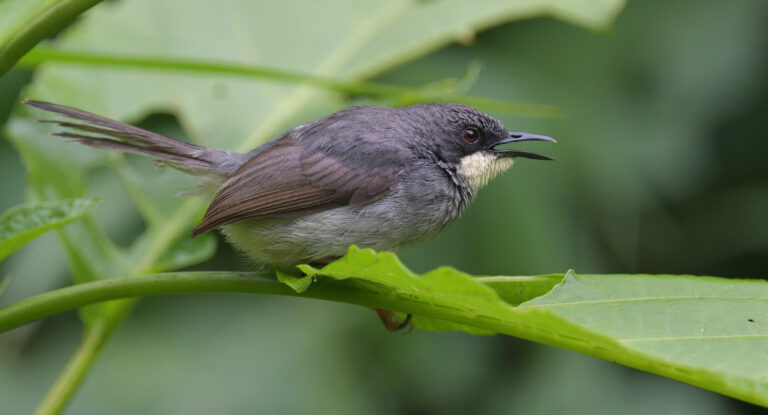 After lunch back at the lodge, with a long-tailed Bronze Sunbird showing well in the garden, we set off again at 3.40pm along the same track as this morning, where a forty five minute stint in one spot produces numerous sightings including African Pied Wagtail, Green Pigeon and Thrush, plus Fine-banded Woodpecker, Rock Martin, Grey-capped Warbler, Speckled Mousebird, Lüdher's Bush Shrike, Snowy-headed Robin Chat, Northern Grey-headed Sparrow, Thick-billed Seedeater and Baglafecht, Black-necked and Vieillot's Black Weavers. A little further on, we also find Montane Oriole, Northern Double-collared Sunbird, Brown-capped Weaver and Black-throated Apalis before heavy rain stops play.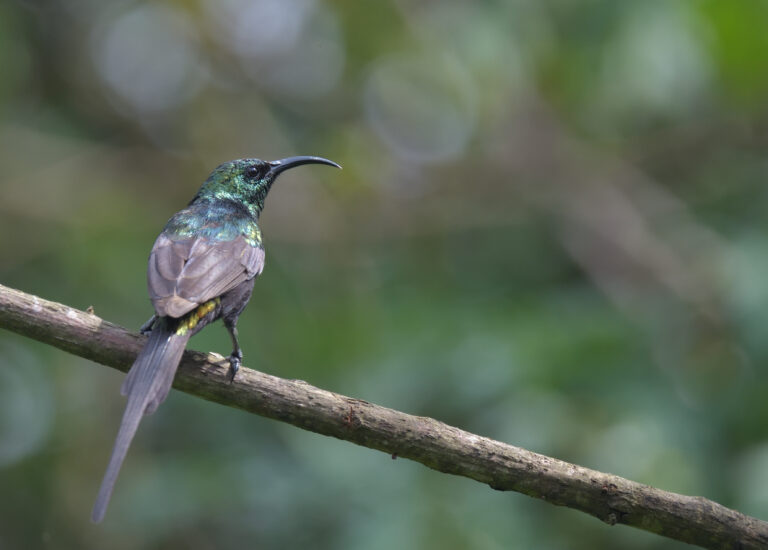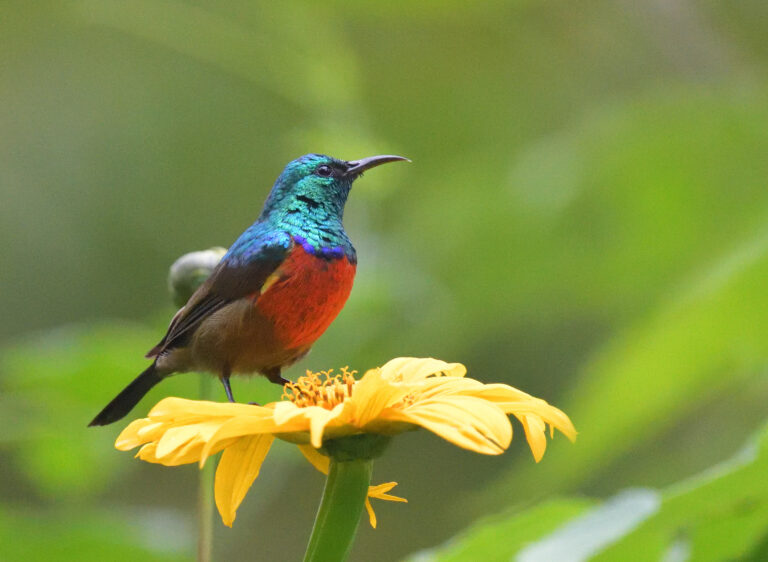 Our first stop this morning on the journey north from Bwindi is at the Pangolin Rescue Camp in Kayabirago, where the dedicated staff do a tremendous job educating local people about the plight of Pangolins, encouraging poachers to switch to other ways of earning income like beekeeping and fish farming and rescuing trapped Pangolins and releasing them back into the wild. Pangolin facts are remarkable. They have tongues as long as their bodies, no teeth and eat around 70 million ants and termites per year! Then there is their remarkable covering of hard scales made from Keratin just like fingernails. However, the sad fact is that a Pangolin is poached every five minutes! During our visit, we are lucky enough to see two White-bellied Pangolins wandering free on site, prior to being released back into the wild in a protected area. Green-throated Sunbird and Great Blue and Ross's Turacos also show well here.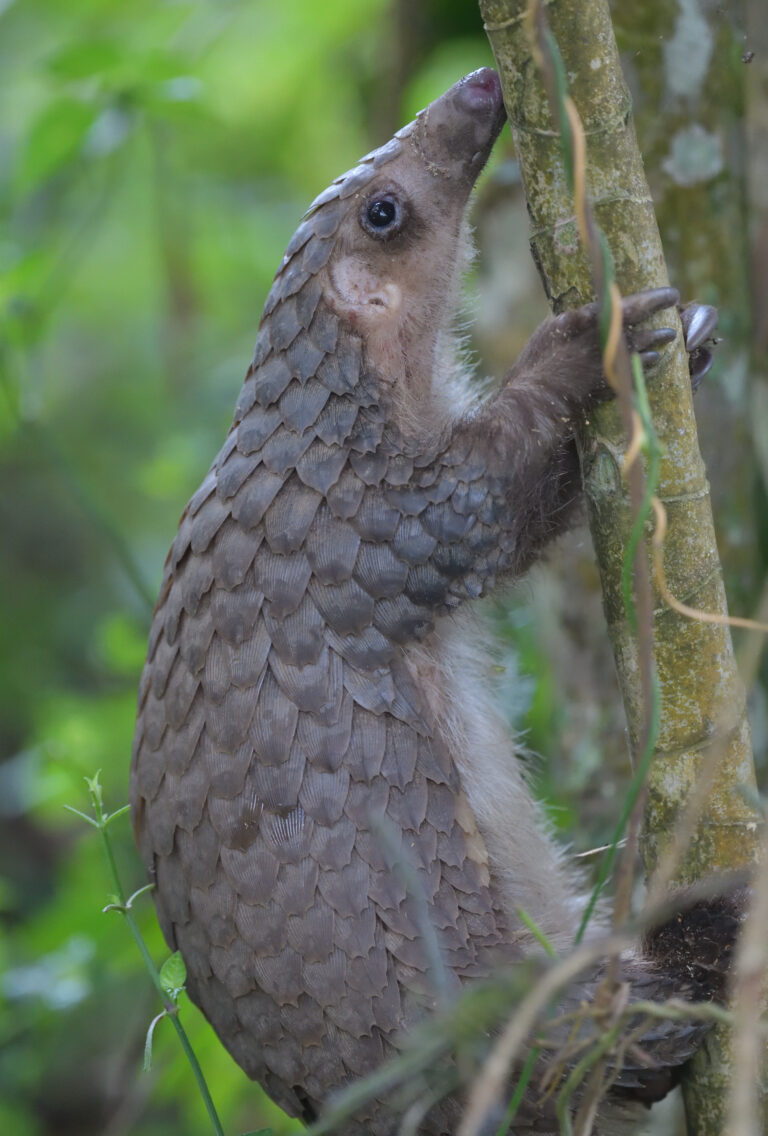 Moving on, through villages teeming with waving children, as it's Saturday, we descend into the Great Rift Valley, and pass within a few hundred yards of the border with neighbouring Congo, seeing Lizzard Buzzard, African Harrier Hawk and Common Fiscal Shrike along the way. Barely ten minutes out of the border village of Ishasha, two Lionesses cross the dirt track ahead of us and shortly afterwards, we see our first Elephant of the trip as well as plenty of the handsome Uganda Kob, which is only found in this part of Africa. Now in the classic African savanna of Queen Elizabeth National Park, we also see families of Warthogs with up to six little hoglets, plus Topi antelope, Long-crested Eagle, Palm-nut Vulture, Black-shouldered Kite, Grey-headed Kingfisher, Madagascar Bee-eater, Plain-backed Pipit, Yellow-throated Longclaw, Black-headed Gonolek and Grey-backed Fiscal Shrike.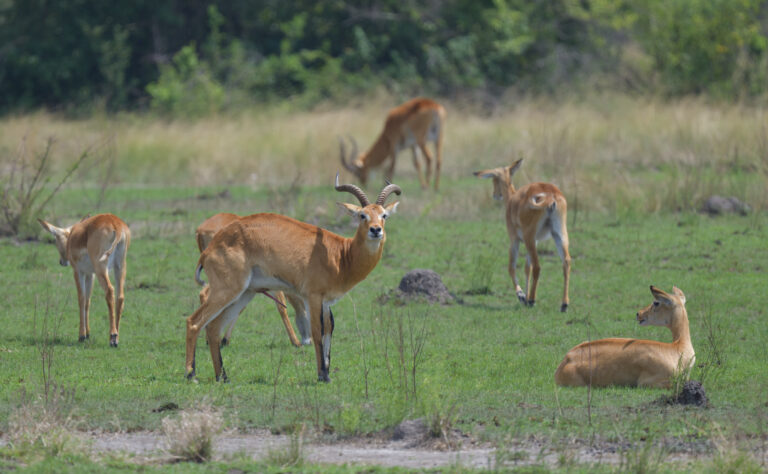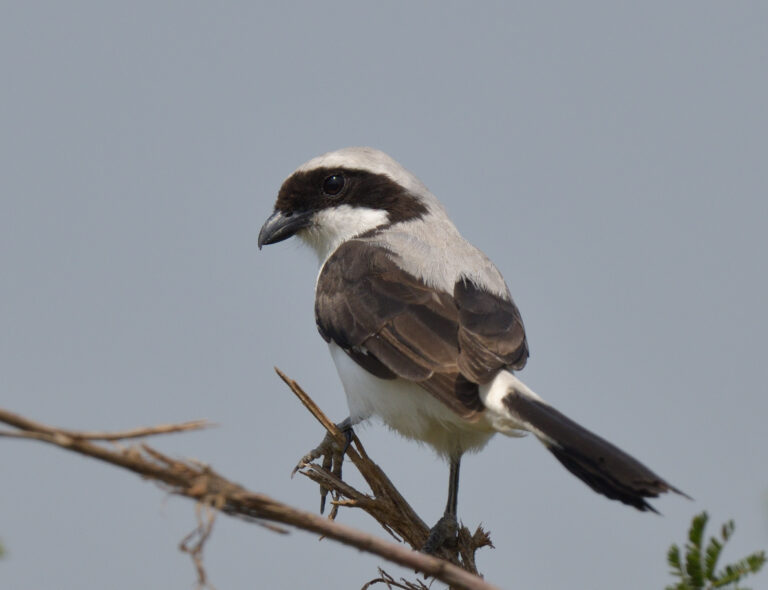 After lunch at Ishasha Lodge, with Olive Baboons, Vervet Monkeys, Crowned Hornbill and African Thrush in the grounds, we re-enter QE National Park for another game drive and spot many of the usual 'suspects' plus Wattled, Crowned, Spurwinged and Senegal Lapwings, Kittlitz's Plover, Northern Black Flycatcher and White-browed Coucal. As well as Hippos and Cape Buffalos, half buried in thick mud, we also find another Lioness almost hidden amid the long grass. After another packed day, journey's end is Park View Safari Lodge on the eastern escarpment overlooking the rift valley.
This morning we set off into QE National Park again, and as it's Sunday there are a few Yellow Bishops on show, while other members of the congregation include Croaking Cisticola, Copper Sunbird, White-headed and Double-toothed Barbets, Fawn-breasted Waxbill, Yellow-fronted Canary, Pin-tailed Whydah and Red-collared Widowbird. After a visit to a viewpoint overlooking the impressive Kyambura Gorge, we cross the Kazinga Channel and spot Pink-backed Pelicans from the road bridge, followed by Grey Kestrel, Southern Red Bishop and Yellow-backed and Little Weavers further along the road. Deeper into the park, we find Flappet Lark and Western Banded Snake Eagle, plus sparring Uganda Kobs, two Lionesses resting in a Euphorbia tree, more Cape Buffalos half buried in thick mud with attendant Cattle Egrets picking off flies, a Kittlitz's Plover, shading two eggs from the sun, so close to the track that we stop to place two rocks beside the nest to shield it from passing jeeps, and finally, a Hippo grazing beside the track in full sun, which is unusual as they normally come out to graze at night.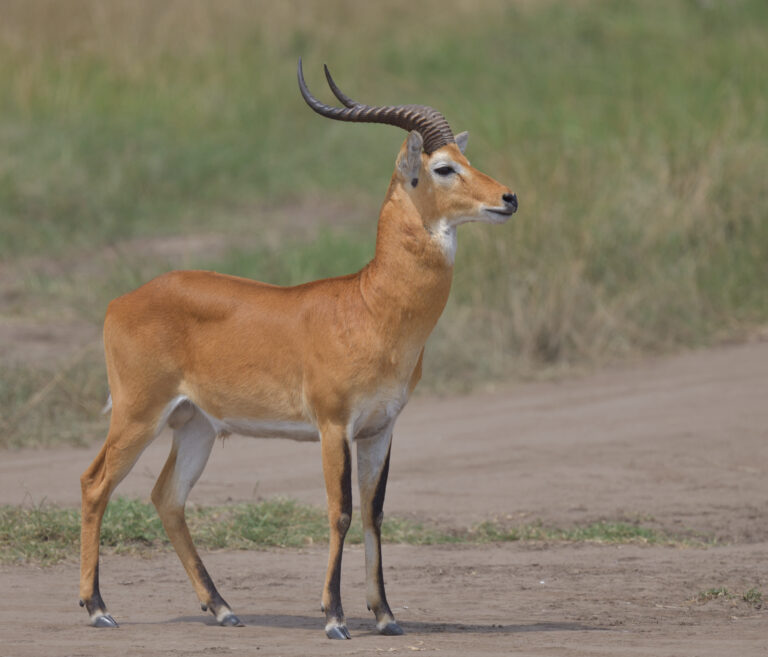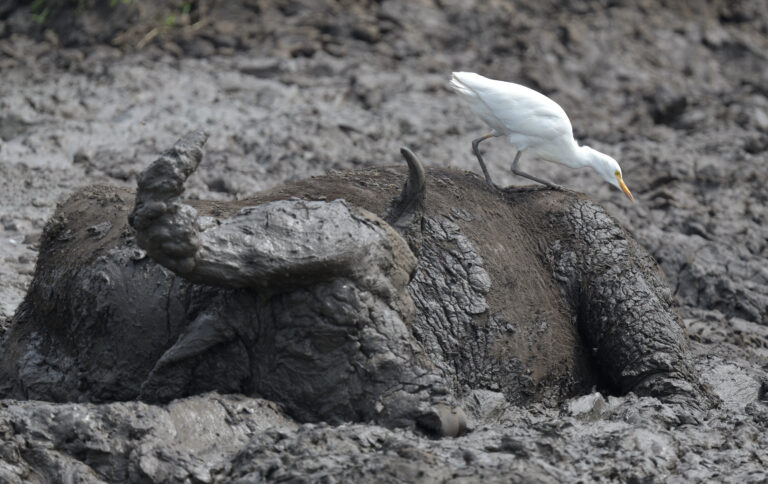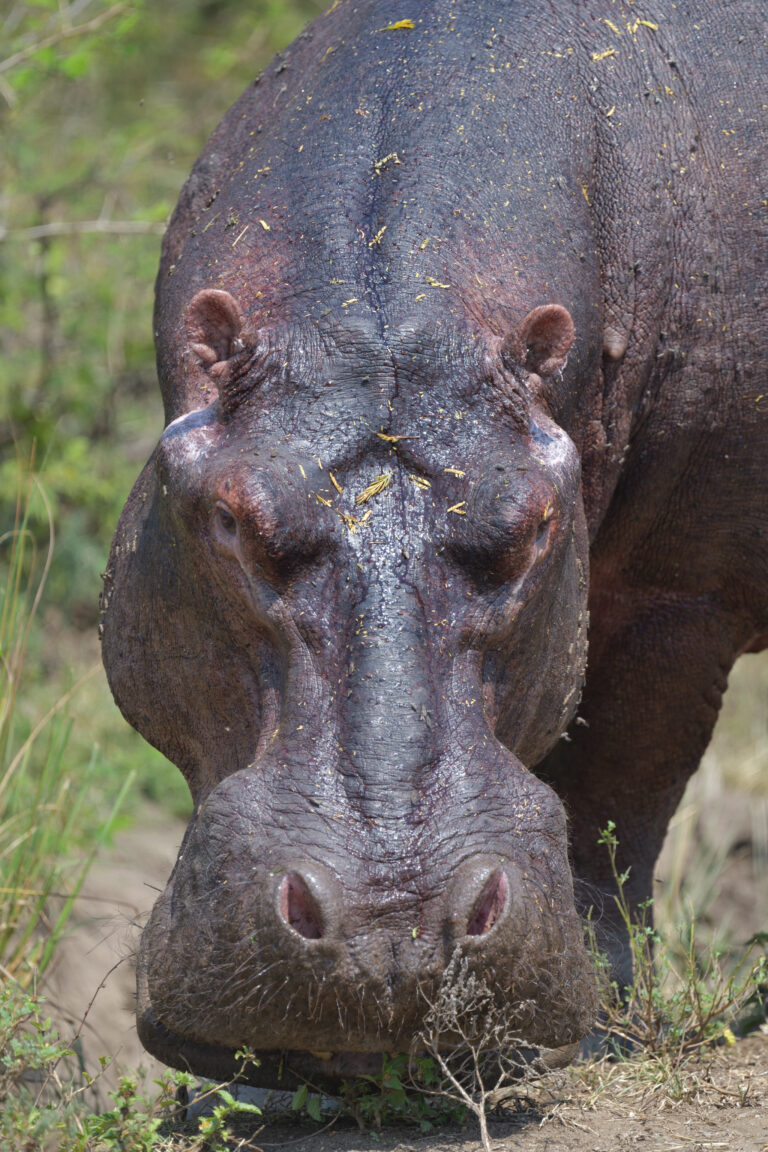 Arriving at the very smart Mweya Lodge for lunch, with a very realistic life size Elephant statue outside the front entrance, we find White-browed Robin Chat on the car park and a Square-tailed Nightjar, roosting in a planted border right outside the front door! Inside the open entrance hall, the residents include a skink and an African Pied Wagtail on the polished wooden floor and two Swamp Flycatchers perched on one of the sofas!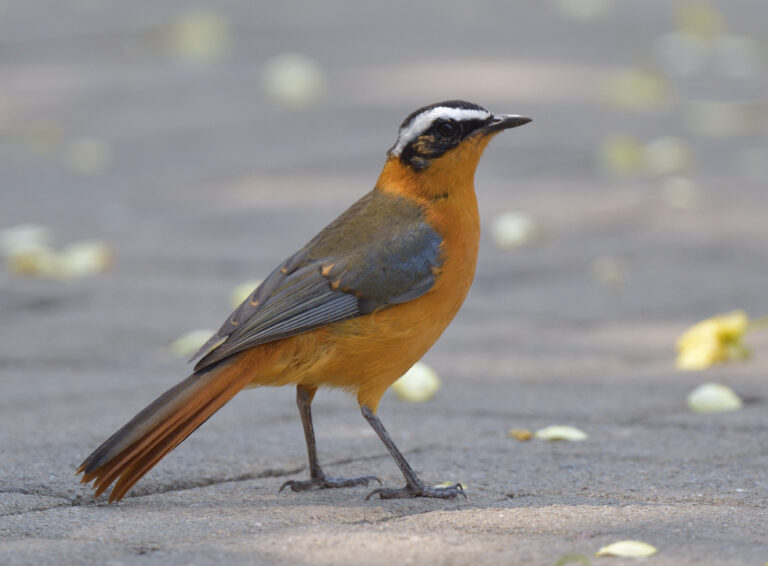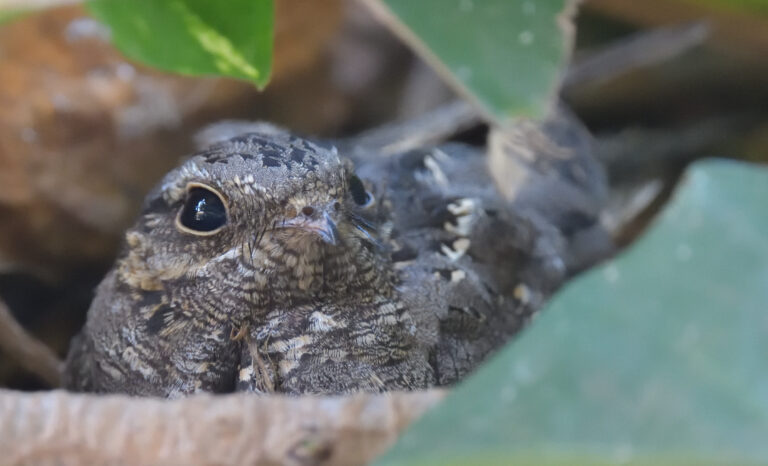 This afternoon we board the Sunbird for an exclusive boat trip on the Kazinga Channel which links Lakes Edward and George. The wildlife here is so prolific it's hard to keep track of the sightings which come thick and fast. There are Hippos, Buffalos, Elephants and Waterbuck galore, as well as basking Nile Crocodiles and a wide variety of fabulous birds, many at incredibly close range, such as Hadada and Sacred Ibises, Marabou and Yellow-billed Storks, Squacco, Grey, Black-headed and mighty Goliath Herons, Great and Long-tailed Cormorants, Grey-headed Gulls and African Jacanas with colourful Red-throated Bee-eaters and Wire-tailed Swallows, perched along the shore, plus the tiny but stunning Malachite Kingfisher, a flock of 150 plus African Skimmers, with their bizarre bills, and thousands of Pied Kingfishers! Absolutely amazing.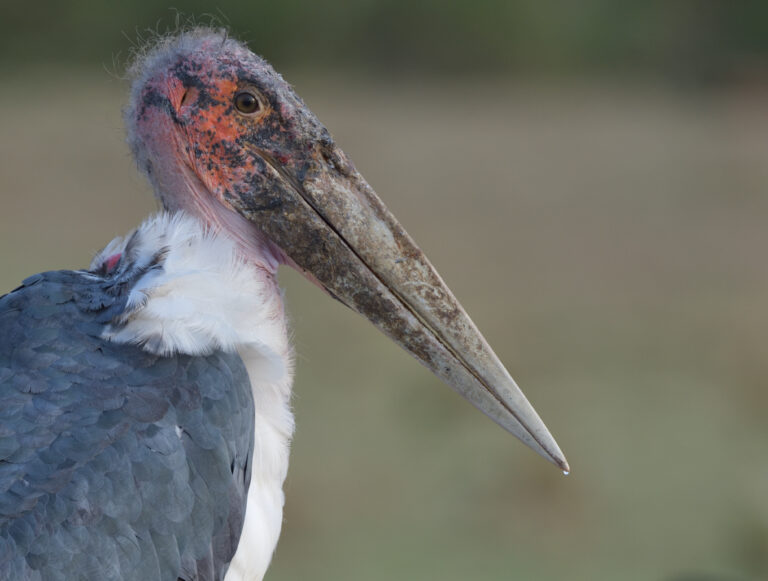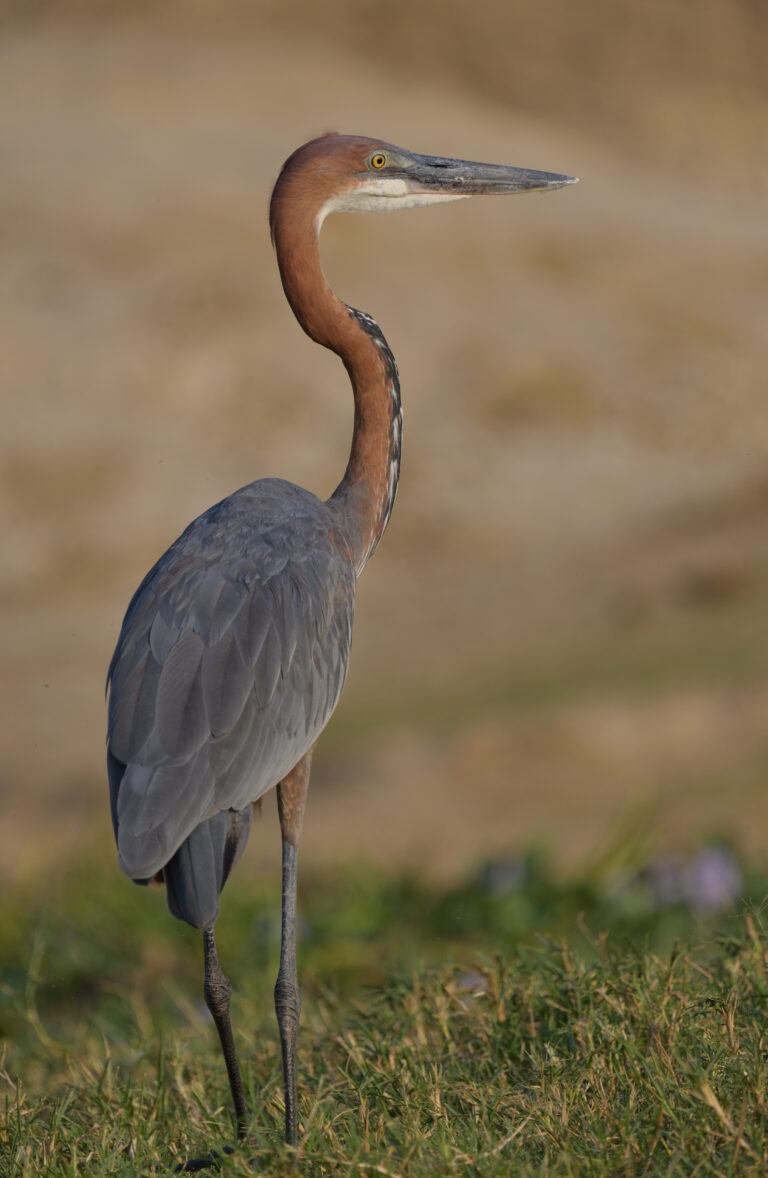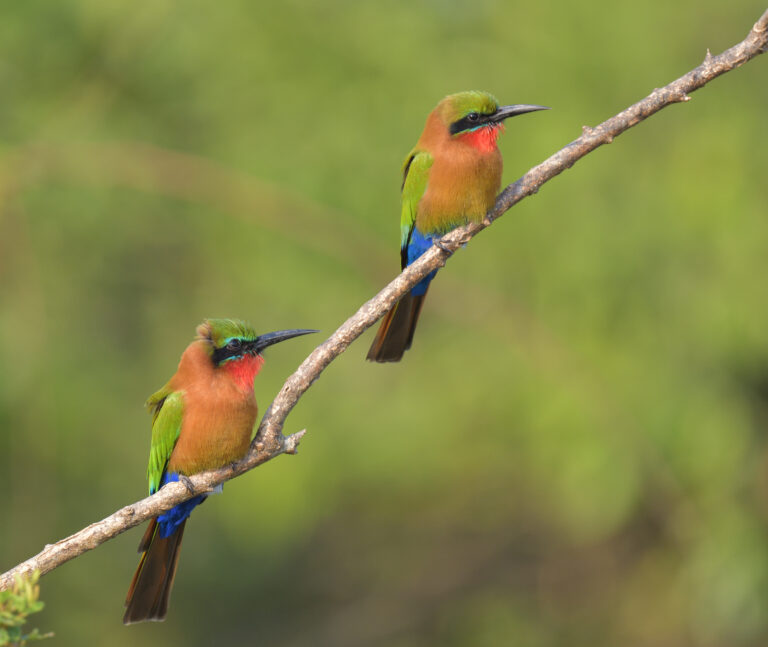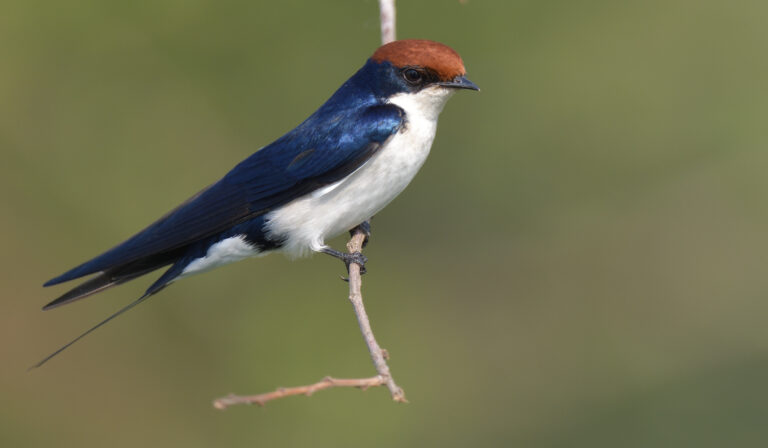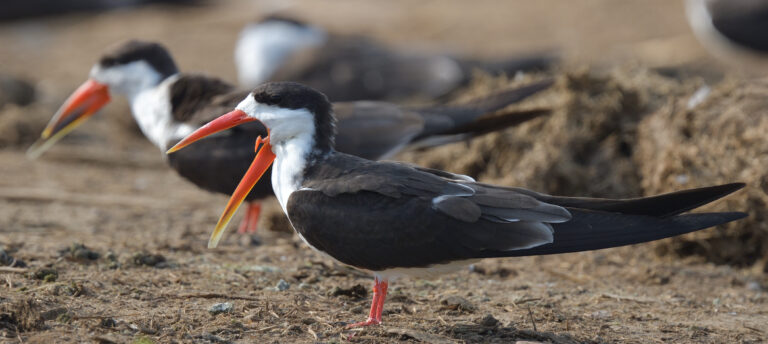 This morning we have a final game drive in the QE park, where we start small with Zitting and Croaking Cisticolas and then go large with a Leopard, well hidden in a Euphorbia tree, which is number four in our quest for the 'Big Five'. Meanwhile, thanks to a tip off from a colleague, Alex asks if we "want to see Lions?" Naturally we say yes and head off in search of more big cats. Bouncing along a dirt road, used by local traffic as well as safari vehicles, we come to a situation consisting of a log jam of around twenty vehicles, centred around two Lions lying in the shade of an adjacent safari jeep parked in the middle of the road! You are not going to believe this but, behind the safari vehicle next to the Lions, is a motorbike heavily laden with bananas, lying on its side, with no sign of the rider! One instantly wonders if he had been devoured by the Lions! A third Lion then pops up from behind another safari jeep, while various vehicles are either jockeying for a better position to see the Lions, or simply trying to get through the melee and continue their journey, but thanks to our driver's quick thinking, by mounting the roadside bank to park alongside the road, we have a grandstand view of the whole circus. Meanwhile the driver of another of the long wheelbase Landcruisers attempts a crazy manoeuvre by driving along the opposite roadside bank at such a raucous angle that it almost tips onto its side, while we all squeal with disbelief and dread! Next, a motorcycle incredibly drives straight into the melee and weaves through, via the blind side of the jeep shading the Lions, before emerging between the jeep and the abandoned motorcycle, presumably unaware of the Lions' presence. For some inexplicable reason, the passenger gets off the bike! They're behind you! Realising his mistake, the expression on the man's face, with wide open eyes as if he has just seen a ghost is priceless. Needless to say, he instantly jumps back on the bike as it scarpers. By now, another Lion has appeared, making four, and after sniffing the bananas, they move away from their original positions. Banana Man now emerges from one of the safari jeeps and tries to recover his bike, but it's too heavy due to the load of bananas! Aided by two locals, they wrestle the bike to an upright position, but in the panic to get it started, two bunches of bananas fall off the bike. After several attempts at kick starting it, the bike eventually starts and Banana Man speeds away from the scene, two bunches short of a full load! Imagine, having to explain that when he gets to his destination, and imagine the reply to his spouse's query of "how was your day dear"? That has to be one of the most bonkers episodes I have ever seen, and you just couldn't make it up. While all this is going on, with no Park Rangers or Police present to try and bring some sort of order to the chaos, two more full grown male Lions approach the scene from behind us, now making a total of five Lions and one Lioness. However, the two big males, secrete themselves within a clump of bushes not far from the road and so one would never know they were there, placing them in an ideal position for an ambush on any unsuspecting prey.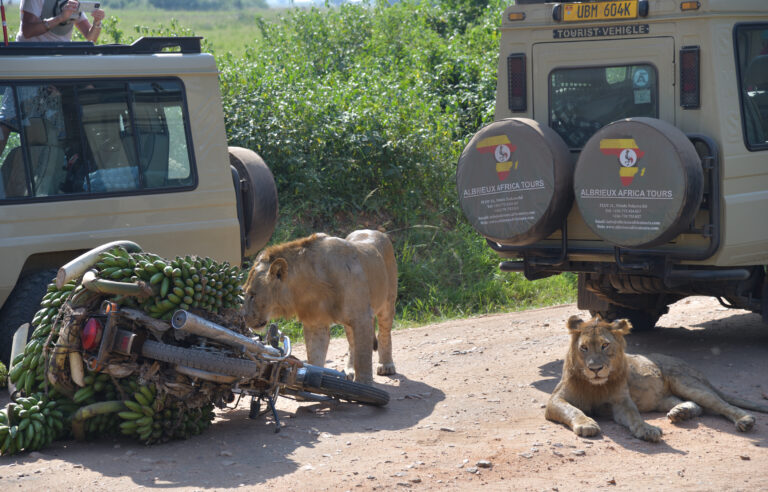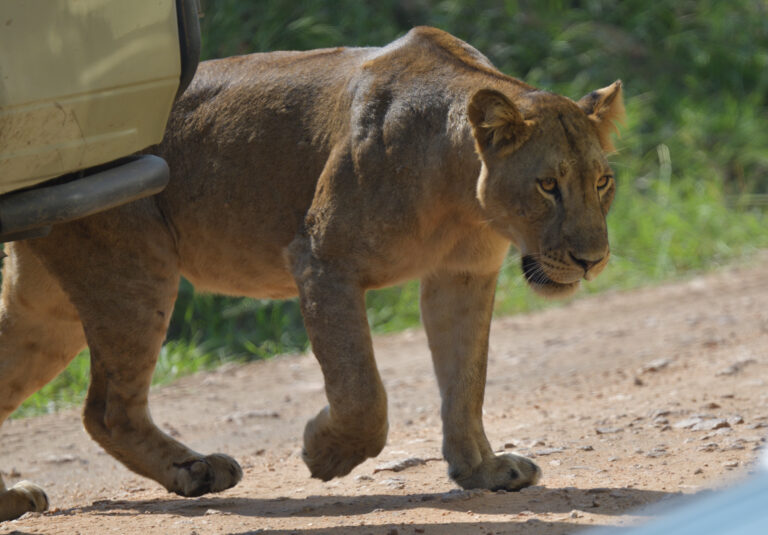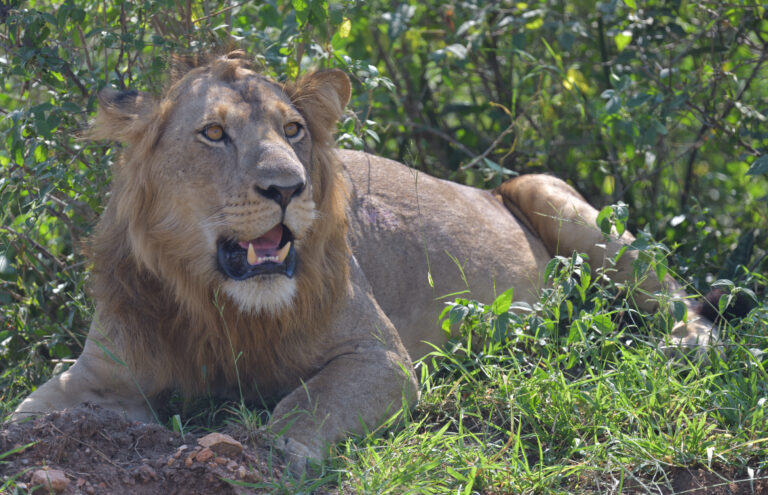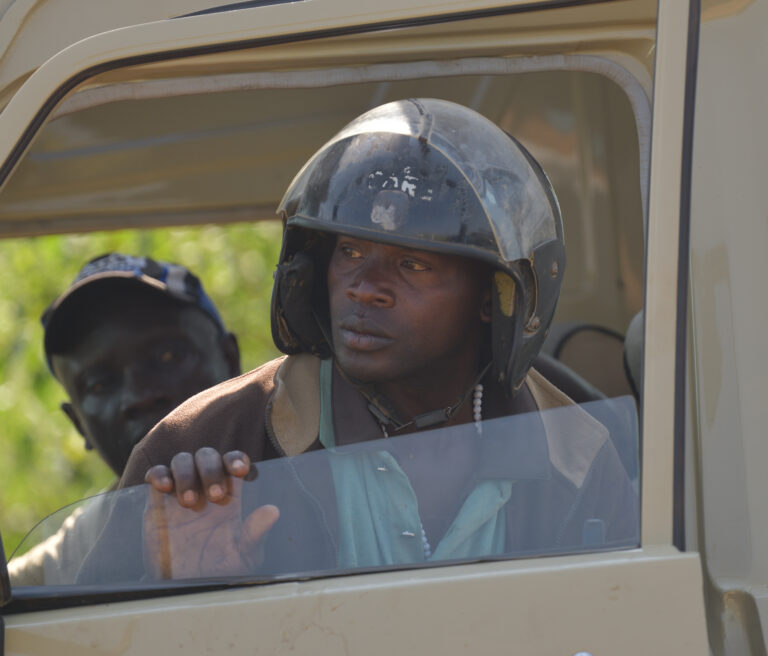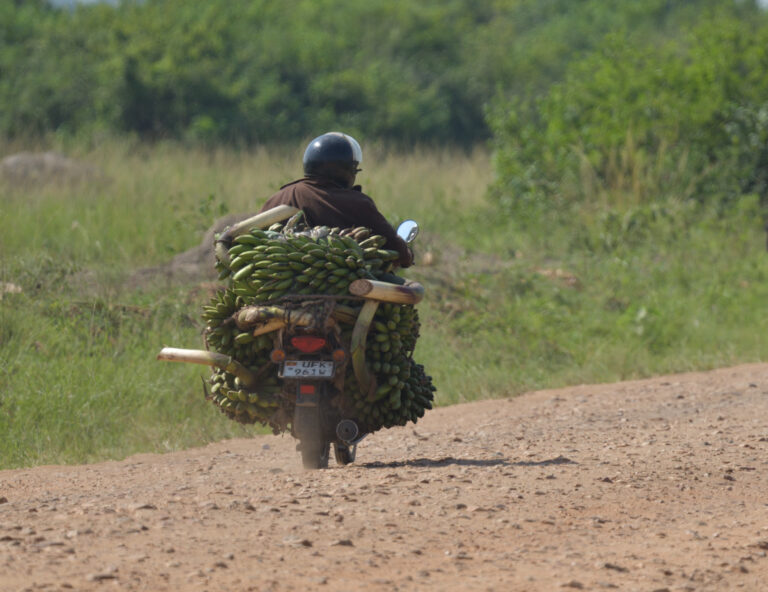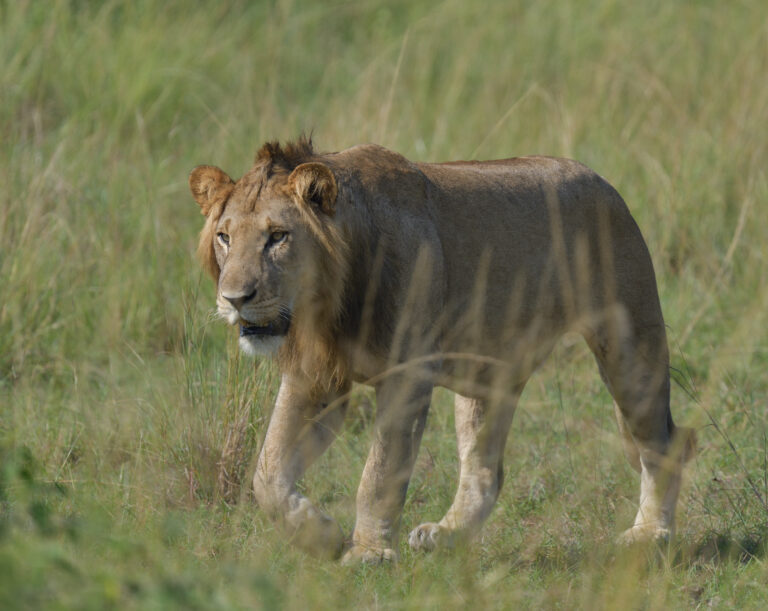 Incredulous about what we had just seen, we now move on, back into the northern hemisphere, en route to Kibale National Park, passing through plantations of bananas, and then tea clipped by hand, followed by several crater lakes, including one featured on the 20,000 Shilling bank note. Within a few hundred yards of entering Kibale National Park, the 'primate capital of the world', we see Vervet and Black-and-white Colobus Monkeys and Olive Baboons, as well as the scarce Black Bee-eater.
After lunch at our lodge within the park, a visit to the Bigodi Community Wetland produces Grey-cheeked Mangabey plus Red-tailed and Red Colobus Monkeys, making six primates in one day, while new birds include Speckled Tinkerbird, Little Greenbul, Green Crombec, Grosbeak Weaver, Grey-headed Negrofinch and the very secretive White-spotted Flufftail, while a pair of Grey-crowned Cranes show very well here.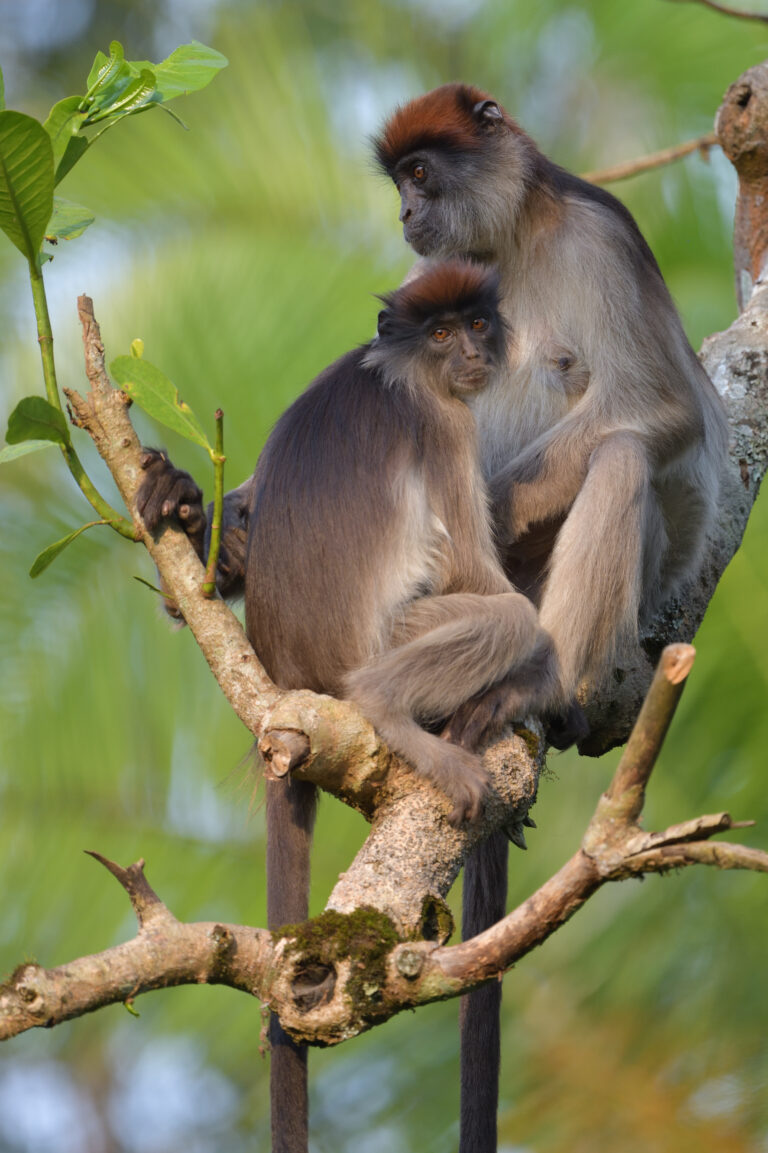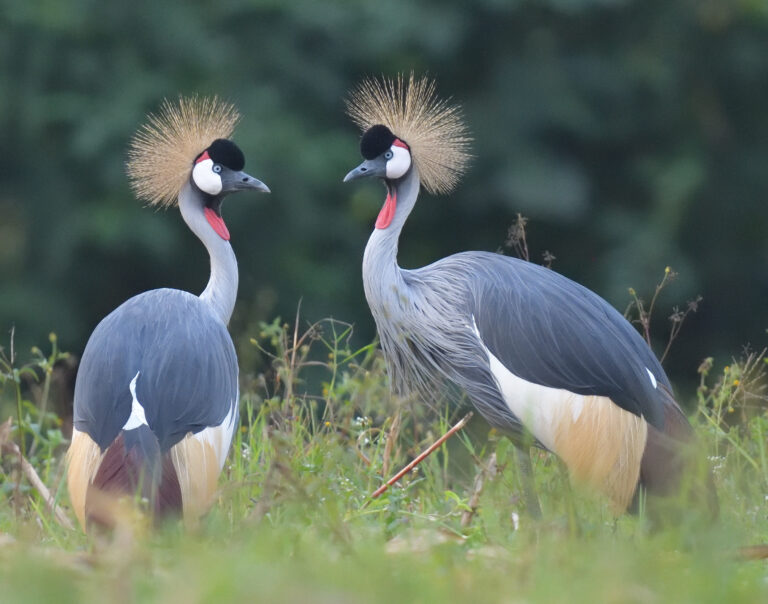 This morning we collect a Park Ranger and set off into the forest at dawn, hoping to see the rare Green-breasted Pitta which displays in July, hence the timing of our visit to Uganda. Picking our way through the undergrowth amid a cacophony of insect sounds and occasional screams from distant Chimpanzees, we home in on a calling Pitta, but despite the efforts of our local guides, sadly, the Pitta remains invisible. As they say, "you can't win 'em all". Somewhat disappointed, we move on in search of the Chimps, following their sounds for around twenty minutes, and then bingo, there they are, mostly up in the tree canopy, while two males, Surprise aged 28, and Mr Black aged 34, are happily feeding on fruits on the forest floor just a few feet away from their audience, and yet totally unfazed by it all, thanks to years of habituation to Human visitors. Surprise even dozes off on his back, with arms outstretched and one leg crossed over the other, just like a Human might! Unlike the placid Gorillas, there is always a potential for commotion with Chimps, on this occasion caused by one of the young 'swingers' sliding down a vine to show off to his elders.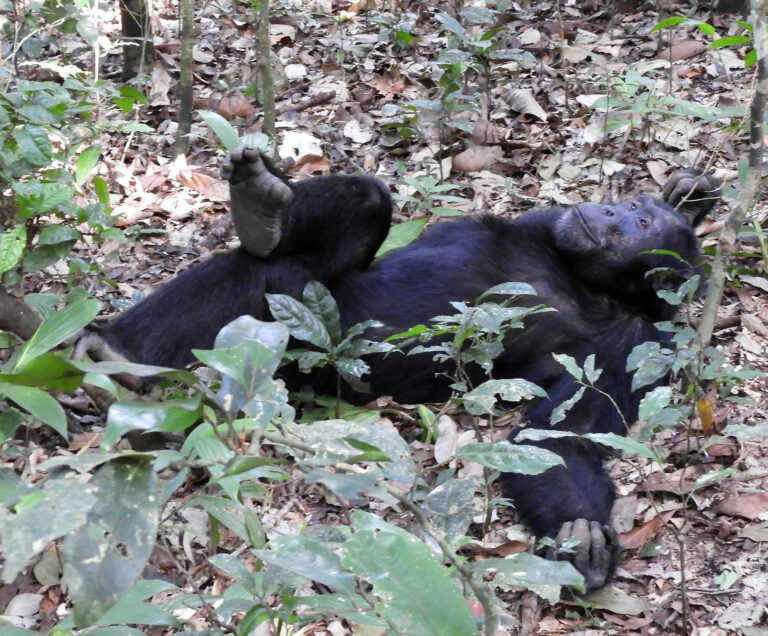 After collecting Chimp graduation certificates and having lunch at the nearby Primate Lodge with a posing Tree Agama, we continue our journey north, spotting Black-crowned Waxbill, White-collared Oliveback, Black Bishop, Yellow-backed and Northern Brown-throated Weavers and finally African Moustached Warbler on the way to the absolutely fabulous Semliki Safari Lodge, where dancing fireflies add to the magic of this wonderful setting after dark. One fly even appears on Ron's dinner plate!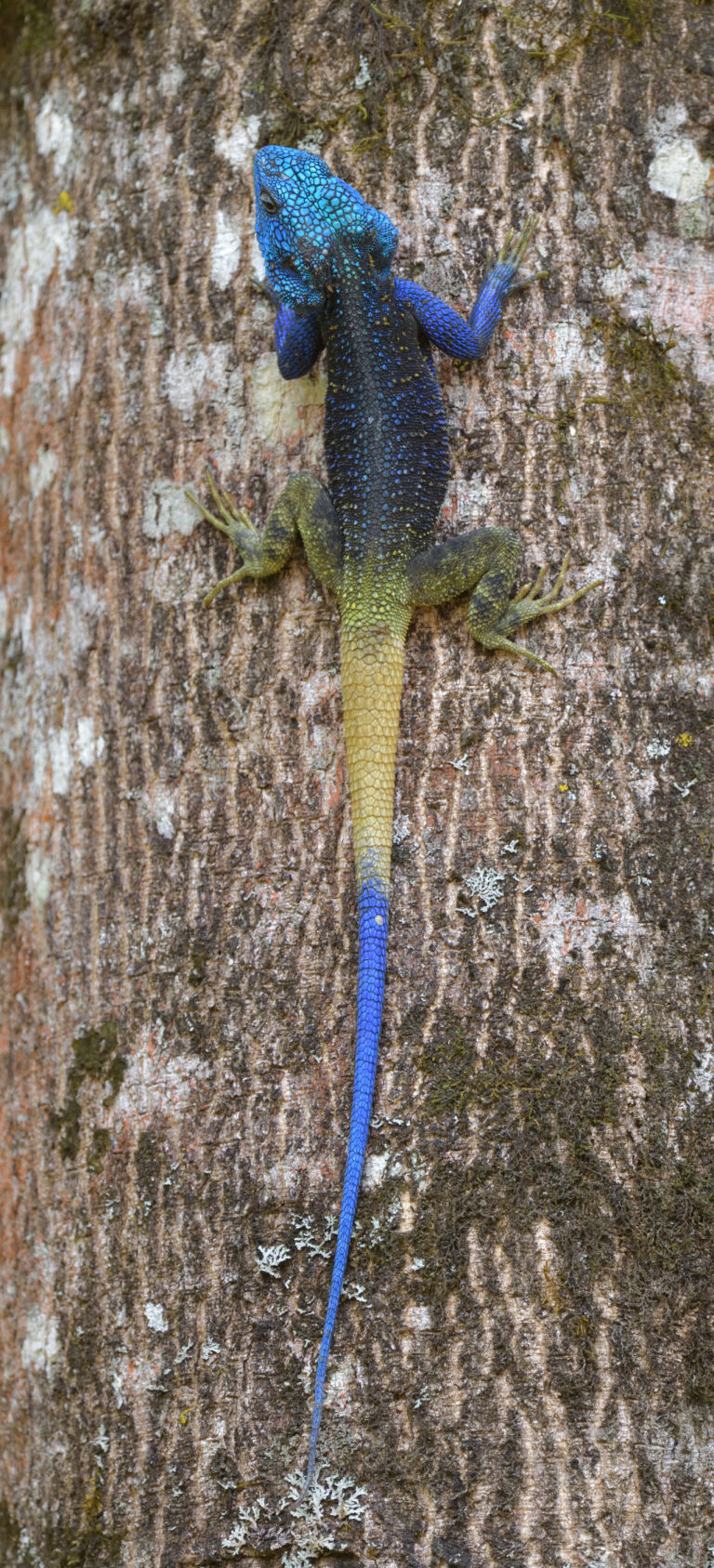 This morning we have another early start, spotting male and female Pennant-winged Nightjars, sitting on the dirt track in the headlights of the jeep near the lodge, on the way to Semliki National Park. Leafing through the Fieldguide to the Birds of East Africa shows that Semliki is a very important bird area, with a number of species which occur nowhere else in East Africa, including five different Hornbills, as the forest here is more typical of the vast Congo region to the west. Soon after meeting up with another Park Ranger here, we scope a group of six Piping Hornbills sitting in one dead tree while a massive male Black-casqued Wattled Hornbill flies over, so that's two of the local specialities straight away. Shortly after, we find the tiny Yellow-throated Tinkerbird, and then African Pied and White-crested Hornbills and all this from the roadside! From here a trail into the forest of towering trees reveals birds like Western Nicator, Xavier's Greenbul, Red-chested Cuckoo, Fire-crested Alethe and the striking Red-billed Helmet-shrike.
This afternoon, we visit the Male and Female Hot Springs, looking like steaming geothermal pools in Iceland or Yellowstone, apart from the Spur-winged Lapwing and Three-banded Plover in a tropical forest setting. On the way back to our lodge, a band of Piapiacs riding on cattle is another new tick for the bird list.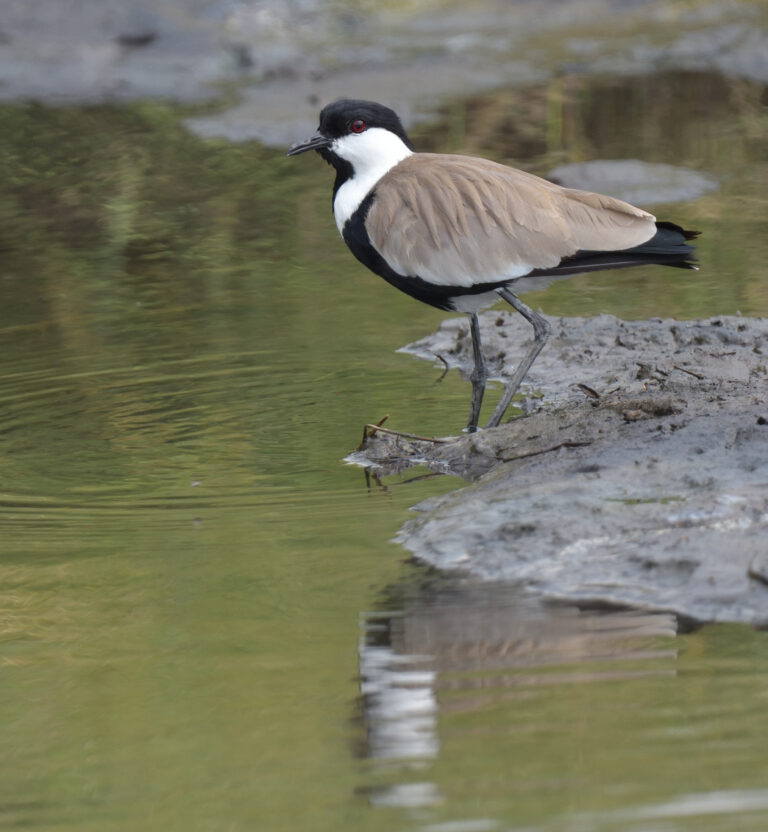 Sadly, we have to leave our lovely new home in Semliki this morning, and as we set off through the bush, a family of three gigantic Abyssinian Ground Hornbills struts along the dirt track ahead of the jeep. A little further on, we also spot a delightful little African Pygmy Kingfisher and even a furtive African Crake in the open at the side of the track!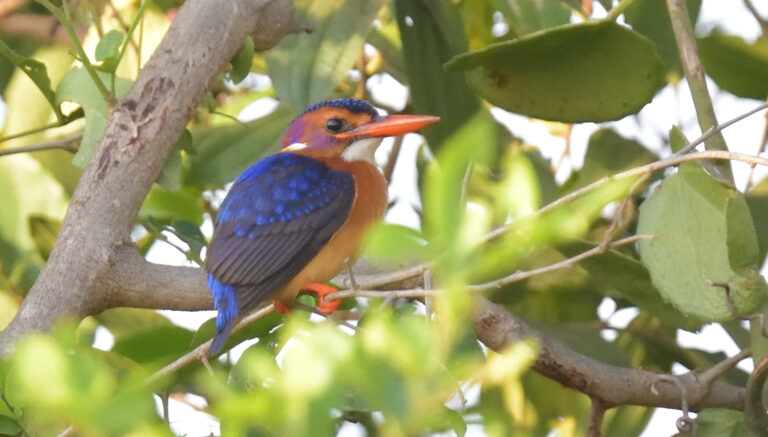 Heading north through town after town, such as Fort Portal, where the organised chaos includes hundreds of mopeds, often with wide loads strapped on the back, such as planks, bulging sacks, heavy bunches of bananas or cages of chickens, and sometimes on the wrong side of the road! Some carry up to four adults and we even see one with two lengths of hose pipe trailing about 50 yards behind it! Along the way, we also pass processions of school children on their way to school, on foot and unaccompanied by adults, in contrast to the car-based school run back home. Journey's end for the night is the Masindi Hotel. Built in 1923 this is the oldest hotel in Uganda and has been used by several Presidents as well as by celebrities such as Humphrey Bogart and Katharine Hepburn during the filming of the African Queen in 1951, and by Ernest Hemingway while recuperating from two plane crashes in 1954! This evening we have our third heavy downpour of the trip here.
This morning we visit the Budongo area where the fields are alive with a variety of songbirds such as African Moustached Warbler, Brown-backed Scrub Robin, Baglafecht, Spectacled and Compact Weavers, Yellow-fronted Canary, African Firefinch, Black Bishop, Red-collared and Yellow-shouldered Widowbirds and Bronze Mannikin, as well as Black-shouldered Kite and a posing Heuglin's Francolin. From here, we move on into the nearby forest reserve, where the first sighting is a Lead-coloured Flycatcher, followed by another brief glimpse of a White-spotted Flufftail. Quietly strolling through the cool cathedral of towering green trees, we steadily add to the bird list with Little, Little Grey and Slender-billed Greenbuls, Rufous-crowned Eremomela, Olive-green Camaroptera and Western Black-headed Oriole, plus Black-and-white-casqued, Pied and White-thighed Hornbills, while being peed on by a Blue Monkey! Further sightings include Rufous Flycatcher-thrush, African Shrike-flycatcher, Ashy, Sooty and Forest Flycatchers, Little Green Sunbird, Purple-headed Starling, Red-headed Malimbe, Yellowbill, and a calling male Narina Trogon, plus three local specialities; Lemon-bellied Crombec, Uganda Woodland Warbler and the tiny Chestnut-capped Flycatcher. As well as another dazzling variety of spectacular butterflies, we also find three forest-dwelling kingfishers; African Dwarf, the smallest, then African Pygmy, plus a posing Chocolate-flavoured, sorry Chocolate-backed Kingfisher, probably bird of the day.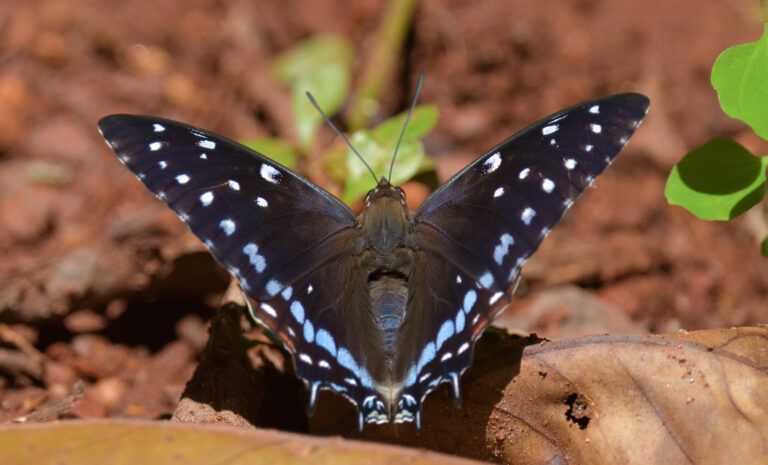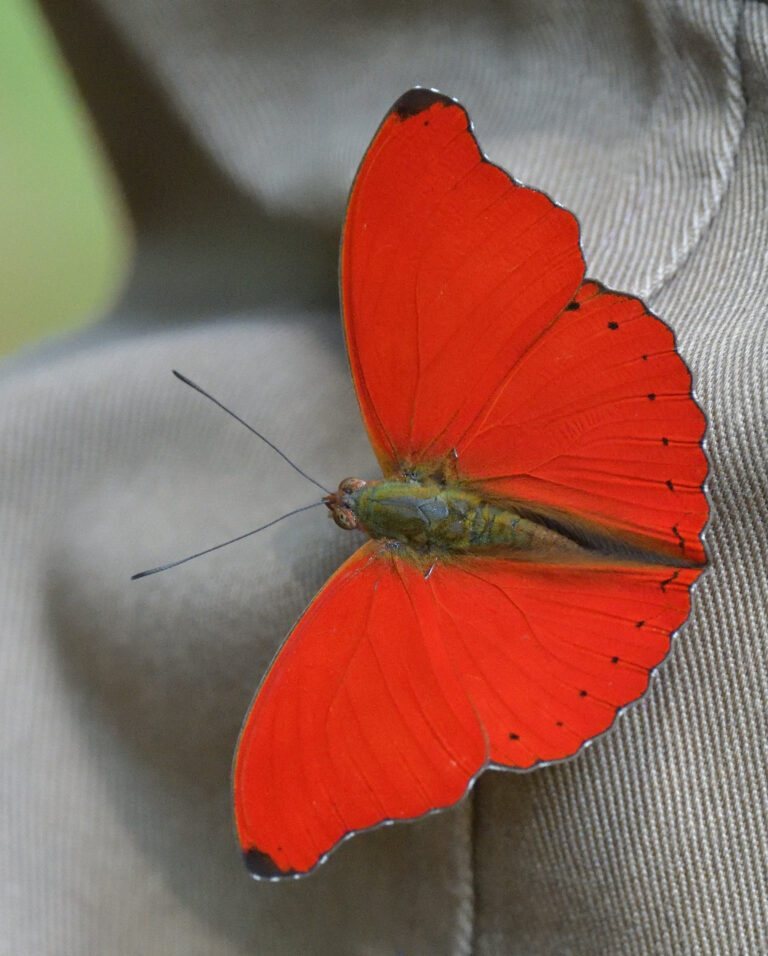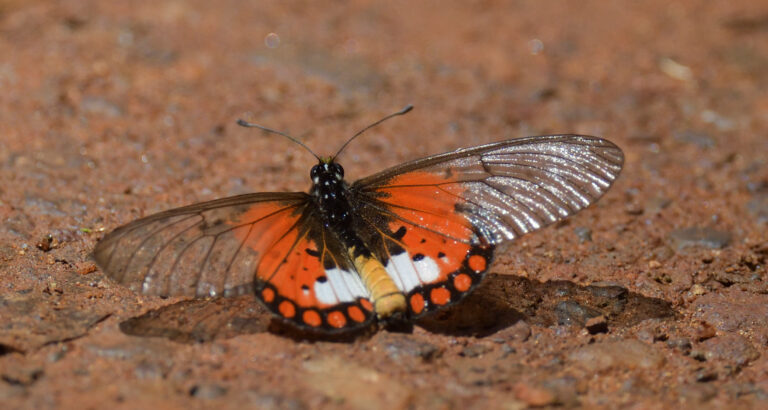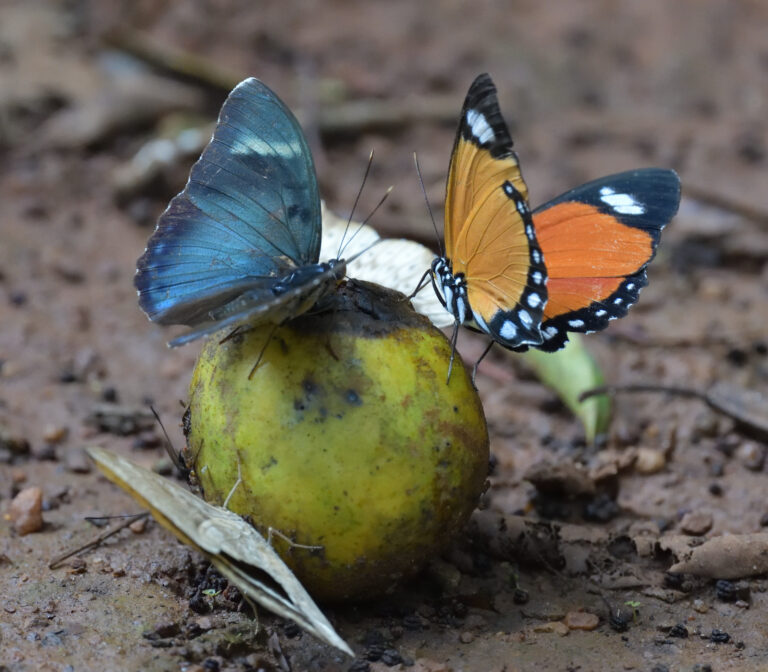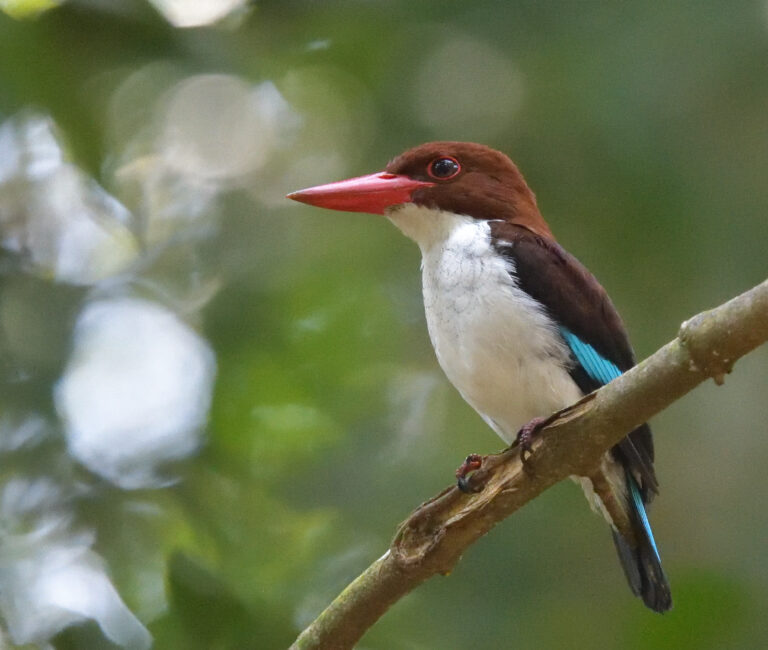 This afternoon, we descend back into the Great Rift Valley, spotting Dark Chanting Goshawk beside the road, and end the day at the spectacular 140 foot high Murchison Falls, where the wide Victoria Nile races through a gorge just 20 feet wide, creating one of the world's most powerful waterfalls, where we find several Rock Pratincoles on rocks immediately above the falls.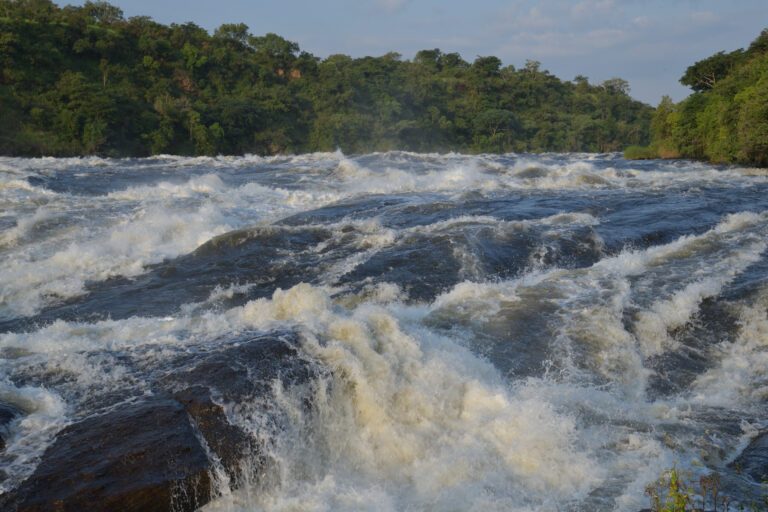 The sun rises big and red above the east bank of the Victoria Nile as we set off on a boat ride downstream, heading west toward Lake Albert, about 12 miles away. Drifting slowly downstream, not far from the bank is a serene way to get close views of the wealth of birdlife here, starting with Greenshank, African Darter and Vinaceous Dove, all new for the trip. Further on we get close views of African Grey Woodpecker, Saddle-billed Stork and Striated Heron, plus adult and juvenile Harrier Hawks. Throughout the trip, we see plenty of the usual Pied Kingfishers, plus Malachite, Woodland and Grey-headed Kingfishers, while a single Giant Kingfisher is a new bird for the trip. Drifting on, we see Black Crake, Purple Heron, African Jacana, White-faced Whistling Duck, Osprey, African Fish Eagle and the slender African Palm Swift, plus Red-throated, Madagascar and Northern Carmine Bee-eaters. As this is the Nile, we inevitably see Nile Crocodile and Nile Monitor Lizard, as well as several impressive Goliath Herons, including one drifting along on a raft of dead reeds, and then we go from Goliath to Little Bittern. As the river enters a delta of Papyrus-fringed channels, we hear a very close but elusive Papyrus Gonolek, and once Lake Albert comes into view, we find Pink-backed Pelicans, Grey-crowned Cranes and Collared Pratincoles. After a good five and a half hours and about 48 different birds, that was "quite nice" according to Ron!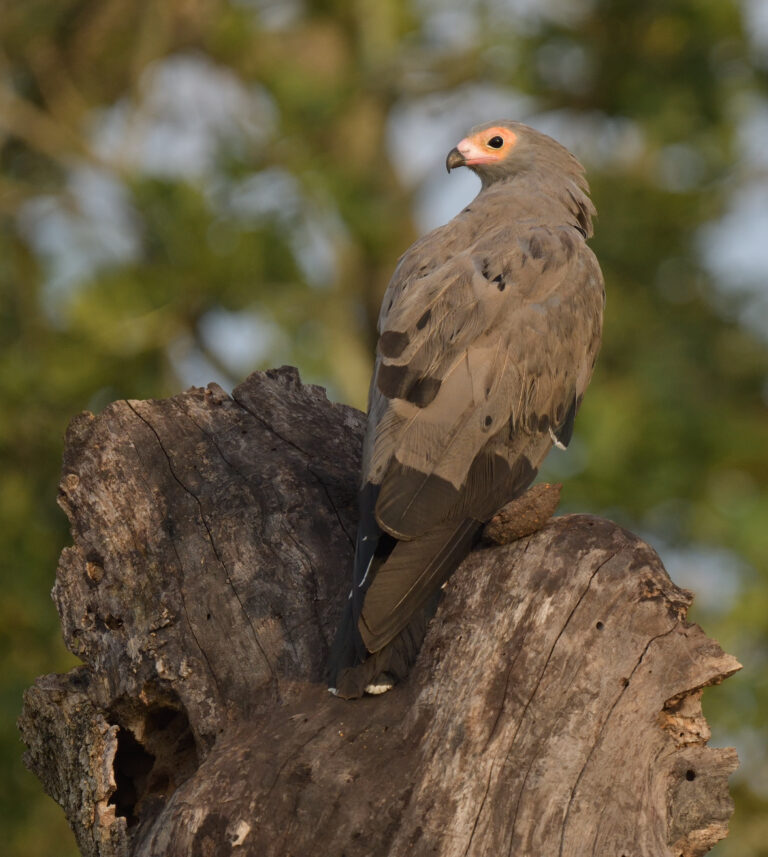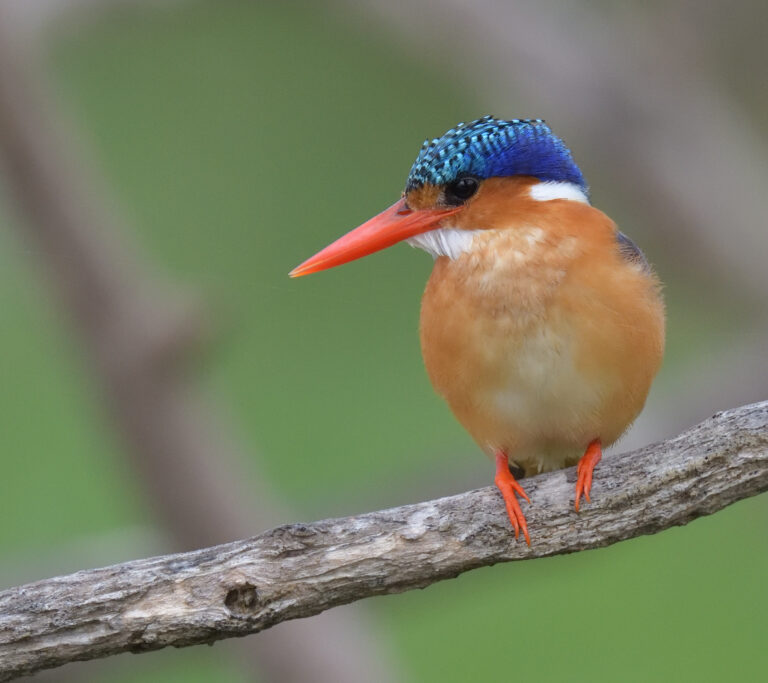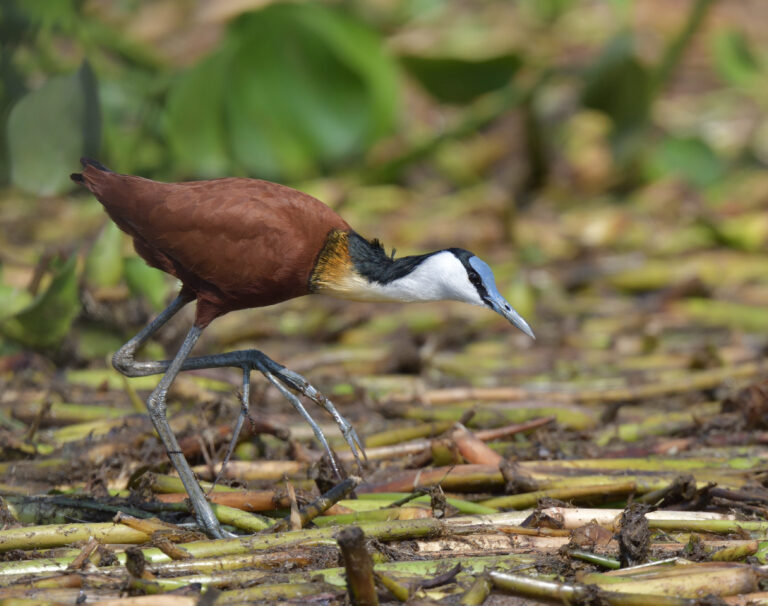 This afternoon we set off at around 3pm on a game drive in Murchison Falls National Park, where we soon find five new species for the list; Silverbird, Orange-cheeked Waxbill, Jackson's Hartebeest, the tiny Oribi antelope, and Patas Monkey, making twelve different primates for the trip. Moving on, we enjoy close encounters with numerous Nubian Giraffes as well as Black-crowned Tchagra, Black-billed Wood Dove, Swallow-tailed Bee-eater and two families of three large Abyssinian Ground Hornbills, quietly stalking for sizeable prey like lizards and mice. This area is also home to thousands of grazing Uganda Kobs, attracting Piapiacs which do the same job as Cattle Egrets. Next, we find a tree full of resting Rüppell's Griffon Vultures with one smaller Hooded Vulture and then a Dung Beetle, wrestling with a tennis ball sized dung ball, far larger than the beetle, and yet it battles on undaunted by the challenge. Still searching for new things, such as Black-headed Lapwing and White-browed Sparrow Weaver, Alex takes a long abandoned and increasingly overgrown track as the Landcruiser ploughs through overhanging Acacia bushes with long vicious spines. With the roof open we are showered by leaves, twigs, spines and an assortment of 'buglife'! By now it is almost dark as we return to the lodge and yet we see a White-tailed Mongoose on the track in the headlights and a superb male Pennant-winged Nightjar flying in the beam of Alex's flashlight! Wow, that was quite an eventful day.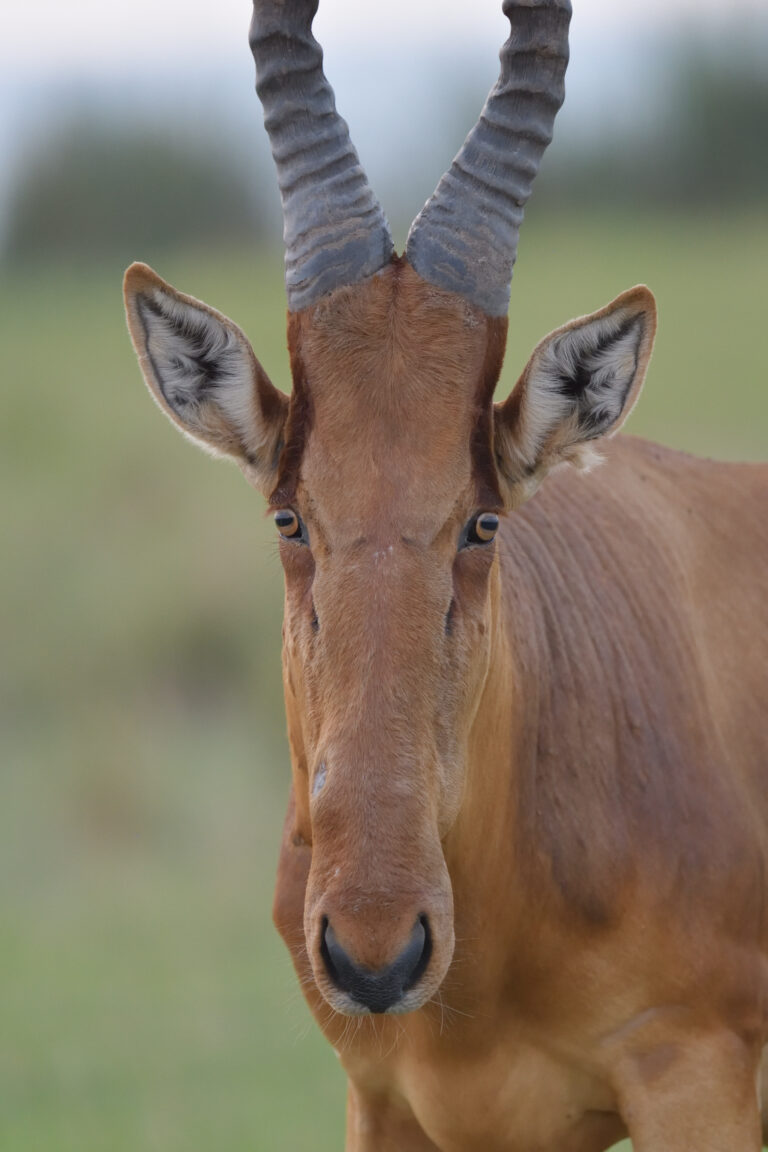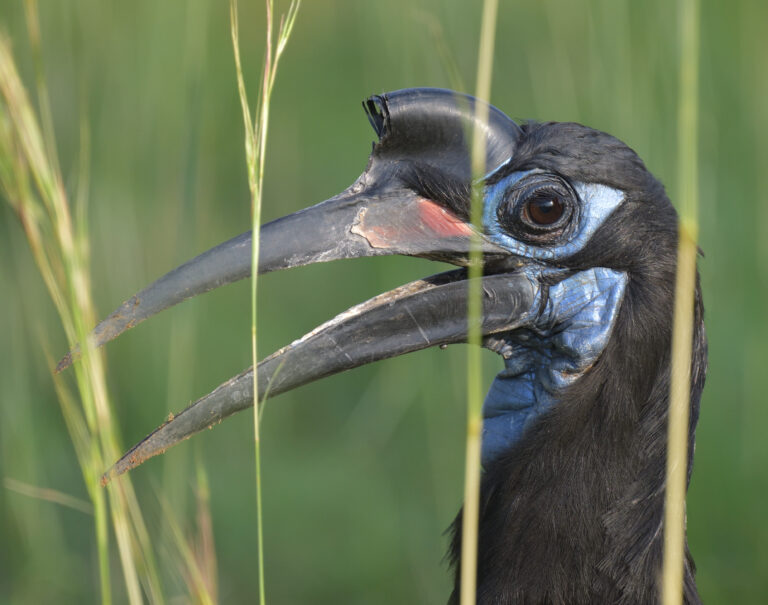 A Shikra from the breakfast table is not a bad start to a new day. On the drive out of Murchison Falls National Park, we pass numerous large troops of Baboons scattered all over the road on the way to Ziwa Rhino Sanctuary. Arriving here at 10am, we are greeted by the extraordinary sight of two White Rhinos grazing not far from the toilet block next to the sanctuary gate! Within minutes they are on either side of the Landcruiser, parked on the car park, while we watch from just outside the toilet block! After a particularly exciting loo stop we continue deeper into the reserve, passing several Bushbuck on the way to meeting a Park Ranger for a walking safari in search of more Rhinos. Not long after setting off on foot, the ranger leads us to a group of five Rhinos quietly grazing amid the trees just a few yards away! The group includes two mothers with calves, aged five and eight months, plus another adult female, and so we had now seen all the 'Big Five'; Elephant, Rhino, Buffalo, Lion and Leopard. As the morning warms up, one by one, the Rhinos quietly lie down in the shade of the trees and we leave the peaceful scene, whereupon the lucky ladies in the group spot a White-crested Turaco.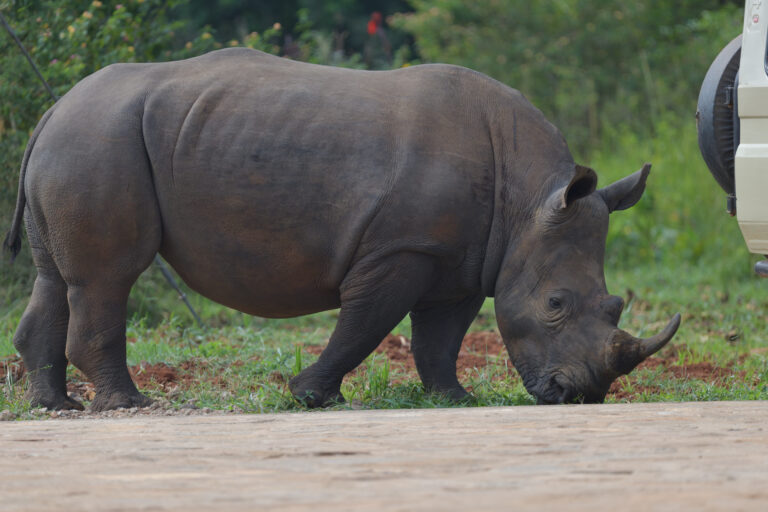 From here we leave the peace of the bush for a culture shock on return to 'civilisation', with all its chaotic paraphernalia along the increasingly busy road back to Entebbe, where the driving has to be seen to be believed. Journey's end is the Two Friends Beach Hotel on the shore of Lake Victoria, Africa's largest lake, with lapping waves that look just like the sea.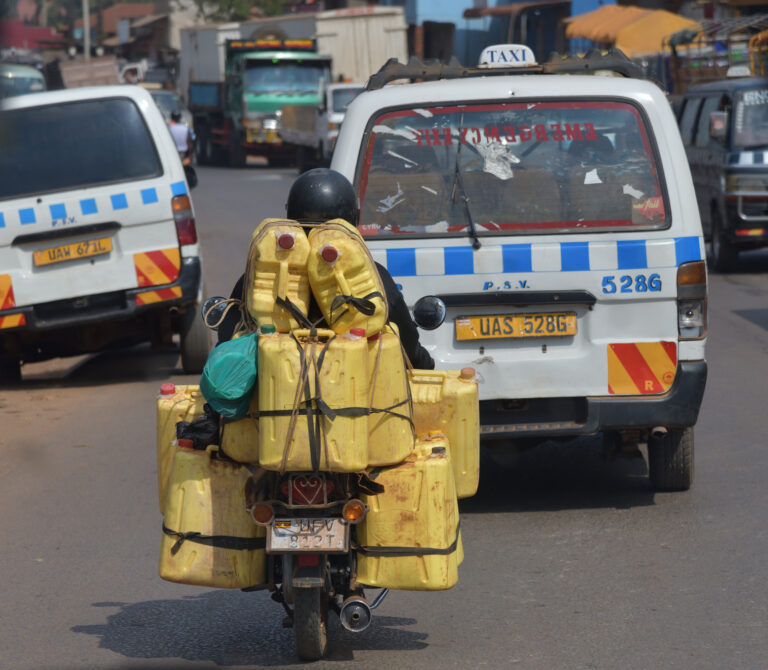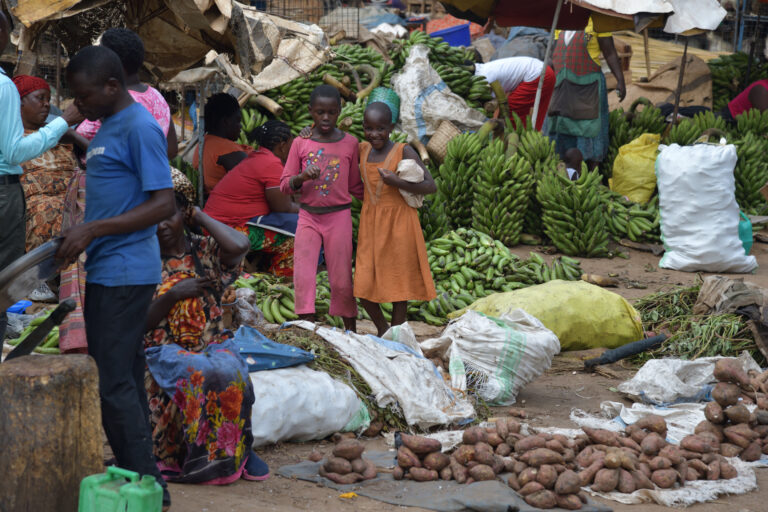 It's our final morning in Uganda, before flying home this afternoon, so we visit the nearby botanical gardens and begin with a pair of Grey Parrots, 'kissing' in the top of a dead tree. Our 'walk in the park' produces a variety of exotic sightings including Black-and-white-casqued and Crowned Hornbills, African Green Pigeon, African Harrier Hawk, Lizard Buzzard, Grey Woodpecker, Ross's and Great Blue Turacos, Eastern Grey Plantain-eater, Green-throated, Scarlet-chested and Olive-bellied Sunbirds, Yellow-fronted Tinkerbird and Red-billed Firefinch. With so many flies, forming smoke-like clouds, the gardens are a paradise for flycatchers, and so a pair of nest-building Red-bellied Paradise Flycatchers is new for the list but not surprising. Our last new sighting for the trip is a Bat Hawk, roosting in the top of a tall tree, making a tally of 300 birds, in addition to at least 38 mammals, including the 'Big Five' and of course, the magnificent Mountain Gorillas. What an amazing adventure that was.