En route south we break the journey at Otmoor, where 48 species include a flock of Yellow Wagtails, three posing Stonechats, brilliant views of a congregation of 28 Snipe, four raptors from the same spot; Buzzard, Marsh Harrier, Hobby and Red Kite, plus Barnacle and Ross's Geese! So, not a bad start.
The south coast action begins around 7.40am with a text at the breakfast table announcing a Lesser Yellowlegs still in situ at Lytchett Bay, and so this is our first 'port of call'. After a patient stake out of the site, which is teeming with Teal and yet more Snipe, it's late morning before we eventually spot the American vagrant, with long yellow legs and a fine beak, moving between the far side sedge tussocks along with Dunlin, Curlew Sandpiper, Redshank and Greenshank. From here it's a short drive to Arne in time for lunch at the feeders along with Nuthatch and Coal Tit, followed by a very obliging Firecrest on the car park! Moving onto the heath we soon locate a Dartford Warbler, perching in the scope for the whole group, followed by another Hobby and a majestic looking Osprey sitting on a fence. After an arduous journey through the Bournemouth traffic, which seems to be in a state of perpetual rush 'hour', we are confronted by a mobile home statically blocking the road to Keyhaven, forcing us into the roadside bushes as it slowly literally inches past, while Mike leans out of the passenger window to bend back branches in a valiant effort to give us a little more space to manoeuvre in! The result of this kerfuffle is that we arrive at Keyhaven Marshes later than planned and so dip out on the recently reported White-rumped Sandpiper. Instead, we make do with close views of Black-tailed Godwits, Turnstones, Grey Plovers, Pintail and Mistle Thrush, while a Kingfisher flashes by and loads of Starlings gather in a noisy pre-roost flock.
Today we head west, where a brief first stop at the east end of Chesil Beach produces Sanderling and ten Mediterranean Gulls. A little further on at Portland Bill we are greeted by a fall of Wheatears which seem to be on virtually every rock next to the car park. We now make a bee line for the Observatory quarry, where a Little Owl is standing guard in the entrance to its cave amongst the rocks, providing super views in the scope. This is a nice bonus as we were hoping for the Wryneck reported yesterday, and after a short wait it pops out on a bare branch to give everyone a fantastic scope view of its incredibly well camouflaged patterns, before disappearing back into the undergrowth. Further exploration of the Bill adds Skylark, Sparrowhawk, Gannet and Rock Pipit to our steadily growing list which now includes seven raptors. At nearby Radipole Lake the resident Hooded Merganser is yet another car park bird to complement Firecrest and Wheatear seen from other car parks, and we also enjoy good views of many more Mediterranean Gulls and Snipe here.
Today we head east, as far as Pagham Harbour, where four new birds (Red-legged Partridge, Whitethroat, Collared Dove and a posing Green Woodpecker) make a total of 99 so far. Returning west via Langstone Harbour, a Common Gull brings us to the 100 mark, quickly followed by a nice group of Sandwich Terns, while another Osprey passes by.
We spend the last morning at the Titchfield Haven reserve. By now we have heard Cetti's Warblers everywhere but seen them only fleetingly. Other sightings here include Marsh Harrier, Hobby, Kestrel, Sparrowhawk and Buzzard again, along with Little Egret, Wheatear and Jay, while a sleeping leucistic Oystercatcher provides a mystery bird challenge and Stock Dove is the only new bird to add to the list, making 102, which is not bad for a quiet week.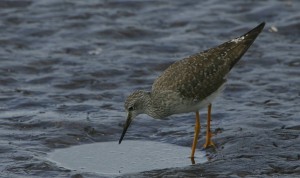 Lesser Yellowlegs