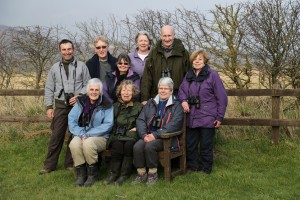 En route north we call in at Leighton Moss, where the first hide offers close views of Redshank side by side with the paler more elegant Spotted Redshank. Also here are numerous Avocets, three Snipe, a pair of Pintail, a Black-tailed Godwit and a handsome male Red-breasted Merganser. Further exploration of the reserve amasses a list of 45 species including Little Egret, Marsh Harrier, Nuthatch and Tree Sparrow.
North of the border, we begin at Southerness lighthouse, and on the approach road there is a flock of around five thousand Barnacle Geese in one field! At the lighthouse, the rocky shore produces numerous Redshanks, Oystercatchers, Curlews, Golden Plover, Knot, Turnstones, seven Purple Sandpipers, a couple of Rock Pipits, a Ringed Plover and a Skylark. Just inland we find about five hundred Pink-footed Geese mixed in with more Barnacles, with even more of these yapping geese at the nearby Mersehead RSPB reserve. Outside the window of the Visitor Centre, the feeders attract numerous Tree Sparrows, and Yellowhammers as bright as Canaries. Other good birds here include Shelduck, Shoveler, plenty of Pintail and Teal, and alongside the Teal we find a vagrant Green-winged Teal, which is a virtual carbon copy of 'our' Teal except for a vertical white stripe on each side, in place of the horizontal stripe on the Eurasian Teal. Further on, following the coastal trail, we scope a Brown Hare, and then a fabulous Merlin posing on a fence post. Following up on a text alert, we visit Carlingwark Loch on our way back to Castle Douglas, where we find two female Ring-necked Ducks! That's two transatlantic vagrants in one day; remarkable!
Driving west to Loch Ryan there is a glorious blue sky all day. Birds out on the glass calm loch include loads of Scaup, Eider, Goldeneye and Red-breasted Merganser, followed by Red-throated Divers still in winter plumage, Black Guillemots in both plumages, smart drake Common Scoters, close enough to show their orange bills, Shags with prominent crests, a couple of Slavonian Grebes with bright red eyes and yellow ear tufts, plus the odd Gannet and Guillemot. After lunch, we also see pale-bellied Brent Geese from Greenland and inland from the loch, we find fields full of White-fronted Geese, also from Greenland, and Pink-feet from Iceland.
More glorious sunshine for our visit to the Ken – Dee Marshes RSPB reserve, not far from Castle Douglas, where early sightings include Red Kite and a couple of Goosander. Deeper into the reserve, we enjoy close views of Bullfinch and Nuthatch, followed by Blue, Great, Coal and Willow Tits on the same feeder, right in front of the hide! Meanwhile, a really cute Red Squirrel is waiting for us on our way back to the car park. By now it's time for lunch at nearby Bellymack Farm, where a growing congregation of Red Kites gathers in time for the 2pm feed. Initially a dozen or so kites are joined by more and more of these graceful raptors, which whistle and play in mid air in anticipation of a free lunch. By feeding time, there must be at least one hundred and fifty kites hanging in the air around the farm, ready to 'drop in' for lunch by swooping down at speed to snatch meaty morsels dished out by the farmer. What a fabulous show.
Today is the spring equinox, and coinciding with a solar eclipse around 9.30am! Thanks to a filter of thin cloud we are able to gaze at the amazing spectacle as the moon slowly creeps in front of the sun, exposing just a thin crescent of light, and from our viewpoint beside the Nith estuary, we even enjoy the added bonus of a phenomenal tidal wave surging up the estuary, in response to the sun and moon's juxtaposition! In the wake of this unforgettable experience, a scan of the estuary shore reveals a completely white Redshank, apart from the orange bill and legs. This leucistic individual was actually feeding on the same stretch of mud on a previous visit here exactly four years earlier! During the morning swan feed at nearby Caerlaverock, a strange but smart looking duck catches our eye among the Whoopers. With the vermiculated grey back and glossy green head of a Scaup, but with a bump on the back of the head like that of a Lesser Scaup, it appears to be a 'Tufted Scaup' hybrid, which was also present here on a previous visit in November 2013! Incredibly, the Folly Pond produces the second Green-winged Teal of this trip, and it too was present on this same pond in November 2013, so that would involve at least three north Atlantic crossings for one little duck! Finally, a Peregrine perched out on the saltmarsh brings our trip list total to a very creditable 103 species, including many from the 'top drawer'.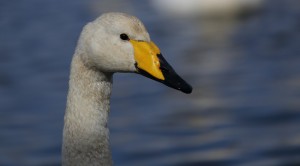 Whooper Swan