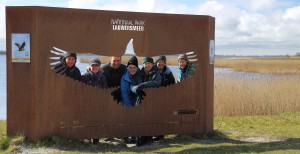 When this trip was planned almost a year in advance, the prospect of seeing Siberian Rubythroat, all the way from east of the Ural Mountains, at least two thousand miles away, and normally wintering in southeast Asia, would have been laughable, and yet this European megararity turned up in a Dutch suburb in mid January, creating Europe's biggest twitch at the time, with daily sightings for the next nine weeks! It wasn't even on the Dutch list until now, and so, with reports of sightings still coming in as we arrived in Europoort, we had to go and see this remarkable bird for ourselves. It was late morning by the time we arrived in the unlikely looking setting of suburban backstreet gardens in the village of Hoogwoud. With no sign of any twitchers or the bird, coupled with an unhealthy number of domestic cats on the prowl, things did not look promising, although several locals, including the postman, all pointed to a neglected patch of communal garden shrubs as the site to watch, along with a similar patch just around the corner. After a fruitless stakeout, apart from Treecreeper, Tree Sparrow and Blackcap, with the church clock striking twelve, I suggested that we went for lunch and try again afterwards.
The cats were still prowling and we were still the only birders there. It was looking like being a flop, when suddenly a subdued unfamiliar song began to emanate from deep within the dense shrubby patch 'just around the corner'. It had to be 'our bird' and as we gathered and peered into the shrubbery we spotted a robin-like bird with a bright red throat peeping out from within, but it quickly withdrew deeper into the thicket. As we waited and watched, the bird reappeared, this time hopping around on the ground, but still well concealed by the tangled mass of twigs. By patiently tracking its path as it hopped and pecked, we gradually built up a montage image of the strikingly beautiful black and white face pattern with a stunning ruby-red throat patch, whereupon it broke cover, perched on a fence and then darted off into the back garden nextdoor! What an amazing start to any birding trip.
Continuing our journey north, we followed up on reports of two North American vagrants in the same harbour at Den Oever; Bufflehead and Lesser Scaup! By now time was running out and a scan of all the Tufted Ducks produced a Greater Scaup and eventually the Lesser Scaup, but no sign of the Bufflehead. Still, two vagrants in one day isn't bad.
With high tide at 10.45am this morning, we began at Moddergat on the north Friesian coast, where a long earthwork jetty juts out into the sea. Peeping over the dyke protecting the land from the saltmarsh, we enjoyed close views of noisy hordes of Barnacle and Brent Geese, and by the end of the day we had seen numerous densely packed flocks of Barnacle Geese amounting to tens of thousands! As well as plenty of Shelducks, Oystercatchers, Curlews and Redshanks, we also saw Avocet, Turnstone, Dunlin, Knot, a Spotted Redshank, a Great White Egret, and a ring tail Hen Harrier. A little further east is the wide open wetland of Lauwersmeer National Park, where it is hard to believe that this is in one of the world's most densely populated countries. Amongst all the Tufted Duck, Goldeneye, Pochard, Wigeon and Greylag Geese we scoped a couple of Slavonian Grebes, still in their monochrome winter 'coats' and from the Jaap Deensgat hide we scoped a distant Rough-legged Buzzard, while a smart pair of Bearded Tits near the hide, came to within five yards of us! Continuing our clockwise exploration of the national park, we found a pair of cronking Ravens, a group of Fallow Deer and a second Rough-legged Buzzard which gave great views of the diagnostic black-banded white tail as it cruised by. A little further west, the futuristic De Baak tower provided views of hundreds of black-barred White-fronted Geese grazing amid yet more Barnacle and Greylag Geese. The nearby viewpoint next to the De Pomp campsite laid on another spectacular throng of about two and a half thousand Barnacle Geese, as well as a couple more ring tail Hen Harriers. By now we had come full circle around the massive Lauwersmeer where a grand finale included another five thousand or so yapping Barnacles along with lots of Black-tailed Godwits with rusty red necks, several Roe Deer and Brown Hares, a trio of Great White Egrets and a hunting Short-eared Owl, which gave lovely views as it perched on a small mound to stare at us with its glaring yellow eyes.
After an exploration of the quaint town of Dokkum first thing, we headed south for the Workumerwaard reserve, jam-packed with spectacularly dense flocks of Barnacle Geese in their tens of thousands, along with hundreds of Ruff, some of which had turned white as they transform into their breeding plumage, as well as plenty of vociferous Black-tailed Godwits and a single Spoonbill with a mustard yellow neck. Returning west across the Afsluitdijk, we couldn't resist another look for the Bufflehead, still frequenting Den Oever harbour, although not while we were there. Nevertheless, we were treated to a nice fly past by a group of Spoonbills. Further south, we tracked down the site of a long-staying drake Ring-necked Duck and were quickly rewarded with good scope views of our second North American vagrant on this trip, along with a couple of Cackling Geese in the same spot, with five windmills spinning in the background. All we had to do now was to drive around Amsterdam to our next hotel just outside Harderwijk, but this was a doddle thanks to Phil's excellent map reading.
The cold grey damp morning was not conducive to woodland birding and so we postponed a planned visit to the nearby woods and headed straight to Oostvaardersplassen, a vast wetland grazed by herds of Red Deer, wild horses and thousands more Barnacle Geese! A walk from the Visitor Centre beside Keersluisplas proved very rewarding with male and female Marsh Harriers and Smew, and then incredible prolonged scope views of three pairs of Bearded Tits, posing close by at the tops of reed stems! Sadly, several Water Rails calling noisily from the same spot were reluctant to break cover. Normally, a close up Bearded Tit in the scope would undoubtedly have been bird of the day, but the return walk provided even more excitement when a Bluethroat began singing from the nearby reeds, eventually coming closer to sing in full view, giving brilliant views in the scope. Were it not for the Siberian Rubythroat this could well have been bird of the trip! We were still not finished, as a short way further on we found a pair of Great Spotted Woodpeckers and two Great Grey Shrikes, again giving fantastic scope views! After lunch back at the Visitor Centre, a visit to nearby Houtribsluizen on the breezy Markermeer coast produced Greylag, Egyptian, Barnacle and White-fronted Geese, a pair of Goosander, a Red-necked Grebe alongside numerous Great Crested Grebes and another eight Smew, including two handsome males. Heading south along the Oostvaardersdijk to the Trekvogel Visitor Centre, a stroll here produced our first Chiffchaff and Swallows of the spring as well as a fly by Goshawk, rounding off a really good day.
At last the sun came out this morning and the birding began from the hotel dining room over breakfast with a pair of Nuthatches right outside the windows. After breakfast, a stroll through the nearby pinewoods produced Blue, Great, Coal, Marsh and eventually Crested Tit, perching right in front of us, allowing cracking views, and at the end of the walk, a Short-toed Treecreeper sat singing so close that we could even see his comparatively short toes, although this is not the most obvious fieldmark for naming a species. We concluded this really productive short break with a visit to the fabulous Keukenhof Park, where Rose-ringed Parakeet brought the trip list to a total of 114 bird species seen, as the group wouldn't let me count Eagle Owl, Gyr Falcon, Harris's Hawk or American Bald Eagle from the falconry show!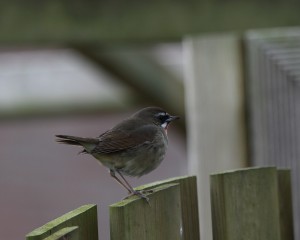 Siberian Rubythroat!