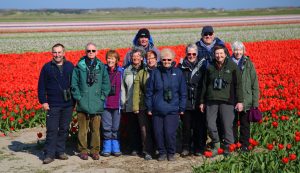 Heading north from Den Burg, the 'capital' of Texel, this bright and breezy morning, our first stop is at the Waal en Burg reserve in the heart of the island, where the wide open meadows are home to patrolling Marsh Harriers, along with newly arrived vivid yellow blue-headed Yellow Wagtails and a smart male Wheatear, while a small flock of Fieldfares flies over in a north easterly direction en route back to their summer home. A little further north, the Hogezandskil wetland produces close views of another pair of Marsh Harriers, as well as several Skylarks and a female Hen Harrier in the adjacent meadows. By now it is already time for a tea break, along with Sandwiches (Terns) in the Prins Hendrick Hotel. From here it is a short stroll to Utopia, an aptly named wetland reserve, jam-packed with birds including a Ringed Plover, one or two Little Ringed Plovers and Eiders, two pairs of Pintail, plenty of Spoonbills, dozens of Avocets, hundreds of Oystercatchers, Black-headed Gulls and noisy Sandwich Terns, plus a sleepy Brown Hare and one Mediterranean Gull! After lunch back at the Prins Hendrick, we follow the east coast road south past several shallow lagoons, again choc-a-bloc with noisy terns and gulls, plus thousands more dark-bellied Brent Geese, including a white-headed individual near the De Bol windmill. There seem to be Avocets and Spoonbills busily 'sweeping' their bills in every lagoon, and at Wagejot, we also find another two 'Med' Gulls, some Turnstones and a pair of Garganey, as well as Black- and Bar-tailed Godwits feeding together in full breeding plumage, allowing a textbook comparison of their features; the Black-'wit is larger, longer-legged, straighter-billed and barred below with a white vent, whereas the Bar-'wit has a slightly upcurved bill and is completely brick-red below with no bars. Last stop is the Dijkmanshuizen reserve, where Barnacles make our fifth type of goose amongst a total of 62 species seen today.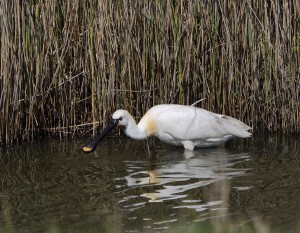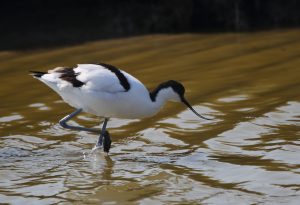 It's another cloudless blue sky with a keen northeasterly breeze this morning, beginning with a visit to the southern part of the nearby Waal en Burg reserve, where the 'usual suspects' are joined by four Ruff, showing the first stage of their transformation into breeding plumage, with ginger heads and black sprouting neck feathers. Next stop is the extensive De Muy reserve, where a walk amongst the mix of dunes and wet meadows adds Green Sandpiper, Sparrowhawk, Stonechat, Chiffchaff, Willow Warbler, Redpoll and Reed Bunting to the trip list, along with Linnets galore. After lunch in the Café De Slufter, amidst a colourful mosaic of scented bulbfields, a viewpoint looking across the De Slufter reserve produces great views of a Greenshank, as well as plenty of Eiders, Redshanks and ubiquitous Black-tailed Godwits. A local birder here offers a tip off about a pair of Dotterel in a ploughed field, and after a few more questions we deduce their location along Muyweg, where a flock of feeding Fieldfares also contains one or two Redwings. Scouring the dry pale brown soil of a large ploughed field for a small pale brown-backed bird is a time consuming business, but eventually, with the help of a few more 'local eyes', we find two males, and a female, which, as with Phalaropes, is brighter than the males. This unscheduled 'twitch' left us with just enough time to visit the lighthouse at the northern tip of the island, with a couple more Wheatears on the short turf, grazed by a colony of Rabbits.

Today is 'Operation Bluethroat', and the fresh sunny weather continues as we head south through the quiet little village of Den Hoorn, where a Ruddy Shelduck, grazing among all the Greylags is an unexpected find. At the nearby De Geul viewpoint, we get several fleeting views of the 'target bird', a smart male Bluethroat, but the strong breeze is not conducive to a prolonged view, so we move on to the nearby Hors Polder reserve, alive with singing Willow Warblers, and we soon hear a second Bluethroat singing close by, but without showing itself, unlike the next songster which is a very obliging Lesser Whitethroat. Further along the trail, another Bluethroat pops out of the bushes for all to see, with a third bird showing even better in the scope a little further on. With 'Operation Bluethroat' now successfully accomplished it's time for a café lunch back in Den Hoorn.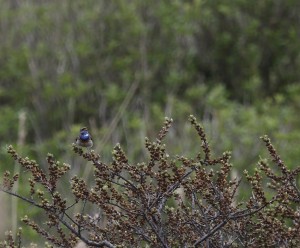 This afternoon, we begin at the nearby De Petten wetland, where a charcoal-grey Spotted Redshank is new for the trip list. Next stop is Bollekamer, a large expanse of heathland which is very dry, and also quiet, apart from the usual Linnets, Meadow Pipits and one or two displaying Curlews. Last stop of the day is in the extensive De Dennen woods, the last of the many varied habitats on this special island, where Great Spotted Woodpecker, Blackcap and Short-toed Treecreeper bring the trip list to ninety two birds seen in just three days, including Ruddy Shelduck, Dotterel, Spoonbills galore and of course, those lovely Bluethroats. This still leaves time for a visit to the famous Keukenhof gardens en route back to the port.