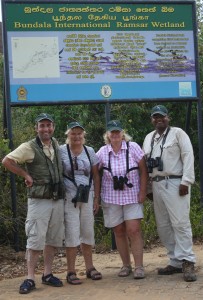 It's so nice to swap that dreary winter weather back home for some nice warm sunshine and the sight of a Purple Sunbird calling outside the arrivals exit at Colombo international airport. On the drive east to our first lodge in Kithulgala, we acquaint ourselves with Intermediate and Cattle Egrets, Indian Pond Heron, Asian Openbill, Black-headed Ibis, Indian Cormorant, Red-wattled Lapwing, Wood Sandpiper and a mean looking Water Monitor, at least five feet long! As the bumpy road leaves the paddies and winds up into the hills, roadside birds include Common Myna, Yellow-billed Babbler, White-throated Kingfisher and Black-rumped Flameback, a stunning woodpecker. Along the road, we also watch Toque Macaques tight rope walking along roadside wires, and sliding down a straight smooth palm trunk like firemen down a pole. At our Eco Lodge, a Purple-faced Leaf Monkey looks down on our arrival and from the lodge terrace beside the Kelani River we watch lots of Indian Swiflets wizz to and fro at tree top height while our first  Large-billed Crow flies by across the tree tops. After dark the frog and insect 'evensong' is deafening.
We start before dawn with a nice cup of tea and then stroll a short way from the lodge as birds like Oriental Magpie Robin begin to stir and start the new day with a sweet clear song, right in front of us. As the light improves more birds come into view including White-bellied Drongo and Shikra, a relative of our Sparrowhawk. We watch a bright yellow Black-hooded Oriole feed a youngster, while the same tree also produces Black Bulbul, Asian Paradise Flycatcher and Tickell's Blue Flycatcher, shortly followed by Green Imperial Pigeon, Yellow-browed Bulbul, Oriental White-eye, Forest Wagtail, Spotted Dove, Brown-headed Barbet, and the endemic Yellow-fronted Barbet. It's still only 7.30am and the next act is a playful pair of Giant Squirrels, with a lovely combination of black backs and ochre bellies, scurrying up and down a nearby tree trunk. Next our guide, Koushalya Mahagedara (aka Koush), takes us to one of his special sites around the back of a house, where the owner points into the tea bushes saying "Indian Pitta". Crouching down to peer between the bottoms of the bushes, we enjoy remarkable views of this multi-coloured bird foraging in the dry leaf litter within ten yards of the house! Meanwhile we ignore the cockerel foraging in the same leaves, but after it has gone we quickly realise that it was actually Sri Lankan Junglefowl! Fortunately the cock reappears on a branch above the bushes, giving a magnificent show with a red and yellow wattle, a golden cape and an iridescent sheen to the deep purple wings and tail plumes. The same spot also produces Common Tailorbird, Common Iora, Lesser Yellownape, Greater Coucal, with eyes like rubies, and fabulous front and back views of the endemic Chestnut-backed Owlet! This is 'garden birding' at its very best and a further three endemics; Layard's Parakeet, Orange-billed Babbler and Spot-winged Thrush, leave us with an incredible tally of five endemics in just one hour in this backyard!
That would be a tough act to follow, especially once the day warmed up and birds became noticeably quieter, but in the Makandawa Forest we find the handsome Emerald Dove and the endemic Black-capped Bulbul, with Oriental Honey-buzzard and Black Eagles overhead. Getting back to the lodge is an adventure, involving a river crossing whilst standing up in a very narrow dugout canoe, with nothing to hold on to for balance. Although this is a white water rafting river, fortunately for us, this stretch is relatively calm. After a late lunch and a brief rest back at the lodge, with Sri Lanka Swallows heading downstream, we visit the Kithulgala Tea Estate and get superb scope views of Crested Treeswift, Chestnut-headed Bee-eater, Black-headed Cuckooshrike, Sri Lanka Hanging Parrot, and Hill Myna, with superb yellow wattles hanging down the back of the neck. Other new sightings here include White-browed Bulbul and White-browed Fantail, while a familiar call alerts us to a Grey Wagtail!
This morning we have a lie in until 6am and then revisit our 'local patch' in the neighbour's backyard, armed with cameras. On the way, we bag Sri Lanka Grey Hornbill as well as White-bellied Sea Eagle from the now legendary garden! There is no sign of the 'cockerel', but the Owlet poses very nicely on a sunny branch and this time the Pitta is on show in the front garden! After breakfast back at the lodge it's time to move on to Nuwara Eliya in the highlands and on the way we call in at the Blue Field Tea factory for a guided tour, followed by a nice cuppa in the company of House Sparrows! Passing through hillsides of neatly clipped tea bushes we arrive at Nuwara in time for lunch and then visit Victoria Park near the centre of town. Within earshot of the local traffic horns our walk in the park produces the gorgeous Indian Blue Robin, followed by the equally striking Sri Lanka Scimitar Babbler, then Brown Shrike and eventually, after a patient wait, a stunning male Kashmir Flycatcher, before signing off with Blyth's Pipit.
It takes an hour to drive to Horton Plains National Park this morning, and on arrival at the entrance gate at 5.30am, it's still dark enough for an amazing scope view of the smile-shaped crescent moon, with Venus still shining brightly at one o'clock to the moon. By 5.45 there is a lively dawn chorus and then Indian Blackbird, with rich orange beak and legs is our first bird of the day. Ten minutes after entering the park at 6am sharp, we stop at a small pool where ripples quickly draw our attention to a Eurasian Otter, regularly popping up for air barely twenty yards away! Then a second Otter appears and the pair frolic among the lily pads completely oblivious to our presence, providing a magical show! Once the Otters move off into the jungle we switch to birding mode, spending a good hour by the pool watching loads of Sri Lanka White-eyes, plus Green Warbler, the south Asian grey race of Great Tit, and the endemic Dull Blue Flycatcher, with Sri Lanka Bush Warbler skulking just a couple of yards in front of us, and eventually a male Sri Lanka Whistling Thrush also popping up at close range. Deeper into the national park, we find Hill Swallows, Blue-tailed Bee-eaters, Pale-billed Flowerpeckers, Zitting Cisticolas and roving bands of flamboyant looking Yellow-eared Bulbuls, making five more endemics this morning! On our way out of the park, we almost bump into a large stag Sambar Deer and then jump out for Black-shouldered Kite, followed by a close up of Crested Serpent Eagle from the van. This afternoon highlights include prolonged views of a Giant Squirrel eating fruit above our heads, a Rhinoceros Horned Lizard, with a bizarre white spike protruding vertically from its upper lip, and finally, flocks of Cattle Egrets, streaming in to the reeds across the lake from our hotel in their hundreds, making an estimated roost of about two thousand birds!
This morning we return to Victoria Park hoping for Pied Thrush, which we missed last time. Amazingly, in a quiet corner of the park Koush finds the very thing, a fabulous looking male, turning over dead leaves with his yellow beak, just like Blackbirds do on the garden compost heap back home, and with scaly flanks reminiscent of a Fieldfare. What a cracking bird. The rest of the day is mainly spent on the comparatively long drive south from Nuwara Eliya to Sinharaja, via slow bumpy winding roads, and on the way we visit the Surrey Bird Sanctuary! This densely wooded area is home to the magnificent Brown Wood Owl and once again Koush comes up trumps by locating a roosting bird with a finely barred barrel-shaped body staring down at us with big dark brown eyes, like an oversized Tawny Owl, with which it shares the same genus. Wow, another cracking bird! Moving on, it's about 2pm when we stop again, this time for lunch at the lovely River Gardens open air restaurant, where we add the long-billed Loten's Sunbird to the growing list of sightings. Nearer to Sinharaja we pick up Scaly-breasted Munias and experience the first real rain of the trip.
Just before dawn at the Blue Magpie Lodge, we awake to the sound of Oriental Magpie Robins. After breakfast our first new bird is the impressive and aptly named Stork-billed Kingfisher with a stonking red bill. A battered old Jeep with no front doors, a tangle of wires hanging below the dashboard, a shiny bald spare tyre and manual 'hot wire' ignition takes us at a slow walking pace along the bumpiest of tracks up to the Sinharaja Forest Reserve, but before we get to the main gate, our newly recruited local guide called Thandula leads us along a narrow path into the jungle. After a patient wait we are entertained by a surprisingly vocal Sri Lanka Spurfowl, with bright orange legs and a sharp spike on each heel. Next endemic is the skulking Brown-capped Babbler which eventually shows really well, as do Sri Lanka Woodpigeon, Pompadour Green Pigeon, Sri Lanka Myna, and male and female Scarlet Minivets. Once inside the forest reserve, we are soon confronted by a Spot-winged Thrush just ahead on the path, quickly followed by two more Sri Lankan endemics; Ashy-headed Laughingthrush and Red-faced Malkoha, a large, long tailed member of the Cuckoo family. A little further along the trail, we find Brown-breasted Flycatcher and Legge's Flowerpecker which is also endemic to Sri Lanka. We are now following a narrow almost imperceptible path off the main trail, where amazingly Thandula shows us a roosting Sri Lanka Frogmouth, which is not actually endemic to Sri Lanka as it also occurs in a small area of southern India. This strange nocturnal relative of Nightjars is a rufous female with an enormous gape when she yawns, hence the name. Back on the main trail the next star sighting is a pair of Greater Flamebacks, which are massive woodpeckers with ivory bills, rich crimson backs and a fiery red crest on the male. Next comes the one we have all been waiting for, the Sri Lanka Blue Magpie, a vivid confection of chestnut, red, white and royal blue, which allows us to approach to within three feet, as it tucks into a giant earthworm, which has a bluish tinge and is as thick as a hosepipe! Up above a Sri Lanka Crested Drongo is yet another endemic for the list and further along the trail we find Dark-fronted Babblers with staring white eyes, as well as a brightly striped Green Garden Lizard with a 'day glow' orange head, which it nods up and down as a threat posture to potential rivals.
Sinharaja is famous for mixed feeding flocks and we connect with one which contains a mixture of previously seen species, including a male Asian Paradise Flycatcher with an incredibly long flowing white tail, as well as two new species for our list; a male Malabar Trogon with black head and breast and rich red underparts, and a mating pair of endemic White-faced Starlings. On our way back to the Jeep, we find a Stripe-tailed Bronze-back Tree Snake, about three feet long, on the ground, and meet a very tame Sri Lanka Junglefowl cock. During a relaxing afternoon birding from the lodge Black-throated Munia is yet another new bird, and with so many fabulous sightings to choose from it's impossible to pick one star bird of the day today.
We have an unscheduled later than normal start today as the Jeep could not be started on time, and so we stroll along a track near the lodge, hearing the haunting melancholy call of Green-billed Coucals, but they only show fleetingly. By the time the resuscitated Jeep drops us at the Sinharaja reserve the birds are not as active as yesterday morning, with no sign of Scaly Thrush although we still see many of the usual suspects.
This afternoon we scramble down a steep slope to a river, cross the stepping stones and then scramble up the opposite slope through tea bushes and into a thick tall jungle. Thandula points to a bulky nest up in a very big tree and my bins pick out the shape of a human skull, until I suddenly realize it is actually the white downy head of an owl chick with two big black eyes, looking like empty sockets! On a nearby branch, keeping a watchful eye on our movements is one of the parents, a majestic Spot-bellied Eagle Owl, with the longest ear tufts I ever remember seeing on an owl. This is a very appropriate 'warm up act' for the main event of the day, and soon after we are 'off piste', creeping through a dense tangle of bamboo stems and vines. Not far in from the track Thandula crouches down and points to a well hidden shaded stem barely five yards ahead. Yes there it is, a small owl with ginger plumage, pale feet, ivory claws and small ear tufts that merge with eyebrows meeting at the beak to form a V-shape. Amazingly, he has found us the 'Holy Grail' of birding in Sri Lanka, the rare and elusive Serendib Scops Owl, which is such a recently discovered species that it is not in my 2008 fieldguide!
This morning is the last chance to see two missing rainforest species, before moving on to the coast, so we start with a return to the 'Coucal track' and by 6.30am we have located this shy bird with a green bill, just like it says on the tin! Now we make one more bone shuddering jeep ride up to the Sinharaja reserve in search of the endemic Scaly Thrush, but before we get to the reserve entrance, Thandula spots a movement beside the track, so we jump out to investigate. He has delivered yet again as we are soon watching two of these rare thrushes hopping along the ground between the trees and then across the track, and as they disappear, a Spot-winged Thrush pops up and hops to within three yards of us. Mission accomplished we return to the lodge, load the luggage in the van and head southeast for Embilipitiya.
After a cool relaxing swim in the pool we meet at 3.30pm on the car park where the tree next to the van has a pair of roosting Collared Scops Owls being mobbed by Red-vented Bulbuls and Lotens' Sunbirds. From here it is a one hour drive to the Kalamitiya Bird Sanctuary on the south coast, where we see our first Grey Langur Monkeys, Indian Peafowl, Yellow-wattled Lapwings and Little Green Bee-eaters in dry thorny scrub, in contrast to this morning's moist rain forest. Beyond the scrub is a lagoon crawling with waders including Little Stint, Kentish, Lesser Sand and Pacific Golden Plovers, Marsh and Wood Sandpipers, Black-winged Stilt and Pintail Snipe, along with Eurasian Spoonbill, Painted Stork, Purple Swamphen and five species of Tern; Little, White-winged, Whiskered, Gull-billed and Caspian.
This morning we have an open top jeep safari in Uda Walawa National Park and within three minutes of entering the park we are watching two Indian Rollers perched in a dead tree. Ten minutes later we find Yellow-eyed Babblers and then Indian Robin and Plain Prinia. Next come Tawny-bellied Babbler, completing the Babbler section of our checklist, followed by Ashy Prinia, a posing Grey-bellied Cuckoo, Orange-breasted Green Pigeon, two Jacobin Cuckoos and a pair of Jerdon's Bushlarks mating in the middle of the road! New sightings keep coming including Blyth's Reed Warbler, Jungle Prinia and Coppersmith Barbet. Enter the Elephants; while photographing the beasts from a respectable distance, one of them decides to approach the jeep and so my long lens quickly becomes useless as the animal nuzzles right up to the vehicle for a scratch! As the jeep is so high I can stroke the Elephant's back before it wanders away into the bush! Wow! Back to the birding and we spot Grey-headed Fish Eagle in the same tree as a Changeable Hawk Eagle. At nine we decide to have our picnic breakfast under the shade of a large tree overlooking a marshy area with Woolly-necked Stork, Darter, Alexandrine Parakeets, Pied Kingfisher and Yellow Wagtail. Moving on we finally nail the long-legged and very upright Richard's Pipit and for a grand finale we find a tree full of at least nine Malabar Pied Hornbills with probably a dozen more in nearby trees. Suddenly our cameras are spoilt for choice, with the tree full of Hornbills on the right and a Changeable Hawk Eagle posing on the ground close by on the left of the track! Back at the lovely Priyankara Hotel, there is time for a swim in the pool before lunch.
We restart at 4pm with a visit to the nearby Tissamaharama wetlands, which are choc-full with an amazing variety and volume of birds in every direction, and with a big roost of Flying Foxes. Amongst all the birds we pick out several new species including Spot-billed Pelican, Lesser Whistling Duck, Streaked and Baya Weavers, Black-headed Munia and Pheasant-tailed Jacana with a neck that glitters like gold in the sunlight. Amongst all the water hyacinths, we scope a Yellow Bittern next to a Purple Heron and also find several Watercock, which look just like overgrown Corncrakes and with the same skulking behaviour. From one spot we see Common, White-throated and Stork-billed Kingfishers and then spot a Black Bittern amongst all the hyacinths, not far from an enormous hauled out Marsh Mugger Crocodile. In the adjacent trees we watch a Sri Lanka Woodshrike batter and swallow a Preying Mantis and then find another pair of Collared Scops Owls snuggled up together. At dusk we return to the fruit bat roost and watch the changeover of the day and night shifts. As the bats start to wake and take off, flocks of Black-headed Ibises pile into the tree next door to the bats, so that the roost of at least 650 birds looks like an enormous Magnolia tree in full blossom. Meanwhile the evening sky is peppered with hundreds of Flying Foxes heading for the forests in search of fruit, and the whole amazing spectacle is like watching a wildlife documentary on BBC2!
We enter Yala National Park at 6am, once the jeep can get past the stubborn Wild Boar blocking the middle of the access road! A Hoopoe is our first new bird, and the next mammal is a Mongoose foraging right beside the track. Next sighting is the bright orange Small Minivet, and then in a small pool we find a Lesser Adjutant, a smaller relative of Africa's Marabou Stork, probing its massive bill into the muddy bottom of the pool. Nearby we also spot White-rumped Shama, Blue-faced Malkoha and a Black-naped Hare posing obligingly at the side of the track. Deeper into the park a couple of Land Monitor Lizards are caught in the act also right at the side of the track, and then we come across a couple of Jackals sauntering nonchalantly along past our vehicle. Next we get wind of a Leopard sighting and arrive just in time for a fleeting glimpse as the young cat disappears into the bush. After a picnic lunch and a siesta beside a warm clear fish-filled stream, we add Brahminy Starling to the bird list, and then a young bull Elephant with tusks, which is a rarity here, crosses the track right in front of the jeep. By now we have photographed numerous Little Green Bee-eaters perching literally just a few feet from the vehicle. Meanwhile, Red-vented Bulbuls creating a commotion at the entrance to a large hole in a tree trunk attract our attention to an Indian Rock Python poking its head out of the hole! Yala is famous for its high density of Leopards and a crowd of vehicles ahead suggests that there is one on the prowl. As the driver inches our jeep into the melee, we eventually manage to see our second Leopard of the day, and this full grown adult, sprawling on the ground and occasionally flicking its tail, is in no hurry. On the way back to the park entrance, we even see a pair of tiny Barred Buttonquail, as they scurry across the track ahead of the vehicle, have a dust bath, and then continue into the bush.
This morning we visit Bundala National Park, where the first new bird is a Yellow-crowned Woodpecker with a red head, and as I query this bird's nomenclature, the male is replaced by the female which has a completely yellow head. One of the lagoons has a flock of nearly 60 Little Grebes, and the reeds around the edge ring out with the harsh song of Clamorous Reed Warblers. One ditch has both Yellow and Black Bitterns, and Pintail Snipe seem to be quite common, whereas a Jerdon's Leafbird foraging on the ground at the edge of the reeds does seem rather out of place. A Glossy Ibis looking very rufous in the brilliant light is proclaimed species number 200 on our trip list by Koush. The next lagoon is crammed full of hundreds of birds, as if it were the last pool of water in the Pantanal at the end of the dry season. I don't recall ever seeing such a density of waterbirds in such a small area and there is almost every species of waterbird we have seen so far on this trip; Storks, Ibises, Spoonbills, Herons and Egrets, Pelicans, Cormorants, Terns, various waders, Brahminy Kites, a White-bellied Sea Eagle, and Garganey which is new for the trip. Soon there is even more action as we spot a Greater Painted Snipe and then a second female, skulking under a bush. This had been high on our wish list for some time and fortunately for us, in this species the females are more colourful, so this was a double bonus, and then we have two Indian Thick-knees in the same view as the snipe! The next lagoon has a mixed roost of five different Terns and in one scope view we have Caspian, Greater Crested and Lesser Crested Terns with red, yellow and orange beaks respectively. Further on we find Small Pratincoles, and then Red-necked Phalarope and Oriental Skylark, which sounds like an odd combination. On the way out of this hugely productive site we also spot two Ashy Woodswallows and finally a smart male Ashy-crowned Sparrow Lark. It's time to follow the coast westwards to our final hotel in Mirissa where we spend the afternoon relaxing in the sea and in the pool, surrounded by coconut palms, so it's not always all 'hard work' on these birding trips!
There's a Striated Heron in the harbour alongside our whale watching boat, and once we are sailing, flying fish are gliding clear of the water for up to fifty yards! It takes at least an hour to reach the 'whaling area', by which time there is no longer any sign of land and so we must be about ten miles out. We see several spouts in the distance, but the choppy sea is as rough as a Badger's backside making it hard to stand up without holding tight to a rail, never mind focus on any whales. The spotters watch for spouting spray and then guide the boat in that direction. During one chase we plough through a red slick of mashed up Krill, apparently just egested by one of the whales we are tailing, and eventually after several chases our reward is a brief view of the arching back of an awesome Blue Whale before it dives again. The second excursion is even rougher but far more productive, starting with a Green Turtle briefly up for air, and then we also get a passing Pomarine Skua, as well as four full length views of Blue Whales within 200 yards of the boat! Each time a whale surfaces, we see the nose, then the audible blow hole, then a long sleek blue-grey back with a tiny dorsal fin, and almost a tail fluke before the massive creatures disappear. Best of all is the submarine passage of a whale at 10 o'clock to the boat, so that it looks pale blue under the water, before surfacing at 9 o'clock, exposing a couple of sizeable sucker fish on its back! After an awesome unforgettable show we head back to land, leaving the whales on their endless journey.
We spend an afternoon not far from Mirissa at the Kiralakele Sanctuary, where a scan of the marsh returns a count of at least 130 Purple Swamphens! A male Asian Koel, with ruby red eyes is new for our trip list, but the real gem is the Crimson-fronted Barbet with a fantastic looking multi-coloured face pattern. This means we have now seen 216 different species of birds including the complete set of 33 Sri Lankan endemics! Koush has a beaming smile like a Cheshire cat and we celebrate with hand shakes.
With Elephants, Leopards, Blue Whales and all those fabulous birds, including all the endemics, what a fabulous trip this has been. Many thanks to all involved, especially Koush who guided us so professionally from start to finish.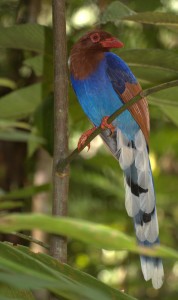 Sri Lanka Blue Magpie