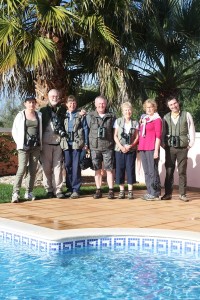 On the first day of spring 2013, Britain was still gripped by a cold wintry blast from the east, with the forecast of more snow to come, and so it was very nice to feel the warmth of the Algarvian sun, and listen to the twitter of low-flying Swallows. From the balcony at the villa, we spotted a Serin jangling on a wire, soaring White Storks and several Booted Eagles in both light and dark phases. From here, a stroll up the local hill produced fabulous views of male Sardinian Warblers, as well as several more Booted Eagles, numerous Azure-winged Magpies, and a posing male Iberian Green Woodpecker (lacking the black face mask of our race, and with a grey wash on the cheeks) calling from the top of a dead tree branch. Not a bad start for the first afternoon.
Sightings from the balcony first thing this morning included Red-rumped Swallows, four Jays and a shiney blue Spotless Starling. With some threatening black clouds, we decided to stay local and go to the coast at nearby Quinta do Lago. A short way from the car park we saw a Whimbrel and then five Audouin's Gulls and a couple of Yellow-legs amongst a flock of Lesser Black Backs. Further on we enjoyed good views of Crested Lark, lovely little Kentish Plovers, and a very vociferous pair of Green Woodpeckers, while two male Sardinian Warblers having a slanging match gave very close views. On the way back to the car park, we watched two Hoopoes on a lawn and then had our own lunch in the sun. This afternoon we skirted the golf course to the famous pool, where a female Little Bittern broke cover as soon as we arrived, and then a Cetti's Warbler came out of the reeds and perched at just two yards range to check us out! This must have been the world's best ever view of this skulking songster. Amazingly we then spotted the female Little Bittern starring up at us from just ten paces, and as we looked back it was one of those "nobody move" moments, while the cameras clicked furiously. Purple Swamphen, with a gorgeous electric blue head and bright red bill and legs also showed really well here, and then we found a female Black-headed Weaver, looking very much like a green-dyed female House Sparrow. Colourful drake Red-crested Pochards swanned around right in front of the hide, where we also had absolutely fabulous views of a male Little Bittern with an orange spear-shaped bill, stalking through the reed bases, in an almost horizontal stance. Moving on to the nearby saltpans, we counted over thirty Spoonbills, seventy five plus Avocets with a circling flock of about forty Black-tailed Godwits, and then three light phase Booted Eagles and two Black Kites. It was also nice to see a group of Black-winged Stilts and Redshanks alongside a Spotted Redshank and a Greenshank. On the way back past the golf course pool we scoped a magnificent singing male Black-headed Weaver, with green back, bright yellow underparts and a rusty chin.
Today we drove west to the Alvor estuary, with the windscreen wipers going at full speed, and so when we arrived we began with a break for morning coffee, while waiting for the weather to brighten up. Once the rain stopped, the scrub teemed with Greenfinches, Goldfinches, Linnets, Serins, Crested Larks, Zitting Cisticolas and a few Corn Buntings. Scanning a sand bar covered mainly with Lesser Black-backs sleeping through the high tide, we found Mediterranean Gulls, and two Caspian Terns with carrots for beaks! Back in the dunes, a smart Tawny Pipit was a good find, but the real star sighting was the target bird we were looking for, thanks to a tip off from my local friend Georg. Just as he described, there it was, a beautiful Cream-coloured Courser, all the way from either Morocco or Fuerteventura, and yet looking very much at home in this little patch of 'desert'. While we watched in the scope the bird occasionally stretched its wings, showing all black underwings. This would certainly take some beating.
During lunch on the beach there were numerous Gannets out at sea. Returning east along the coast, to Pera Marsh, we were greeted by Cattle Egrets in fine breeding plumage, and a Little Owl standing watch on the top of an old abandoned farm ruin. The marsh itself was eerily quiet with just a few Spoonbills, Black-winged Stilts and Little Ringed Plovers, and yet this had always been a very productive site, and it was certainly not the fault of the Peregrine Falcon which flew by. Around the marsh, as well as loads of Greenfinches, we added Woodchat Shrike, White Wagtail and the Iberian race of Yellow Wagtail to our list, now totalling 89 after two and a half days.
After a group photo between the pool and the palm tree in the sunny villa garden, we headed east to the Castro Marim nature reserve on the border with Spain, where the first new bird was Iberian Grey Shrike perched on top of a bush beside the track approaching the visitor centre. Next we had good views of a Red-rumped Swallow with several House Martins, collecting mud from the track for their nests under the bridge linking Portugal with Spain, followed by male and female Marsh Harriers, two Hoopoes in the same tree, a Spectacled Warbler, singing on a fence post just twenty yards away and then a handsome male Subalpine Warbler at equally close range. A hill top scan of the marshland revealed more of the 'usual suspects' including plenty of Avocets and Grey Plovers, plus more Caspian Terns and our first Curlew Sandpiper and Little Stint, but amazingly, we even found a female Long-tailed Duck, which should have been no further south than the British coast! Presumably it was a refugee from the horrendous wintry weather back home, and yet we were the only ones there to see the vagrant, whereas an equivalent rarity in Britain would have been welcomed by a crowd of birders. On the way back to the van we also spotted an Osprey heading north up the Rio Guadiana. By now it was raining and so we had lunch in the van and then moved on to another part of the reserve, where the lucky ones managed to get onto a Wryneck in my scope before it moved. Then we found a Stone Curlew and at last some Flamingoes, along with a passing Raven and a raft of twenty one Black-necked Grebes, all in nice summer plumage. Back at the van a pair of raucous Great Spotted Cuckoos flew into the same little nearby tree and promptly mated, while we watched the whole performance in the scopes. It ended with the male presenting his mate with a big juicy caterpillar, which made for a grand finale to a good day's birding.
Yesterday we were at the easternmost part of the Algarve on the border with Spain, and today we arrived at Cape Saint Vincent, the westernmost point, where we quickly found several Black Redstarts, but no sign of any Alpine Accentors. Offshore, the seawatching was quiet apart from loads of Gannets streaming north, and we also found Blue Rock Thrush and wild Rock Dove, followed by a Chough obligingly sitting on the top of a nearby telegraph pole. Exploring the hinterland of the cape, we watched a ringtail Hen Harrier and then two male Little Bustards flew by, as if one was seeing the other off its patch, and then the chaser circled to give a fantastic view of the wing pattern before landing for a scope view of the black and white neck. Although this was bird of the day, a flock of seventeen multi-coloured Bee-eaters, passing at low level was a close second. We also found Crested Tit in a nearby pine wood, followed by Short-toed and Thekla Larks on the same small patch of short turf.
The weather was cool and cloudy this morning as we set off north to Rocha da Pena and so we packed rain gear as well as lunch. En route we made a brief stop at a small river crossing alive with Blackcaps and singing Nightingales, and although we couldn't see the Nightingales, we did see Crag Martins and Grey Wagtails. The walk up to Rocha da Pena was quiet due to the cool windy weather, but we still managed to spot a nice male Blue Rock Thrush perched along the ridge from the summit, while the highlight of the walk was the long view of a Short-toed Eagle, hanging on the wind so statically that we were all able to watch the big raptor in the scope. At one stage it dropped vertically to the ground as if sliding down a rope. Coincidentally our next bird was a Short-toed Treecreeper, but overall this was a quiet day largely due to the poor weather, with low cloud, wind and particularly heavy rain on the last leg of the walk.
This morning, we set off at 7.30am with the aim of seeing bustards by nine. Fifteen minutes ahead of schedule, we spotted our first Great Bustards, a group of nine. Next we found a family of five Stonechats and a Little Owl perched on a rock, while a Great Bustard flew very slowly by. From our vantage point, we spotted a male Little Bustard and watched three Red Kites soaring over a group of eighteen Great Bustards, including a big strutting male, while two invisible Quail called incessantly nearby. Around 9.30am an awesome juvenile Spanish Imperial Eagle with an enormous wingspan flew by at close range and by 9.45 the male Great Bustard was so close we could see his dark eyes and neck feathers bristling in the cool breeze. What a fantastic start to the day. Moving on we found three Calandra Larks, chasing each other not far from the track, and in a nearby clump of Eucalyptus trees we scoped Spanish Sparrows nesting in the 'basement' of a bulky White Stork's nest. We found a well camouflaged Black Kite sitting amongst a pile of rocks, and from a viewpoint near an old farm building watched a female Montagu's Harrier drift by, while a scan of the open terrain revealed twenty eight Great Bustards dotted across the landscape, including several displaying males looking like fluffy clean white sheep. Back on the road, a flock of about twenty Little Bustards flew by and then we saw a very dapper male Black-eared Wheatear posing on a roadside fence post. During lunch on a hill top with panoramic views, we watched a couple of male 'Monties' hunting down below and a Short-toed Eagle overhead, while two Cuckoos frantically chased each other back and forth, and loads of Swifts were passing through. In one area of meadow we also counted a congregation of forty one Great Bustards. Driving on another male Black-eared Wheatear, this time with a dark throat, perched beside the road, and then a male 'Monty' crossed the road right in front of the van giving us all a brilliant view. Along the next track, we watched a spectacular flock of over one hundred Great Bustards take off, followed by our second Imperial Eagle of the day, and a definite male Lesser Kestrel hunting over the wild flower meadow. On the way back, via Mértola, we enjoyed a lovely view of a cute male Lesser Kestrel with its blue-grey head and apricot underparts sitting under the old bridge. Today we added ten new birds to our list and saw an incredible two hundred or more Great Bustards, so mission accomplished again.