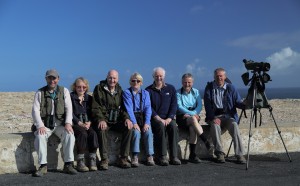 With a blanket of cloud throughout the flight across Spain, and large puddles on the airport runway, unsettled weather seems likely this week. On a short stroll from the villa, we meet the neighbours including Red-rumped Swallow, Serin, an obliging Sardinian Warbler and stunning Azure-winged Magpies. Not a bad start for the first afternoon.
Heavy rain during the night continues through breakfast, but looks like clearing up as we head east to the Castro Marim Reserva Natural on the border with Spain. Early birds here include White Stork, Cattle Egret, Marsh Harrier, Corn Bunting and Crested Lark, quickly followed by a pair of Great Spotted Cuckoos calling raucously right next to the Visitor Centre. Meanwhile the saltmarsh produces plenty of Black-winged Stilts, plus Dunlin, Curlew Sandpiper, Little Stint, Avocet, Grey, Ringed and Kentish Plovers, Whimbrel, Flamingo, Spoonbill, Caspian Tern, Yellow Wagtail, Zitting Cisticola and eventually Spotted Redshank. Next sighting is Spotless Starling and then we go in search of Spectacled Warbler. Strolling along a track through the low halophytic bushes, we soon locate our target, which puts on a great show by singing from the tops of numerous bushes while we all get chance to admire his handsome features in the scope including deep orange legs. After lunch we move on to another part of the reserve, where we find Hoopoe, Common Cuckoo and eventually a Stone Curlew, which breaks cover and then lands to give a distant scope view. From here it's rain stop play and so we return to the villa, where the sun is out, allowing a nice soak in the hot tub.
Yesterday we were at the easternmost part of the Algarve on the border with Spain, and today we arrive at Cape Saint Vincent, the westernmost point, where we quickly find several Black Redstarts, as well as wild Rock Dove, but no sign of Blue Rock Thrush. Offshore, the seawatching is quiet apart from a few Shags and loads of Gannets streaming north. Exploring the hinterland of the cape, we find a superb male Little Bustard, and as we watch in the scope his display consists of proudly craning his striking black and white neck while puffing out his chest, although his 'blown raspberry' call is too far away to hear. Other good sightings include a flock of forty-plus Choughs, a sentinel Little Owl, an aerobatic pair of Ravens, close views of White Storks stalking the carpet of flowers, flocks of multi-coloured Bee-eaters passing by and perching at low level, a Short-toed Eagle right overhead and a Crested Tit in the nearby pine woods; a remarkable combination of sightings for such a relatively small area.
This morning, we set off at 7.40am with the aim of seeing Great Bustards on the Alentejo plains by nine. Ten minutes ahead of schedule, we spot our first Great Bustards, a group of three, quickly followed by two more and then a big strutting male, close enough to see his whiskers bristling in the cool breeze. Up above, a Calandra Lark sings his heart out and we scope a Peregrine on a distant fence post. Meanwhile a passing Gull-billed Tern looks rather out of place in the dry landscape. A short way further east, a single vantage point produces two male Little Bustards, in flight and on the ground, six Great Bustards, including a displaying male, a pair of Rollers, and a superb male Montagu's Harrier quartering at close range and repeatedly perching on a nearby fence post. A short way further east a clump of trees is occupied by several White Storks nests, in turn colonised by numerous nests of smart Spanish Sparrows. Meanwhile a male Montagu's Harrier sweeps across the rich purple carpet of Vipers Bugloss and three Great Bustards fly slowly by; an awesome sight. Little Bustards call invisibly from within the knee high grasses and a Little Owl relies on camouflage to evade detection, though we can see his yellow eyes starring at us in the scope. After another pair of Rollers, both Red and Black Kites float by and a circling Black Vulture is an unexpected bonus, seen by all before dipping below the horizon. Moving on we find a Woodchat Shrike and then several Southern Grey Shrikes, followed by a picnic lunch on a hill top with a commanding panorama over the plains below. This afternoon, we enjoy watching half a dozen Lesser Kestrels hunting over the flower-filled turf, watch another Short-toed Eagle pass by, this time at low level, spot a soaring Griffon Vulture and scope a dozen or so Great Bustards, making a total of around 40 for the day! Incredibly we bump into 'our' Black Vulture again, but this time it's on the ground less than 100 yards ahead of us! We get a fantastic view of the heavy bill, before the massive wingspan lifts it off the ground, where it is joined by a juvenile Imperial Eagle, and at one stage the Eagle mobs the Vulture, while a Red Kite mobs the Eagle! What an amazing spectacle, with a pecking order reminiscent of John Cleese and the Two Ronnies! Beyond the rolling plains, we come to a tranquil river valley, where Barn and Red-rumped Swallows and House Martins are joined by Crag Martins, and we even manage to pinpoint a secretive Nightingale. After a really productive day, filled with excellent sightings of a range of quality birds seen in good weather, including ten different raptors, we celebrate with a well-earned ice cream in Mertola, and a glowing male Golden Oriole by the roadside on the return drive to the villa is a nice bonus.
Today we head west to the Alvor estuary, where a sand bar covered mainly with Yellow-legged Gulls and a few Lesser Black-backs sleeping through the high tide, also contains seven Audouin's Gulls, four Mediterranean Gulls, three Knot turning red, and a couple of Sandwich Terns. Returning east along the coast, to Pera Marsh, we are greeted by a Little Owl standing watch in a tree beside the track. Meanwhile the lagoon is teeming with Flamingos, Black-winged Stilts, Avocets and whistling Whimbrel, as well as various gulls including Audouin's. A Black Tern suddenly appears and as we track its flight path towards us, a Purple Heron shoots out of the reeds and across the bow of the tern. This is shortly followed by sightings of several Glossy Ibis and a distant Collared Pratincole, but then the rain sets in and so we 'abandon ship' and take shelter in the cafe.
It's still raining first thing this morning but we can start late as we're birding the local area at Quinta do Lago. Nat far from the car park, we find a Wryneck and enjoy spectacularly good views of this cryptically patterned bird calling in the scope at very close range. What a result. Meanwhile, the adjacent lawn has a pair of Hoopoes as well as Azure-winged Magpies, and a little further on we find a lovely male Iberian race blue-headed Yellow Wagtail. By lunch time the sun is out and we set off towards the golf course pool, instantly finding a male Black-headed Weaver busy building its intricately woven nest in the reeds. A Cetti's Warbler shows well beside the pool, also inhabited by colourful Purple Gallinules and Red-crested Pochards, and then Pam says "What's that thing with the pointy beak?" It's a male Little Bittern, stalking the margins out in the open, with an orange spear-shaped bill, in an almost horizontal stance, within ten yards of us! How lucky is that? Further on, stars of the golf course include Hoopoe, Azure-winged Magpie, Serin, a flock of twenty to thirty tiny Common Waxbills, and more Purple Gallinules which look quite incongruous on the open greens.
It's the final morning and at last warm enough to have breakfast in the garden. After last night's final roll call of sightings, "they think it's all over. It is now", as a Lesser Spotted Woodpecker miraculously flies over the sun deck, like a guided missile, and lands in the garden next door, for a really close view, as if by special delivery! What a great end to a really productive and enjoyable trip.

                                                                                                                                         Wryneck