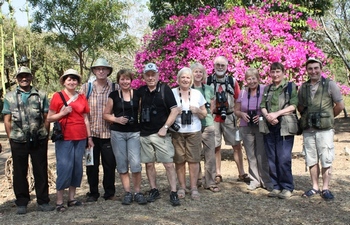 Half a dozen Black Kites soaring over the runway at Mumbai airport on the look out for road kill, seemed a little disconcerting as we waited for a domestic flight south to Kochi. Also present were House Crows, Barn Swallows and three Cattle Egrets, which Brian missed first time past, but then saw them second time around as our bus headed back to the international terminal before doing a U turn and dropping us a mere 200 yards from where we started five minutes earlier! And so after four X-ray machines and several body scans, we were checked in and ready to fly south to Kerala, where the temperature on arrival was 36°C, and tempered by a pleasant breeze. We met Eldhose, our guide for the trip, and drove a short way to the lovely Soma Birds Lagoon in time for dinner.
Our birding began on the bridge over the Periyar River, just outside the entrance to the Salim Ali Bird Sanctuary, with Ashy Woodswallow on a wire and a lovely posing Oriental Dollarbird, with a glossy green sheen and deep pink beak. Across the river a tree, with flaming red blossom, had Black-hooded Oriole, Rufous Treepie and a stupendous Greater Racket-tailed Drongo, trailing two long tail shafts which end with racket shaped feathers. By 7.30am we were at a feeding station set up by Eldhose, almost immediately enjoying fabulous views of Malabar Grey Hornbills, White-cheeked Barbets, a couple of little Black-throated Munias, a dozen or so fabulously smart Grey Junglefowl and a male Black-rumped Flameback, as well as Jungle Babbler, Common Myna, Ashy Drongo, an iridescent blue Bronzed Drongo and the extravagantly coiffured Red-whiskered Bulbul. In the woods nearby, Eldhose took us to a pair of roosting Mottled Wood Owls, which looked at us through sleepy coral pink eyelids. We also spotted Brown-capped Pygmy Woodpecker, Green Bee-eater and Greenish Warbler here. Moving on we arrived at the bird sanctuary a little after 9am and after a short stroll Eldhose showed us a particular bush, where perched motionless as if stuffed was a Sri Lanka Frogmouth. Even at two yards range some could still not see this amazing bird straight away, as it blended so well with the dead leaf hanging next to it. Another curiosity of this forest is the Gliding Lizard which runs up tree trunks and displays to its neighbours with a long bright yellow 'flag' which pivots from the throat, before throwing itself into the air to glide like a butterfly from one tree trunk to another. We also watched a Crested Goshawk circling above the forest, a pair of fluorescent Orange Minivets (the female is actually yellow) and a Square-tailed Drongo Cuckoo, and when Eldhose tapped a tree trunk with a stone, a Rusty-tailed Flycatcher emerged to investigate.
That afternoon, another stroll began with a Crested Hawk Eagle sitting on top of a tree, and then an Oriental Honey-buzzard soared by, followed by sightings of Chestnut-headed Bee-eater and both Loten's and Crimson-backed Sunbirds. As we climbed to higher ground, we found Common Iora, Grey-headed Bulbul and even an Indian Jungle Nightjar asleep on a horizontal branch, a miraculous find given the static nature and camouflage of this bird, with a cryptic grey pattern just like the bark it was sitting on. A wonderful panorama from the top of the rocky escarpment included views of Asian Brown Flycatcher, a small flock of Malabar Starlings, a couple of shiny navy blue Southern Hill Mynas with bright yellow ear wattles, and a fly past by a Black Baza, a very smart raptor. Descending the slope, we staked out a forest pool and watched a dazzling succession of birds alight for their evening drinks including four Puff-throated Babblers, hopping around like oversized Dunnocks, three Orange-headed Thrushes, two Yellow-browed Bulbuls, male and female White-bellied Blue Flycatchers, White-cheeked Barbet, Malabar Whistling Trush, Flame-throated Bulbul and Blue-throated and Tickell's Blue Flycatchers. Then it was back to the lodge for dinner. What a great way to spend a birthday!
An early morning stroll through the woods began with a Jungle Owlet, looking sternly into the scope, while being mobbed by several Purple Sunbirds which eventually dislodged the owlet from its perch. Next in the scope was Green Imperial Pigeon, followed by a grey headed female Plum-headed Parakeet, Spotted Dove, Oriental Magpie Robin and a tiny White-rumped Munia. A wet area adjacent to the woods added White-breasted Waterhen, Intermediate Egret, Red-wattled Lapwing, Oriental Darter and White-browed Wagtail. Glancing away from the water, we found Shikra and Rose-ringed Parakeet posing simultaneously as if vying for the attention of our scopes. Back at the lodge lagoon, six Blue-tailed Bee-eaters sat on a wire, even outdoing the Common Kingfisher sitting alongside them. Moving on from the lodge, a pair of navy blue and chestnut Southern Coucals beside the entrance track delayed our departure for Munnar, a hill station surrounded by tea plantations, where the natives include Long-tailed and Brown Shrikes and Pied Bushchat, which is a monochrome version of our Stonechat.
We spent almost the whole afternoon near Munnar, watching a small wooded gulley, alive with star birds showing really well like Indian Yellow Tit, Grey-breasted Laughingthrush, Nilgiri Flycatcher, Indian Blackbird, Blyth's Reed and Tytler's Warblers, the skulking White-bellied Shortwing out in the open, and the gorgeous Black-and-orange Flycatcher which does exactly what it says on the tin. During this patient watch we even saw the multicoloured Indian Pitta, eventually showing out in the sun, absolutely fabulous. We just had time to pop back to Munnar and grind our way up a narrow winding road to Deshadan, the highest resort in Kerala, just for a woodpigeon, but this was the endemic Nilgiri Woodpigeon, which we got in the scope, along with a string of bonuses including singing Black Bulbul, a lovely Grey-headed Canary Flycatcher, a full moon in the scope showing all its illuminated topography, and a deep red setting sun.
Here in Munnar, the highest town in Kerala, a cool mist hangs thick across the river first thing in the morning, and during an atmospheric photo shoot, we spot a couple of Rosy Starlings among a flock of Jungle Mynas in the reeds across the river. By 8am, we are at the 'Gap Road' viewpoint admiring a Blue Rock Thrush standing to attention just five yards away! Next come the target Nilgiri Pipits at equally close range, followed by Hill Swallows perched on the rocks just above the viewpoint, while Dusky Crag Martins wizz back and forth. Steppe Buzzards soar overhead, while a super male Indian Golden Oriole sits in a tree down below. Once the hordes of sightseers begin to arrive, we depart the developing bedlam in favour of a stroll along a tranquil forest track through towering old trees. Within minutes, we are onto Oriental White-eye and a couple of Indian Scimitar Babblers, with smart black and white stripey heads, white bibs and clean yellow curved bills, bringing a big 'oooooh' from the group. Strolling slowly on we scope a Vernal Hanging Parrot 'glued' to a stick and looking resplendent in the sunshine, and then spot an equally stunning male Grey-fronted (Pompadour) Green Pigeon, sunning himself below us in full view, while a female watches us from above. The incandescent red blossom trees prove very attractive to several Common Rosefinches and a fabulous Malabar Parakeet, with a beak as red as the petals he is picking from the tree. This succession of star birds is then topped by a Black Eagle which glides through the tree canopy and circles right overhead at tree top height! What an amazing spectacle. Just a few hundred yards of this fantastic forest track took up two hours of our morning and then back at the roadside, a couple of Velvet-fronted Nuthatches laid on yet another birding treat. Try picking one star bird out of that little lot!
After lunch back at Olivebrook Lodge, an afternoon of roadside birding produced another selection of top quality birds starting with Small and Orange Minivets in the same tree and followed by a Nilgiri Flowerpecker singing from the top of a dead tree. Meanwhile a patient stake out of the roadside scrub paid off with nice views of Brown-cheeked Fulvetta, Dark-fronted Babbler, with a dark face and starring white eye reminiscent of Orphean Warbler, and eventually the magnificent Rufous Babbler and White-bellied Treepie. One particular dead tree recommended to be watched by Eldhose, yielded scintillating views of sunlit gems like Purple Sunbird, Golden-fronted Leafbird and Malabar Barbet, sitting in the tree top just like Hawfinches do back home, but with better weather.
Today we left Munnar and drove north through a verdant steep sloped landscape of neatly clipped tea bushes and across the state border into Tamilnadu, where the landscape on the landward side of the Western Ghats soon became drier and more reminiscent of African thorn scrub. New birds here included Bay-backed Shrike, Laughing Dove, Yellow-billed Babbler, Indian Roller and a marvelous Crested Hawk Eagle perched at eye level right next to the road. At the end of this long but interesting drive we arrived at the palatial Banyan Tree Farm in time for an open air lunch in the shade. At 3pm it was time to restart but still very warm and a pair of Spotted Owlets were enjoying the shade of a stone wall next to the farm house. On the afternoon drive, cum stroll, we enjoyed brilliant scope views of Coppersmith Barbet and then found our first cock Indian Peafowl, plus Blue-faced Malkoha (a long tailed member of the cuckoo family), Chestnut-tailed Starling, Jerdon's Leafbird, White-browed Bulbul, Grey-bellied Cuckoo and probably best of all a male Asian Paradise-flycatcher, with an incredibly long flowing white tail about three times the length of its body.
Moving on from Banyan Tree Farm, we headed north for Ooty on another interesting action packed drive, and on the outskirts of Coimbatore we broke the journey at a roadside marsh crawling with waders; namely Common, Green, Wood and Marsh Sandpipers, Little Ringed Plover, Temminck's Stint and Black-winged Stilt. Other water birds here included Indian Pond Heron, Intermediate Egret, Purple Heron, Spot-billed Duck and a couple of Painted Storks, while an Ashy Prinia sang from the vegetation just in front of us, Alpine and Asian Palm Swifts wizzed around, and a flock of Rosy Starlings dropped in briefly. After a long uphill climb we finally made it to Ooty at around 7600 feet up in the Nilgiri Hills. After settling in to the Savoy Hotel, we headed to the RoyalFernhillsPalace for afternoon tea in china cups, but this is the price one has to pay for a birding session in the grounds. Here we found Great Tit, without a hint of green or yellow, plus Oriental White-eye, White-spotted Fantail, Brown-breasted Flycatcher and eventually the endemic Nilgiri Blue Robin, all at very close range.
It gets quite chilly overnight in Ooty, and so the locals were in Balaclavas as we set off at 7am. Just above Ooty we stopped at one of Eldhose's secret spots and straight away we had top class 'car park' birds like Great Tit, Indian Blackbird, Indian Blue Robin and Nilgiri Laughingthrush, literally feet away and coming for crumbs from our breakfast table. Next we descended from the heights of Ooty into a tinder dry landscape, arriving at Jungle Hut in time for lunch. On arrival, we added White-bellied Drongo and Common Tailorbird to our growing bird list. That afternoon, we visited an area of open dry scrub for birds like Blyth's Pipit, Jerdon's Bushlark, Booted Warbler, Hume's Whitethroat, Indian Roller, Indian Robin, Yellow-eyed Babbler, Malabar Lark, looking just like a Crested Lark from Europe, and the very smart Yellow-wattled Lapwing, plus Collared Dove and Tree Pipit!
This morning we spent a couple of hours birding before breakfast in the grounds of Jungle Hut notching up a very impressive bird list totaling forty plus species including Indian Pitta, Asian Koel, Rufous Woodpecker, Purple-rumped Sunbird, Red-vented Bulbul, Asian Fairy Bluebird, Red-throated Flycatcher, Yellow-billed Babbler and Chestnut-tailed and Brahminy Stralings. Now it was time to head north into Karnataka on a long and bumpy but interesting drive through villages full of colour and various livestock, where little has changed for decades. Roadside birds along the way included White-browed Fantail, Grey Francolin, Ashy-crowned Sparrow-lark, Rufous-tailed Lark, a soaring Short-toed Eagle, two Bonelli's Eagles sitting in a roadside tree, Yellow-throated Sparrow, which flashed a bright yellow throat patch each time it chirped, and a knockout Blue-capped Rock Thrush. In the afternoon we took a relaxing boat safari on the Kabini River, with cameras whirring as we saw numerous River Terns, Open-billed and Painted Storks, Little and Great Cormorants and Oriental Darters, as well as Spot-billed Duck, Black-headed and Red-naped Ibises, Striated Heron, Woolly-necked Stork, Pacific Golden Plover, Osprey, Grey-headed Fish Eagle, Pied Kingfisher, Streak-throated Swallow, Little, Intermediate and Great Egrets fishing in the same area, Bar-headed Goose, all the way from Tibet, and a big flock of delightful little Small Pratincoles. We even found half a dozen impressive Malabar Pied Hornbills and a Red-headed Vulture in a couple of tree tops and watched the hornbills fly over from one side of the river to the other. Mammal wise, there were hundreds of Spotted Deer grazing along the river as well as one or two larger Sambar Deer and a smaller Barking Deer, plus Wild Boar and Indian Bison, looking like bulls on steroids and known locally as Gaur. There were also numerous Elephants including three males enjoying a bath on the shore by throwing trunkfulls of mud over their backs. On the way back to the lodge the sun set big and red behind the trees, all great photo-opportunities.
Yesterday's boat safari would take some beating but we had a go with an early morning jeep safari into Nagarahole National Park adjacent to the lodge. Birds of this dry forest included Crested Serpent Eagle, Large Cuckooshrike, Malabar Woodshrike, Black-rumped Flameback, Siberian Stonechat and a circling White-backed Vulture. As we stopped for a Forest Wagtail, we also spotted a Crested Hawk Eagle perched near the track, watching the ground below with sharp yellow eyes. Suddenly it dropped to the floor and as we watched to see what would happen next, the bird stood there for quite a while just looking around among the dead leaves, as if embarrassed and wondering what to do next. Eventually it flew away empty handed. There was also plenty of mammal action with numerous Bonnet Macaques, Grey Langur Monkeys, Malabar Giant Squirrels, Wild Boar, Elephant, Spotted Deer, including a mother and tiny fawn just a few days old, and a small herd of Gaur. There was also a carcass of a freshly killed Gaur and given the awesome size of these beasts, it seemed hard to believe that even a Tiger could bring one down, and yet this must have happened during the previous night. There was no sign of the Tiger but several large-billed Indian Jungle Crows were having a field day feasting on the carcass and must have thought it was Christmas.
After a late breakfast and some free time (yes it does occasionally happen), we eagerly set off on another jeep safari at 3.45pm, bouncing along on bone-shaking tracks and leaving behind a trail of orange dust. Back in the forest a handful of White-rumped Needletails sped overhead and we came across several Hoopoes, a Common Hawk Cuckoo and a pair of Lesser Yellownape Woodpeckers, and then finally nailed the neatly patterned Forest Wagtail. Suddenly, the vehicle stepped up to top gear as we got wind of a Tiger sighting on the 'jungle telephone'. We came to a halt at a small water hole and just beyond were two Tigers lying flat out with their striped backs towards us. Both were consenting adults and as we watched, the female got up and melted away, leaving her mate feeling pleased with himself, and content to chill out on his side with an occasional casual flick of his tail. We watched the Tiger for quite some time and while he rested, Ashy Drongo, Asian Paradise-flycatcher, and Black-naped Monarch all dipped down to the water to drink. Returning to the lodge for a shower and dinner, we found a roosting Brown Fish Owl, rounding off another great day.
Another jeep safari, another Tiger! This king of the jungle was a full grown male, which strode slowly and majestically across the track ahead, with all the confidence of a top predator. Three Tigers in two days, how good is that? Just before the Tiger appeared, I called out Yellow-footed Green Pigeon, but this was quickly overshadowed by the appearance of the Tiger. Besides the big cat sighting, we also did well for woodpeckers, seeing Streak-throated, Heart-spotted and the whopping White-bellied Woodpecker. Other good sightings included Jungle Owlet, Chestnut-bellied Nuthatch, more White-rumped Needletails and a 'hepatic' Common Cuckoo, and all before breakfast!
On the road north to Mysore, we stopped at a roadside wetland, where we counted a congregation of 49 Purple Swamphens! Also present were Pheasant-tailed and Bronze-winged Jacanas, Lesser Whistling Duck and Glossy, Black-headed and Red-naped Ibises, all in good numbers. In Mysore, we checked in to the very posh Sandesh the Prince Hotel, had lunch, did some shopping in the adjacent Silk Emporium and then set off for the Ranganathittu Bird Sanctuary, where Pale-billed Flowerpeckers showed well on the car park. Taking to a boat, we were soon surrounded by several big Marsh Mugger crocs basking out on the rocks. The waterside trees were packed with roosting Fruit Bats as well as an overwhelming variety of water birds, many in breeding plumage, such as Little Egrets, Black-crowned Night Herons, Eurasian Spoonbills, Open-billed and Painted Storks, Indian Cormorants and Spot-billed Pelicans. On the rocks we also enjoyed arm's length views of River Terns, with yellow beaks and red feet, and Great Thick-knees with massively oversized bills. Long-legged Buzzards and Brahminy Kites also put in appearances, along with Common, Pied and Stork-billed Kingfishers. With so much to see it was an absorbing spectacle and so the hour and a quarter in the boat flew by in no time, just like the large flock of Whiskered Terns that passed by along the river.
The first day of February, and the sun rose big and red around 7am as usual. We were out before breakfast in search of Indian Eagle Owl. Thanks to Eldhose's local knowledge we soon had it in our scopes, and after a good long look we left it in peace and moved on in search of other birds. We soon added Indian Silverbill and elegant Wire-tailed Swallow to the list, followed by a Besra, rather optimistically dashing from its perch after Indian Pond Herons, rather like a Spotted Flycatcher after flies. Within a couple of hundred yards we also found a Shikra, allowing a compare and contrast of these two little hawks. Next we watched Indian Bushlark performing a song flight similar to a Meadow Pipit, and a male Montagu's Harrier drifted by. In the small rocky gulley, with Red-rumped Swallows gliding by at eye level, we found a second Eagle Owl, and while it sat dozing in full view, we used the minibus as a hide to get within about twenty five yards of the massive owl, for a communal photo-shoot. After breakfast back at the hotel, we left Mysore and returned to the nearby bird sanctuary, this time to check out the fig trees near the entrance, where we had Indian Golden and Black-naped Orioles in the same tree, as well as White-rumped Munia and Indian Grey Hornbill, all in the scope. Overhead, we spotted Crested Serpent Eagle and two Greater Spotted Eagles. After lunch on the road to Bangalore, which eventually became a six lane highway, we stopped off at a huge rocky outcrop called Ramanagara, where three very rare Long-billed Vultures sitting on a whitewashed ledge occasionally launched themselves to give flight views. Later that afternoon, we eventually found our hotel, after a tour of the chaotic road network of sprawling Bangalore, although our driver kept smiling throughout the chaos.
Today was a transfer day starting with an early flight to Chennai and then on to Port Blair in the Andamans. As the second flight departure was delayed by an hour, the race was on to catch the afternoon ferry from Port Blair to Havelock Island, where we were booked in for two nights at the Barefoot Camp. The last thing we needed was any further delay, but India seems to thrive on needless bureaucracy, and we were greeted at Port Blair airport by an official waving a blank form for us to fill in with irrelevant personal details. The said form was then passed between four different immigration officials, each of whom seemed to have a particular part to check and double check and finally stamp. Meanwhile the clock was ticking, but eventually we were all presented with a permit for visiting the Andaman Islands, which is a restricted area, even though our visas already included a permit. We hastily collected our baggage and exited the airport to be collected by two vehicles and transferred to the jetty, where we picked up the ferry tickets and raced towards a gate where an official checked our tickets and passports amid a melee of over eager porters and miscellaneous personnel. From here it was a race along the jetty to the ferry (cue the Benny Hill tune), with only two minutes to sailing time, where another official shouted "ticket, ticket". By now, amid all the kerfuffle, the tickets had been temporarily mislaid, and with the gang plank already raised and a crew member closing the hatch for departure, I suggested to the group that we all start jumping aboard and manhandle our luggage along a human chain through the half closed hatch, and then disappear. Once on board, the crossing was fairly uneventful, apart from flying fish shooting along like skimming stones. On arrival in Havelock, our permits and passports were checked again, while dozens and dozens of slim line White-bellied Swiftlets swooped in and out below the jetty.
In this easternmost part of India, dawn comes earlier than on the mainland and so we were on watch outside our 'tents' by 5.30am. Exploring the well wooded grounds, we came across a lovely Emerald Dove and then White-headed Starlings, endemic to the Andamans, followed by Spot-breasted Woodpecker, Andaman Serpent Eagle, the unbarred Andaman race of Large Cuckooshrike and the amazingly bright Scarlet Minivet. After breakfast, a stroll along the beach, judged to be one of the finest in Asia, produced Pacific Reef Heron and a very confiding pair of Collared Kingfishers, sitting together in a tree behind the beach, making an exquisite composition in the scope. In the afternoon, we hired the local jeep and driver for a more extensive exploration of the island as far as Kalapathar. New birds along the way were Asian Glossy Starling, Red Collared Dove, Alexandrine Parakeet, Changeable Hawk Eagle and Andaman Coucal. After dinner, Eldhose had a real treat lined up for us, as he magicked up an Oriental Scops Owl out of the dark night. The tiny owl sat frozen in a torch beam, starring at us with big yellow eyes from an open twig just yards away.
Next morning, we started before breakfast again and by 5.45am we had the impressive Andaman Woodpecker in the scope, as it perched on the top of a dead tree trunk. This is a large all black woodpecker, with a bright red 'hairdo' and a drumming sound like a rapid burst of machine gun fire. Further sightings included very handsome Red-breasted and endemic Long-tailed Parakeets, Andaman Drongo, with neatly furled tail feathers, and the endemic Olive-backed Sunbird. While waiting for the jeep to take us to the jetty for the ferry back to Port Blair, some lucky people enjoyed very close views of Andaman Cuckooshrike right outside the camp reception.
With just a morning to spare before our flight back to the mainland, we planned a 'smash and grab' raid on Mount Harriet. This involved a people carrier from Port Blair to the Chatham ferry, a ten minute five Rupee ride crammed with mopeds and pedestrians, and then a short jeep ride up to the top of the mount, after stopping at the reserve entrance for the customary passport details, form filling and entry fee payment. Once at the top we had a very productive spell with a string of Andaman endemics in quick succession; namely the Cuckoo-Dove, the Green Pigeon, the Bulbul and the Flowerpecker. On the way back down the road from the top, Eldhose found us a super view of the shy Andaman Shama, singing from a nearby perch, with sunlight passing through the translucent primary feathers. On the ferry from MountHarriet back to Port Blair, we enjoyed a fabulous show by a White-belliedSea Eagle soaring majestically above the ferry on fixed wings. All we had to do now was return to the airport and check in for our flights home, and after seemingly endless queues, baggage and body scans, passport checks and stamping of passports and baggage tags, we were on our way, but with so many great experiences of the lifestyle, wildlife and stunning birds, it had all been well worth it.