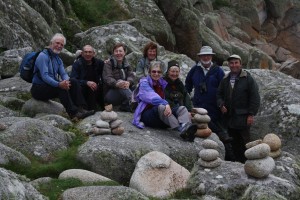 It's 1st October and time for more 'Scilly excitement', but the closest we get is a tantalising glimpse of a beach through the clouds below, before diverting to Newquay, as the pilot aborts the landing approach due to the poor visibility. Next day with low cloud still hanging around we decide to 'play safe' and opt for the sea crossing from Penzance on board the Scillonian. As well as plenty of Gannets, other bonus birds include Guillemot, Fulmar, Great Skua and both Balearic and Sooty Shearwaters, and yet the real highlight with a big "wow" was the sight of several white-sided Common Dolphins joyfully leaping clear of the water in their headlong dash towards the ship, like excited children racing for the playground at break time! Once ashore, a brief exploration of St. Mary's, produced fabulous views of a handsome male Wheatear on Porthmellon Beach, a Whimbrel on Old Town Beach and a Snipe at Lower Moors.
With the arrival of a White's Thrush from Siberia late yesterday on Saint Agnes, the choice of island today was a 'no brainer'. Sadly there was no sign of the vagrant this morning so we had to make do with a Yellow-browed Warbler, also from Siberia. Moving on to Wingletang Down, we found a Lapland Bunting showing very well as it pecked away on the short turf just in front of us, followed by a Buff-breasted Sandpiper with a Sanderling, at very close range on Porth Askin Beach. Also here were numerous Rock Pipits, lorry loads of Wheatears, a couple of Whinchats, and a White Wagtail, with a Peregrine keeping a sharp eye out from the rocks just offshore. By now we were by the church and just in time for 'Operation Subalpine Warbler', before catching the boat back to Saint Mary's. Sure enough, we found the juvenile warbler feeding in a bramble bush along with a slightly larger Whitethroat, and so one day on this spectacular little island had produced rarities from northern and southern Europe, Asia and North America!
It's 4th October and tee shirt weather on Tresco, where we soon get involved in a debate over a possible Semi-palmated Sandpiper on Abbey Pool. It looked just like the 'Semi-p' in the book, but showed no sign at all of any palmation between the toes, and so after much scrutiny of the bird, in the scope and on camera, it became a Little Stint. By the time we got to Old Grimsby, it was time for lunch, and what a view, with the calm blue sea, rocky islets in every direction, and a white sandy beach complete with a small flock of Ringed Plovers. Before moving on, I suggested we had a last look at the view in a different direction and just as I said it, I spotted a Wryneck clinging to a small rock right by us. As I struggled to get my words out, "look there's a Wryneck", it flew and perched on the back of a bench barely ten yards in front of us, giving an awesome view of its cryptically patterned plumage. Strolling back past the church, a glance at a ploughed field revealed several Red-legged Partridges, as well as a Common Gull, a Stock Dove and two Turtle Doves. On the Great Pool, we found Greenshanks and Redshanks, and then a couple of Yellow Wagtails landed on the grass between us and the shanks. On the return boat trip, at least twenty Little Egrets were congregating on the rocks, rounding off another productive day.
Today it was Saint Mary's turn to be explored. Lower Moors produced great views of more Snipe, as well as brief views of a Water Rail swimming between clumps of sedge, but still no sign of the elusive Bluethroat or Purple Heron, and on the Higher Moors reserve we found more Snipe, and another five Greenshanks. News of a newly arrived Arctic Warbler, last recorded in Scilly in 2006, as it normally winters in southeast Asia, drew us to the duck pond at Newford, where a small crowd of fellow birders had gathered. After a short stake out, the warbler showed, working its way back and forth through the bushes, and one could clearly see the long supercilium, faint wing bar and dusky underparts; another good result.
Tee shirt weather again for a trip to Saint Martin's, and on the crossing we saw a trio of female Common Scoters. Once ashore there was nothing to write home about except for the 'usual suspects', the glorious weather and the outstanding vistas across the archipelago, but whilst waiting for the return boat, those that didn't go paddling had good views of another Yellow-browed Warbler, which shows that even on a quiet day, Scilly is still special.