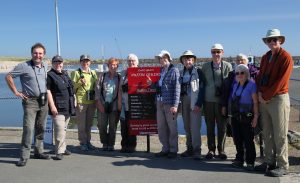 The Durham Wildlife Trust's Low Barns reserve is a lovely peaceful place in June, bursting with wildflowers such as Bloody Crane's-bill, Red Campion, Yellow Irises and Common Spotted Orchids, and alive with the songs of Chiffchaff, Reed, Sedge and Willow Warblers, Song Thrush, Blackbird and Reed Buntings. A lively feeding station allowed intimate views of a red-capped juvenile Great Spotted Woodpecker, a very confiding Jay, plus Reed Buntings and Tree Sparrows, until a Sparrowhawk flashed past the feeders so quickly that some of us missed it! The lucky ones also saw a Kingfisher here. With lovely weather for ducks, we found a single drake Teal among all the Mallards and 'Tufties', along with Oystercatcher, Lapwing and Little Grebe, and by the end of the afternoon we had chalked up 42 bird sightings in this compact reserve.
At 8am this morning we were 'good to go' on the scheduled cruise to the Farne Islands, but by 9am it was postponed until possibly 11am, thanks to a northerly breeze. After a phone call, we rescheduled tomorrow's planned 'Puffin Cruise' for Thursday morning and rebooked the Farnes day for tomorrow, in view of the improving weather forecast. Exploring the rocky shore around Seahouses, we found plenty of Eiders, Oystercatchers and House Martins, along with a few Shelduck, Curlew, Sandwich Terns, a Fulmar, a Kestrel, a Bar-tailed Godwit and a Stonechat, but with no sign of the Iceland Gull reported earlier this morning. After lunch back at the hotel, we headed south along the coast to Druridge Bay, hoping to find Sunday's Baikal Teal. This Mega rare duck was also seen yesterday, although with no reports today it seemed that we may have missed it. But, within ten minutes of our stake out at Druridge Pools, it suddenly appeared and showed really well, with a smart brightly patterned head reminiscent of a colourful mosaic. Wow, what a result! As well as this 'bird of the century' we also found a couple of Avocets, a Spoonbill, a drake Wigeon, Black-tailed Godwit and Spotted Redshank in full breeding plumage and a Grasshopper Warbler, 'singing' from the top of a low Gorse bush, making a remarkable 67 different birds seen today, despite the poor weather.
Back at Seahouses in weather similar to yesterday, the cruise was delayed until 11.30 again, with no possibility of landing on Staple Island, due to an unfavourable northerly wind again. With National Trust 'festival style' wristbands fitted, we were ready to 'rock 'n' roll' across to the Farnes, with Gannets passing by en route. A cruise around Brownsman, Longstone and Staple Islands, allowed close views, and smells, of tens of thousands of Guillemots, Puffins and Kittiwakes, along with a few Razorbills and Shags, followed by a landing on Inner Farne, with a welcoming party of raucous Arctic Terns, eager to land on people's heads! Along the roped off walkway, we literally stepped over nesting terns, with either eggs or nestlings at various stages of development, and among the chaotic bedlam of this noisy seabird colony, we found a Rock Pipit and a handful of Common Terns amongst all the Arctic and Sandwich Terns. Two hours flew by, along with all the seabirds, busy flying to and fro with a constant supply of Sand Eels for their hungry chicks. What a remarkable day trip, and in brilliant sunshine!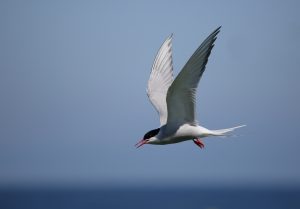 With 17.5 hours of uninterrupted sunshine at this northerly latitude, we began our last day with a 'Puffin Cruise' from Amble harbour across to Coquet Island. This tiny island is home to over 64,000 Puffins, and with such a calm blue sea, we were also able to enjoy prolonged close views of four types of Tern; Sandwich, Common, Arctic and the very rare Roseate Tern, with around 120 pairs here representing virtually the entire British population! Back on the mainland a visit to the Hauxley nature reserve produced plenty of Curlews and Tree Sparrows and also added Little Egret and Goldfinch to the trip list. After lunch here, a return to Druridge Pools reunited us with our 'old friend' the Baikal Teal, while a Wood Sandpiper was an added bonus. Finally, it was time to head south to Crimdon Beach on the Durham coast, hoping to make it five Terns in one day, but the Little Terns had sadly flown elsewhere. That's birds for you! Still, Spoonbill, Kingfisher, Wood Sandpiper, Grasshopper Warbler, rare Roseate Terns, Puffins and Guillemots galore, Arctic Terns on our heads and a superb drake Baikal Teal is not a bad selection of highlights from a short break.