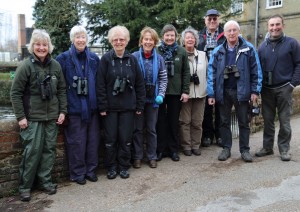 Arriving at Welney in pouring rain, we spend a fruitful lunchtime accumulating a list of 30 species from the café windows, including Little Egret, Pintail, Ruff, Snipe, Black-tailed Godwit, Avocet, Oystercatcher, loads of Wigeon and Lapwings and several Reed Buntings on the feeders, as well as a group of six Roe Deer. Once the rain stops we cross the Hundred Foot Drain to the hides overlooking the Hundred Foot Washes, where we add birds like Whooper Swan, Egyptian Goose, Goldeneye, Stock Dove and Skylark, making an impressive list for a travelling day of 49 species seen.
Straight after breakfast we receive news of a Great Grey Shrike, just 8 miles from the hotel, and in the same location as a long-staying vagrant Pallid Harrier! By 9am we are on location, spotting Yellowhammer but no sign of the shrike, although we all enjoy fantastic scope views of the juvenile harrier with a diagnostic buff-coloured collar. Next stop is the breezy Wash coast at Snettisham, where thousands of waders include Golden, Grey and Ringed Plovers, Knot, Curlew, Dunlin, Redshank, Oystercatcher, Turnstone, a flock of over 300 Avocets, and one Sanderling! On the lagoons there is no sign of any Mediterranean Gulls amongst all the Black-heads, but we do find a solitary female Scaup. Inland, sightings include Marsh Harrier, four Pink-footed Geese mixed in with plenty of Greylags and several Brown Hares. Moving on to Titchwell Marsh we find our first Brent Geese, compare Black- and Bar-tailed Godwits side by side, and scope a long dense raft of hundreds of Common Scoters from the beach.
On the way to Cley Marsh on this bright and breezy morning we divert to Felbrigg Hall following news of a Cattle Egret in "a sheep pasture behind the church". Sure enough, there it is, doing its bizarre strut amongst the sheep, and close enough to show its buffy crown; a really easy 'twitch'. Nearby Cley Marsh is unusually quiet, apart from a large flock of Brent Geese, more Marsh Harriers, some handsome Ruff, a vocal Cetti's Warbler and a newly arrived smart male Wheatear. We end the day at Holkham, where there are plenty of the 'usual suspects'; Marsh Harriers, Pink-footed and Brent Geese, Shelduck and Brown Hares, plus Muntjac and Roe Deer.
There is still no sign of the Grey Wagtail by the river outside the hotel this morning before moving on to nearby Sculthorpe Moor, a tranquil gem of a reserve, with a variety of attractive habitats. The first new sighting here is a dashing Sparrowhawk, while the well stocked feeders allow close views of Coal Tit, Nuthatch, Bullfinch and numerous Bramblings, including a very unusual flavistic male, with the normally white rump and underparts replaced by a lurid yellow! Wandering through the shelter of the sunny woods, alive with the songs of Chiffchaffs, it really feels like spring at last. Along the trails we bump into a male Goldcrest with a flared up bright orange crown, and a posing Treecreeper, while one of the dykes is boiling with an orgy of spawning frogs. Deeper into the reserve, we hear the buzzy sounds of redpolls, and after a lot of searching we pinpoint a couple of frosty looking Meally Redpolls hidden deep within the bushes. Ironically the nearby hide provides the remarkable sight of Lesser and Meally Redpolls perched one above the other, right outside the window, on the same feeder! By now, yet another male Brambling on the bird table just ten feet from the window barely gets a second glance. This was a lovely finale to a productive and enjoyable Norfolk tour.