We begin the tour at the Cavenham Heath national nature reserve, where we soon find a group of seven Stone Curlews showing well in the scope while resting their big yellow eyes as they snooze amongst the heather. Moving on to the nearby Lackford Lakes nature reserve notable sightings here include Hobby, Snipe and Jay, while a vociferous Kingfisher remains unseen.
Today we head south to Dunwich Heath, where a Peregrine cruises overhead just minutes from the car park; what a flying start to the day. Five minutes later, a Dartford Warbler shows well amid the purple haze of flowering heather, quickly followed by a fly by Green Woodpecker looking superb in the morning sunshine; not bad for a short stroll. At the nearby Minsmere RSPB reserve, early birds on the West Scrape include a Grey Plover, a couple of Ruff, a few Avocets, a dozen or so Barnacle Geese and plenty of Black-tailed Godwits.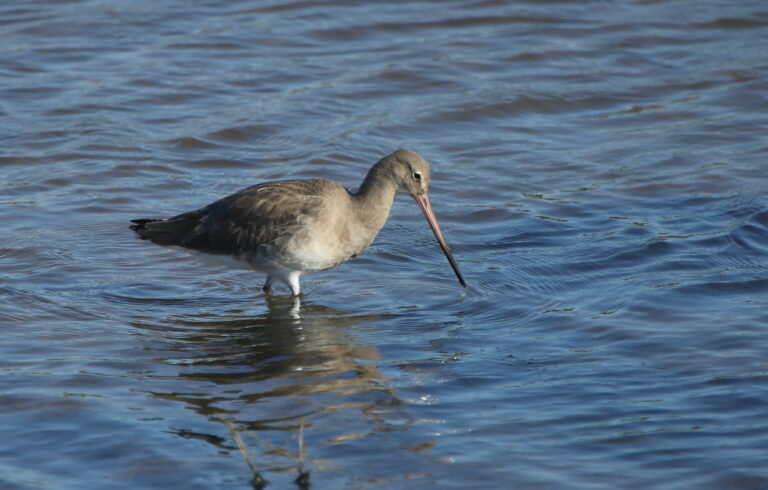 With such lovely warm sunny weather, the beach is an ideal place for a picnic lunch alongside a family of Stonechats. Moving on, further sightings include a Little Stint feeding amongst a group of larger Dunlin and a rare Clouded Yellow butterfly. After a circuit of the unusually quiet scrapes and a tea break back at the café, a visit to the Island Mere hide produces the first Marsh Harrier of the day and tantalising close views of a pair of Bearded Tits, popping up repeatedly amongst the feathery reed heads. Back at the West Scrape we finally find the Pectoral Sandpiper reported first thing this morning and end the day with super views of a low flying female Sparrowhawk as it speeds past the hide.
It's another glorious warm sunny day as we head north through the lovely quiet rural Norfolk countryside to the quaint chain ferry that crosses the River Yare at Reedham. Along the way we spot a trio of circling Red Kites and numerous Jays busy collecting acorns. First stop is at the Buckenham Marshes RSPB reserve which are quite dry and so lacking in waders, but there are plenty of Greylag Geese and a lone Pink-foot (Billy) and we also spot Kestrel, Marsh Harrier and a very active Hobby dashing after dragonflies on the wing. Moving on to the nearby Strumpshaw Fen RSPB reserve in time for a picnic lunch beside the feeders, we enjoy regular close views of a Marsh Tit and a very confiding Jay.
This afternoon, along the Fen Trail numerous wildlife encounters include a Grass Snake, slithering across the path, a melanistic Water Vole, quietly feeding in a ditch beside the path, a Chinese Water Deer, grazing on the lush grass less than 100 yards further along the path, close views of a fly by Hobby and a male Bearded Tit from the Fen Hide, plus Red Admiral and Comma butterflies. The Tower Hide allows close views of a Snipe feeding along the muddy shore in front of the hide, along with hundreds of Teal and Shovelers and a few Gadwall and Wigeon but despite a prolonged search there are no signs of the Garganey reported here yesterday.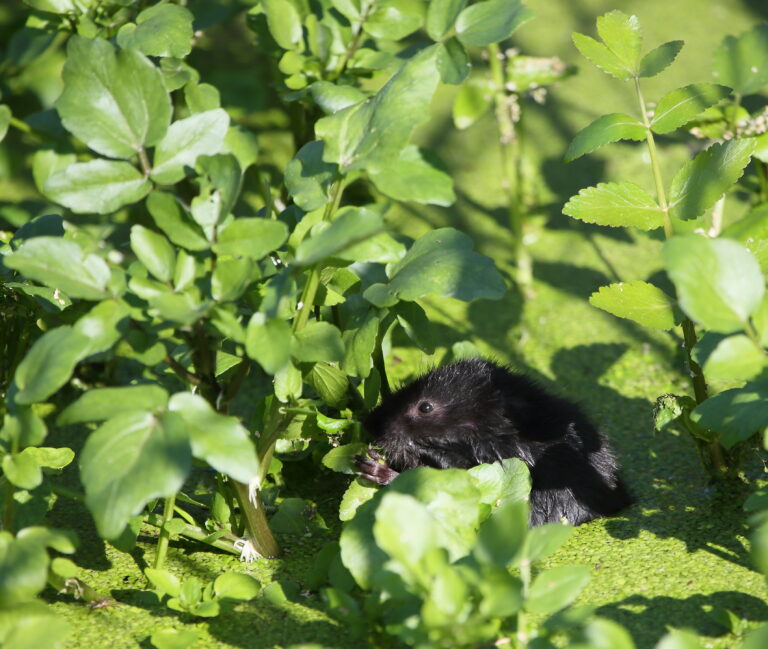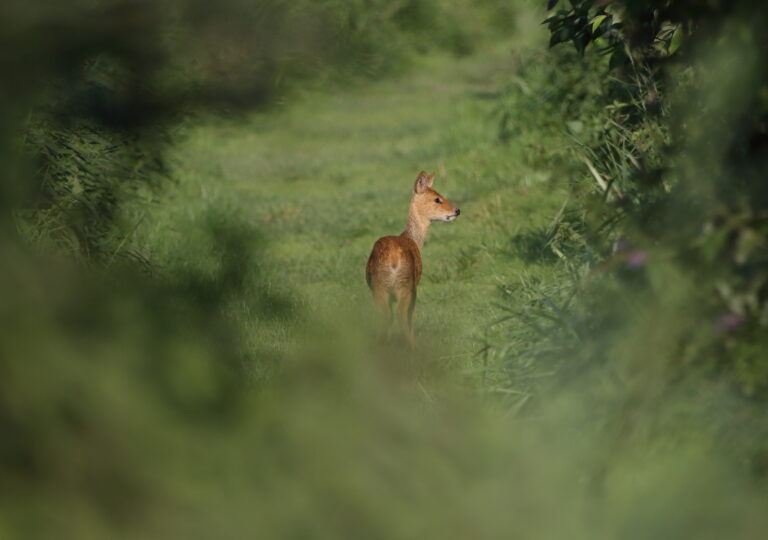 The fine weather continues today as we head for the famous Cley Marshes nature reserve where the Lapwings (aka Green Plovers), show a resplendent irisdescent sheen in the brilliant sunshine, though the strong breeze offers little hope of seeing any Bearded Tits today. Along the East Bank, several Curlews are new for the trip, and we also find a few more Barnacle and Pink-footed Geese among all the Greylags, with yet another Marsh Harrier patrolling the adjacent reedbed. A brief seawatch from the beach produces several passing juvenile Gannets, a couple of Red-throated Divers still in breeding plumage with clearly discernible blood red throats, and a Guillemot, already in winter plumage. After a picnic lunch back at the Visitor Centre with Iolo Williams, three Greenshanks show really well from the central hides, along with a few Pintail and a stunning half white male Ruff with bright orange beak and legs. Next, we head a short way east along the coast to Weybourne, in response to a report of a resighted Wryneck, which has been reported daily for the past six days, and on the walk along the coast path we enjoy more good views of three Red-throated Divers not far offshore, including one struggling to swallow a sizeable flatfish. On arrival at the site, we learn that we "should have been here five minutes ago". How often have we heard that? Despite a patient wait, the bramble patch only produces a couple of Stonechats and Whitethroats.
A Grey Wagtail outside our riverside hotel is a good start to another fine sunny day as we head north to the coast at Holkham, where Egyptian Geese and Great White Egret are new for the trip. Meanwhile, skeins of Pink-footed Geese fill the sky with their characteristic "wink wink" call as they descend to graze on the meadows. Scanning the scene there must be at least six thousand of these geese 'fresh in' from Iceland, occasionally erupting into a noisy frenzy as Buzzard, Marsh Harrier, Red Kite, Kestrel and Peregrine repeatedly pass over, creating a spectacular show. The 'raptor fest' continues with at least two aerobatic Hobbies swooping by as they chase and catch dragonflies on the wing with consummate ease.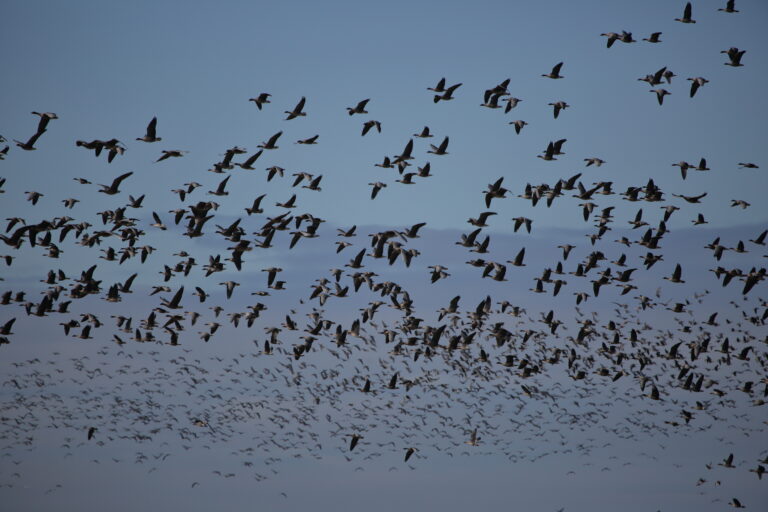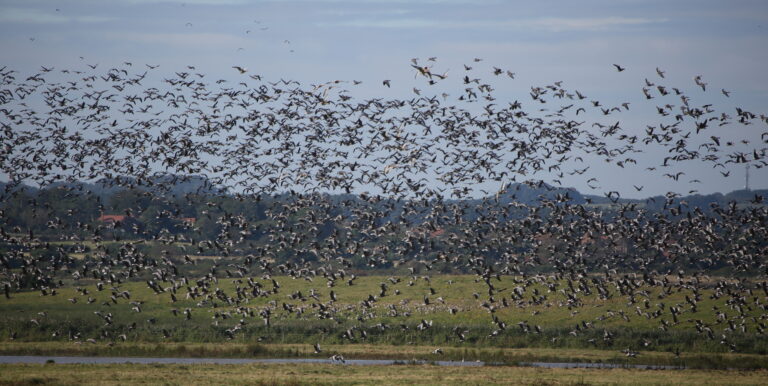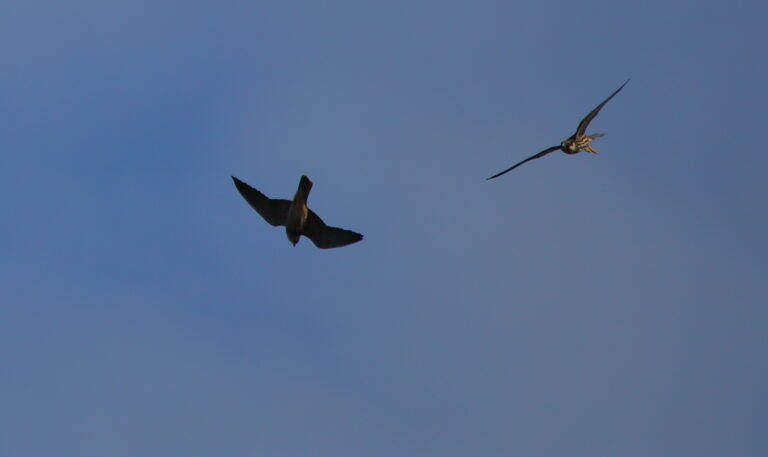 From here it's a short drive west along the coast to the famous Titchwell Marsh RSPB reserve for a picnic lunch, where we again bump into 'our mate' Iolo and crew. This afternoon, the freshwater marsh is teeming with water birds, including Brent Geese, Little Stint, another Pectoral Sandpiper, several Ruff at really close range and excitable flocks of Golden Plover. Onward to the beach and the wader show continues with several new sightings for the trip; Sanderling, Knot, Turnstone, Bar-tailed Godwit and finally, plenty of Oystercatchers, making a total of eighteen different waders, including the vagrant Pectoral Sandpiper.