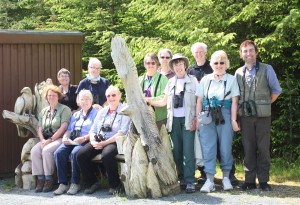 Our first morning on Mull began with a shroud of low cloud on the hill tops, so we stayed at sea level around Loch Spelve. After Hooded Crows outside the Spar shop at Craignure, our next bird was a nice male Whinchat sitting on a wire. As we scoped the Whinchat, it was joined by two pipits just a few yards apart. This was a textbook scenario as a closer look revealed that one was a Meadow Pipit, while the other larger darker more heavily streaked bird was actually a Rock Pipit, even though we were several hundred yards away from the shore. Moving on to some lovely fresh sprouting oak woods south of Strathcoil, we completed the pipit collection with a Tree Pipit singing from the top of a dead branch. We also had good views of a singing Wood Warbler here although the Redstarts were less obliging. Emerging from the woods we spotted a high flying female Hen Harrier and as we tracked the bird it landed on the hill side for a scope view. By the time we reached Lochbuie, the mist had cleared and the flat calm sea view was a perfect setting for a picnic lunch. During the picnic we watched Black Guillemot, Gannet, Eiders, Red-breasted Mergansers and a distant Great Northern Diver still in winter plumage. From now on we had cloudless blue skies with about 18 hours of sunshine every day! After lunch, the boggy ground near the Lochbuie standing stones produced a Snipe which posed for us on top of a nearby roadside telegraph pole. Returning to Loch Spelve we scoured the south shore for Otters without success, although we did find two Twite and a remarkably bright Lesser Redpoll pecking in the same little sheep pen. As dusk approached a stroll though the hotel grounds down to the beach produced a pair or Red-throated Divers very close in shore, but there was no sign of a roding Woodcock. Perhaps it had been taken by the ghostly male Hen Harrier which we often saw patrolling the hotel grounds around 10pm.
Heading north this morning, we stopped at Salen Bay hoping for an Otter, and there it was playfully leaping clear of the water beyond the rocks, along with a couple of Common Seals. We also had great views of a Treecreeper here. A mass of Bluebells proved an irresistible photo-opportunity on our scenic route to Ulva Ferry, where we boarded the Hoy Lass for a trip to the isles of Staffa and Lunga, seeing Manx shearwaters during the crossing to Staffa. Staffa is famous for Fingal's Cave, a sea cave guarded by tall polygonal columns of basalt, a fabulous place for a picnic with panoramic sea views in every direction. Lunga is another treasure island, with yet more Bluebells and also Primroses, where lucky visitors can get really close to a variety of seabirds including Fulmars, Kittiwakes, Razorbills, plus Shags, which shine glossy green in the sun, as well as thousands of Guillemots, and hundreds of cute little Puffins which will come right up to you for a closer look! We also saw more Twite and Wheatears here. On the boat ride back to Mull, we spotted an immature White-tailed Eagle sitting on the rocks of Fladda, and when it flew, it dwarfed its Great Black-back mobster. We also saw a Great Skua on the same island and as we cruised along Loch Tuath, the boat drew close inshore for a starring contest with a watchful adult White-tail, sitting majestically in a dead tree, while guarding its nearby nest. What a fantastic day.
Today we headed west on a scenic drive through spectacular Glen More and along the Ross of Mull, swathed with stunning carpets of Bluebells. At Fionnphort on the western tip of the Ross, the ferry took us across the sapphire blue sound to Iona. Combing the beach, we spotted Turnstone, Ringed Plover, Dunlin and Sanderling, in breeding plumage, followed by Common and Arctic Terns on the same rock. We also found some real wild Rock Doves showing all the required traits. It was now time for 'Operation Corncrake' and as we approached the village hall, their rasping calls got louder and louder. From a slightly elevated vantage point we eventually pinpointed the erect head and neck of a male calling from the Buttercup-rich meadow, and then a second bird appeared in the same view just two yards away from the first! As we watched in the scope the two rivals had a face to face shouting match which ended in a scuffle. Meanwhile a third bird had been calling incessantly from behind the village hall. This male was barely twenty yards from the 'road' and so the sound was deafening although the bird remained invisible until it popped up on a pile of straw to put on an amazing full length show. What a result and still time to visit the abbey.
Another glorious sunny day, and on the drive west to rendezvous with the RSPB Eagle Watch Ranger in Glen Seilisdeir, we came across a Cuckoo sitting on a roadside wire which was moved on by a couple of irate Meadow Pipits onto a fence post, giving a tremendous view of the plumage, long tail and bright yellow eyes and feet, before the pipit posse moved it on again. Further along the road, we pulled over and admired a Great Northern Diver in magnificent breeding plumage, fishing just offshore on the glass calm surface of Loch Scridain. We met the RSPB Ranger at 10am, next to some feeders attracting several smart male Siskins, and by 10.20am we had a female White-tailed Eagle called Iona in our scopes, as she sat in her bulky treetop nest alongside a single hefty 'chick', which had lost its white downy coat and had grown a wingspan not far short of eight feet! From our viewpoint, we could clearly see the adult's powerful yellow bill and yellow eyes, larger than those of an adult human! Driving north along scenic Loch Na Keal, we noticed thousands of jellyfish in the clear water all along the shore, and perhaps not surprisingly given the armada of jellyfish, there was not a single Otter, but we did see two Golden Eagles soaring majestically back and forth against the ridge above Knock. A stroll beside nearby Loch Ba produced close views of numerous Common Sandpipers and the only Redshank of the trip.
During last night's bird log, unsubstantiated claims of Woodpigeon sightings on day 3 surfaced, making this the target bird for our last day in the field. Fortunately, by 9.50am this local rarity was seen again, making it an official record for day 6, and so we could all relax! Within the hour we were scoping another adult White-tailed Eagle, again sitting in a treetop, as if to confirm that they are far more common here than Woodpigeons! The scene at Calgary Bay, with clear turquoise sea and white sandy beach seemed reminiscent of the Caribbean rather than the north Atlantic. Here we found Eiders with ducklings, a nest of fledgling Ravens, a Mink behaving just like an Otter and the only Lesser Black-backs of the trip.
All my springtime trips to Scotland have been blessed with wall to wall sunshine, and this trip was no exception, allowing us to savour the full experience of all the wonderful scenery and wildlife of marvellous Mull.