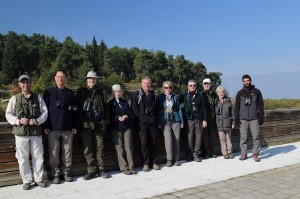 A cloudless blue sky and warm sunshine seems like a fair exchange for the cold grey damp sky back home, and by 9am we are gazing out over the wide expanse of Lake Kerkini, covered with birds as far as the horizon. In the foreground we pick out Great White Egrets, Spoonbills, Dalmatian Pelicans, Black-necked Grebes, Avocets, Spotted Redshanks, Bewick's Swans, Pintail, and a single Flamingo among the throng of waterbirds, while the hinterland quickly produces Syrian Woodpecker, a pair of Hen Harriers and a posing Spotted Eagle, giving a fabulous view in the scope, while three Black Storks circle over the distant woods. A little further along the same track we find a grazing flock of at least 102 Lesser White-fronted Geese, constituting the majority of the Scandinavian population! It's barely midday before we find another Spotted Eagle, eyeing up a flock of feeding Spoonbills alongside numerous Great White Egrets, Pygmy Cormorants, Snipe, a Greenshank, a Green Sandpiper and then the first of several Kingfishers, which shine like emeralds in the bright sunshine. Next sightings include a couple of Ferruginous Ducks on the same pool as two Black-necked Grebes with sparkling ruby red eyes. After a picnic lunch in the sunshine we head for the nearby ridge of mountains which form the border with Bulgaria to the north, and a Golden Eagle soon appears on the skyline, followed by an immature one with white wing patches and a white tail. As we track the two birds in flight, they both land on the same rock giving a fantastic view in the scope! From here, a short stroll leads to a quarry which is hopping mad with Black Redstarts, a pair of lively Western Rock Nuthatches and a nice male Cirl Bunting. This just leaves time for a visit to Mandraki on the north shore of the lake where a trio of Cranes is strutting across the alluvial foreshore, while a family of Coypu are feeding in the feeder stream, a Goshawk flashes by and we glimpse Water Rail and Cetti's Warbler skulking in the reeds. Back in our village we spot a Little Owl on a rooftop as the sunshine gives way to dusk, making an enviable total of 66 bird species, including many from the 'top drawer'.
It's another glorious sunny day as we head north toward Bulgaria. Within sight of a Bulgarian flag at the border post, there is a hard frost on the ground. A Crested Lark and a pair of "cronking" Ravens pass over and we find a wire full of Corn Buntings, with a single Rock Sparrow amongst them! Within minutes, there are literally hundreds of Corn Buntings perching in the tree tops, between swoops to the ground for seeds. Along the narrow stream which marks the Bulgarian border, we spy Siskins on the opposite side, and a little further downstream the towering White Poplars, tinted with Autumn gold, produce Nuthatch, Short-toed Treecreeper and Marsh Tit, with a glossy black cap, plus Green, Syrian, Great, Middle and Lesser Spotted Woodpeckers all from the same spot! After lunch in a taverna we explore the beautiful rocky landscape near Sidirokastro where our patience is rewarded with more sightings of Western Rock Nuthatch, as well as Sardinian Warbler, Blue Rock Thrush, Rock Bunting, a Goshawk being mobbed by two Ravens, and, after a fair bit of scanning, a pair of Little Owls holed up on a cliff face.
Hawfinch and Sombre Tit are this morning's targets and so we head for the Xiropotamus valley. On the way out of the village there are hundreds of Starlings and a Great Grey Shrike posing on the roadside wires. By 9am we have a Hawfinch in the scope, sitting stock still on a tree top twig, with a twinkle in its eye, giving a stunning view in the scope. Leaving the Hawfinch in situ we move on up the valley to find Cirl and Rock Buntings at very close range, and on the way back we stumble upon a Sombre Tit calling right beside the track; what luck indeed! Meanwhile, an hour and a quarter later, 'our' Hawfinch is still 'glued' to the same twig and so we 'fill our boots' again with more of this remarkable sighting. By 11am it's time for a boat ride on Lake Kerkini. The engine splutters its way out of the tiny harbour past a few late Whiskered Terns amongst all the Black-headed Gulls, and a huge raft of fishing Cormorants. Suddenly we notice a Great Crested Grebe floundering on the surface and quickly realise it is trapped in a submerged fishing net. Instinctively we sail to the stricken bird, which decides to play dead, grab it and cut it free from the deadly tangle of mesh wrapped around its body. By now the bird seems to realise we have good intentions and sits relaxed in George's hands, offering a rare close up of the strange design of its lobed feet, before being released to live another day. Also from the boat we get close views of numerous Dalmatian Pelicans with thick wavy hairstyles, as well as a couple of immature White Pelicans. After lunch we explore the western side of the lake, spotting plenty of Water Pipits, a flock of about fifty Little Stints, three Little Ringed Plovers and a couple of Temminck's Stints for good measure, with about a thousand Greater Flamingos further out. Further along the embankment George radios in to report an Eagle Owl and we laughingly assume he is joking again, but remarkably as we pull up behind his car, we spot the enormous owl with prominent ear tufts, staring at us with deep amber eyes from a branch in the trackside trees! Wow, another fantastic sighting. By late afternoon the low sun behind us sheds a brilliant reflective light on the mirror like surface of the lake, producing stunning views of all the birds in a 'sea of tranquillity', including a group of Flamingos which appear to be dancing as they paddle their deep pink legs in the shallow water to stir up food from the mud at the bottom of the lake.
It's our last day in the field and so we leave Lake Kerkini National Park and head south for the salt marshes near Thessaloniki. There are shed loads of Marsh Harriers and the occasional Hen Harrier and by now we have seen more Kingfishers than on any other trip I can remember! Amongst the thousands of Black-headed Gulls, we find two or three white-winged Mediterranean Gulls, until the whole lot is spooked by a Peregrine, which lands on a soil mound to scatter feathers plucked from a hapless freshly taken gull, providing yet another first class sighting. This afternoon, new birds include a well spotted Slender-billed Gull and a couple of White Storks, and then late on, an elegant Marsh Sandpiper, with the finest of bills, feeding alongside a Wood Sandpiper, a Redshank and a Ruff. This textbook comparison of waders makes a fitting finale to a very productive short break with lots of superb sightings of top quality birds; a big thanks to George for his excellent guidance.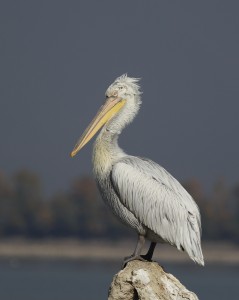 Dalmatian Pelican