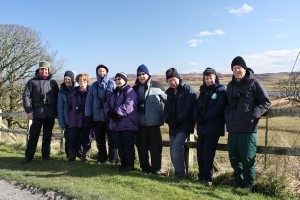 The birding began on Arran where the shore quickly produced close views of a pair of Red-breasted Mergansers, plus Curlew, Rock Pipit and Oystercatchers galore. As we combed the shore, Red-breasted Mergansers showed again and again, along with handsome Eiders, bottle green Shags with flamboyant crests, cruising Gannets and a lovely Ringed Plover. Inland, we found a flock of Redwings, several Ravens and plenty of Common Gulls. On the scenic drive north to the ferry at Lochranza, Maureen spotted "a rat" up ahead, scurrying through the seaweed down to the water's edge, but we quickly realised it was actually an Otter! Scouring the shore for movement, we soon found the Otter again, this time level with the van barely thirty yards away, and as we watched, it turned and trotted straight up the beach towards us, before disappearing behind a clump of roadside brambles. What a fabulous view we all had.
On Islay, the weather was far from ideal, so the plan to spend our Saturday on neighbouring Jura was postponed in favour of plan B; Monday's local day on the rugged Oa peninsula, which due to the wind outside the hotel, was instantly postponed and replaced by Tuesday's scheduled tour of Loch Indaal. So, Saturday on Jura with a packed lunch became Tuesday on Islay with a pub lunch and Tuesday on Islay would be Saturday on Jura. Who says the tour leader doesn't know where he is or what day it is? Now that we all knew where we were going, we headed for Bowmore pier, but the wind made it hard to stand up never mind look for birds and so the Great Northern Diver, doing what divers usually do, was missed by most. Moving to a slightly more sheltered vantage point overlooking the loch, we all saw smart male and female Long-tailed Ducks really well, though some struggled to nail the more distant Slavonian Grebe. Further along the same shore, we enjoyed good views of a dozen or so pale-bellied Brent Geese all the way from Arctic Canada, a journey of almost 3000 miles! Bar-tailed Godwits feeding out on the mud at the inland end of the sea loch came next, followed by numerous flocks of Barnacle and White-fronted Geese, from Greenland, and we had some really close views of both, as well as Icelandic Greylags. Purple Sandpiper is another Icelandic breeder and we found two amongst the seaweed in front of the Bruichladdich distillery. In the scope, their legs looked the same mustard colour as the seaweed 'bladders'. The Icelandic theme continued with clear views of a Great Northern Diver, as this one was not in diving mode. By now we were in Port Charlotte, and ready for a pub lunch, but according to 'Sod's Law', the port Charlotte Hotel was "closed all day for a wedding". Meanwhile the rest of the village was like an eerie ghost town and although the Loch Indaal Hotel lounge door was open, the bar shutters were down and the place was a deserted rerun of the Marie Celeste. Thankfully a third eatery was open for business.
After lunch, we drove to Kilchoman, hoping to find some shelter on the leeward side of the island. Along the way we came across a magnificent cock Hen Harrier tacking slowly but effortlessly in the strong wind, giving everyone some brilliant views. Alighting from the van at Kilchoman, it was still windy but we soldiered on and found a flock of about fifteen lively Choughs probing the short turf with their long downcurved red bills. By now we were ready for an early bath. On the way back to Port Ellen via the B8016, a hen Hen Harrier flew across the road right in front of us, and on Port Ellen beach, we even spotted a couple of rare skinny dippers for the mammal list! Of all the good birds we had seen today, Hen Harrier was voted the star.
It was Sunday before we saw a bright light up in the sky. Passing flock after flock of Barnacle Geese on the way to Loch Gruinart, we came to one final group just a few hundred yards before the RSPB Visitor Centre, and among them we found a very slightly smaller Richardson's Canada Goose (Branta hutchinsii hutchinsii), which had accidentally made its way here from Arctic Canada's Baffin Island! Compared to 'our' Canada Geese, this was far smaller, with a stubby beak and a tell tale white ring at the base of the short black neck, a really lucky find among tens of thousands of Barnacle Geese. Other sightings on the reserve included a single Snipe, numerous Pintail and a field full of Golden Plovers, including a couple of black-bellied breeders, and, when I went behind a bush, I flushed a Woodcock, but there was no one else there to see it. Driving north on the road to Ardnave Loch, we followed a female Sparrowhawk flying several hundred yards along the road, barely three inches above the tarmac! It then perched on a fence level with the van. This was a remarkable experience. Five Whooper Swans were on the loch and from here we walked to Ardnave Point, counting thirty Grey Seals hauled up on a beach over on Nave Island. On the way back from the point, we scoped a well camouflaged Purple Sandpiper on a rock, and a Black Guillemot on the sea in summer plumage, although the ensuing brief blizzard leaving a white dusting on the Paps of Jura was a reminder that this was still winter. Back at the van a flock of about thirty five Choughs were enjoying the lively flying conditions and on the drive back to Port Ellen we counted at least fifteen Brown Hares. Today we saw an impressive total of 67 bird species, with the Sparrowhawk topping the bill.
The thermometer read 0.7°C, but at least the sky was blue, as we set off for the Oa peninsula, where we were welcomed by a flock of about fifty Skylarks. Up at the American monument we watched gleaming white Gannets and the occasional Fulmar out to sea, with feral Goats grazing the steep cliffs below. Returning to Port Ellen for lunch, a short stroll to the Carraig Fhada lighthouse produced fabulous close views of numerous Rock Pipits and a Purple Sandpiper with a hint of a purple sheen on the back, thanks to the bright sunshine. In the bay we found another Black Guillemot and two Great Northern Divers which showed really well not too far out. After lunch we headed east along the 'distillery trail', where we found several Red-breasted Mergansers and counted almost sixty Common Seals reclining on the rocks in two sheltered bays (Loch an t-Sàilein and Loch a'Chnuic). Further east Kildalton church with its 1300 year old carved standing stone cross provided a photo-opportunity and we also came across Red and Fallow Deer here.
Today we took the five minute ferry across to Jura with the main aim of seeing an Otter. Six Black Guillemots floated just out of Port Askaig, and as soon as we arrived on Jura we were watching a Buzzard and a male Hen Harrier. There is only one road on Jura, the A846, but like a country lane with grass sprouting from the centre along certain stretches, and we carefully combed the first coastal section leading south from Feolin Ferry, but drew a blank. Next we scoured the coastal section going north from Craighouse, the island's main settlement, and level with the parish church we spotted an Otter lying on its back and rubbing itself dry on the seaweed. We quietly got out of the van and set up the scopes to watch the large Otter, about 75 yards away. We could see the eyes, webbed paws and claws, freshly scarred nose and every whisker, and yet it took no notice of us or the swing squeaking in the playground next door to the church. It was clearly used to people and so we were able to watch, while it slipped into the water and rolled around in the shallows amongst the seaweed, catching and munching crab after crab. Half an hour later, it was back on the original rock, where it curled up and went peacefully to sleep. It didn't even stir when we closed the van doors, and snoozed on as we drove off. A couple of hundred yards further on, Pam spotted a Grey Wagtail in a ditch beside the road, and then we noticed two Wrens and a Water Rail also showing really well in the same bit of ditch barely twenty yards ahead. Ten minutes later, while watching pale-bellied Brent Geese, Ringed Plover, Turnstone and Purple Sandpiper, the head, back and occasionally the tail of a second Otter appeared further out to sea. Next we found a Great Northern Diver and a third Otter, and as we watched this one fishing just off shore, it came up with a sizeable fish and proceeded to munch away at the fish, head first while holding it between its front paws. Meanwhile a fourth Otter popped its head up further along the shore and so we could see two simultaneously. It was now time for our own picnic, on the rocks looking across a calm blue sea to the snow capped mountains on the Isle of Arran. That afternoon we saw another Great Northern Diver and both male and female Hen Harriers, and on the way back to the ferry, the Grey Wagtail, the two Wrens and the Water Rail were still showing well in the same little roadside ditch! What a fabulous day.
Ten Eiders floated alongside the ferry in Port Ellen, and on the smooth sunny crossing back to Kennacraig on the Kintyre mainland we spotted Razorbills and Gannets. Sailing up West Loch Tarbert, I counted about nine Great Northern Divers and about fifteen Red-throats, including a raft of ten. Not far out from Kennacraig, we also spotted another two Otters resting on the same small rock, making a trip total of seven, so mission accomplished. The crossing from Tarbert back to Lochranza on Arran was also very smooth and so we had a picnic lunch on the 'sun deck', although there was still plenty of fresh snow on the peaks of Arran. Overall we had been very lucky with the weather and the trip had been a great success, if only for the fabulous Otter sightings, never mind all the birds.