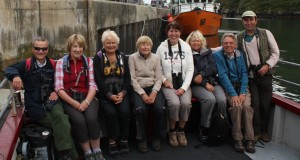 A smooth crossing from Fishguard to Rosslare produced Fulmar, Razorbill, Guillemot, Kittiwake, Common Tern and loads of Manx Shearwaters. Heading west for County Cork, we compared Black and Bar-tailed Godwits in the estuary at Clonakilty, along with Greenshank, Curlew, Shelduck and Hooded Crow. On the ferry from Baltimore out to Cape Clear Island, we spotted Cormorant and plenty of Shags, plus Sandwich Tern, Chough, Raven, Gannet and white Black Guillemots! Birds on beautiful Cape Clear Island included Sparrowhawk, Peregrine, Kestrel, Rock and Meadow Pipits, Stonechat, Whitethroat, Linnet, Swallows galore, more Choughs and wild Rock Doves.
The last day of August was fine, sunny and calm, ideal sailing conditions for a pelagic trip with Michael Cadogan. Sailing off the south tip of the island within view of the Fastnet rock, we enjoyed tea and home made cake as well as fabulous views of Gannets, a Great Skua and Manx Shearwaters, which streamed past the boat in a constant flow, amounting to thousands by the end of the afternoon! We were then escorted back to the quay by a dozen or so Common Dolphins, swimming right alongside the boat, so close that we could see their white sides above and below the clear blue water. As the Dolphins peeled away, we ploughed through a massive raft of Manxies in their hundreds, and then closer in to shore we said hello to the local Grey Seals. What a magical end to a great day.
It was a shame to leave the floral colour of tranquil Cape Clear Island. Back on the mainland, we arrived a couple of hours too late for a Greenish Warbler, reported first thing in a Baltimore garden. Returning eastward the estuary at Rosscarberry produced plenty of Little Egrets and a variety of waders including Ringed Plover, Lapwing, Oystercatcher, Curlew, both Godwits, Greenshank, Redshank, Sanderling and Dunlin.
Back in County Wexford, we had a glorious sunny day on Great Saltee Island. We were three days too late for Friday's Greenish Warbler, but there was a Spotted Flycatcher waiting for us. Other scope sightings here included Whimbrel, Wheatear, and Choughs with bright red beaks and legs. On the headland we enjoyed close views (and smells) of the lively Gannet colony, where there were still a few downy white chicks, although most looked ready for take off. Back in the harbour at Kilmore Quay, a buoyant Grey Seal looked at us inquisitively with big eyes, just a few yards from the boat. That afternoon, a visit to Crossfintan Point produced six species of gull, including eight Mediterranean Gulls and one not so common Common Gull.
During the week we had received reports of several American vagrants at Tacumshin Lake including American Golden Plover, and Pectoral, Baird's and Semipalmated Sandpipers, but on the day of our visit just two Semipalmates remained. Amongst all the Dunlin, we found two smaller 'peeps', but the view was too distant and contre-jour to merit a tick.
On the incredibly smooth return ferry crossing we identified the 'usual suspects', but amongst all the Manxies we also spotted a larger all brown Sooty Shearwater, showing pale underwings as it glided past the ship on its way back to the South Atlantic!