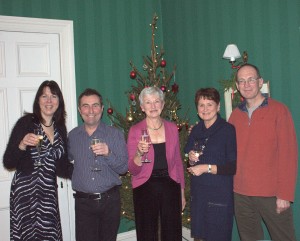 Within fifteen minutes of leaving the hotel at first light (8.45am) we had four Blackcocks in our scopes, including one posing very obligingly on a fence post. Twenty minutes later, just down the road at Dirdhu, we watched a couple of male Red Grouse at fairly close range. Moving on again we optimistically cruised a stretch of road just out of Carrbridge hoping for the almost mythical Capercaillie and incredibly there he was right away, standing with characteristic outstretched neck and ivory white bill, barely fifty yards from the road! As we 'filled our boots' with the fabulous view of this magnificent bird, it slowly strutted deeper into the woods and then flew up into the trees, followed by a second male. We had now seen three of the four British Grouse after just ninety minutes! What a fantastic start. From here we headed north for the Moray coast, starting at Alturlie, where we first had Carrion and Hooded Crows foraging together in this zone of overlap between the two species along with a Rock Pipit. Offshore we scoped Slavonian Grebes, Red-throated Divers and loads of Long-tailed Ducks. Further east along the coast one field produced about three thousand Pink-footed Geese and amongst them we found a Greylag, a Barnacle and a White-fronted Goose from Greenland. Next we found a Whooper Swan from Iceland and an immature Iceland Gull from Greenland, followed by a couple of Bar-tailed Godwits, a flock of about fifty Knot, a Kittiwake, Red-breasted Mergansers, loads more Long-tailed Ducks, close views of pale-bellied Brent Geese and male and female Common Scoters, rounding off a very productive first day.
Today we began at the Loch Garten reserve, where Coal Tits were ready and waiting to alight on outstretched hands offering seed. One even landed on the barrel of my camera lens! With no sign of Crested Tit here we tried the woods just outside Boat of Garten where we briefly found one as well as Goldcrest and Red Squirrel. Next we headed off to Strathdearn in search of another highland speciality, and our eagle-eyed stake out of the strath soon produced a hardy Dipper bathing in the icy Findhorn river. Phil flushed a couple of frosty looking Mountain Hares and while one froze, pretending to be a lump of snow, we took a few shots and then moved further up stream. A Peregrine appeared over the valley rim and then zoomed across to the opposite side, where it landed on a rock enabling us to enjoy great views in the scopes. Next the silhouette of a large raptor floated along the valley rim, and once it was joined by a mobbing Raven, the size difference confirmed our suspicions that it was a Golden Eagle. There was even better to come lower down the valley; not one but three Eagles in our bins! The three birds bounced on the high wind and grappled talons playfully with each other, as we watched with audible "oohs" and "wows". By the time we left the valley we had seen four Dippers and probably four Golden Eagles! On the way back to base we even found another first winter Iceland Gull, making two in two days. As this was New Years Eve the New Horizons UK year list for 2013 ended on 203 species, and that evening we enjoyed dinner, a glass of bubbly, tales of local folklore told by Jonny the guide in his kilt, followed by a lighthearted bird quiz, and then a trip into nearby Grantown on Spey for some traditional music and dancing in the street, climaxing with a fabulous firework display at midnight.
After last night's festivities, we had a late start this morning, but soon had Crested Tit on our new year list, when a bird came to within a few feet of us at Loch Garten, along with lots of friendly Coal Tits. This close encounter was followed by lovely views of Lesser Redpolls lined up on a wire. Next we aimed high, looking for Ptarmigan beside the ski slopes on Cairngorm. Finding a pure white bird on a snow covered rocky slope is a challenge, especially in windy conditions, but it didn't take us long to get one in the scopes, although it was still hard to spot even in the middle of the view. Nevertheless we all got this master of camouflage in the end. What a remarkable bird given that it spends its entire life in such harsh conditions. Meanwhile we retreated to the shelter of the forest for lunch at Allt Mor where we watched a Dipper from the bridge. At Insh Marshes we counted at least 45 Whooper Swans before the light began to fade and we called it a day.
We began the second day of January by relocating 'our local' Iceland Gull for the new year list, before heading north to the coast at Findhorn, where we had fabulous sunny views of Slavonian Grebes, handsome Long-tailed Ducks, a Great Northern Diver wolfing down a sizable fish and a fly-by skein of Pink-footed Geese. A little further east at Roseisle we also had brilliant views of a dozen or so Velvet Scoters, close enough inshore to see the whites of their eyes, orange-yellow bills and matt black 'dry suits'. Working east along the coast we added Eider and Common Scoter to our list of sightings, followed by a Purple Sandpiper, sitting out the high tide in Hopeman harbour along with a group of Redshank and Turnstone. Our last port of call along the coast was at Spey Bay where we watched a thrilling show by a dozen or so Bottlenose Dolphins leaping vertically clear of the water by several feet!
Today we began with a return to Alturlie where we scoped an Otter grappling with a fish. As the spring tide raced in we moved on to Udale Bay on the Black Isle where a mixture of Oystercatchers, Redshanks, Dunlin, Knot and Bar-tailed Godwits were already congregating on the salt marsh even though there were still more than two hours to go before it would be high tide. As we watched the gathering roost, the salt marsh quickly disappeared as the tide swamped the vegetation in a gentle but determined advance. The sun behind us and a flat calm sea ahead afforded lovely views of large rafts of Scaup in their hundreds, with the heads of the drakes shining green in the sunshine. Moving on to Cromarty, we found a couple of Common Guillemots, one of which was in full chocolate brown breeding plumage, which was very strange given that this was only the third of January! At Chanonry Point on the windward side of the Black Isle, the drama could not have been more of a contrast to the tranquil scene at Udale Bay. A crashing swell battered the sea walls and rocks, sending spray high across the turf, where we watched Ringed Plovers and Turnstones hunker down to weather the storm. Moving on toward Dingwall we saw Red Kite flying high on the strong wind, but found no sign of the regular Ring-billed Gull despite a search of its traditional haunts.
Straight after breakfast this morning we returned to the local Black Grouse lek, where we counted sixteen males putting on a fabulous display. Next we enjoyed a very quiet walk in the lovely ancient Caledonian pine forest of Abernethy but without seeing anything until we got back to the car park, where a mixed flock of Goldcrests and Tits included a 'Crestie'. As the weather was fine we returned to the Cairngorm ski resort where a scan of the slopes produced groups of at least a dozen or more Ptarmigan. In the afternoon we returned to the forest in search of the elusive Crossbills, but dipped again, although by now we had seen all the other local specialities, including all four members of the Grouse family, plus Slavonian Grebe, Golden Eagle, Velvet Scoter, Iceland Gull and Crested Tit.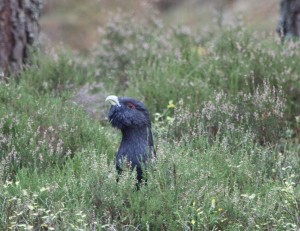 Capercaillie