A clear blue sky is the perfect backdrop for watching the spectacular southward migration from the tip of the Falsterbo peninsula, where masses of White and particularly Yellow Wagtails all over the golf course suggest that a 'fall' is underway. Waves of Swallows, Sand and House Martins and a handful of late Swifts pass by while skeins of Greylags in their hundreds are coming in from across the choppy blue sea, along with an Osprey, and then a lone Black Kite heading purposefully southward just offshore. A Wheatear poses on a fence, a Merlin shoots by like a rocket and then in nearby bushes we find a juvenile Red-backed Shrike, a flock of Tree Sparrows and half a dozen Whinchats. Along the Nabben shore are loads of basking Common Seals and dozens of Dunlin, along with a few Ringed Plovers, Greenshanks, Redshanks, Ruff, Oystercatchers and Sandwich Terns. A hunting Kestrel, several high flying Marsh Harriers, a fast flying Hobby and a lazy Red Kite add up to a feast of eight different raptors, in which the main ingredient is Sparrowhawks by the shed load! A stroll through the trees alongside the golf course produces scope views of Tree Pipit, Spotted Flycatcher and Siskin, and then a Redstart is chased into a dense bush by yet another Sparrowhawk. It's now time for a late lunch as the blue sky is overtaken by grey cloud releasing light rain. Moving on to Ljungen, we find another Osprey as well as plenty of other water birds on the Angsnäset lagoon including Pintail, Spotted Redshank and a Grey Plover still in smart black and white breeding plumage.
Today we begin by the lighthouse again and by 8.35 we have spotted many of the 'usual suspects' as well as a Water Rail skulking along the edge of the lagoon at Nabben and a juvenile Pallid Harrier, quartering the not too distant reedbeds! A great start to the day, but then a sudden downpour of tropical proportions with thunder, lightning and hail stones quickly ends the birding, forcing us to race for the car as all the golfers, summoned by a hooter, converge on the clubhouse from all over the course. After a tea break back at the hotel we return to the lighthouse in clearer weather and by noon we have our first Honey Buzzard right overhead. Shortly after, the Pallid Harrier reappears to give another clear view of the ginger underparts and diagnostic buff-coloured collar. After lunch here we head for the heathland at Ljungen, spotting several more Ospreys, plenty of Sparrowhawks and a steady stream of Honey Buzzards, all heading purposefully south while the weather is favourable. With a little more time to spare, we decide to explore Skanör harbour, just round the corner from the hotel, and among the Eiders sheltering in the lee of the breakwater, we enjoy lifetime best views of a smart drake Velvet Scoter. This 'bird of the day' even trumps the Pallid Harrier!
It's now time to head further afield for 'Operation Eagle Owl', and once the rain stops we scan the extensive quarry walls for our elusive quarry. After a few minutes Lynne says "Is that it?" and sure enough she has found an Eagle Owl sitting calmly on a sheltered ledge, giving a marvellous view in the scope. Mission accomplished! Knowing there should be a pair, I continue to scan and soon have the partner sitting not too far away on another ledge. When this spectacular bird has a scratch the sheer size of its talons becomes apparent. They could easily grasp a tennis ball in one 'hand'. Further west is Lake Krankesjön where new birds include Great Egret, Kingfisher, Marsh Tit and mighty Caspian Terns with bills like carrots. At one stage we have a Caspian Tern fishing in the same scope view as a spiraling column of about thirty White Storks, while the next viewpoint produces yet another Osprey and a magnificent adult White-tailed Eagle, perched in a tree top, with a blonde head and a stonking yellow bill! The raptor show continues with a trio of Hobbies hunting on the wing right over our heads! On the way back to base, we also see Red Kite and Buzzard squabbling over a carcass, and a family of Whoopers grazing in a field.
This rewarding short break produced some real 'top drawer' birds including Velvet Scoter, White Stork, Black Kite, White-tailed Eagle, Pallid Harrier, Honey Buzzards galore and a pair of magnificent Eagle Owls.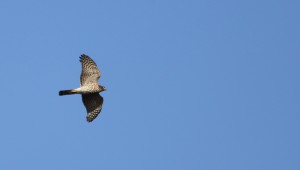 Sparrowhawk