Prepare yourself for a fabulous wildlife experience…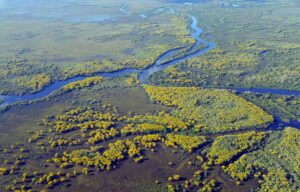 The Pantanal is the world's largest wetland, bigger even than France, with an amazing diversity and abundance of wildlife, with over 700 species of birds, including high profile ones like the flightless Greater Rhea, the beautiful Hyacinth Macaw, the world's largest parrot, the amazing Sunbittern and the impressive five foot tall Jabiru Stork! With so many spectacular birds, the Pantanal is ranked number 15 in the world's top 100 birding sites! In this exciting UNESCO World Heritage Site, the open savanna setting offers a superb safari-style experience, with easy birding, and so we should see around 350 species, as well as Yacare Caiman, massive Anacondas, and many mammals including Giant River Otter, Giant Anteater, Black-and-gold Howler Monkey, Brocket Deer, Brazilian Tapir, Ocelot, Tayra, Crab-eating Fox, Crab-eating Racoon, Ring-tailed Coati and Capybara, the world's largest rodent. There is even a very good chance of seeing the magnificent Jaguar, and we shall make a special effort to find at least one, and probably more, with the aid of our local guide, as they are more common (and bigger) here than anywhere else on earth! In fact, so many are seen so often here that many of them are individually known by the locals and have been given names!
Our visit coincides with the cooler dry season, making it a comfortable time to be here, and so we shall see this fabulous wetland at its very best, when the birds are in breeding plumage and spectacular concentrations of water birds and other wildlife congregate around the receding pools, representing the biggest concentration of wildlife anywhere in the Americas! We will enjoy several boat rides, providing close views of all this wonderful wildlife.
In addition to the Pantanal, we also visit the 'Big Water' that cascades over Iguazú Falls! The 1.7 mile wide, 269 foot high falls form the largest waterfall system on earth and a visit here should be on everyone's bucket list! This UNESCO World Heritage Site, amidst a sub-tropical rainforest is home to over 400 species of birds and is therefore ranked number 69 in the World's top 100 birding sites. This amazing trip has so much to offer that even non-birding partners will love it!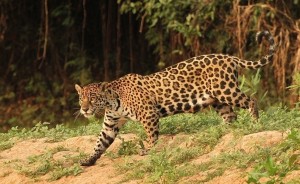 Day 1 We take an evening flight from Heathrow to Sao Paulo with LATAM Airlines, with meals and overnight in flight.
Day 2 We arrive early this morning and transfer to a LATAM Airlines flight to Cuiabá, where we shall be met by our local English-speaking driver/guide and follow the Transpantaneira dirt road south into the Pantanal, with frequent stops for spotting lots of wildlife along the way, such as Capybara and Yacare Caiman. The spectacular profusion of birdlife here should include the mighty Jabiru Stork as well as many other exotic birds like Limpkin, Anhinga, Capped, Cocoi and Striated Herons, American Wood Stork, Roseate Spoonbill, Plumbeous and Buff-necked Ibises, Black-bellied Whistling Duck, Snail Kite and Savanna and Crane Hawks, plus Amazon and Ringed Kingfishers, and all before arriving at our first lodge in time for lunch! Our base for two nights is Pouso Alegre Lodge, 21 miles down the Transpantaneira on an 8000 Hectare farm, which is home to an abundance of wildlife and is rated "Very Good" on Tripadvisor. This afternoon, we explore the farm, 'safari-style' in an open jeep on the lookout for the varied wildlife here such as Crab-eating Fox, Crab-eating Racoon, Brocket Deer, Ocelot and Brazilian Tapir and birds like Greater Rhea, Southern Screamer, Boat-billed Heron, Red-legged Seriema, Hyacinth Macaw, Great and Common Potoos, Cattle Tyrant and many more. Dinner and overnight at Pouso Alegre Lodge.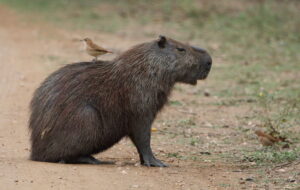 Capybara & Rufous Hornero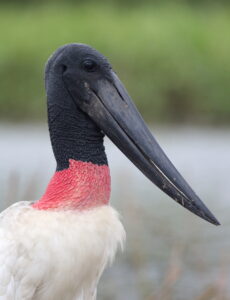 Jabiru Stork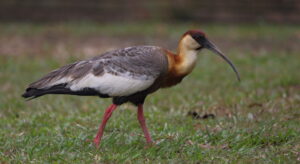 Buff-necked Ibis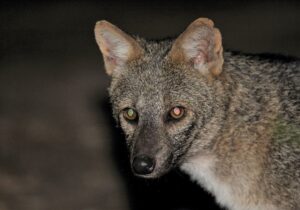 Crab-eating Fox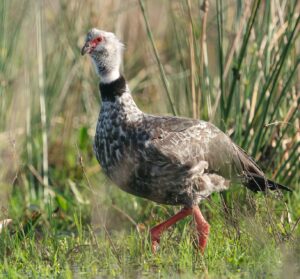 Southern Screamer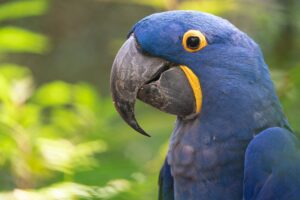 Hyacinth Macaw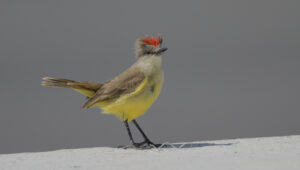 Cattle Tyrant
Day 3 We have a full day to explore the trails around the farm which has a bird list of 315 species as well as 37 mammals. Interesting bird sightings here should include Rufescent Tiger Heron, Black-collared Hawk, Wattled Jacana, Black Skimmer, Blue-crowned Trogon, Squirrel Cuckoo, Great Rufous Woodcreeper, Red-billed Scythebill, Green-barred, White and Lineated Woodpeckers and Black-fronted Nunbird. Back at the lodge, feeders attract a fabulous variety of birds like Toco Toucan, Chestnut-eared Aracari, Crested Oropendola and Purplish Jay. This afternoon we have another open jeep safari in search of more birds and mammals. Dinner and overnight at Pouso Alegre Lodge.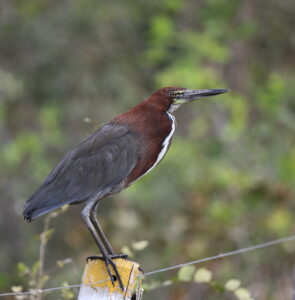 Rufescent Tiger Heron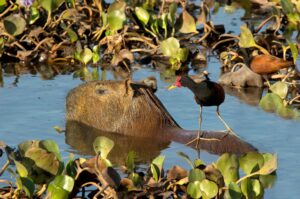 Capybara & Wattled Jacana
Day 4 We rejoin the Transpantaneira and continue south, deeper into the Pantanal, with plenty of stops for spotting wildlife along the way as well as for lunch at the Hotel Mato Grosso on our way to Porto Jofre, where the 91 mile long Transpantaneira, with 122 bridges, ends at the San Laurenzo River. Our lodge here for the next four nights is the Pousada Porto Jofre, which is also rated "Very Good" on Tripadvisor. Located on the banks of the river, our lodge is ideally placed for quick and easy access to the famous 'Jaguar Zone', which is the best place in the world to see these magnificent big cats, which are used to boats, and our experienced boatman will know where best to find them. At this time of year, they are often be seen loafing in the shade of trees and on the sandy beaches of the river and have even been seen across the river from the lodge grounds! Dinner and overnight at Pousada Porto Jofre.
Days 5 – 7 We have three full days to explore the river on the lookout for Jaguars as well as a wealth of other wildlife such as Brown Capuchin and Black-and-gold Howler Monkeys, inquisitive Giant River Otters and massive Yellow Anacondas. There will also be plenty of birds like Blue-throated Piping-Guan, the endemic Chestnut-bellied Guan, Collared Plover, Pied Lapwing, Nacunda Nighthawk, Large-billed and Yellow-billed Terns, Blue-crowned Parakeet, White-headed Marsh-Tyrant, Yellow-chinned Spinetail, Yellow-billed Cardinal, Solitary Black Cacique and many more. Dinners and overnights at Pousada Porto Jofre.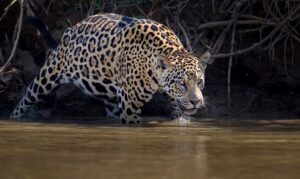 Jaguar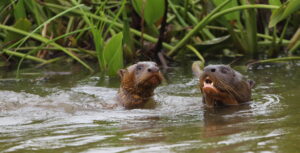 Giant River Otters
Day 8 We retrace our route north along the Transpantaneira with inevitable stops along the way for the prolific wildlife, along with a stop for lunch at the Hotel Mato Grosso on the way to our base for the next three nights at Pousada Piuval, one of the best lodges in the Pantanal, in a beautiful natural setting and rated as "Excellent" on Tripadvisor. Dinner and overnight at Pousada Piuval.
Days 9 & 10 We have two full days to explore the lodge trails on foot and the wider area by open truck on the lookout for the abundant wildlife around this wonderful lodge. The feast of birds on the menu here includes Whistling Heron, Bare-faced and White-faced Ibises, Lesser Yellow-headed Vulture, Great Black Hawk, Chaco Chachalaca, Picazuro Pigeon, Turquoise-fronted Amazon, Peach-fronted Parakeet, Campo Flicker, Gilded Sapphire, Narrow-billed and Straight-billed Woodcreepers, Rufous-tailed Jacamar, Blue-crowned Motmot, Tropical Kingbird, Vermillion Flycatcher, White-rumped Monjita, Black-capped Donacobius, Mato Grosso Antbird, Rufous-bellied Thrush, Chopi and Unicoloured Blackbirds, Bay-winged, Shiny and Giant Cowbirds, Saffron Finch and the amazing Sunbittern. This is also one of the best places for the quirky Giant Anteater and we shall make a special effort to see this iconic mammal. Dinners and overnights at Pousada Piuval.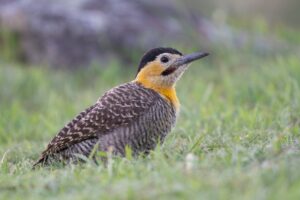 Campo Flicker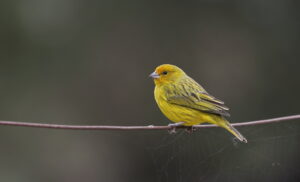 Saffron Finch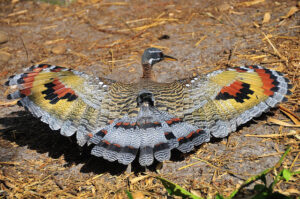 Sunbittern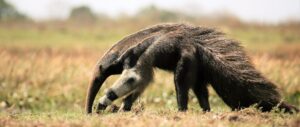 Giant Anteater
Day 11 We return to Cuiabá for a late morning flight with LATAM Airlines via Sao Paulo to Iguazú Falls where we cross the border into Argentina and transfer to the 3 star Hotel Selva de Laurel for three nights in a jungle setting, rated as "Very Good" on Tripadvisor. Dinner and overnight at Hotel Selva de Laurel.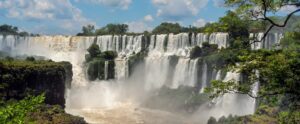 Just one part of Iguazú Falls!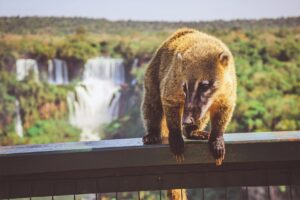 Ring-tailed Coati
Day 12 We visit Iguazú National Park on the Argentine side of the spectacular falls, where Great Dusky Swifts actually swoop in behind the cascades! Other birds around the falls include Plumbeous Kite, Bat Falcon, Surucua Trogon, Rufous-capped Motmot, White-eared Puffbird, Yellow-fronted and Blond-crested Woodpeckers, Large-tailed Antshrike, Swallow Tanager, Chestnut-crowned Becard and the inquisitive Plush-crested Jay. We also visit the nearby Hummingbird Garden which buzzes with a frenzy of dazzling activity including Festive Coquette, Blue-tufted Starthroat, Black Jacobin, Black-throated Mango, Glittering-bellied and Versicoloured Emeralds, Violet-capped Woodnymph and Gilded and Swallow-tailed Hummingbirds, plus Bananaquit, Ruddy Ground Dove, Blue Dacnis, Green-headed and Sayaca Tanagers and Chestnut-bellied and Golden-rumped Euphonias. Dinner and overnight at Hotel Selva de Laurel.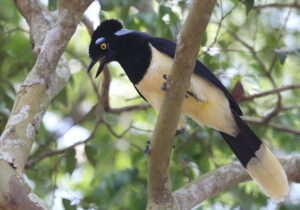 Plush-crested Jay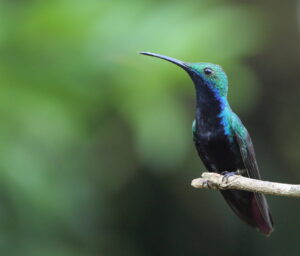 Black-throated Mango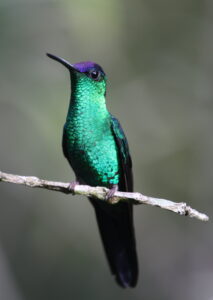 Violet-capped Woodnymph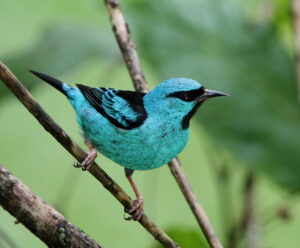 Blue Dacnis
Day 13 We have a full day to explore Uruguaí National Park on the lookout for birds of the Atlantic rainforest like Rusty-margined Guan, Grey-bellied and Zone-tailed Hawks, Grey-fronted Dove, Scaly-headed Parrot, Pavonine Cuckoo, Spot-billed Toucanet, Robust and Helmeted Woodpeckers, Bertoni's and Dusky-tailed Antbirds, Giant Antshrike, Buff-fronted Foliage-gleaner, Black-billed Scythebill, Rufous Gnateater, Red-ruffed Fruitcrow and the rare Black-fronted Piping-Guan. Dinner and overnight at Hotel Selva de Laurel.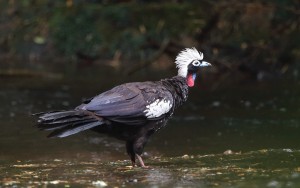 Black-fronted Piping-Guan
Day 14 This morning we visit the Brazilian side of the falls and then return to the airport for a mid-afternoon flight with LATAM Airlines back to Sao Paulo to connect with a late evening flight with LATAM Airlines to Heathrow, with plenty of magic to dream about. Meals and overnight in flight.
Day 15 We arrive at Heathrow around mid-afternoon.
Cost £7990      Single supplement: £750            Deposit: £3500
What the price includes:
Return overnight flights from London Heathrow to Sao Paulo with LATAM Airlines, domestic flights from Sao Paulo to Cuiabá, from Cuiabá to Iguazú and from Iguazú to Sao Paulo, with LATAM Airlines, twelve nights' full board en-suite accommodation, all transport in Brazil and Argentina, all excursions and reserve entry fees, mineral water during the excursions and transfers, field checklist and the services of your guides.
Additional information:
The flights between Heathrow and Sao Paulo take around 11 hours 30 minutes, the flight from Sao Paulo to Cuiabá takes 2 hours 20 minutes, the flights from Cuiabá to Iguazú via Sao Paulo take 2 hours 40 minutes and the flight from Iguazú to Sao Paulo takes 1 hour 40 minutes.
A visa is not required for British citizens to enter Brazil or Argentina.
It is advisable to be vaccinated against Hepatitis A, Typhoid and Yellow Fever. There is little risk of Malaria.
In July and August, daily temperatures range from 18 – 32°C, with a daily average of 25°C, and little or no rain, as this is the cooler dry season.
Road travel in Brazil and Argentina will be by air-conditioned minibus.
We shall be staying in four different comfortable and charming lodges in lovely natural settings.
The birding and wildlife watching involves easy walks with excellent photo-opportunities and we should see around 350 species of birds, plus a good selection of mammals and reptiles.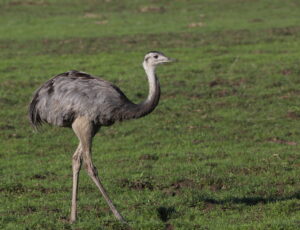 Greater Rhea