With a super-mild climate, limitless fresh air, invigorating walks and smashing scenery in every direction (the whole place is a designated Area of Outstanding Natural Beauty) Scilly is a 'must do' location, and for birders there is simply no better place to go birding in Britain in Autumn. Lying 28 miles southwest of Lands End, with no further land until America, Scilly is a vital landfall for migrant birds from both east and west, and is therefore Britain's premier site for rarities, even surpassing the legendary Fair Isle! Now that takes some doing. At least 426 species have been recorded, including numerous firsts for Britain, and at least 25 species of American passerines, such as Red-eyed Vireo, Grey-cheeked Thrush and Blackpoll Warbler. With so much dependant on the weather, you never know what might turn up next, which adds to the excitement of birding here and now, but annual rarities include such delights as Wryneck, Richard's and Tawny Pipits, Bluethroat, Barred and Yellow-browed Warblers, Red-breasted Flycatcher, Rose-coloured Starling, Common Rosefinch and Ortolan Bunting. Our previous three trips have produced top quality birds from Europe, Asia, North America and the south Atlantic including Black-necked Grebe, Manx and Sooty Shearwaters, Common Scoter, Water Rail, Dotterel, American Golden Plover, Jack Snipe, Long-billed Dowitcher, Pectoral and Buff-breasted Sandpipers, Little Stint, Grey Phalarope, Great Skua, Mediterranean and Little Gulls, Buff-bellied Pipit, Grey-cheeked Thrush, Yellow-browed and Bonelli's Warblers, Firecrest and Ortolan and Snow Buntings! Such is the excitement of Scilly birding.
The excitement begins with an exhilarating scenic flight from Exeter to St. Mary's, where we shall be based at The Wheelhouse, a lovely four star guest house right on Porthcressa beach, which was very popular with my clients in 2012. The guesthouse is just a few minutes walk from Hugh Town quay which is the hub of the archipelago. Small ferry boats radiate from here to the other inhabited 'treasure' islands of Tresco, St. Martin's, St. Agnes and Bryher. We shall need to keep the itinerary flexible, according to news of which birds turn up where, but we should have plenty of time for a thorough exploration of St. Mary's, as well as for visits to most, if not all, of the other inhabited isles, which we shall also explore at a relaxed pace, as some of the coastal paths require us to be moderately fit. At the end of each day we shall return to our guest house for a brush up before dinner in the excellent Pilot's Gig restaurant in Hugh Town, followed by a relaxing evening looking back at the day's highlights, while anticipating the excitement of the next day to come.
Please note that to secure this highly sought accommodation, it is advisable to book your place as soon as possible. In case we are delayed for any reason, you may wish to be insured to cover the cost of additional accommodation and travel.
Cost £895
What the price includes:
Return flights from Exeter to St. Mary's with Skybus, six nights half board en-suite accommodation, transfers between the airport and the guest house, all boat excursions in the Scillies, bird checklist and the services of your guide.
Deposit: £300
Single supplement: £120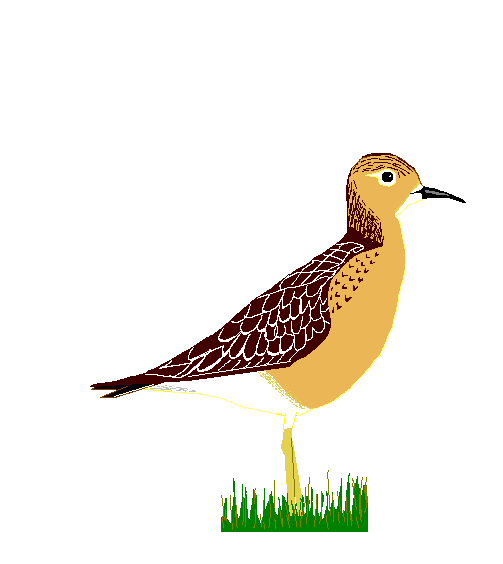 Buff-breasted Sandpiper