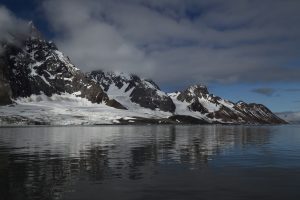 This is no ordinary cruise, so don't miss the boat!
Spitsbergen, meaning 'pointed mountains', is the largest island of the Svalbard archipelago, which straddles the 80th parallel, just 600 miles from the North Pole. This is a remote and wild wonderland of rugged snow-clad peaks, dramatic fiords sculpted by mighty glaciers, and tundra, which in the perpetual daylight of midsummer, is carpeted with wild flowers. The highly specialised wildlife offers a wealth of unforgettable experiences. With almost a quarter of the world's Polar Bears living here, we have the very real chance of encountering this 'king of the Arctic' as well as other high Arctic specialities like Bowhead Whale, Walrus, Bearded and Ringed Seals, Arctic Fox, Sabine's and Ivory Gulls, Grey Phalarope in resplendent red breeding plumage and some spectacularly huge seabird colonies, with Little Auks alone numbering around 15 million!
We have chosen an itinerary, offered by Oceanwide Expeditions, which aims to sail to the very north of this wonderful archipelago at a time when the brief Arctic summer is in full swing and the pack ice is breaking up to allow such an exciting expedition in perpetual daylight. We sail aboard the m/v Ortelius, a modern vessel built with an ice-strengthened hull, ideal for these polar seas, and manned by a highly experienced and professional crew. The ship has large open deck viewing areas allowing excellent opportunities for enjoying the passing scenery and wildlife, a dining room serving excellent cuisine, a lecture room, a spacious observation lounge and bar with large windows, and comfortable en-suite cabins with portholes. You could be one of no more than 116 privileged explorers, able to enjoy this extraordinary cruise with regular landings by sturdy Zodiacs to some fabulous areas which would otherwise be totally inaccessible. All aboard!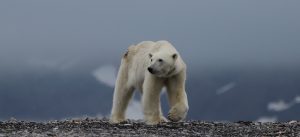 The following expedition itinerary is provisional and must remain flexible at the Captain's discretion, according to the weather and pack ice conditions at the time.
Day 1 We have a mid-morning flight with SAS from Birmingham to Oslo, arriving late afternoon, for an overnight stopover at a hotel in the airport complex.
Day 2 We have a morning flight with SAS from Oslo to Longyearbyen, arriving early afternoon, and so before we embark on the cruise, there will be time to explore the town of Longyearbyen where the Polar Museum and parish church are well worth visiting. We can also look out for Eider, Turnstone, Sanderling, Dunlin, Purple Sandpiper and Snow Buntings, all in smart breeding plumage. Once we board the ship, we shall be welcomed by the Expedition Leader and briefed about safety procedures for the cruise and landings, before sailing west out of Isfjorden, where we may encounter our first Minke Whale. Here we can also look out for Pomarine Skua and blue phase Fulmars, which only tend to be found at such northern latitudes.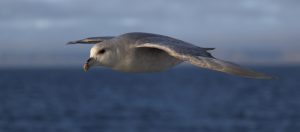 Day 3 Heading north along the dramatic west coast of Spitsbergen, we sail to beautiful Raudfjord, dominated by spectacular glaciers and a favoured haunt of Ringed and Bearded Seals, which therefore attract the attentions of Polar Bears! The cliffs and shoreline support thriving seabird colonies with thousands of Kittiwakes, Glaucous Gulls, Puffins, Black and Brünnich's Guillemots and Little Auks, attracting opportunistic Arctic Foxes in search of a fallen egg or fledgling.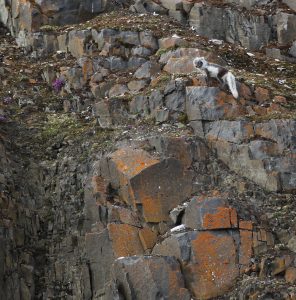 Day 4 Depending on the weather we may now sail into Liefdefjorden and cruise along the impressive face of the Monaco Glacier which stretches for more than three miles! The outflow from the glacier attracts thousands of Kittiwakes, Glaucous Gulls and Arctic Terns, and Polar Bears may be seen on the glacier providing wonderful photo-opportunities.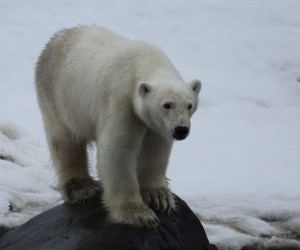 Day 5 As we enter the Hinlopen Strait there is the possibility of seeing a Blue Whale! The ice floes at the entrance to the strait are a good place to see Bearded and Ringed Seals, which attract Polar Bears, and pure white Ivory Gulls which scavenge the bears' leftovers. Deeper into the strait we take a Zodiac ride through the ice floes of Lomfjordshalvøya to Alkefjellet, where a colony of up to 50,000 Brünnich's Guillemots nesting on basalt cliffs rising thousands of feet to an overhanging ice cap with spilling waterfall, makes an awe-inspiring sight. On the eastern side of the strait, we make an evening landing at Palanderbukta on Nordaustlandet, the most northerly island of the archipelago where Reindeer and Pink-footed Geese graze the sparse vegetation of this largely ice-clad island. There is also a colony of Ivory Gulls and the possibility of huge resting Walruses.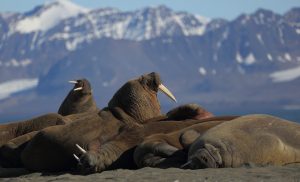 Day 6 Today we reach Phippsøya, one of the Seven Islands at 81 degrees north and just 540 miles short of the geographic North Pole. This is the most northerly point of the cruise with more opportunities for spotting Polar Bears and Ivory Gulls amongst the pack ice.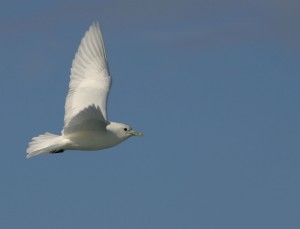 Day 7 We retrace our route south-westwards through the ice floes, keeping watch for Polar Bears and elusive Bowhead Whales, the oldest animals on the planet, with a life span exceeding two hundred years! Forty miles west of Spitsbergen we may also find massive Fin Whales feeding in the upwellings along the edge of the continental shelf. We also have good chances to see Minke Whales at the mouth of Kongsfjord.
Day 8 We may either visit a Walrus colony at Sarstangen in Forlandsundet, or sail into the spectacular glacial landscape of Saint John's Fjord, or visit the seabird cliffs of Alkhornet in Isfjorden, where Arctic Skuas defend their nest sites against the Reindeer which graze the tundra which is particularly lush here. By 'nightfall' we shall be back in Longyearbyen.
Day 9 We disembark the ship for a return flight to Oslo, with an overnight stopover at a hotel in the airport complex.
Day 10 We have an early morning flight with SAS from Oslo to Birmingham, arriving at 09.25.
Cost £4245 sharing a twin porthole cabin.  As spaces are limited and highly sought after, we recommend booking as early as possible to secure your place.
What the price includes:
Return flights with SAS from Birmingham to Longyearbyen via Oslo, seven day full board cruise around Spitsbergen in an en-suite twin porthole cabin, two nights' bed and breakfast in a hotel at Oslo airport, all transport in Norway, all excursions and lectures during the cruise, field checklist, free use of rubber boots and snow shoes and the services of your guides.
Deposit: £1500
Single supplement:
£2500
Additional information:
Landings from the sturdy Zodiacs are supervised by skilled Oceanwide Expeditions crews and are not difficult.
Walks will typically be short and there are no biting insects.
With 24 hours of daylight, average daily temperatures in July range from -5 to +15°C and some fog and rain are possible. Winds are generally light giving good sea conditions.
Special booking conditions apply to this tour:
Fuel surcharge:
If world fuel prices reach or exceed 120 US Dollars per barrel 90 days prior to departure, Oceanwide Expeditions reserves the right to levy a fuel surcharge of £15 per person per night.
Insurance:
It is essential to be adequately insured. All participants are required to be insured for cancellation, loss of personal possessions, emergency evacuation (cover of at least 50,000 Euros) and return travel.
Cancellation:
Any cancellation must be notified in writing and will take effect from the day that it is received. The following set of charges will be levied;
Up to 90 days before departure – 20% of tour price
60 – 89 days before departure – 50% of tour price
1 – 59 days before departure – 100% of tour price