Get ready for an amazing wildlife experience…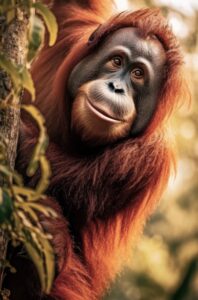 Borneo is a truly remarkable island. It has the oldest rainforest on the planet, with gigantic trees towering more than 260 feet above the ground! This magical environment is one of the most biodiverse places on earth, where the profusion of plants, animals and birds has to be seen to be believed. There are over 700 species of orchids alone, plus insectivorous Pitcher Plants and enormous parasitic Rafflesia flowers which mimic the sight and smell of rotting flesh! The rich diversity of rare mammals includes Bornean Pygmy Elephants, Clouded Leopards, numerous primates such as the bizarre endemic Proboscis Monkey and of course the great Orang Utan, which we have good chances of seeing in its wild jungle stronghold! It's surely worth the trip for this alone, but Borneo is also birding heaven with over 500 species, including spectacular birds like Great Argus Pheasant, Whiskered Treeswift, Red-bearded Bee-eater, Rhinoceros Hornbill, Gold-whiskered Barbet, Black-and-yellow Broadbill and Great Slaty Woodpecker, the largest in the world, plus over 40 endemics such as Crimson-headed Partridge, Kinabalu Serpent Eagle, Bornean Ground-cuckoo, Whitehead's Trogon, Blue-headed Pitta, the exotic Bornean Bristlehead and White-fronted Falconet, which at just 6 inches long is the world's smallest raptor!
We shall visit the top sites in the Malaysian state of Sabah including Sepilok Forest Reserve, the Kinabatangan River, Gomantong Caves, Tabin Wildlife Reserve, the Danum Valley Conservation Area and Mount Kinabalu National Park, which rises to 13,455 feet, the highest point between the Himalayas and New Guinea!
We shall be accompanied throughout the trip by an English-speaking local guide from Borneo Eco Tours, specialists in nature-based tours of Borneo since 1991, and winners of numerous international tourism awards. We will enjoy several river boat rides, providing intimate views of the rainforest and its wildlife. Our visit coincides with the drier prime time birding season. With all this wildlife, wonderful scenery, award-winning lodges, fantastic food and friendly people, no wonder Borneo is ranked one of the world's top ten wildlife destinations, while the Gomantong Caves are ranked number 92 in the top 100 birding sites of the world! There is something here for everyone, so don't miss out.
Day 1 We have a late morning flight from Heathrow to Borneo, via Kuala Lumpur, with Malaysia Airlines (to be confirmed), arriving the following day, with meals and overnight in flight.
Day 2 On arrival at Kota Kinabalu Airport around noon, we shall be met by our local guide and transferred to the nearby Hyatt Centric Hotel, with free time to relax in our new coastal setting. The hotel is rated "Excellent" on Tripadvisor and has stylish modern facilities including a roof top infinity-edge swimming pool. Though not included in the tour price, an afternoon visit to the nearby Kota Kinabalu Wetland Centre could be arranged, where boardwalks through the Mangrove forest provide opportunities to look for birds like Rufous Night Heron, Cinnamon Bittern, White-breasted Waterhen and Collared and Stork-billed Kingfishers. Dinner and overnight at the Hyatt Centric Hotel.
Day 3 After an early breakfast we rendezvous with our local guide and drive into the foothills of nearby Mount Kinabalu with stops along the way on the lookout for birds like Besra, Emerald Dove, Mountain Imperial Pigeon, Plaintive and Banded Bay Cuckoos, Buff-rumped Woodpecker, Long-tailed Broadbill, Ashy Drongo, Pacific Swallow, Sunda Bush-warbler, Blyth's Shrike-babbler, Black-capped White-eye, Indigo and Little Pied Flycatchers, White-throated Fantail, Plain Flowerpecker and the endemic Mountain Black-eye. Journey's end is the hill station of Kundasang, the highest settlement in Malaysia at an altitude of 6,200 feet, in cool refreshing air within sight of stunning Mount Kinabalu. Our base for the next three nights will be the Zen Garden Resort, which is rated "Very Good" on Tripadvisor.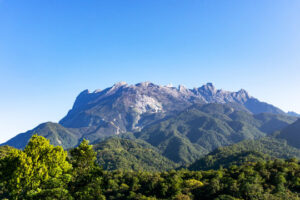 Mount Kinabalu
Days 4 & 5 We have two full days amid the magnificent wooded scenery of Mount Kinabalu National Park, a UNESCO World Heritage Site, where the exotic birdlist includes Little Cuckoo-dove, Dark Hawk-cuckoo, Sunda Cuckoo, Cuckoo-shrike and Laughingthrush, Collared Owlet, Mountain Scops Owl, Banded and Checker-throated Woodpeckers, Grey-chinned Minivet, Velvet-fronted Nuthatch, Black-and-crimson Oriole, Hair-crested Drongo, Short-tailed Green Magpie, Mountain Tailorbird, Ochraceous Bulbul, Mountain Leaf Warbler, Yellow-Breasted Warbler, Grey-throated and Temminck's Babblers, Orange-headed and Island Thrushes, Snowy-Browed Flycatcher, White-browed Shortwing, Temminck's Sunbird and Long-billed Spiderhunter. The montane forest is also home to many of Borneo's endemics such as Red-breasted Hill Partridge, Crimson-headed Partridge, Kinabalu Serpent Eagle, Golden-naped, Mountain and Bornean Barbets, Whitehead's Trogon, Broadbill and Spiderhunter, Bornean Whistling Thrush, Frogmouth, Swiftlet, Leafbird, Whistler, Flowerpecker, Treepie, Stubtail and Forktail, plus Pale-faced Bulbul, Mountain Wren-babbler, Chestnut-crested Yuhina, Chestnut-hooded and Bare-headed Laughingthrushes, Fruit-hunter, Everett's Thrush, Eyebrowed Jungle Flycatcher and the Friendly (yes, Friendly) Bush-warbler, which may come too close for our bins! Dinners and overnights at Zen Garden Resort.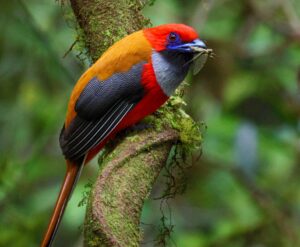 Whitehead's Trogon
Day 6 Today we head east to Poring Hot Springs at the foot of the mountain, around 1,500 feet above sea level, to explore the lowland rainforest along a jungle trail leading to a treetop canopy walkway, suspended between the giant trees 134 feet above the forest floor. Birds to look out for here include Roulroul (a flamboyantly coiffured Partridge) Black-bellied Malkoha, Orange-breasted Trogon, Blue-banded Kingfisher, Golden-whiskered Barbet, Rufous Woodpecker, Black-and-yellow Broadbill, Rufous-tailed Tailorbird, Black-headed, Hairy-backed and Scaly-breasted Bulbuls, Yellow-bellied Warbler, Moustached Babbler, White-bellied Erpornis, Chestnut-naped Forktail, Pied Fantail, Black-naped Monarch, Orange-bellied Flowerpecker, Plain and Crimson Sunbirds, Little and Spectacled Spiderhunters and the endemic Dusky Munia. Least Pygmy Squirrels, the smallest squirrels in the world, also live here as do Rafflesias, the world's largest flowers! Journey's end is Sepilok Rainforest Resort, also rated "Very Good" on Tripadvisor. Before dinner here, we visit the nearby Rainforest Discovery Centre in the Sepilok Forest Reserve, for a night walk on the lookout for nocturnal creatures like Red Giant Flying Squirrels! Dinner and overnight at Sepilok Rainforest Resort.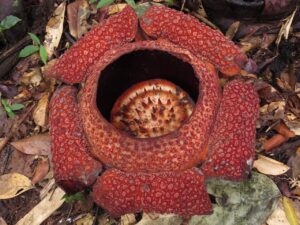 Rafflesia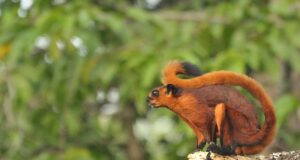 Red Giant Flying Squirrel
Day 7 We spend the morning birding at the nearby Rainforest Discovery Centre in the Sepilok Forest Reserve, where several trails and a 678 yard long canopy walkway, suspended 91 feet above the ground, allow eye level views of birds like Wallace's Hawk Eagle, Crested Goshawk, Diard's and Red-naped Trogons, Blue-eared and Oriental Dwarf Kingfishers, Blue-throated Bee-eater, Brown Barbet, Orange-backed and Buff-necked Woodpeckers, Lesser Green Leafbird, Crested Jay, Streaked Bulbul, Brown Fulvetta, vivid Black-and-red Broadbills and the endemic Bornean Bristlehead.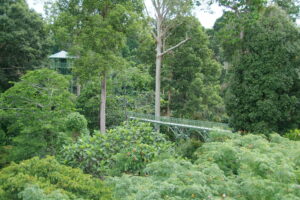 Rainforest Discovery Centre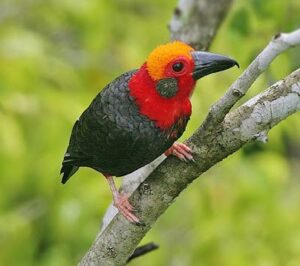 Bornean Bristlehead
After lunch we visit the nearby Sun Bear Conservation Centre for close up views of these endearing mammals which are the smallest and most arboreal of all the world's bears. Next, we visit Sepilok Orang Utan Rehabilitation Centre to see these magnificent free-ranging apes 'drop in' for supplementary food each afternoon. We end another fabulous day with a return to the Rainforest Discovery Centre, where the birdlist may continue with delights such as Chestnut-breasted and Raffles's Malkohas, Grey-rumped Treeswift, Rufous Piculet, Maroon Woodpecker, Giant Pitta, Green Iora, Greater Racquet-tailed Drongo, Black-capped, Rufous-crowned and Chestnut-winged Babblers, Hill Myna, Ruby-cheeked Sunbird and Yellow-eared and Thick-billed Spiderhunters. Dinner and overnight at Sepilok Rainforest Resort.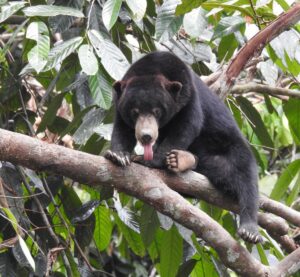 Sun Bear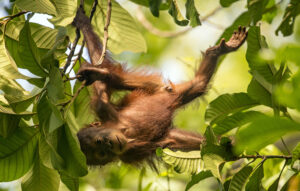 Orang Utan
Day 8 We have another morning at the fantastic Rainforest Discovery Centre. After lunch and a short drive to Sandakan jetty we embark on a 2 – 3 hour boat journey up the Kinabatangan River, the longest in Borneo, to the multi award-winning Sukau Rainforest Lodge, rated "Excellent" on Tripadvisor and ranked in the top 50 jungle lodges of the world, according to National Geographic Adventure magazine! Travelling along the river, we have a privileged opportunity to view a profusion of birds and other wildlife in virgin mangrove and rainforest habitats. After arriving at the lodge there will be another boat cruise on the river where the many striking birds we may see include Oriental Darter, Grey-headed and Lesser Fish Eagles, White-bellied Sea Eagle, Jerdon's Baza, Brahminy Kite, Green Imperial Pigeon, Pink-necked and Little Green Pigeons, Blue-crowned Hanging Parrot, Violet Cuckoo, Ruddy Kingfisher, Dollarbird, Mangrove Whistler, White-chested Babbler, Bold-striped Tit-babbler, Malaysian Blue Flycatcher, Asian Paradise Flycatcher, and the rare Storm's Stork and endemic Bornean Ground-cuckoo, plus all eight species of Hornbills occurring in Borneo; Asian Black, Rhinoceros, Wreathed, Oriental Pied, White-crowned, Bushy-crested, Wrinkled and Helmeted. As well as all the birds, we can hope to see Saltwater Crocodiles, Bornean Pygmy Elephants and up to ten primates such as Orang Utan, Silvered Langur, Long-tailed and Pig-tailed Macaques and endemic Proboscis Monkeys, Maroon Langurs and Bornean Gibbons. After a candle lit dinner overlooking the riverbank, there will be a slide show conducted by the local naturalist guide. This should be quite a day! Dinner and overnight at Sukau Rainforest Lodge.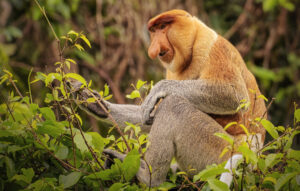 Proboscis Monkey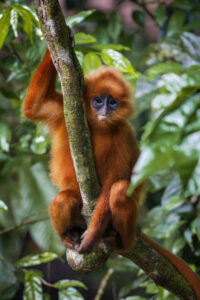 Maroon Langur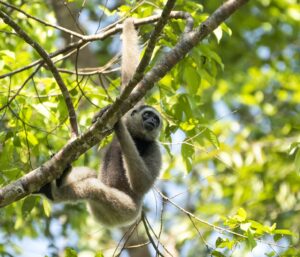 Bornean Gibbon
Days 9 & 10 We have two full days to enjoy the surroundings of this exceptional lodge, waking up to the calls of gibbons and hornbills and taking morning and afternoon boat cruises along the Kinabatangan River into its tributaries and oxbow lakes. Between cruises, the boardwalks behind the lodge may produce sightings of the resident Orang Utans as well as birds like Chestnut-necklaced Hill Partridge, Crested Serpent Eagle, Scarlet-rumped Trogon, Hooded Pitta, Black-winged Flycatcher-shrike, Lesser Cuckoo-shrike, Dark-throated Oriole and the endemic Bornean Black Magpie. After dark, the night shift around the lodge includes Buffy Fish Owl, Large Frogmouth, Western Tarsier and Slow Loris.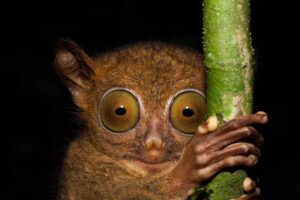 Western Tarsier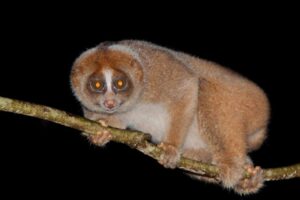 Slow Loris
Assuming that the walkway repairs will be completed by next September, on one afternoon we can visit the spectacular cathedral-sized Gomantong Caves, home to a million Sheath-tailed Bats and another million Glossy, Black-nest, Mossy-nest and Edible-nest Swiftlets! At dusk, as the swiftlets return to the cave and the bats emerge like smoke pouring from an inferno, Bat Hawks, Peregrines and Rufous-bellied Eagles swoop into the swarms of prey. This should be another of many memorable highlights from this remarkable trip. Dinners and overnights at Sukau Rainforest Lodge.
Day 11 After breakfast, we depart the lodge on a four hour drive to the remote Tabin Wildlife Resort, a timber lodge rated "Very Good" on Tripadvisor, which blends beautifully into the forest of the Tabin Wildlife Reserve, one of the largest nature reserves in Malaysia. Many birds live within the lodge grounds such as Oriental Honey Buzzard, Great Slaty Woodpecker, Dusky Broadbill, Asian Fairy-bluebird, Spectacled Bulbul and Chestnut Munia. In the afternoon we visit the Lipad mud volcano not far from the lodge and after a twenty minute trek through the jungle, we arrive at an observation tower which overlooks the bare area of the mud volcano, frequently visited by deer, wild boar, elephants and a variety of birds including Finsch's Bulbul and White-crowned Forktail.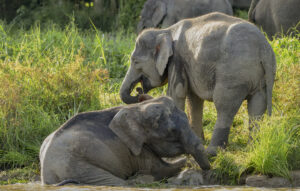 Bornean Pygmy Elephants
After dinner, there will be a slide show on Tabin's natural wonders and an outing to look for nocturnal wildlife such as Sunda Leopard Cat, Malayan Civet, Sunda Flying Lemur, Bearded Pig and the strange Sunda Frogmouth. Dinner and overnight at Tabin Wildlife Resort.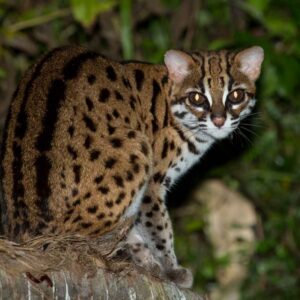 Sunda Leopard Cat
Day 12 We have a full day to explore the Tabin Wildlife Reserve which has recorded over 300 species of birds alone, such as Changeable Hawk Eagle, Large Green Pigeon, Jambu Fruit Dove, Blue-rumped Parrot, Moustached Hawk-cuckoo, Red-billed Malkoha, Olive-backed and Crimson-winged Woodpeckers, Banded Broadbill, Bar-bellied Cuckoo-shrike, Ferruginous and Horsfield's Babblers, Chestnut-backed Scimitar-babbler, Grey-headed Canary Flycatcher, Maroon-breasted Philentoma and Purple-throated Sunbird, as well as endemics like Black-throated and Bornean Wren-babblers, Yellow-rumped Flowerpecker and the tiny White-fronted Falconet. We end another fabulous day with another outing in search of the nocturnal wildlife. Dinner and overnight at Tabin Wildlife Resort.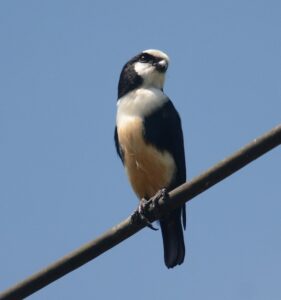 White-fronted Falconet
Day 13 After a final birding session at the lodge, we depart Tabin and drive to the remote Danum Valley Conservation Area, a huge area of pristine lowland rainforest, which is home to the full range of Sabah's lowland fauna. Our base for the next two nights is the Borneo Rainforest Lodge, beside the Danum River and rated "Excellent" on Tripadvisor with a score of 5/5! So far, some 275 species of birds have been recorded in the area, such as Great-billed Heron, Black Eagle, Whiskered Treeswift, Chestnut-collared Kingfisher, Red-bearded Bee-eater, Red-throated Barbet, Fiery Minivet, Sooty-capped, Short-tailed, Rufous-fronted and Scaly-crowned Babblers, Striped Wren-babbler, Fluffy-backed Tit-babbler, Chestnut-capped Thrush, Large-billed Blue Flycatcher and the endemic Bornean Blue Flycatcher. In the evening there will be a slide show, and if weather permits, we can go spotlighting to view some of the jungle's nocturnal wildlife, such as Brown Wood Owl. Dinner and overnight at Borneo Rainforest Lodge.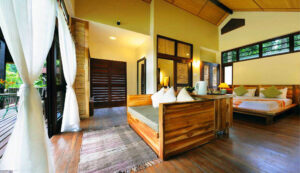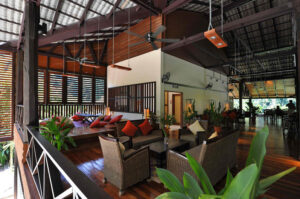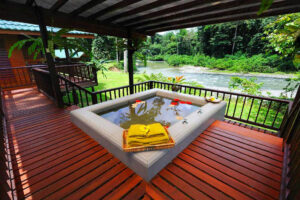 Borneo Rainforest Lodge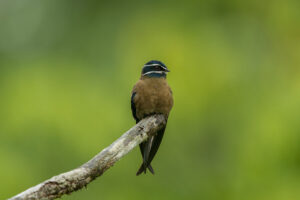 Whiskered Treeswift
Day 14 We have a full day to explore this fabulous ancient forest, which is a paradise for Pittas, where endemic Black-crowned, Blue-headed, Blue-banded and Bornean Banded Pittas are all possible! There is also a good chance of seeing the stunning Great Argus and Crested Fireback Pheasants from the trails near the Lodge. We can also visit an escarpment with ancient burial coffins and a waterfall for a refreshing dip in the rock pools. After lunch back at the lodge, we explore more trails leading to a canopy walkway offering eye level views of wildlife in the treetops, including various squirrels, Maroon Langurs, Bornean Gibbons and the iconic Orang Utan. Dinner and overnight at Borneo Rainforest Lodge.
Danum Valley canopy walkway
Day 15 We have a final morning to enjoy the wildlife around the lodge. After lunch at the lodge, we transfer to Lahad Datu airport for an afternoon flight with Malaysia Airlines back to Kota Kinabalu, where we transfer to an early evening onward flight to Kuala Lumpur, where we transfer to a late night flight back to Heathrow (to be confirmed). Dinner and overnight in flight.
Day 16 We arrive at Heathrow airport around 6am, with many spectacular highlights to remember.
Cost £5990      Only two places left.
What the price includes:
Return flights from London Heathrow to Borneo and one internal flight, with Malaysia Airlines (to be confirmed), thirteen nights' full board en-suite accommodation, all transport in Borneo, all boat rides, excursions and reserve entry fees (except for the optional outing on day 2) field checklist and the services of your guides.
Deposit: £1500                Single supplement: £780
Additional information:
The flights to and from Kuala Lumpur take around 13 hours 20 minutes, the onward flight to Borneo takes 2 hours 40 minutes and the internal flight back to Kota Kinabalu takes 55 minutes.
A visa is not required for British citizens to enter Malaysia.
It is advisable to be vaccinated against Hepatitis A and Typhoid and there is little risk of Malaria.
In September, daily temperatures range from 22 – 32°C, with 11 inches of rain, as this is the 'dry' season.
Road travel in Borneo will be by modern air-conditioned vehicle. There will be several electric motorboat rides.
We shall be staying in five different high standard jungle lodges and one modern hotel, all with private bathrooms.
The birding and wildlife watching involves easy walks except for the upper trail on Mount Kinabalu, which is moderately strenuous.
We can expect to see around 200 bird species and around 20 different mammals, with excellent photo-opportunities.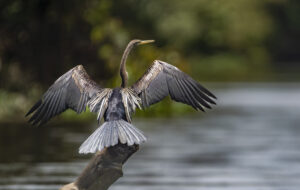 Oriental Darter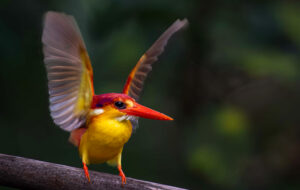 Oriental Dwarf Kingfisher