Sample a perfect introduction to African birding.
After less than seven hours in the air you could be almost 3,000 miles away from the British winter in a warm sunny climate with no jet lag, enjoying views of stunningly exotic birds like Green Wood-hoopoe, Yellow-crowned Gonolek, Beautiful Sunbird and Senegal Firefinch. Located at the transition zone between the moist tropical rainforest to the south and the arid Sahel region to the north, it's no wonder that Senegal, with about 660 species on offer, is a birdwatcher's paradise and a gateway to some of the best birding in Africa. Our visit coincides with the cooler dry season when the colourful African residents are joined by more familiar birds fleeing the European winter.
We may be joined on this trip by my friend and partner Josele Saiz, who has led over 150 tours in Spain and Morocco alone. I have previously worked with Josele on trips to Spain, Morocco, Uganda and Cuba and we would be very privileged to have Josele with us on this exciting tour, which promises to be both productive and enjoyable.
Day 1 We fly from Birmingham, with Brussels Airlines via Brusels, to Dakar, the capital of Senegal, where we shall be welcomed by our local guide and transferred to our hotel for an overnight stay. Dinner and overnight at Hotel Le Calao in Dakar.
Day 2 Early in the morning we drive north along the Atlantic coast to Saint Louis. The Acacia forest north of here produces interesting Sahelian birds such Black and Rufous Bush Robins and Yellow-billed Shrike, alongside numerous palaearctic migrants like Woodchat Shrike and Bonelli´s Warbler. Also nearby is the Djoudj National Bird  Sanctuary, a UNESCO World Heritage Site and a Ramsar Site, ranked number 65 in the World's top 100 birding sites. This large wetland in the Senegal River delta comprises a large lake surrounded by streams, ponds and backwaters forming a sanctuary for large numbers of water birds including Purple Heron, Black-crowned Night Heron, African Spoonbill, White Pelican, Lesser and Greater Flamingoes and the exciting Black Crowned Crane, as well as a wide range of ducks and waders, in very high concentrations, including White-faced Whistling Duck, Garganey and Ruff. If we are really lucky we may even see Arabian Bustard here. Dinner and overnight on the edge of the bird sanctuary at Hôtel Djoudj.
Day 3 With so much to see, we return to the Djoudj Bird Sanctuary and take a boat trip along the Senegal River. Spotting abundant birdlife along the way, we arrive at a spectacular mixed colony of White and Pink-backed Pelicans. After lunch in the Biological Research Centre, we will visit several hides to watch all the water bird activity while also looking for the smart little Cricket Warbler, one of the most attractive of the Sahelian birds. Dinner and overnight at Hôtel Djoudj.
Day 4 Today we visit Ross Betio, where huge numbers of cormorants, herons, egrets, waders, gulls, terns and other water birds make this one of the most important wetlands in Africa. Visiting several different hides we should see Glossy and Sacred Ibises, Eurasian and African Spoonbills, Black, White and Yellow-billed Storks, Pygmy Goose, Knob-billed Duck, African Swamphen, Greater Painted-snipe, Collared Pratincole, Kittlitz's Plover, African Stonechat, Greater Swamp Warbler and Black-headed Weaver. Other birds we may encounter include Montagu's Harrier, Black Crake, African Jacana, Tawny Pipit, Winding Cisticola, Black-faced Quail-finch, Zebra Waxbill and Red-billed Quelea. Dinner and overnight at Ranch de Bango near Saint Louis.
Day 5 We are driven in four by four vehicles to the Three Marigots, a semi-desert area where we will need to work hard to find difficult birds such as Savile´s Bustard, Spotted Thick-knee, Chestnut-bellied Sandgrouse, Cream-coloured and Temminck's Coursers and even the rare Bronze-winged Courser. Raptors like Pallid Harrier, Wahlberg's, Short-toed and Booted Eagles Eagles are common, while other birds should include Rufous-crowned Roller and Chestnut-backed Sparrow-lark. Dinner and overnight at Ranch de Bango near Saint Louis.
Day 6 This is primarily a travel day with several stops en route for birding and lunch, with good opportunities for bee-eaters, raptors and egrets. Dinner and overnight at the beachside Relais de Kaolack in Kaolack.
Day 7 Early in the morning we head east to Wassadou where we will spend the next three nights. Depending on water levels we may stop near a drinking pool that attracts vultures, with a good chance of close views of White-Backed, Hooded and Griffon Vultures, plus Marabou Stork and Black Kite. At our hotel in Wassadou, confiding smart Egyptian Plovers feed in the grounds of the hotel at ridiculously close range, while other birds we can see here before dusk include Grey-headed Bush Shrike, White-crowned Robin-chat, Yellow-crowned Gonolek and Long-tailed and Purple Glossy Starlings. Dinner and overnight at the Hôtel Safari de Wassadou.
Day 8 Today we all have a fabulous boat trip, but as there is only one boat for six people, the group will be split for two half day activities. One group will take the boat to the east of the Gambia River, where the birdlife is spectacular as African Finfoot is almost guaranteed, along with five species of Kingfisher, colonies of Red-throated and Northern Carmine Bee-eaters, numerous African Fish Eagles and other raptors such us African Cuckoo-hawk, African Harrier-hawk and African Hawk Eagle, plus lots of herons and egrets, not forgetting passerines such as Red-billed Firefinch, Orange-cheeked Waxbill and African Silverbill. The other group will stroll in a nearby palm forest searching for local specialities like Blue-bellied Roller, Senegal Coucal, Senegal Parrot, Jacobin Cuckoo, Little Bee-eater and the rare Senegal Batis. After lunch those boating in the morning will do the walk, while the walkers will take to the boat. Dinner and overnight at the Hôtel Safari de Wassadou.
Day 9 This morning we visit Goulombou, close to the Sementi National Park where we will be looking for specialities such as Bateleur, Martial Eagle, Denham's Bustard and the awesome Abyssinian Ground Hornbill. This area around the upper reaches of the Gambia River has other exciting species such as Woolly-necked Stork, Beaudouin's Snake Eagle, Violet Turaco, Stone Partridge, Standard-winged Nightjar, Shining-blue Kingfisher, Oriole Warbler, Grey Tit-flycatcher and Sulphur-breasted Bush Shrike. After lunch and a short break back at the hotel, we have our second boat trip in the area, navigating to the west of the Gambia River on the lookout for African Wattled Lapwing, more Egyptian Plovers and Pel's Fishing Owl amongst many others. Dinner and overnight at the Hôtel Safari de Wassadou.
Day 10 By now our checklist should have well over 150 species and so we move on, with several stops for birding and lunch en route to Toubakouta, where we will be based for two nights. Dinner and overnight at the Hôtel Keur Saloum.
Day 11 We have a full day exploring the Sine Saloum River Delta National Park. The park has large areas of mangroves, forest and grassland with many raptors including Dark Chanting Goshawk, Grasshopper Buzzard and Grey Kestrel. Other species found in this area include Black-headed Heron, Four-banded Sandgrouse, Blue-spotted Wood Dove, Pearl-spotted Owlet and Pygmy Sunbird. On a boat trip, we visit a lonely island where Babok trees are so large one could park a vehicle inside the trunk! We then visit an area in the mangroves to see hundreds of noisy egrets, as well as the beautiful and tranquil Sippo Island, where we will walk around the village looking for Black-crowned Tchagra, Yellow-fronted Canary and the beautiful Viellot´s Barbet, plus Brown, Western Violet-backed and Scarlet-chested Sunbirds. A walk near the hotel in Toubakouta village is also rewarding with possibilities like Shikra, African Cuckoo, Bearded Barbet, Fine-spotted Woodpecker, Grey–billed Shrike, Black-rumped and Lavender Waxbills and Senegal Eremomela. Dinner and overnight at the Hôtel Keur Saloum.
Day 12 From Toubakouta to Dakar is a long but interesting journey full of birding opportunities with several stops along the way and so we shall arrive at the airport in good time for a late evening overnight flight home.
Day 13 We arrive at Brussels airport at 5.35am and catch the 8.50 flight to Birmingham, arriving at 9.15am.
Cost £2170
What the price includes:
Return flights from Birmingham to Dakar (via Brussels) with Brussels Airlines, eleven nights full board en-suite accommodation, all ground transport in Senegal, four boat trips, reserve entry fees, bird checklist and the services of your guides.
Deposit: £600
Single supplement: £180
Additional information:
The flight from Birmingham to Brussels takes 1 hour 20 minutes and the onward flight to Senegal takes about 5 hours and 30 minutes.
British citizens require a visa costing 52.50 Euros to enter Senegal .
It is advisable to be vaccinated against Hepatitis A, Typhoid and Yellow Fever and Malaria prophylaxis is recommended.
The Senegambia region has a subtropical climate and in November/December, daily temperatures range from 20 – 34°C, with no rain as this is the dry season.
Transport will be by air-conditioned minibus and by 4×4 vehicles in the Saint Louis area.
We shall be staying in six different comfortable and charming hotels with international standards. Some of the hotels have swimming pools.
The birding involves easy walks with excellent photo-opportunities, especially in the case of Egyptian Plover, and we can expect to see 270 – 300 bird species, plus Nile Crocodiles and various monkeys.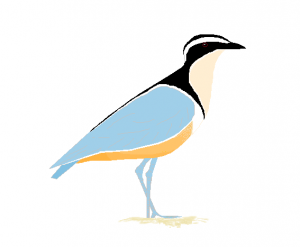 Egyptian Plover