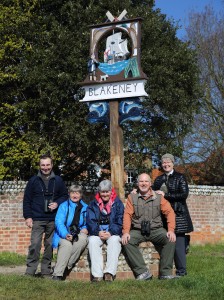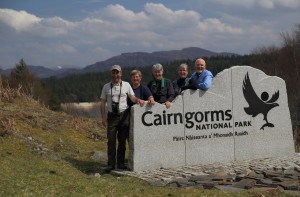 On the way north from Heathrow to Saxmundham in Suffolk, we stopped off at Sutton Hoo, a regal Anglo-Saxon burial site, with a lovely show of Daffodils and Bluebells, where early birds included Shelduck, Pheasant, Kestrel, Swallow, Pied Wagtail, Blue, Great, Coal and Long-tailed Tits, Blackbird, Dunnock, Rook, Chaffinch, Goldfinch, Linnet and the 'original and genuine' Robin. After settling in to The Bell Hotel in Saxmundham, we set off for Sizewell Beach, where the rare Black Redstart was our target bird. It didn't take long to find a nice male on a wire fence, but it didn't hang around. However, a little further on we found a second far more obliging male, which posed for a good long look in the scope, so mission accomplished. On the beach we also had good views of plenty of Kittiwakes, along with Common, Herring and Lesser and Great Black-backed Gulls.
It was snowing heavily first thing this morning and yet it was 26th April! With news of a Great Grey Shrike seen late yesterday on Westleton Heath, we started off there today, but there was no sign of the Shrike, so we made do with a circling Buzzard and a lovely male Stonechat, and then searched for Dartford Warbler. The strong wind was not ideal, but eventually we found our quarry when a smart male broke cover and perched obligingly for a nice view in the scope. On the way in to the nearby Minsmere RSPB reserve, we stopped for a handsome male Wheatear and then a Nightingale singing not far from the road, but it refused to show itself amongst the dense Blackthorn blossom. The woods here produced a showy Goldcrest, plus Wren and Chiffchaff, while numerous Marsh Harriers were on patrol over the extensive reedbeds, and we even managed to get fleeting glimpses of Bearded Tits, followed by a close encounter with a Cetti's Warbler. Meanwhile the scrapes were jam-packed with birds and amongst the hundreds of Black-headed Gulls, we found a couple of Mediterranean Gulls and a couple of Yellow-legged Gulls, plus Little Grebe, Little Egret, Barnacle Geese, Gadwall, Teal, Shoveler, Swift and Common, Sandwich and Little Terns. The wader fest included plenty of Avocets as well as Lapwings, Redshanks, Dunlin, Turnstone, Curlew, Ringed Plover, Oystercatcher, Knot and rusty-red Black-tailed Godwits. As well as masses of Sand Martins, House Martins and Swallows, we ticked off Reed Bunting, Sedge Warbler and a bright Yellow Wagtail. Back in the woods Great Spotted Woodpecker, Treecreeper, Blackcap and Marsh Tit all showed well and on the way out of the reserve we finished off with a Stone Curlew in the scope. By now we had seen 73 different species of birds today, as well as Red and Muntjac Deer, Grey Squirrel and hundreds of Rabbits. A really productive day and we didn't even get wet!
After heavy rain in the night it was a lovely sunny morning. Heading northwest from Saxmundham we arrived at Lackford Lakes, where a very shy Nightingale sang his heart out but refused to show itself, although we did have good views of Lesser Whitethroat during the stake out. Cetti's Warbler also showed really well here along with Blackcap, Chiffchaff, Whitethroat and Reed and Willow Warblers, while a Long-tailed Duck, normally found in winter offshore, was an unexpected find on this inland lake in late April. At nearby Cavenham Heath we had very good scope views of a pair of Stone Curlews and also spotted Grey Wagtail, which is a rare bird in Suffolk. This afternoon a visit to the Lakenheath Fen RSPB reserve produced plenty of Marsh Harriers as well as Hobby, Jay and a couple of Cuckoos, and then we even found one of the few Cranes in England, although this was trumped by very close views of two really smart male Bearded Tits. On the way back along the river, we added Great Egret to our growing list of 96 species by the end of day three.
Another big blue sky this morning but the crisp Arctic air still felt unseasonably frigid at 4°C! We started with Grey Wagtail on the river right outside the hotel. Passing through picturesque Norfolk villages of knapped flint houses, we visited Saint Andrew's church in Field Dalling on the way to Blakeney Quay, where a Black Brant had been reported yesterday. We found Brent Geese, but no sign of the Brant. Nearby Cley Marsh was alive with birds including plenty of Avocets, Black-tailed Godwits and vociferous Sedge Warblers and Skylarks, plus Grey Heron, Wigeon, Red-legged Partridge, Greenshank, Mediterranean Gull, Spoonbill, Meadow Pipit and a couple of Ruff, one with white neck feathers and the other with a rich chestnut back and a developing black ruff. We also sighted a Chinese Water Deer with 'fangs', and a Brown Hare, while a singing Grasshopper Warbler almost showed itself at less than ten paces. Following the coast road west to Titchwell Marsh, we had great views of a Water Pipit just five yards from the hide, as well as more of the 'usual suspects', plus Pochard, Common Sandpiper, Grey Plover, Little Stint and Greenfinch.
While it was snowing 'up north' we had yet another fine morning in Norfolk, but with a sixty mile an hour wind by the time we got to Snettisham Beach, making it impossible to use the scope, except in the hides, where we enjoyed good views of a tight-knit flock of around 500 Black-tailed Godwits, and also picked out four Mediterranean Gulls amongst the hundreds of Black-heads. This afternoon we visited the Sandringham House estate, the Christmas retreat of Her Majesty the Queen.
How lucky we were to have yet another sunny day, bringing added vibrancy to the blossoming hedgerows and floral villages, of Rutland, (England's smallest county) such as Lyddington, with its quaint golden stone thatched cottages, clustered around the village green and ancient church dedicated to Saint Andrew, with Red Kite soaring over. From here we visited nearby Rutland Water, and soon saw Tree Sparrows, a bright male Yellowhammer, a Stock Dove, with a shiny green neck, a pair of Ospreys on a nest, and super views of a singing Garden Warbler. After a picnic lunch, other sightings included Egyptian Geese, four Whimbrel, two Hobbies, two more Ospreys on another nest, a lady Pintail, a Peacock Butterfly, basking in the warming sunshine, and a close shave with a Hare at point blank range, completely unperturbed by its audience! By the end of the day we had seen 64 different bird species, as well as finding time for sightseeing!
It was 1st May and sunny again, but still cold, and we started with a quick look at the market square, church and castle ruins of Newark-upon-Trent. Having previously dipped out on Nightingale two days running, we decided to deviate from 'the script', with a detour to Whisby Nature Park, Britain's most northerly site for Nightingales, and so the 'last chance saloon' for this special 'tick'. Not far into this Lincolnshire Wildlife Trust reserve, we found another two Mediterranean Gulls amongst hundreds more Black-heads, and further on a gorgeous male Bullfinch showed well in the scope, while numerous songsters included Blackcap, Chiffchaff and Garden and Willow Warblers. Eventually we heard the special powerful notes of a Nightingale. This was third time lucky as the bird showed so well that we were able to watch it in the scope while singing from an open branch! Wow, what a result. We also had good scope views of male and female Kestrels and then a Sparrowhawk flew by, while the sunshine brought out Brimstone and Orange-tip Butterflies. After lunch we headed north into Yorkshire and called at their Potteric Carr nature reserve, where our main targets were Grasshopper Warbler and Black-necked Grebe. It didn't take long to find the 'grasshopper', singing at close range, and deeper into the reserve, having waited for one Black-necked Grebe, along came four at once on the same pool! A Lesser Redpoll was an unexpected find and finally we heard the 'boom boom' of a Bittern.
Today we headed to the coast at Bempton Cliffs, swarming with a quarter of a million seabirds! The spectacular scene was alive with Guillemots, Razorbills, Kittiwakes and gliding Gannets, and amongst the throng were Puffins, Fulmars and wild Rock Doves, with a Great Skua out to sea. Inland, we had close views of Tree Sparrows and Wheatear and eventually pinpointed a singing Corn Bunting. By lunchtime typical Bank Holiday weather forced us to take refuge in the pub! On the way back, after a spot of sightseeing in the city of York, we went in search of a recently reported Garganey, but there was no sign of this elusive duck.
It was yet another sunny but cool breezy morning as we left the fabulous Parsonage Country House Hotel and headed west across the Pennines into Lancashire. We arrived at Pendle Hill in the 'teeth' of a gale and chickened out of a walk to the top, having heard from a lady who had just descended that there were no signs of any Dotterel. Instead, I suggested that we mount 'Operation Ring Ouzel' a little further northwest in the Forest of Bowland, and so we continued our scenic drive to the Langden Valley, where we soon had good views of both Song and Mistle Thrushes, as well as Dipper and Common Sandpiper along the beck. Eventually, high up the valley we found our target Ring Ouzel, a superb male, which perched in a tree and sang while we watched in the scope; another great result. On the way back down the valley we got even better views of Dipper and later this afternoon we enjoyed watching the display flights of Lapwings, a tiny fluffy Lapwing chick and finally a couple of male Red Grouse sparring with inflated bright red eyebrows.
We were now on the west coast, not far south of Lancaster, and it was another sunny day with a cool breeze. On the approach to Cockersand Bay, we found a pair of Whooper Swans, grazing in a field, before their imminent return flight to Iceland. It was high tide and so hundreds of Dunlin and Ringed Plovers were taking refuge in a ploughed field along with half a dozen Hares. Along the shore, another flock of at least 500 Dunlin, roosting on the high tide, repeatedly took to the air in a nervous murmuration, twisting and turning between brown and brilliant white, rather like a shoal of 'bait fish'. Meanwhile, a short way out to sea, we scoped a drake Red-breasted Merganser in all his finery. On the way to the Leighton Moss RSPB reserve, a brief visit to Warton Crag produced a Raven's nest with two almost fully fledged chicks, with one of the parents soaring overhead. Our arrival at Leighton Moss, was greeted with fantastic views of a Whinchat posing on a wire, a pair of Pintail, a charcoal black Spotted Redshank, and a Grasshopper Warbler singing in full view, so that we could marvel at its delicate markings and constantly wide open beak. Other good sightings here included Nuthatch, Coal and Marsh Tits at point blank range, five Ruff, with well developed breeding plumage, a male Marsh Harrier and a small herd of Red Deer. Moving on into the stunningly beautiful North Pennines we enjoyed fabulous roadside views of Curlews, Lapwings, Golden Plovers in black-bellied breeding plumage, a Dipper and a magnificent male Red Grouse.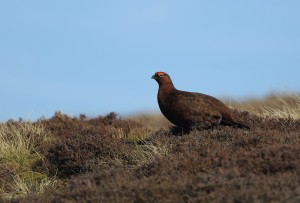 Red Grouse
It was 5°C at 5am on 5th May when we set out on 'Operation Black Grouse'! Lonely Langdon Beck did not let us down as we found 31 spectacular male Black Grouse squaring up to each other while puffing themselves up and flapping their wings as they cackled and hissed in front of at least a dozen hens. With Curlews bubbling and parachuting, it was like watching a scene from a wildlife documentary and then lo and behold we spotted two Woodcock sitting quietly in the grass just a few yards away from us! What an amazing piece of luck. Further up the valley we also found Red Grouse and another Ring Ouzel. On the way back to the hotel for breakfast we stopped off for a look at High Force, where we also had great views of Grey Wagtail, a pair of Redstarts and several Siskins. On the scenic drive north numerous sightings included more Black and Red Grouse as well as Golden Plover, Curlew, Snipe, Lapwing, Oystercatcher, Whinchat, Wheatear, Meadow Pipit and Raven and once across the border a pretty little Wood Warbler was a nice find outside Saint Conan's Kirk beside Loch Awe, followed by Eiders along the shores of Loch Etive as we approached Oban. Once in Oban we added Black Guillemot and Hooded Crow to our list as we boarded the ferry to Mull.
The forecast was good for our Treshnish Isle cruise. On the way to the departure point we visited the colourful waterfront at Tobermory, and then beautiful Calgary Bay where two Great Northern Divers in full breeding plumage were an added bonus. The cruise began with another Great Northern Diver as well as Black Guillemot en route to Staffa, with its spectacular basalt columns guarding the entrance to Fingal's Cave. The target bird on Staffa was the Twite and eventually we had one at less than ten yards! Next stop was Lunga, where we overdosed on Puffins as there were hundreds and hundreds of these loveable little auks literally waddling around our feet, providing a photographic feast in the fine weather. This fantastic little island also had thousands of Guillemots as well as Razorbills, Kittiwakes, Fulmars and Shags, all at close range, while Rock Pipits and Wheatears sang from the rocky slopes, and by the end of an unforgettable day we had enjoyed 16 hours of sunshine!
Our goal today was to see a Corncrake on Iona, but we were a little delayed en route by the appearance of a high-flying Golden Eagle above the spectacular scenery of Glen More, and five Great Northern Divers along the shores of Loch Scridain. The short ferry crossing to Iona produced Kittiwakes and Arctic Terns and within ten minutes of landing, we homed in on the tell tale "crex crex" call, and instantly had a Corncrake walking up the garden path! That was the easiest Corncrake ever! Little more than 100 yards further along the lane we spotted a second crake within ten yards of us, and within another fifteen minutes we found two more in another garden, one of which strutted around on the lawn like a domestic chicken, but repeatedly throwing its head back to project the harsh rasping call as we watched through the scope in sheer amazement. What a jaw dropping experience. Imagine having Corncrake on your garden list, along with Song Thrush, Wheatear, Sedge Warbler and Linnet! With time to spare we visited the Abbey founded by Saint Columba and then returned to the mainland hoping to find more eagles and an Otter. The eagles were proving elusive but we found loads more Great Northern Divers, making at least fifteen by the end of the day! Having scoured many miles of promising looking coastline for an elusive Otter, we were just about to give up and head back to the hotel, when I had one last look behind and spotted a movement just offshore. Sure enough it was 'our' Otter and we slowly closed in for a better look, as it crunched crabs and eventually crawled out onto a rock right in front of us! What a great way to end our time on 'marvellous Mull'.
Back on the mainland we headed north on a scenic drive along the shore of Loch Linnhe to Fort William, in the shadow of snow-clad Ben Nevis, the highest point in the British Isles at 4406 feet above sea level, and then east along Glen Spean. It was a lovely sunny day, ideal for a picnic at the Creag Meagaidh National Nature Reserve, where the woods were alive with Chaffinches, Willow Warblers, Lesser Redpoll, Cuckoo, Treecreeper and Great Spotted Woodpecker. By the time we reached Aviemore, a ski resort in the Spey Valley, the temperature had soared to 26°C! Nearby Avielochan produced several Goldeneyes and a couple of smart Slavonian Grebes with resplendent golden ear tufts. Further north at Lochindorb we had a distant view of Red-throated Diver with its diagnostic upturned bill, super scope views of Black-throated Diver and close views of yet more Red Grouse. Not a bad list for a travelling day, and over the last 14 days we had now walked about 100 miles!
We made an early start, hoping to see the elusive, almost mythical Capercaillie, with several Roe Deer scampering through the pine forest as we approached the Loch Garten RSPB reserve. Apparently we should have been here two days earlier when the Caper cock last put in an appearance. Next we tried for Crossbills and Crested Tit but they were also playing 'hard to get', although bright-eyed Goldeneyes displaying in the morning light on a mirror calm Loch Mallachie were a nice consolation before breakfast back at the hotel. By now it was another glorious sunny day with temperatures up to 25°C. Still trying for the 'Cresty', this time in the lovely tranquil Anagach Pine forest, we were rewarded with cracking views of this rare tit right above our heads. Even on the high slopes of the Cairn Gorm mountain, where a pair of Ring Ouzels were 'car park birds', it was still tee shirt weather, and so the Reindeer were chilling out on the few remaining snow patches. Meanwhile the scenery was magnificent.
After the last of many excellent dinners on this tour, we headed south for the Speyside Wildlife hide on the Rothiemurchus estate. As the daylight faded and the floodlights came on, first one Pine Marten and eventually two more, along with five Badgers, all came to forage bold as brass right outside the hide windows, giving face to face views! In fact, the Badgers stayed for so long that we were marooned inside the hide until they wandered off into the darkness around 11.30pm; a magical experience. By now we had driven 1563 miles, stayed at nine excellent hotels, eaten fifteen first class dinners, walked around 105 miles and seen 164 bird species including, in order of appearance, Black Redstart, Kittiwake, Stonechat, Dartford and Cetti's Warblers, Mediterranean and Yellow-legged Gulls, Little Tern, Yellow Wagtail, Marsh Tit, Stone Curlew, Lesser Whitethroat, Long-tailed Duck, Hobby, Cuckoo, Crane, Bearded Tit, Great Egret, Spoonbill, Water Pipit, Little Stint, Red Kite, Osprey, Garden Warbler, Whimbrel, Pintail, Nightingale, Grasshopper Warbler, Black-necked Grebe, Lesser Redpoll, Gannet, Guillemot, Razorbill, Puffin, Fulmar, Great Skua, Corn Bunting, Dipper, Ring Ouzel, Red Grouse, Whooper Swan, Red-breasted Merganser, Raven, Whinchat, Spotted Redshank, Golden Plover, Black Grouse, Woodcock, Redstart, Wood Warbler, Black Guillemot, Great Northern Diver, Twite, Rock Pipit, Golden Eagle, Corncrake, Slavonian Grebe, Black and Red-throated Divers and Crested Tit, as well as fantastic views of Red, Roe, Muntjac and Chinese Water Deer, Brown Hare, Otter, Badger and Pine Marten. A special thanks to all involved for making this such an enjoyable trip.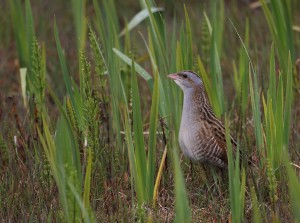 Corncrake