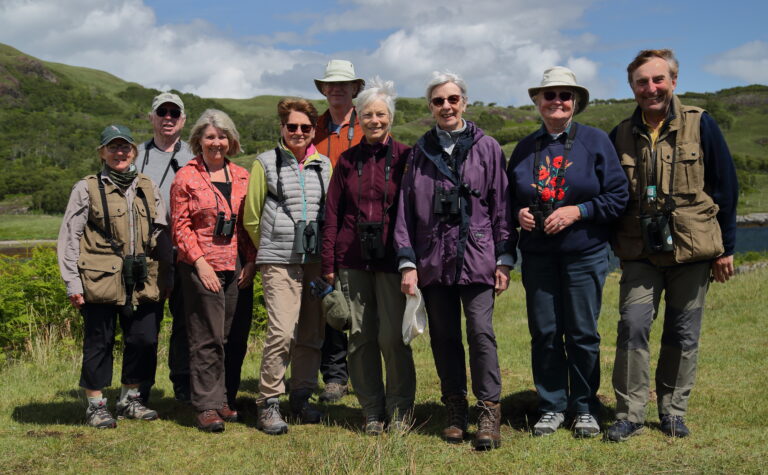 So here we are at last, on Marvellous Mull, a year later than planned, thanks to the world going 'viral'. Straight after breakfast, a call to Turus Mara to check if we are good to go on the Treshnish Isles cruise, warns that it might be "a bit lumpy". En route to the boat jetty, along the shores of Loch na Keal we spot all three Hirundines, a singing Sedge Warbler, several posing Common Sandpipers, Mr and Mrs Wheatear and the first of many Hooded Crows, along with a White-tailed Eagle, perched in a tree top before taking off with a group of tiny Ravens. On the approach to Ulva Ferry we enjoy great views of a cock Hen Harrier hunting beside the road, and again from the jetty, as it ferries food across to its nest on Ulva, before returning to Mull for more prey. The jetty also produces a singing Skylark and a smart Black Guillemot.
The crossing to Lunga is indeed 'lumpy', and reminiscent of a ride at Alton Towers, except for the Grey Seals and Eiders! Once ashore, we follow the skipper's advice to ignore all the adorable Puffins lining the cliff top and make a bee line for Harp Rock, a stack heaving with thousands of noisy Guillemots, while a myriad Kittiwakes, Puffins, Razorbills and Fulmars barrel by on the stiff breeze. Further out a graceful Arctic Skua and a menacing 'bully boy' Great Skua patrol the sky intent on piracy, all creating an impressive spectacle. By mid June, many of the Puffins are bringing in beakfulls of Sand Eels and we also spot Rock Pipits with beakfulls of insects, with face to face views of emerald-eyed Shags, nesting below boulders beside the path. As well as all the birds, over two hours fly by on this magical island and then we move on to Staffa, where spectacular basalt columns guard the entrance to Fingal's Cave, but the heavy swell prevents the possibility of a safe landing; classic rock and roll.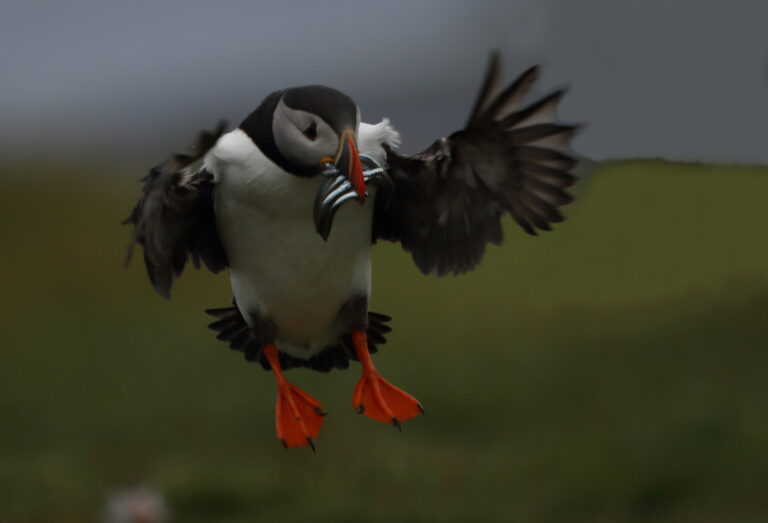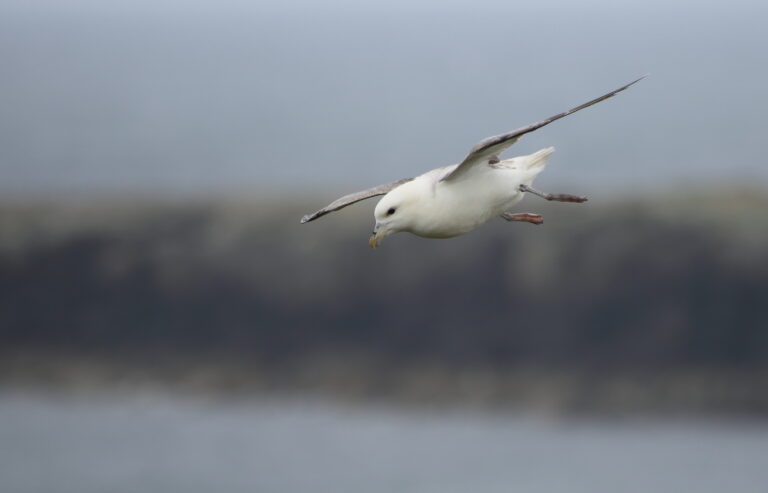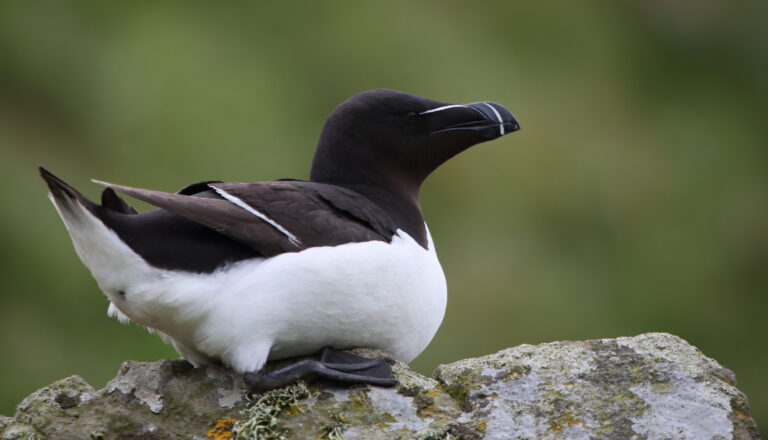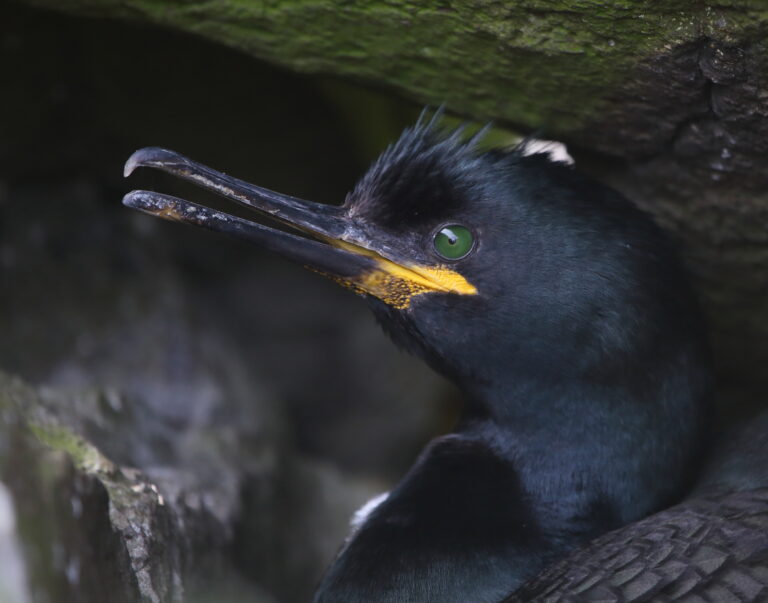 Today we return to Ulva Ferry for a Sea Eagle adventure aboard the Lady Jayne and just twenty minutes into the cruise we have a pair of 'flying barn doors, circling the boat, before one swoops down alongside the boat to grab a fish in its outstretched three inch long talons; awesome! Twenty minutes later the male returns for 'seconds', providing another wonderful photo-opportunity. Further west along Loch Tuath, in the territory of the neighbouring pair, the cameras whir again as another eagle approaches the boat from the opposite direction and swoops down incredibly close to the boat, twice in ten minutes, and after two and a half fabulous hours we tally five eagle swoops, plus Eider, Kestrel, Black Guillemot, Common Tern, five different gulls; Common, Herring, Lesser and Great Black Backs and Kittiwake and Common Seals with pups. Wow, what a spectacular show.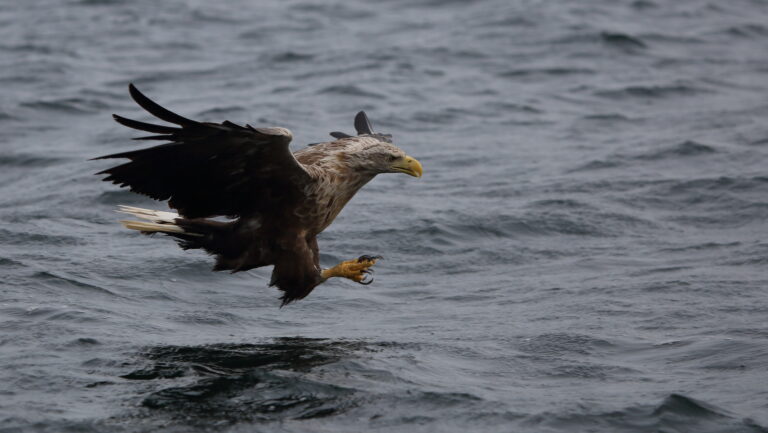 Back on dry land we explore the rugged northwest coast of Mull, starting with the lovely waterfalls at Eas Fors and then the moorland near Cruachan Treshnish, where I announce that "this is good habitat for Whinchat", and within seconds a stunning black-masked male pops out of the bracken! After a picnic lunch at beautiful Calgary Bay, a walk along the beach and back across the machair produces families of Eider Ducks and deep purple Northern Marsh Orchids, but by now it's far too wet for Otters, so we end the afternoon with a visit to the colourful waterfront in Tobermory.
Hooray, the sun is shining today, and we start with a scenic drive along the rugged south shore of Loch na Keal to Pennyghael, where we enjoy super views of a Short-eared Owl hunting back and forth over the rough grassland, on our way to the ferry from Fionnphort, across the sapphire blue sound to Iona. The target bird here is the Corncrake, but the best we get is hearing a couple of calling males, hidden in the buttercup rich machair, while two calling Whimbrel flying with a markedly larger Curlew are new for the trip along with Jackdaw, Rook, Linnet, Greenfinch and cooing Rock Doves.
Returning via spectacular Glen More, we enjoy sightings of at least two more Short-eared Owls, but we still need a Golden Eagle and an Otter.
It's our last day in the field and we begin with Treecreeper and Siskin in the woods outside the hotel, while a walk along the shore produces Ringed Plover, a couple of Red-breasted Mergansers and a pink-breasted Lesser Redpoll posing in the scope. Moving on to Grass Point, we spot another ghostly male Hen Harrier hunting over the grassland, followed by close views of Stonechat, Willow Warbler, Whitethroat, and Meadow and Rock Pipits. Along the road to Lochbuie, a group of Peacocks is an exotic find, but not tickable, while the nearby oakwoods produce a singing Tree Pipit. A hen Hen Harrier drifts across the hillside over lunch beside Loch Spelve, and at the end of this scenic road, with exotic Helmeted Guineafowl along the way, a Red-throated Diver is a good find in the bay at Lochbuie, but time is passing and we still need an Otter. On the drive back along the shore of Loch Spelve, we hit the 'jackpot', with a large dog Otter fishing just beyond the seaweed exposed by the low tide, and we all enjoy fabulous views as it repeatedly dives down with a long trailing tail before vanishing among the large rocks on the shoreline; what a lucky sighting. Next we return to Glen More in the hope of a Golden Eagle, but we have to make do with good views of yet another male Hen Harrier, followed by a very obliging male Crossbill showing really well in a nearby Spruce tree; what a great finale to a wonderful visit to marvellous Mull, with seabirds galore, an Otter, multiple sightings of Hen Harriers and Short-eared Owls, and of course the spectacular White-tailed Eagles.