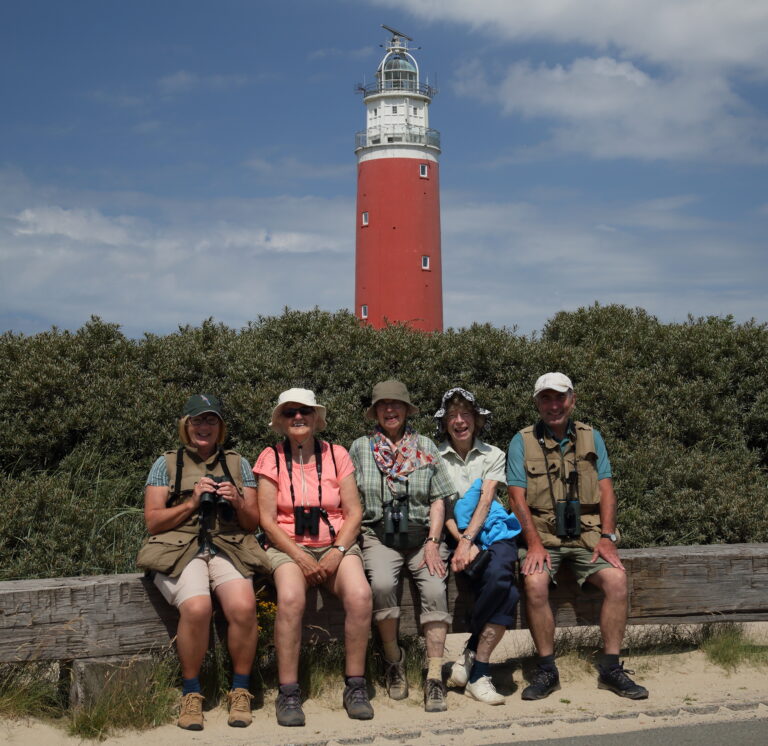 Heading north on the A4 towards Amsterdam, a White Stork flying across the motorway is a welcome start to the trip. En route to Den Helder for the ferry across to Texel, we make a slight detour to Den Oever, in response to reports of a vagrant Wilson's Phalarope, seen on the mud flats there yesterday and today, but we arrive two and a half hours too late as the bird has vanished on the receding tide, so we make do with plenty of Oystercatchers, Redshanks and Curlews, plus a few Spoonbills and rusty red Black-tailed Godwits and a couple of Dunlin with their breeding plumage black bellies.
On the short smooth ferry ride across to Texel we spot a few Eiders, and once ashore, several lagoons along the east coast are alive with Avocets, Common Terns, Barnacle Geese and more Black-tailed Godwits, as well as a couple of Sandwich Terns. Annoyingly, the phalarope reappeared this afternoon back on the mainland! Meanwhile, our journey's end is the superb Prins Hendrik Hotel, offering excellent meals, rooms and service, as well as nest sites under the eaves for several families of House Martin.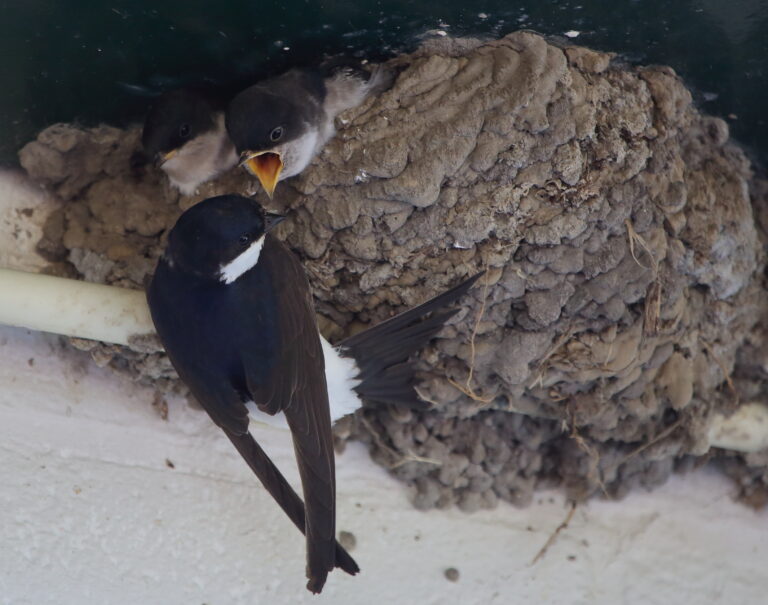 An Icterine Warbler singing in the hotel garden makes a very brief appearance after breakfast this morning. Driving southwest across the island, through fields edged with colourful strips of Cornflowers, Field Poppies, Corn Marigolds and Chicory, we arrive at De Muy where a long sandy beach, backed by high dunes, runs the entire length of Texel's west coast.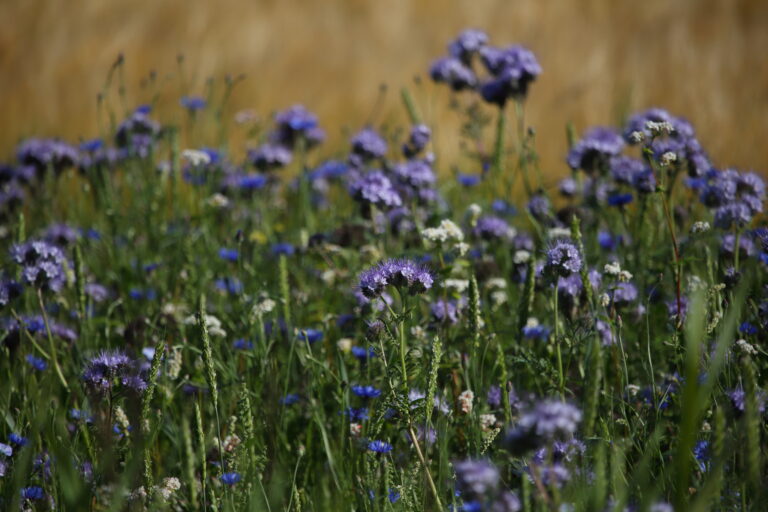 A belt of Pines inland from the beach produces Short-toed Treecreeper, while sightings in the dunes include plenty of Linnets, plus Stonechat, Whitethroat, Willow Warbler, Reed Bunting, Kestrel, Great White Egret, Great Spotted Woodpecker and a singing Sedge Warbler.
Heading north along the coast to De Slufter, a viewpoint overlooking a saltmarsh awash with the purple of Sea Lavender produces more Avocets, a Golden Plover, and a couple of Whimbrel, already on their way south to west Africa! Inland, the fields are home to Skylark, Marsh Harrier and a flock of Stock Doves, and by the lighthouse at the northernmost tip of the island we find a family of Wheatears.
Returning south via a small marsh near De Cocksdorp, amongst the 'usual suspects' we also spot Common Sandpiper, a male Ruff, Sand Martins and a super bright yellow blue-headed Yellow Wagtail. Back at the hotel the Icterine Warbler is still singing and the House Martins are still busy delivering beakfulls of insects to their broods peering expectantly from their nest holes.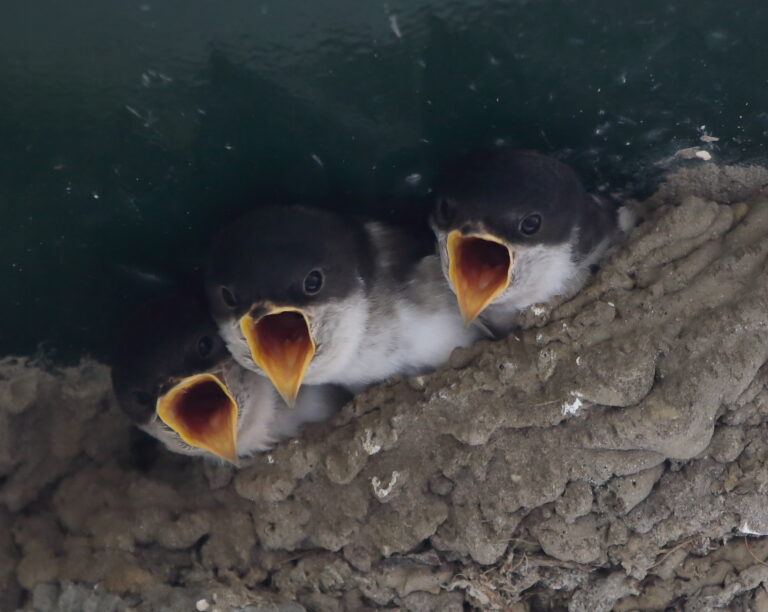 The Icterine Warbler, singing again in the hotel garden is far more obliging this morning, giving everyone a good long look at its yellow-green plumage and bright orange beak.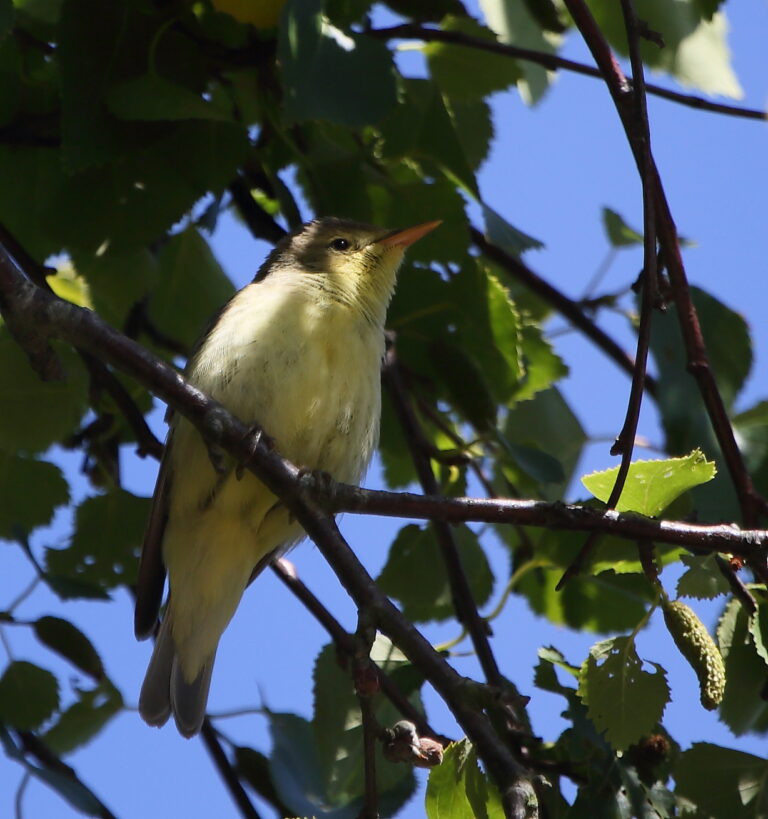 Next we stroll from the hotel north alongside the newly created Utopia reserve just inside the sea wall, home to Avocets with chicks, a moulting male Ruff, a Ringed Plover, and the usual Redshanks etc, and just as we discuss the apparent absence of Greenshanks, one flies over calling "tyew-tyew-tyew"! Scanning through a flock of Dunlin, still in breeding plumage with black bellies, reveals a slightly larger version with a rufous underbelly; a Curlew Sandpiper. At the top of the sea wall overlooking the De Schorren saltmarsh, our arrival coincides with a massive high tide roost composed of thousands of waders including Oystercatchers, Redshanks, Greenshanks and Dunlin, plus Bar-tailed Godwits and Knot, many still in their rusty breeding colours, and Grey Plovers in full breeding plumage. No wonder alternative names for Knot and Grey Plover are Red Knot and Black-bellied Plover.
After a short break back at the hotel we head south to the Hors Polder reserve for 'Operation Bluethroat'. Along the trail we hear singing Garden Warblers and enjoy good scope views of a Lesser Whitethroat. Once we reach suitable Bluethroat habitat, consisting of damp willow thickets, a patient stake out is eventually rewarded with sightings of the target bird initially skulking in the base of a thicket and then perched on top of one of the willows; mission accomplished! Further round the circuit, we find a perfect specimen of a beautiful Peacock butterfly and then add Shoveler, Pochard, Moorhen and Black-necked Grebe to the growing list, while a fly by Hobby on the way back to the hotel makes a total of 73 birds seen today and a tally of 87 different birds in just three days!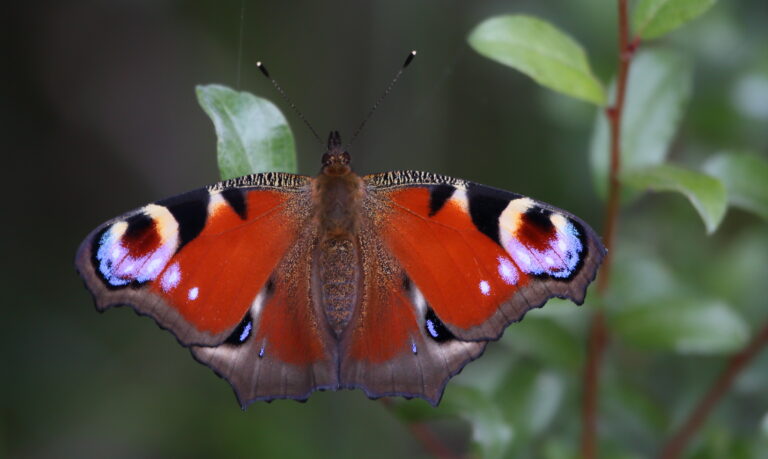 A newly arrived Terek Sandpiper reported yesterday on Texel is our obvious target first thing this morning. Marked with a red star for "very rare" status, it's high up on the list of rare bird sightings on the Dutch Waarneming.nl website, along with Wilson's Phalarope, Short-toed Snake Eagle and Bearded Vulture! Arriving at Oude Sluishoek, just down the road from our hotel, there it is foraging along the edge of a small lagoon with its upturned bill and looking slightly larger than a couple of nearby Common Sandpipers. Besides this fantastic sighting, we also see a vivid yellow breasted blue-headed Yellow Wagtail displaying to his mate and confiding Turnstones on the seaward side of the adjacent sea wall.
Next we visit a couple of sites in the Waal en Burg reserve in the heart of the island, where the meadows are home to snoozing Spoonbills, patrolling Marsh Harriers, singing Skylarks and parachuting Meadow Pipits.
This afternoon a walk in the tranquil woods of De Dennen produces Blackcap, Great Spotted Woodpecker, Song Thrush, Short-toed Treecreeper and Spotted Flycatcher. En route back to the hotel, another visit to the Waal en Burg reserve produces around twenty male Ruff, some still sporting remnants of either ginger, black or white neck ruffs, while a solitary Snipe is new for the list, which now totals 92 different birds.
It's our last day on Texel and having monitored the movements of Mr Wilson's Phalarope via the internet, it had been showing intermittently every day for the past six days, so a return to Den Oever to coincide with a high tide is a 'no brainer'. On arrival at the site the latest news is that it disappeared about half an hour before our arrival, so we patiently wait hoping for it to reappear as the very high tide starts to recede and the birds start to disperse from their tightly packed high tide roosting clusters. Just after lunch on the sea wall, the bird is relocated at 1.18pm not far to the west and we notice a group of about a dozen birders further along the sea wall with scopes pointing seaward; this is it! On arrival, the friendly group quickly gets us onto the bird, in very white non breeding plumage, moving slowly between clumps of green saltmarsh plants and looking surprisingly small amongst the adjacent Oystercatchers. Amazingly, we found this lone vagrant amongst thousands of waders along this wide open shoreline, so hat's off to whoever found it first! Job done, we also find numerous Black Terns in the nearby harbour as well as a single rarer White-winged Tern from further east, bringing the final tally to 95 different birds, including several which don't breed in Britain such as Black Tern, Short-toed Treecreeper, Bluethroat, Icterine Warbler and the lovely blue-headed race of Yellow Wagtail, not to mention the vagrant White-winged Tern, Terek Sandpiper and the trans-Atlantic Wilson's Phalarope! Not bad for a short break so close to home.