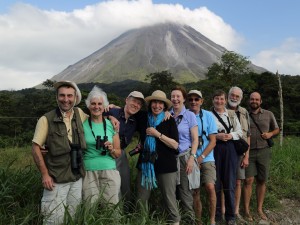 After a good night's sleep in the Hotel Bougainvillea on the outskirts of San José, interrupted briefly by a cockerel crowing at 2.55am, we head south along the Pan-American Highway, which largely follows the continental divide between the Caribbean and Pacific slopes of this narrow but diverse little country. We are soon in a misty cloud forest, but as we near the Quetzal Lodge at an altitude of 8694 feet, the clouds give way to a bright blue sky. A Black-billed Nightingale-thrush hops around the parking lot, with the jizz of a Robin, as we swap the coach for a couple of 4×4 jeeps to take us the final few yards down a steep incline to a stake out for Quetzals, and by 8.15am we have a pair in our scopes! Resplendent is a very apt name for the male Quetzal, with his crested coiffeur, a scarlet front, delicately overlapped by a row of indented wing coverts extending from an emerald green back that gleams in the sunshine, and a wispy flowing tail, (technically two extremely long tail coverts) which incredibly drape and wave delicately in the breeze for up to 30 inches below the end of the true tail! What a magical start to any birding trip. Nearby a Collared Whitestart poses at arm's length and Rufous-collared Sparrows and Large-footed Finches scratch away in the soil, while a Red-tailed Hawk soars by on the thin air. The regionally endemic Sooty-capped Chorospingus shows well, along with Mountain Elaenia, Wilson's Warbler and the suitably named Flame-throated Warbler. Back at the lodge a short stroll produces Sooty Thrush, a carbon copy of our Blackbird but with a pale eye, plus Clay-coloured Thrush, the national bird of Costa Rica, and several Long-tailed Silky-flycatchers, which are real 'wow' birds with their vertical crests, elegant long tails and handsome grey and pastel green patterned plumage. After lunch here, an hour flies by watching a boisterous buzzing melee of Hummingbirds right under our noses. Most of the riotous kerfuffle is due to a pack of pugnacious Fiery-throated Hummingbirds, with a temperament as fiery as their glittering colours, while Magnificent Hummingbirds, with scintillating violet crowns and turquoise throats, and Green Violetears also jostle for a place at the feeders, whereas the tiny Volcano Hummingbird drops in occasionally during lulls in the 'fighting'. Now we drive higher still to the nearby Parque Nacional de los Quetzales, where Vaux's Swifts are zooming across the clear blue sky, but the mist closes in as we reach Cerro de la Muerte, the 'Mountain of Death' at around 11,000 feet! The treeless Paramo with its wafer thin air is the isolated home of the regionally endemic Volcano Junco, and as the mist clears we find a couple of these Dunnock-like birds, with staring yellow eyes, hopping around within six feet of us. The bushes here also produce another radiant Flame-throated Warbler and a pair of Slaty Flowerpiercers with oddly hooked bills, while the Turrialba Volcano belches a cloud of white ash into the sky on the distant horizon. From here it's downhill all the way to Savegre Lodge, deep in the vertiginous cloud forest of the Savegre Valley, where a pair of Black Guans are drinking from the fast flowing river, just as we arrive.
Today begins at 6am with an Acorn Woodpecker at one of the lodge feeders, quickly followed by Stripe-tailed Hummingbird and White-naped Brush-finch, with a Tropical Kingbird and Band-tailed Pigeons in the trees above the lodge. A short stroll into the woods beside the lodge adds Ruddy-capped Nightingale-thrush and Wood Thrush to the list, while a string of Tanagers passing through the same fruiting bush includes Spangle-cheeked, Silver-throated and Flame-coloured, producing quite a good list by breakfast at 6.30am! At 7.30 we set off in a faltering 4×4 jeep, up an impossibly steep track, which leads into a beautiful moss-festooned forest of towering oaks at 7,900 feet. From here the gentle walk back down to the lodge produces a succession of good sightings such as Black-throated Green Warbler, Golden-bellied Flycatcher, a posing Bicoloured Hawk, Yellow-thighed Finch, with fluffy yellow legs, reminiscent of the pollen sacs on a Bumblebee, Spotted Barbtail, Grey-breasted Wood-wren, a Yellowish Flycatcher, building a nest from the plentiful supply of moss, a male Collared Trogon, Paltry Flycatcher, Black-cheeked Warbler and a Hairy Woodpecker, while hundreds of large White-collared Swifts zoom above the forest canopy. Back at the lodge, we find Yellow-bellied Siskin, Blue-and-white Swallows and a flock of Sulphur-winged Parakeets raiding the apple orchard! After lunch we stroll downstream alongside the fast flowing Rio Savegre, spotting Dark Pewee, Belted Kingfisher and a lovely little Torrent Tyrannulet along the riverside. Further on we find White-throated Mountain-gem, Common Chlorospingus, Black-and-white Warbler, Brown-capped Vireo, Scintillant Hummingbird, Spot-crowned Woodcreeper and Northern Tufted Flycatcher. On the return journey we watch a Louisiana Waterthrush on a rock in midstream, with a bobbing action like so many riverside birds, and we even bump into a small party of Spotted Wood-quail foraging in the undergrowth next to the path.
We have a long drive, in terms of altitude, from around 11,000 feet at the top of the Savegre Valley down to sea level near the mouth of the Rio Tarcoles on the Pacific coast. At a refueling stop in San Isidro, Grey-breasted Martins are on the wires, and at a short birding stop in the suburbs here we quickly spot Masked Tityra, Palm Tanager, Tropical Mockingbird, Ruddy Ground-dove, Piratic, Streaked, Boat-billed and Grey-capped Flycatchers, and a stunning male Turquoise Cotinga. A mid morning stop at a waterworks adds several new birds to the ever-growing list including Cattle Egret, Green Heron, Blue-winged Teal, Black-bellied Whistling-duck, Lesser Scaup, Spotted and Solitary Sandpipers, Northern Jacana, Southern Lapwing, Red-crowned Woodpecker and Yellow Warbler. After a late lunch at the lodge, with sizeable Black Iguanas on the lawns, we stroll through the grounds, and yet there is so much to see that we only move 100 yards in half an hour! Sightings here include Pale-billed Woodpecker, Tropical Gnatcatcher, Yellow-bellied Flycatcher, Yellow-throated Euphonia, Buff-throated Saltator, Variable Seedeater and the fabulous Painted Bunting. Eventually we make it as far as the adjacent river, home to Amazon Kingfisher, Social Flycatcher, Buff-rumped Warbler, Riverside Wren, Northern Waterthrush and Orange-billed Sparrow, with noisy Scarlet Macaws high up in the trees. Further on we find Spot-crowned Euphonia, a superb male Long-tailed Manakin and a pair of Black-throated Trogons. Not bad for a travelling day.
A pair of Scarlet Macaws right outside the rooms is a great start to the day, and new 'garden birds' include Great Kiskadee, Greenish Elaenia, Common Tody-flycatcher and Rufous-naped Wren. A few minutes later we have a choice between Baird's and Slaty-tailed Trogons, Brown Jay or Fiery-billed Aracari, all visible from the same spot beside the pool! After breakfast, a visit to the nearby Carara Biological Reserve provides more fantastic birds like Northern Bentbill, Slate-headed Tody-flycatcher, Wedge-billed Woodcreeper, Chestnut-backed Antbird and the majestic Royal Flycatcher showing really well on an open perch. Subsequent sightings include Chestnut-sided Warbler, Black-hooded and Barred Antshrikes in the same tangle, Squirrel Cuckoo, and a Blue-throated Goldentail singing his heart out, followed by an imposing Black-mandibled Toucan and a very busy Rufous-tailed Hummingbird. On the way back along the trail we find Baltimore Oriole, Orange-collared Manakin, Prothonotary Warbler, Dusky Antbird, a pair of Dot-winged Antwrens and, for the grand finale, an all white Northern Ghost Bat hanging from a palm frond right above the path! After lunch we try a different trail through the same forest and soon run into a mixed flock consisting of White-shouldered and Golden-hooded Tanagers, Plain Xenops, Green Honeycreeper and Tennessee Warbler. Further along the trail, a Great Tinamou nonchalantly crosses our path barely five yards ahead! By 4pm it's bath time in a small stream beside the trail where a succession of bathers includes a female Blue-crowned Manakin, several stunning male Red-capped Manakins and a Long-billed Hermit which hovers and dips into the water like an egg-laying Dragonfly. Up above is a troop of White-faced Capuchin Monkeys and one appears to have two heads, as it's a mother carrying a baby. Finally, a female White-whiskered Puffbird perches right next to the trail to round off a really productive day.
Today begins with a boat trip on the Rio Tarcoles, accompanied by Mangrove Swallows hitching a ride on the canopy of the boat. There is plenty to see along the way, such as a Yellow-headed Caracara on the right bank and a Northern Crested Caracara on the left bank, as well as plenty of Tricoloured, Green, Little Blue and Great Blue Herons, Great and Snowy Egrets, Yellow-crowned Night-herons, Anhingas, Neotropic Cormorants, Wood Storks, White Ibises, Green, Amazon, Belted and Ringed Kingfishers, glowing pink Roseate Spoonbills and American Crocodiles. Other exotic sightings include Common Black-hawk, wild Muscovy Ducks, Yellow-naped Parrot, Least Sandpiper, Willet, Black-necked Stilt, Red-winged Blackbird and Great-tailed Grackle, while Osprey, Peregrine, Turnstone, Grey Plover, Whimbrel, Sandwich Tern and Barn Swallow are more familiar sightings. Meanwhile, one particular flowering tree proves very fruitful with Tropical Pewee, Yellow-olive Flycatcher, Common Tody-flycatcher, Mangrove Warbler, Mangrove Vireo and the endemic Mangrove Hummingbird. Downstream, the riverside trees are full of Magnificent Frigatebirds and the sand bar at the mouth of the river is covered with hundreds of Brown Pelicans and some Royal Terns. Back on dry land a tip off leads us to a pair of roosting Black-and-white Owls, with beaks and feet as yellow as thick Bird's custard. What a fantastic sighting. It's now time to head north through a dry rolling parkland landscape, largely devoted to cattle ranches, where we spot Double-striped Thick-knees enjoying the shade of the roadside trees. Journey's end is a fabulous lodge on the Enseñada ranch, with a great view overlooking the Pacific Ocean and a Northern Tamandua (a type of Anteater) sleeping in one of the adjacent trees. After lunch at the open plan lodge, with White-collared Magpie-jays watching from the rafters, we drive to the nearby Solimar ranch where Dimitrio, the resident 'Vaquero-cum-birder' quickly leads us to a pair of roosting Spectacled Owls. As we exit the wood, Grey, Roadside and Harris's Hawks all fly by and then a troop of Howler Monkeys drop from a tree onto the ground as they move to a new feeding site. Brown-crested Flycatcher is next on the list. A wet area on the ranch is jam-packed with Black-bellied Whistling-ducks and amongst the throng we pick out a Fulvous Whistling-duck, two American Wigeon, a couple of Killdeer and two Shovelers! Moving on through pastures grazed by numerous white cattle, a White-nosed Coati causes a stir among some of the cows which pursue it to the extent that it has to turn and snarl to deter its followers. We spot Groove-billed Ani, Eastern Meadowlark, Limpkin, Bare-throated Tiger-heron and eventually a couple of mighty Jabiru Storks with stonking great bills and long bare black and pink necks, which dwarf even the sizeable Wood Storks. By now it's almost dark but Dimitrio has one more ace card to play by pointing out a Pacific Screech-owl, and its whole body throbs as we watch it call in the scope. Incredibly, a Ferruginous Pygmy-owl pops out of a palm tree barely twenty yards from the Screech-owl tree, making four new owls in one day! At night, our lodge is not a quiet place, thanks to chirping crickets and guttural Howler Monkeys for noisy neighbours, and squeaking Geckos as housemates!
At 6am we are out again on the ranch, spotting White-tipped and Inca Doves, Common Ground-dove, Hoffmann's Woodpecker, Cinnamon Hummingbird, Spot-breasted, Streak-backed and Orchard Orioles, Turquoise-browed Motmot, Yellow-throated Vireo, Banded Wren, White-lored Gnatcatcher and White-collared Seedeater, all before breakfast, as well as the amazing Three-wattled Bellbird, with an awesome gape each time it projects its far-carrying metallic call; definitely a star of the show. After breakfast further exploration of the ranch produces a string of Royal Terns on the jetty, along with Laughing and Franklin's Gulls, and Surfbirds which look like oversized Purple Sandpipers. A male Black-headed Trogon interrupts our visit to the salt pans on the ranch which are choc-a-bloc with Western and Semipalmated Sandpipers, Wilson's and Semipalmated Plovers, Willets and Short-billed Dowitchers, along with a couple of Marbled Godwits, a Knot and a Wilson's Phalarope. Even on the way out of the ranch we are still finding new birds here such as Scissor-tailed Flycatcher and Zone-tailed Hawk, which does a sneaky imitation of a Turkey Vulture. By late afternoon, after a winding scenic drive we arrive at the imposing Arenal volcano, providing a suitable backdrop for a group photo and a chance to find yet more new birds such as Golden-olive Woodpecker, Blue-black Grassquit and Thick-billed Seed-finch. We check in to the Arenal Observatory Lodge, with a frontline view of the volcano, and explore the grounds which are alive with birds such as Black-cheeked Woodpecker, Yellow-bellied Elaenia, Black-crested Coquette, Violet-headed, Rufous-tailed and Scaly-breasted Hummingbirds, Montezuma's Oropendola, which looks as exotic as it sounds, and Blue-grey, Palm, Summer, Bay-headed, Passerini's, Golden-hooded, Silver-throated and Emerald Tanagers! Two minutes after watching a pair of Black-mandibled Toucans, we scope a brightly 'painted' Keel-billed Toucan, and then a massive female Great Currasow crosses the path right in front of us, while two Crested Guans look very ungainly perched on thin branches to gobble up ripe figs. What a way to spend a birthday!
More action in the grounds this morning, with Carmiol's and Crimson-collared Tanagers to add to the already impressive Tanager list here, in addition to Wedge-billed Woodcreeper, Green Honeycreeper, Green Hermit, Bananaquit, Cinnamon Becard, Long-tailed Tyrant, Melodious Blackbird, Gartered Trogon and White-necked Jacobin, and that's just a stroll before breakfast! Afterwards a walk to a waterfall produces Band-backed and Stripe-breasted Wrens, Hepatic Tanager, Black-striped Sparrow, White-ruffed Manakin, Red-legged Honeycreeper, Dusky-capped Flycatcher, Black-cowled Oriole and Red-billed and Pale-vented Pigeons in the same tree, with a Broad-winged Hawk soaring above. On the way back from the falls we also find the tiny Scale-crested Pygmy-tyrant, Pale-billed Woodpecker, and Northern and Southern Rough-winged Swallows hawking flies over the same pasture. This afternoon we are still finding new birds such as Grey-headed Chachalaca and Bronze-tailed Plumeleteer, and we finish off with close views of a semi tame Oncilla, an elegant nocturnal cat with a beautiful spotted coat.
It's sadly time to leave Arenal, but the lodge has one more goody to offer before we leave; an Eyelash Pit Viper attached to the outside wall of the restaurant! Along the road we stop for a Three-toed Sloth, with coarse greenish fur, hanging around in a Cecropia tree, and by late morning we are in the Sarapiquí Valley, where we spend a happy hour at the Hummingbird Garden, where several hanging feeders and a table are alive with birds. The banana-laden table attracts Palm, Blue-grey, Passerini's and Silver-throated Tanagers along with Hoffmann's Woodpecker, Red-headed and Prong-billed Barbets, Baltimore Oriole, Melodious Blackbird, Bananaquit, Tennessee Warbler, Common Chlorospingus, Greyish and Buff-throated Saltators and a couple of very photogenic blue-throated Emerald Toucanets. Meanwhile the dazzling display of hummers includes Rufous-tailed Hummingbird, Violet Sabrewing, Green Thorntail, Green Hermit, Green-crowned Brilliant, White-bellied and Purple-throated Mountain-gems and Coppery-headed Emerald which is endemic to Costa Rica. By lunch time we are checking in to Selva Verde Lodge, where new birds include Scarlet-rumped Cacique, Rufous Motmot, Black-crowned Tityra, Lesser Swallow-tailed Swift, Black Phoebe, a high circling King Vulture amongst the ubiquitous Black and Turkey Vultures, and a pair of White-crowned Parrots beautifully lit by the late afternoon sun. After dark, the lodge rings with a cacophony of chirruping insects and pinging Tree Frogs.
We have an early start to the nearby La Selva Biological Research Station in light rain, which seems to dampen the bird activity although the Common Tent-making Bat stays dry inside its leaf 'tent', made by cleverly biting along each side of the long midrib, so that the large leaf is bent into a pitched roof! Along the quiet trail we still manage to find Rufous-winged Woodpecker, Grey-capped and Social Flycatchers, Fasciated Antshrike, Olive-backed Euphonia and a very obliging Rufous-tailed Jacamar, which calmly sits for photos to a range of just ten feet! As the rain gets heavier, we take shelter with cups of tea and coffee at reception, and once the rain eases a flurry of activity ensues, beginning with lovely male and female Snowy Cotingas, followed by Black-faced Grosbeak and both White-ruffed and White-collared Manakin males in the same clump of bushes. Along the trail we find several Collared Peccaries and Central American Agoutis as well as a tiny red Blue-jeans Poison Dart Frog, a bright yellow Eyelash Pit Viper and then Rufous and Broad-billed Motmots, Purple-throated Fruitcrow, Pale-vented Thrush, Hook-billed Kite, Short-billed Pigeon and super views of a pair of splendid Great Green Macaws. After lunch back at the lodge, we return to La Selva and locate a pair of Slaty-tailed Trogons, followed by Blue Dacnis, Shining Honeycreeper, Boat-billed, Piratic and White-ringed Flycatchers, Plain-coloured Tanager, Black-throated Wren, Collared Aracari, Chestnut-headed Oropendola and finally, Mealy and Red-lored Parrots scoped in different trees from the same spot. And this was a relatively quiet afternoon! On the way back to the lodge we stop off at a roosting site for a dozen or so Great Green Macaws and enjoy fabulous views of these impressive birds, as well as a Laughing Falcon and a really smart 'waistcoated' Bat Falcon, posing for plum views from front and back.
There is so much to see at La Selva that we spend a second day there, and an early morning 'walk' takes over an hour to cover just 200 yards as there is so much going on! Good sightings include Grey-chested Dove, Blue-chested Hummingbird, White-crowned Parrot, Plain Xenops, Plain-coloured Tanager, an all red male Summer Tanager, Grey-capped, Social and Piratic Flycatchers, Long-tailed Tyrant, Bright-rumped Attila, a Chestnut-coloured Woodpecker taking nectar from Heliconia flowers hanging at eye level, and three petrol-headed Green Ibises showing really well while perched in a leafless tree. Further on a fruiting tree is alive with a feeding frenzy of Olive-backed, Yellow-crowned and White-vented Euphonias along with Lesser Greenlet, Cinnamon Becard and a feisty Rufous-tailed Hummingbird dive-bombing a Clay-coloured Thrush, more than three times its size! Deeper into a jungle of heavily buttressed tree trunks we find a male Black-crowned Antshrike, the incredibly large and vivid Blue Morpho Butterfly and the equally massive Bullet Ant, which packs an awesome punch in its bite. Back in the sunshine, a Black Hawk-eagle soars lazily overhead and two Mealy Parrots quietly hang upside down, while deftly 'hand-picking' small fruits, just twenty feet above the path! In the afternoon, we find a pair of very obliging Black-crowned Antshrikes at remarkably close range, followed by Little and Great Blue Herons and Bare-throated Tiger-heron along the river, with numerous large Green Iguanas in orange breeding colours resting on branches high above the river while Grey-rumped Swifts pass by overhead. Other top sightings include Streak-headed Woodcreeper, Blue Dacnis, a bright yellow Prothonotary Warbler, a gorgeous male Golden-winged Warbler and numerous Long-nosed Bats sheltering under the eaves of a cabin.
With heavy rain pouring down throughout the night, it's clear to see why they call this the rainforest, and therefore, a good place to see the exotic looking Red-eyed Tree Frog. From here we head due East for Tortuguero National Park on the Caribbean coast, stopping along the way for a Three-toed Sloth mother and baby clinging to a Cecropia tree, and White-tailed and Roadside Hawks perched in roadside trees. Once the dirt road runs out, we board a small boat to take us down the chocolate brown Rio Suerte to Laguna Lodge in the national park. After lunch a boat ride along tranquil channels that meander through the tall dense jungle brings close encounters with a White-faced Capuchin Monkey pulling away dead bark to find insects, a Little Blue Heron catching and gulping down a chunky Crayfish, a Two-toed Sloth just hanging out, a troop of long-limbed Spider Monkeys 'flying' from branch to branch, a White-necked Puffbird and even an elusive Sungrebe!
We have the luxury of three boat trips today, the first starting before sunrise, with Venus still shining brightly. Early birds include Northern Waterthrush, a pair of Slaty-tailed Trogons, a nocturnal Great Potoo, which sits motionless to imitate a wooden stump for the twelve hours of daylight, and a pair of Northern Jacanas within arm's reach of the boat! Next we have a very well camouflaged wispy six foot Green Vine Snake, slithering slowly along a branch, followed by Spectacled Caiman, Black River Turtles, and a vivid Emerald Basilisk Lizard with flamboyant 'sails' on its head and along its back, all sunbathing within feet of the boat, plus Green Kingfisher, Collared Aracari, Snowy Cotinga, Northern Barred Woodcreeper, Double-toothed Kite and a pair of Purple-throated Fruitcrows. Stars of the last cruise include a busy troop of White-faced Capuchin Monkeys, a posing male Ringed Kingfisher and a soaring Broad-winged Hawk.
The local Howlers raise the alarm at around 5.15am, and by six we have a male Slaty-tailed Trogon right above our cabins. An exploration of the lodge grounds produces another richly yellow Prothonotary Warbler, several Olive-throated Parakeets and a very approachable Common Black-hawk, while the palm-fringed Caribbean beach seems a strange place to see Sanderlings all the way from the Arctic! It's our last full day in the field and so time to leave Tortuguero on a boat upriver back to 'civilisation'. On the way several Great Green Macaws put on a magnificent farewell show. We break the drive back to San José with a visit to a garden not far from Braulio Carillo National Park, where we are still finding new birds such as Ruddy Pigeon, Bay Wren, Tawny-capped Euphonia and a super plum-coloured male Snowcap. What a great bird to end the list with, making a grand total of 349 bird species including 28 different Humingbirds! ¡Pura Vida en Costa Rica!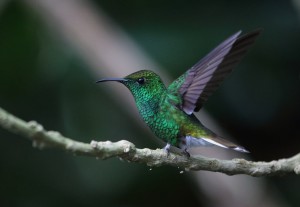 The endemic Coppery-headed Emerald