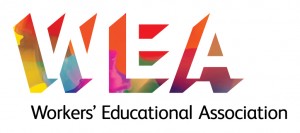 Click on logo to enrol
I regularly lead courses for the WEA in and around the Nottingham/Derby areas. My next course will be:-
Matlock branch; Birding Through the Seasons, on Tuesdays, commencing on 10th September at Potteric Carr Nature Reserve, DN4 8DB, 10am – 3pm. Subsequent meetings will be as follows; 15th October, 10am – 3pm at Langford Lowfields RSPB Reserve, 5th November, 10am – 3pm at Idle Valley Nature Reserve

 and 3rd December, 10am – 3pm at Rother Valley Country Park.