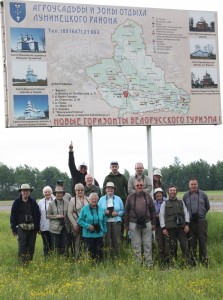 After a free day for sightseeing in Warsaw, and an onward flight to Minsk, we were on the long straight road south to the Pripyatsky National Park. Along the drive, through a seemingly endless landscape of forests, and fields with big skies, two brief stops produced firstly a close flying Greater Spotted Eagle and then Great Grey Shrike plus singing Whinchat, Skylark and Corn Bunting.
Today we began birding proper, in the village of Vyshelov, just a short drive from the lodge, where the tar road ended abruptly at the Pripyat river, which had flooded the plain in the aftermath of a long hard winter; though such snow was hard to imagine given today's warm weather. Millions of Mosquitoes meant an abundance of food for birds and we quickly began clocking up an impressive list, starting with a pair of Azure Tits which showed fabulously well at close range and even in the scope! We easily found one in a small willow along with a Blue Tit, and then a second bird appeared, perching close by on top of a wooden fence as well as on the roof of one of the old wooden houses. This was the number one bird on our wish list, and with such good views so early on, anything else on this trip would be a bonus. More 'backyard' birds came thick and fast, like the River Warbler in the scope, singing its long mechanical 'song' from a constantly wide open beak while the tail quivered, and the Bluethroat, also watched in the scope perched on the same fence as the Azure Tit earlier on. The riverine vegetation on the edge of the village produced Yellow Wagtail, Thrush Nightingale, Icterine Warbler, white-headed Long-tailed Tit, Penduline Tit and a very obliging Syrian Woodpecker in the scope. We also had fabulous views of a circling Honey Buzzard and two fly by Sparrowhawks. Meanwhile our 'garden bird' list kept growing as we added Spotted Flycatcher, White Wagtail, Black Redstart, Common and Lesser Whitethroats, Garden Warbler, Serin, Linnet, Swallows galore, a sunbathing Wryneck, a White Stork on a nest occupied also by Tree and House Sparrows, and finally a magnificent male Common Rosefinch, as red as a London bus! With many of these birds seen well in the scope, this was a superb first morning, and all just a few hundred yards from the vehicle!
After a hearty lunch back at the lodge, we boarded the bus and drove west to the Turov meadows. Along the way we spotted Black Kite and Turtle Dove, plus Red-backed Shrike and Raven which became everyday birds here. At the meadows we found a good selection of wetland birds including Great Egret, Garganey, White-fronted Goose, rusty red Black-tailed Godwits, Common, Black, White-winged and Little Terns, and even Great Snipe, and a Terek Sandpiper, balancing on a powerline! The meadows were alive with dozens of Yellow Wagtails, while a couple of Corncrakes remained invisible, whereas we had very close prolonged views of an inquisitive Stoat, repeatedly lured towards us by a chorus of 'distressed Rabbits'! On the drive back to the lodge, we also added a large male Wild Boar to our mammal list.
It was another lovely sunny morning as we set off to explore the local ancient woodlands, inundated by tons of melted snow. On the forest edge, a small wetland was the summer home of hundreds of very smart White-winged Terns and a calling Spotted Crake. Above the forest we also watched three Black Storks, a White-tailed Eagle and a Honey Buzzard. Inside the forest, we quickly got onto a Middle Spotted Woodpecker, followed by Nuthatch and Pied and Collared Flycatchers, and on the forest track we also scoped a couple of Hawfinches, and a Honey Buzzard on a branch above them! How good is that? Emerging from the forest on the other side, another Hawfinch posed on the track ahead of us and then we found a very showy and vociferous Barred Warbler, giving us the evil eye in the scope. Meanwhile, two Cranes passed by overhead and in a reedy dyke we found croaking Great Reed Warblers, but still no visible signs of Crex crex. Mammal wise, we spotted Red and Roe Deer, and Mountain Hare, even though Belarus is almost completely flat and at least 300 miles from the nearest mountain! Two lucky punters also caught a glimpse of a bushy-tailed Pine Marten.
Today we mounted 'Operation Woodpecker' in a dense ancient forest on the south side of the Pripyat flood plain. Given the warnings of blood thirsty Mosquitoes, we doused ourselves in repellent, covered up and donned head nets before entering the forest which was packed to the rafters with singing Wood Warblers. Not far in our local guide found us a lovely male Red-breasted Flycatcher, which we watched singing from various perches. Deeper in, a rare White-backed Woodpecker showed up, followed by a Great Spot, and then a Lesser Spotted Woodpecker, clinging to a slender twig. This red-capped male showed really well, as it shuffled up and down its twig before disappearing into a tit-sized nest hole, just a few feet from the ground. We also found a pair of Collared Flycatchers collecting food for nestlings and scoped a second male Red-breasted Flycatcher, this time in a sunny patch. Next we set our sights on Three-toed Woodpecker, which eventually showed very well on a nearby tree trunk; four different woodpeckers, so not a bad morning's work. Back out in the open, we finished the morning with a couple of Cranes feeding in a field and then had a picnic lunch, whereupon a group of 15 adult Wild Boar and one piglet emerged from the woods and stampeded across open ground to the next block of cover. After lunch we watched the sky for raptors which included a distant Short-toed Eagle, a Greater Spotted Eagle which flew right overhead, and a White-tailed Eagle which passed by carrying a fish.
That afternoon, we visited another part of the Turov meadows, and in the local town we saw Crested Lark posing on a sand pile and a Wheatear on a traffic island! We stopped for an ice cream and while the bus was parked outside the shop, a villager got on board thinking he was catching the local bus. This was an easy mistake to make given that we were using a proper green bus complete with easy access double doors, 25 seats, standing area with hand rails, and bell buttons for stopping the bus. Each time we drove through a village, the locals must have thought they were on a new bus route! Over the years New Horizons clients have birded from cars, jeeps, rickshaws, bicycles, canoes, boats, ships and even Elephants, but never from a public transport bus before, though it did make an ideal mobile hide! Back in the field, a sandbank beside the flooded meadows was occupied by Sand Martins, overhead we watched yet another White-tailed Eagle, this time being mobbed by tiny Black-headed Gulls and a Hooded Crow, and then we found more Black-tailed Godwits, plus White-winged, Whiskered and Little Terns, Grey Plover, several male Ruff, and our second Terek Sandpiper, this time seen well by all. After dark, an outing for mammals began with a Nightjar sitting on the road ahead, while later sightings included Red Deer, Wild Boar, Fox, Pine Marten and a Tawny Owl on a perch.
Today was cloudy and cool for a change. Strolling along a flood bank on the edge of Borki village, we enjoyed great views of Icterine Warbler, white-spotted Bluethroat, Penduline and Marsh Tits, Lesser Whitethroat, Thrush Nightingale and Marsh Warbler, all contributing to a cacophony of birdsong along with a booming Bittern. By now the sky was blue again, making a lovely backdrop for an overflying Golden Oriole, and we also spotted a Grey-headed Woodpecker and a Cuckoo being chased by a posse of Fieldfares. On the way back to the lodge for lunch, we found a superb Lesser Spotted Eagle on a roadside fence post, and with some skilful reversing by the bus driver we were able to get to within about 75 yards of the bird, making a fabulous photo-opportunity for all those with cameras.
This afternoon we swapped the 'magic bus' for a large boat, and took a cruise along the Pripyat river, which must have been at least 300 yards wide. Along the river we spotted Kingfisher, White-tailed Eagle, a Snipe on a stick, and where we moored beside an island, we scoped Terek Sandpiper number three, giving us the best view yet. Disembarking on the island, we could hear a River Warbler and soon had stupendous front and back views of the bird singing from an open perch. For me this was one of the top birds of the trip. Also on the island, we found two Golden Orioles, plus Common Frogs and Toads, and a Grass Snake with a beautiful orange collar. On the return journey we spotted an enormous Beaver on the bank, before it slipped into the water and made a big splash by slapping its paddle-like tail. That evening, an after dinner stroll produced three Nightjars flapping around among the pine trees.
This was our penultimate birding day and we left the riverside lodge to head west to the Beloe fishponds ringing with the croaks of 'bubble gum blowing' Marsh Frogs. Straight away we found Black-necked Grebe, and by the end of the visit we must have seen about thirty, as well as one Red-necked Grebe, several Caspian Gulls and Goldeneye, a Little Ringed Plover, a Ferruginous Duck and twelve Smew including three handsome males. We also had amazing views of a Great Reed Warbler singing from an open branch above the reeds. Our guide also heard the drumming of a White-backed Woodpecker across the water, and after a patient search we actually found it in a dead tree. Back on the road, we had to stop the bus for a marvellous male Montagu's Harrier hunting close to the road. By late afternoon it was time for the main event and so we picked up a warden from the local nature reserve for a walk in the woods. I had waited a long time for this special moment, and less than a mile from the bus here we were, looking up at the Great Grey Owl, starring straight at us with piercing yellow eyes for daring to enter its domain. It even flew silently towards us, landing on a closer branch for an even more awesome view of this enormous owl. Nearby, a grumpy looking chick glared at us from a nest made from a massive clump of sticks. There was no doubt that this trumped everything before it, even the Azure Tit moment.
So far we had been very lucky with the weather but our last morning in the field was far too wet, even for Aquatic Warblers! In the afternoon the rain stopped and we made a bee line for the Sporovo nature reserve, a large expanse of wet grassland and one of the few breeding grounds of the Aquatic Warbler. The strong wind was against us, but thanks to an expert local guide and a careful patient scan by the rest of the team, our teamwork paid off with a brilliant scope view of this rare warbler which everyone was able to enjoy for long enough to appreciate the crown stripe, heavily streaked back and finely streaked flanks. This was a creditable achievement given the difficult scenario of a small bird in a big windswept swamp. This left just one more target bird to find and the 'dream team' came good again, with a bright yellow male Citrine Wagtail perched on a bullrush head for all to see; brilliant birding from start to finish. Well done team.