Uganda is similar in size to Great Britain and yet it is home to over 1000 species of birds, thanks to the great variety of habitats within this fairly small area. Consequently, there are more bird species per square mile here than in any other African country, and we can hope to see around 400 of them on this fantastic tour! Amongst this impressive list will be the awesome Shoebill and the very rare Green-breasted Pitta, as well as many species endemic to the rift valley, formed by the Albert Nile flowing north along the eastern edge of the Congo region. These special birds include gems like Handsome Francolin, Green Broadbill, Regal, Purple-breasted and Blue-headed Sunbirds and the exotic Rwenzori Turaco. As most of these endemics can be found in Bwindi Impenetrable Forest National Park, this tropical forest is ranked number 24 in the top 100 birding sites of the world!
As well as all the birds, we can expect to see some exciting mammals on this safari through six of Uganda's ten national parks, such as Warthog, Giant Forest Hog, Plains Zebra, Rothschild's Giraffe, Hippo, Defassa Waterbuck, Oribi, Impala, Topi, Jackson's Hartebeest, Eland, the handsome Uganda Kob, and the 'big five'; Elephant, White Rhino, Cape Buffalo, Lion and Leopard. Uganda is also regarded as the 'primate capital of the world', with thirteen species in Kibale Forest National Park alone, including Uganda's largest population of Chimpanzees, and then there are also the magnificent Mountain Gorillas, with around half of the world's population living in Bwindi Impenetrable Forest National Park! If you wish, you have the privilege to enjoy amazing meetings with Chimpanzees in Kibale Forest and with the Mountain Gorillas in Bwindi! This is possible thanks to years of work by the Uganda Wildlife Authority, which has allowed these great apes to become habituated to the presence of humans, and your participation in these visits will contribute to their future conservation as well as to the provision of educational and medical facilities for the local communities.
During the tour we will be staying in ten carefully chosen accommodations, which blend beautifully with their wonderful natural settings, and have excellent reviews on Trip Advisor. We will be accompanied by an expert local guide throughout the tour, and with so much to see even non-birding partners will love it.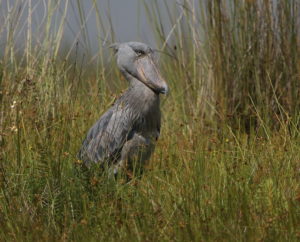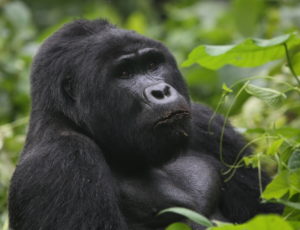 Day 1 We have an afternoon overnight flight from Heathrow to Entebbe, via Doha, with Qatar Airways (to be confirmed). Dinner and overnight in flight.
Day 2 On arrival in Entebbe, we will be met by our local guide and transferred by road, in under two hours, to our first base at the lovely Nkima Forest Lodge, in its own patch of tropical forest on a hill overlooking the wetlands on the edge of Lake Victoria. The lodge is named after the resident Red-tailed Monkeys, and the tranquil setting is rich in wildlife, including many exotic butterflies and birds like Palm-nut Vulture, Lizard Buzzard, Black-and-white-casqued Hornbill, Great Blue and Ross's Turacos, Eastern Grey Plantain-eater and the enigmatic Bat Hawk which roosts next to the lodge. Dinner and overnight at Nkima Forest Lodge.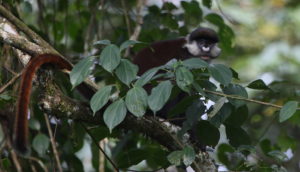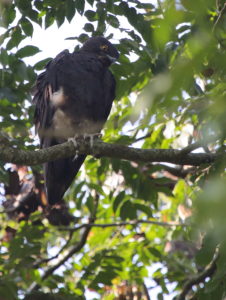 Day 3 This morning we take a relaxing canoe trip into the nearby Mbamba (Lungfish) swamp, a wetland of international importance on the shore of Lake Victoria, with a bird list of over 260 species, including the highly sought Shoebill. Other specialities here include African Pygmy Goose, Black Crake, Reed Cormorant, African and Lesser Jacanas, Long-toed Lapwing, Hadada Ibis, Blue-headed Coucal, Malachite Kingfisher, Papyrus Gonolek and Swamp Flycatcher. This afternoon we head south across the equator to Lake Mburo National Park, where the scenic landscapes of Acacia woodlands and savanna are home to around 350 species of birds such as Bateleur, Grey Kestrel, Wattled Lapwing, Bare-faced Go-away-bird, Meyer's Parrot, Red-headed Lovebird, Blue-naped Mousebird, the strange Hamerkop and the elegant Grey-crowned Crane, Uganda's national bird. There is also a wide variety of mammals here such as Plains Zebra, Rothschild's Giraffe, Defassa Waterbuck, Impala, Warthog, Vervet Monkey and Olive Baboon. Journey's end is the luxurious Mihingo Lodge, in a magical setting on a granite outcrop with spectacular views across the savanna. Dinner and overnight at Mihingo Lodge.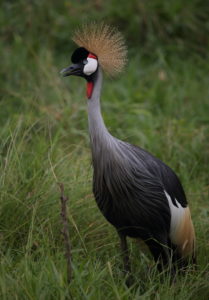 Day 4 We have a full day to explore this productive national park with a game drive and then a boat trip on Lake Mburo in search of the rare African Finfoot as well as Hippos, several kingfishers and the majestic African Fish Eagle. Dinner and overnight at Mihingo Lodge.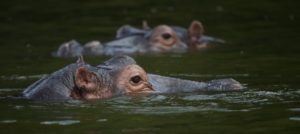 Day 5 Passing herds of remarkable Ankole cattle with massive horns, we head to the remote southwest corner of Uganda for a four night stay in the legendary Bwindi Impenetrable Forest National Park, where we can begin our search for some of the montane forest specialities like Black-billed Turaco, Narina and Bar-tailed Trogons, Barred Long-tailed Cuckoo, White-headed Woodhoopoe, African and Green Broadbills, Yellow-whiskered Greenbul, Red-throated Alethe, Red-faced Woodland Warbler, Rwenzori Batis, Stripe-breasted Tit, Regal, Purple-breasted and Blue-headed Sunbirds, Strange Weaver, Red-headed Malimbe and Dusky Crimsonwing. Journey's end for the next two nights is in Ruhija village. Dinner and overnight at Bakiga Lodge.
Day 6 Depending on the availability of the permits, this is one of the two possible days for those who have chosen to visit the Gorillas, to begin their trek into the forest at around 9am. The length of the trek depends on the location of our allotted Gorilla family, but it normally takes one to three hours of moderate to strenuous walking to reach the family, whereupon we have the unique privilege of a one hour 'audience' with these magnificent gentle creatures! This is one of the "Ultimate Wildlife Experiences" according to world renowned zoologist Mark Carwardine! "Rubbing shoulders with Mountain Gorillas is likely to be one of the most exhilarating hours of your life". We will probably have a packed lunch on the return walk, and once back at the Visitor Centre around 2pm you will be presented with a certificate to celebrate your momentous meeting with the Gorillas. This afternoon you have the option to relax back at the lodge or rendezvous with any members of the group who opted to spend the day birding rather than tracking the Gorillas. Dinner and overnight at Bakiga Lodge.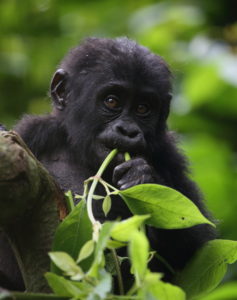 Day 7 This morning we transfer to Buhoma, a lower part of Bwindi with an even greater diversity of birds, as well as very tame L'Hoest's Monkeys and over 200 species of butterfly, including the Giant African Swallowtail. A few of the many possible birds here include Yellow-billed and Yellow-spotted Barbets, Cassin's Honeybird, Petit's Cuckooshrike, Black-and-white Shrike-flycatcher, African Paradise-flycatcher, Tiny Sunbird, Bocage's and Many-coloured Bush-shrikes, Sharpe's and Narrow-tailed Starlings, Black-billed, Black-necked and Vieillot's Black Weavers, the shy Black-faced Rufous Warbler, the very skulking Blue-shouldered Robin-chat and the dazzling Black Bee-eater. Our base is Haven Lodge, with a stunning panoramic view across a thickly forested valley and 'garden birds' like Speckled Mousebird, White-chinned Prinia, Variable and Northern Double-collared Sunbirds and White-browed Robin-chat. Dinner and overnight at Haven Lodge.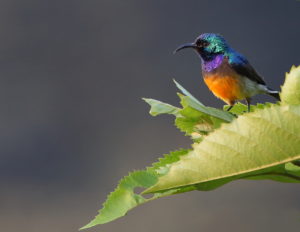 Day 8 Depending on the availability of the permits, this is the other possible day for those who have chosen to visit the Gorillas, in which case the schedule will be similar to that on day 6, but if we have already seen them we will spend the day birding in the forest. Dinner and overnight at Haven Lodge.
Day 9 After a final sortie in Buhoma, we head north to Queen Elizabeth National Park, with a stop en route for lunch at Ishasha Lodge, followed by a game drive amid the beautiful Acacia studded savannna of this national park, where the plentiful game offers the chance to see a Leopard or a pride of Lions as well as our first Uganda Kobs and Elephants, plus plenty of birds such as Rüppell's Griffon Vulture, Long-crested, Martial, Wahlberg's and Brown Snake Eagles, Black-bellied Bustard, Marsh Tchagra, Crimson-rumped and Fawn-breasted Waxbills and the spectacular Saddle-billed Stork. Our base for the next two nights will be the aptly named Park View Lodge, on an escarpment with a panoramic view of the national park. Dinner and overnight at Park View Lodge.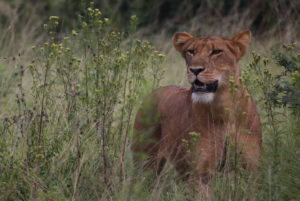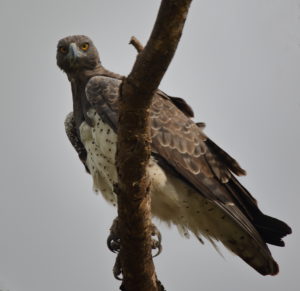 Day 10 We have a full day to explore the national park which has the largest bird list of anywhere in East Africa, with a remarkable total of over 600 species! From our Landcruiser we can hope for more sightings of big game, as well as birds like Western Banded Snake Eagle, Temminck's Courser, Crowned Lapwing, Grey-headed Kingfisher, Blue-cheeked Bee-eater, Blue-throated Roller, Mourning Dove, Grey-backed Fiscal Shrike, Violet-backed Starling and the tiny Black-chinned Quail-finch. We shall also enjoy a two hour boat trip along the Kazinga Channel which links Lake George with Lake Edward. Herds of Elephants and Cape Buffalos visit the shores along with Defassa Waterbucks, to drink among the Hippos and Nile Crocodiles, while we can also enjoy close views of birds like African Spoonbill, Yellow-billed Stork, Pink-backed Pelican, Water Thick-knee, Spur-winged Lapwing, Kittlitz's Plover, the ubiquitous African Fish Eagle and the bizarre African Skimmer. Dinner and overnight at Park View Lodge.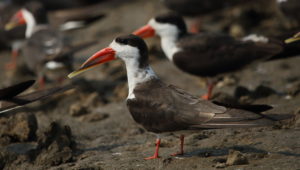 Day 11 We leave 'QE' and head north across the equator to our next base at Kibale Guest Cottages, another luxurious lodge in a five acre 'garden' adjacent to the forest of Kibale National Park, home to over 370 bird species including Afep and White-naped Pigeons, Yellow-throated Tinkerbird, Little Greenbul, Red-tailed Bristlebill, Brown-chested Alethe, African Shrike-flycatcher, Western Black-headed Oriole and Purple-headed Starling. We can also hope to see rare primates like Grey-cheeked Mangabey and both Black-and-white and Red Colobus Monkeys. Dinner and overnight at Kibale Guest Cottages.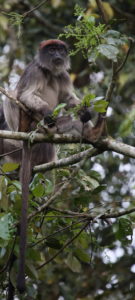 Day 12 We begin with an early start to look for the very rare Green-breasted Pitta. Although very secretive for most of the year, this is its breeding season when it can be found displaying, thanks to the expert knowledge of our local guide. Those who have chosen to visit the Chimps, will now set off into the forest on a fairly easy walk to meet up with a group of these fascinating apes, which are used to human contact. On our return, we receive our certificates and rendezvous with any members of the group who opted to spend this time birding rather than tracking the Chimps. After lunch at the aptly named Primate Lodge, we head north to Semliki Safari Lodge for a two night stay in luxurious en-suite thatched 'tents' close to the nature of Semliki Wildlfe Reserve. Dinner and overnight at Semliki Safari Lodge.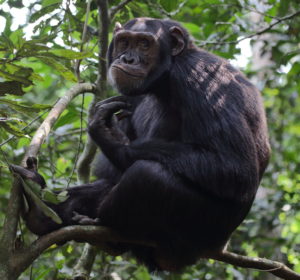 Day 13 We have a full day in the scenic Semliki National Park. Located in the Albertine Rift Valley, with steaming hot springs, this remarkable area of tropical forest is more typical of Central Africa, and is home to half of all the birds in the vast Congo region! This biodiversity hotspot is a unique part of Uganda, with a list of around 440 birds, including almost 50 species found nowhere else in East Africa! This special list includes Nkulengu Rail, Spot-breasted Ibis, Long-tailed Hawk, Red-thighed Sparrowhawk, Piping, White-crested, Red-billed Dwarf, Black Dwarf and Black-casqued Wattled Hornbills, Black-collared Lovebird, Gabon Woodpecker, Red-rumped Tinkerbird, African Piculet, White-throated Blue Swallow, Yellow-throated Nicator, Simple Greenbul, Swamp Palm Bulbul, Lowland Akalat, Northern Bearded Scrub-robin, Capuchin Babbler, Red-eyed Puffback, Fiery-breasted Bushshrike, Red-billed Helmetshrike, Black-winged Oriole, Pale-fronted Nigrita, Maxwell's Black Weaver, Crested and Red-bellied Malimbes and Grant's Bluebill. Dinner and overnight at Semliki Safari Lodge.
Day 14 We have a longer than normal drive north to Masindi, with a lunch stop en route in Hoima. Journey's end is the Masindi Hotel. Built in 1923 this is the oldest hotel in Uganda and has been used by several Presidents as well as by celebrities such as Humphrey Bogart and Katharine Hepburn during the filming of the African Queen in 1951, and by Ernest Hemingway while recuperating from two plane crashes in 1954! With plenty of memorabilia on show, the hotel oozes historic charm. Dinner and overnight at Masindi Hotel.
Day 15 We leave Masindi and visit the nearby Budongo Forest, where a tranquil flat trail through the towering Mahogany forest known as the Royal Mile, is home to a wealth of butterflies and special birds such as Sabine's and Cassin's Spinetails, Dwarf and Chocolate-backed Kingfishers, White-thighed Hornbill, Forest Robin, Grey Ground-thrush, Rufous Flycatcher-thrush, Uganda Woodland Warbler, Yellow and Grey Longbills, Lemon-bellied Crombec, Rufous-crowned Eremomela, Yellow-footed and Chestnut-capped Flycatchers, Ituri Batis, Jameson's and Chestnut Wattle-eyes, Red-bellied Paradise-flycatcher, Puvel's Illadopsis, Little Green Sunbird and Chestnut-breasted Nigrita. After another productive day we head for Paraa Safari Lodge on the banks of the Victoria Nile in nearby Murchison Falls National Park. Dinner and overnight at Paraa Safari Lodge.
Day 16 We have a full day to enjoy Murchison Falls National Park, beginning with a game drive to look for the usual big game as well as Patas Monkeys, Jackson's Hartebeest and the tiny Oribi. With a park list of 450 bird species we can also look out for new ones like African Harrier-hawk, Dark Chanting Goshawk, Black-headed Lapwing, Senegal Coucal, African Palm Swift, Blue-breasted Kingfisher, Abyssinian Roller, Abyssinian Ground-hornbill, Black-billed Barbet, Piapiac, Foxy Cisticola, Spotted Palm-thrush, Silverbird, White-crested Helmetshrike, Brown Babbler and Speckle-fronted Weaver. This afternoon we have a boat trip on the Victoria Nile where we can hope to see Hippos, Nile Crocodiles, large Water Monitors and birds like African Darter, Intermediate Egret, Goliath Heron, Wire-tailed Swallow, Rock Pratincole and both Northern Carmine and Red-throated Bee-eaters which nest in the river banks. Ten miles upstream we reach the spectacular 140 foot high Murchison Falls where the wide Victoria Nile races through a gorge just 20 feet wide, creating one of the world's most powerful waterfalls, making the trip worthwhile for this alone. Dinner and overnight at Paraa Safari Lodge.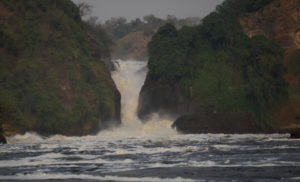 Day 17 We head south to the Ziwa Rhino Sanctuary, a 17500 acre reserve, home to 300 birds including Green Woodhoopoe, Brown-backed Woodpecker, Ashy Flycatcher and African Black-headed Oriole. The highlight here will be a walking safari in search of a healthy population of White Rhinos which can be quietly approached surprisingly easily! With luck we may find at least one mother with a calf. After lunch here we have a three hour drive to the shore of Lake Victoria near Entebbe. Dinner and overnight at Two Friends Beach Hotel.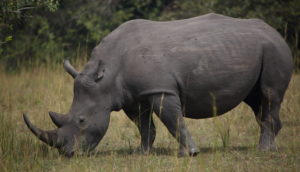 Day 18 We have a leisurely day beside the lake before checking in for a late evening flight from Entebbe to Doha, followed by an onward overnight flight to Heathrow with Qatar Airways (to be confirmed). Dinner and overnight in flight.
Day 19 We arrive at Heathrow around 1.15pm (to be confirmed).
Cost £tbc
As the Gorilla and Chimp permits are strictly limited it is advisable to book as soon as possible.
What the price includes:
Return overnight flights from Heathrow to Entebbe with Qatar Airways (to be confirmed), all transport in Uganda, sixteen nights' full board en-suite accommodation, all game drives, boat trips and reserve entry fees, mineral water while on safari, wildlife checklist, and the services of your guides.
The price does not include permits to see the Gorillas or the Chimpanzees. If you wish to take up these options, please ask for the amounts and add these amounts to your deposit.
Deposit: £tbc
Single supplement: £tbc
Additional information:
The flight time between London and Doha is about 7 hours, and the flight between Doha and Entebbe is about 5 hours 30 minutes. Both journeys involve overnight flights.
A visa is required for British citizens to visit Uganda and can be obtained on line for approximately £40.
It is advisable to be vaccinated against Hepatitis A and Yellow Fever. There is a risk of Malaria and so prophylaxis is advisable.
We shall be staying in a variety of comfortable en-suite accommodations, catering for international visitors, and often in remote wildlife rich areas.
In July in Entebbe, temperatures range from 16 – 25°C, with 2.9 inches of rain, which is roughly one third more than the amount we get in the UK in July. In Bwindi, temperatures range from 10 – 22°C, with 0.8 inches of rain.
The Chimp trek is fairly easy, while the Gorilla trek can be quite strenuous, and so it is necessary to be quite fit and well balanced. However, if you are doubtful about your fitness, but determined to see the Gorillas, it is possible to arrange to be carried along by local porters for an additional payment.
We can expect to see around 400 species of birds and around 30 mammals, with excellent photo-opportunities.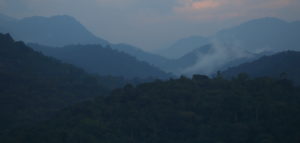 This is the view from Haven Lodge in the Buhoma region of Bwindi.
All photos were taken by myself on a private visit in January 2020. I hope you can join me next time.