This remarkable voyage offers the unique opportunity to combine three fabulous destinations for face to face encounters with some amazing wildlife, along with the added bonus of seeing a full solar eclipse from the edge of the Antarctic pack ice!
Your adventure begins in Ushuaia, the world's southernmost city, at 'the end of the world' in Tierra del Fuego, where the rugged pinnacles of the Andes plunge into the beautiful Beagle Channel. From here, you head south across the Drake Passage where the next landfall will be the dramatic west coast of the Antarctic Peninsula, followed by the South Shetland Islands and the Weddell Sea. Sailing east past the South Orkney Islands the ship will position itself amongst the drift ice, within the moon's shadow for the best possible experience of the solar eclipse. After this unforgettable spectacle you sail north to South Georgia. With a 106 mile long spine of snow-covered peaks rising to 9625 feet, this stunningly beautiful and rugged island is home to an amazing wealth of wildlife, including two endemic species of bird, plus the world's largest King Penguin rookery, the magnificent Wandering Albatross, with a world record 11.5 foot wingspan, and the world's largest seal, the Southern Elephant Seal, with staggeringly colossal 16.5 foot long bulls weighing up to 8,800 pounds! Imagine getting close to all of this and more. Next stop is the Falkland Islands, home to the endemic Falkland Steamer Duck and Cobb's Wren, plus restricted range specialities like Blackish Cinclodes and Striated Caracara, the world's largest colony of Black-browed Albatrosses and five breeding species of Penguins; Magellanic, Macaroni, Rockhopper, Gentoo and the mighty King, totalling around one million birds! As well as all these birds, literally within touching distance, you can also see a variety of whales and dolphins, plus South American Fur Seals, Southern Sea Lions and more Southern Elephant Seals.
On this voyage of discovery, you sail aboard the m/v Janssonius, a new purpose built ice-strengthened Polar Class 6 vessel, exceeding all the latest green requirements of the Polar Code. The ship has all the comforts of a hotel, with en-suite cabins, a dining room, serving excellent cuisine prepared by international chefs, plus a lecture room, large open deck viewing areas and a large observation lounge with bar and panoramic windows for unsurpassable views of the ever changing scenery. With its ice-strengthened hull, a diesel-electric propulsion system to reduce CO2 emissions, engine noise and vibration, and a highly experienced and professional crew, the Janssonius is the ideal vessel for a South Atlantic voyage, at an average cruising speed of 10.5 Knots. You could be one of no more than 170 privileged explorers, able to enjoy this extraordinary cruise, with landings by sturdy Zodiacs, to some fabulous and remote areas, which would otherwise be totally inaccessible.
This voyage operated by Oceanwide Expeditions, the world's leading polar expedition operator, is a sequel for New Horizons to fantastic Polar Bear quests to Svalbard in 2007, 2016 and 2018, and wonderful cruises to Antarctica in 2009 and to the Falkland Islands in 2018. Given these unforgettable experiences, I cannot emphasise enough just how great these trips are, thanks to the professionalism of Oceanwide Expeditions.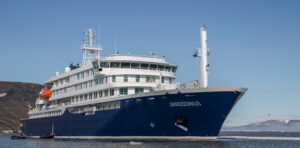 Day 1 This afternoon you embark from the port of Ushuaia, between 4 and 5pm, and spend the evening sailing along the Beagle Channel. Along this scenic waterway, reminiscent of a Norwegian fjord, you can look out for Imperial and Rock Shags, Magellanic Penguins, Chilean Skuas, Kelp Geese, Flightless Steamer Ducks and Dolphin and Kelp Gulls, plus Fur Seals and South American Sea Lions. With such a great introduction to Antarctic cruising, you won't want to go to bed!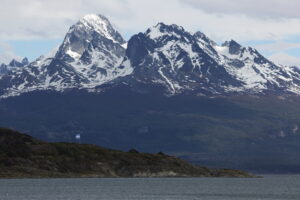 Days 2 & 3 During these two days you sail across the Drake Passage, which separates the tip of South America from Antarctica. Once across the Antarctic Convergence, where the cold southern Polar Ocean meets the warmer water of the south Atlantic, you arrive in the circum-Antarctic upwelling zone, which creates a rich feeding area for whales, dolphins and numerous seabirds, which seem to enjoy following the ship, while gliding effortlessly, to give fabulously close and photogenic views. During this part of the voyage, the ship will be accompanied by up to six species of Albatross; Wandering, Grey-headed, Black-browed and Light-mantled Sooty, plus Northern and Southern Royals, while other 'followers' should include Southern and Northern Giant Petrels, Blue and Antarctic Petrels, Cape Pigeons, Southern Fulmars and Black-bellied and Wilson's Storm Petrels.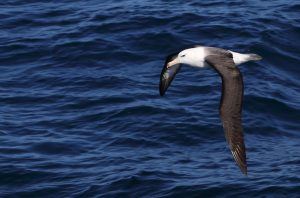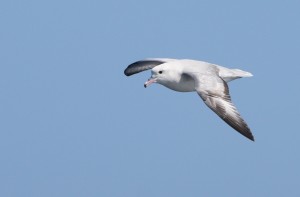 Days 4 – 7 Sailing along the spectacular coast of the Antarctic Peninsula there will be several opportunities for great landings on the Antarctic continent, surrounded by an epic landscape of snow-clad peaks and mammoth glaciers calving at sea level. Gentoo Penguins, Leopard and Weddell Seals and Humpback and Minke Whales are all often seen here.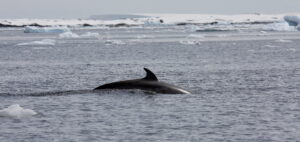 The volcanic South Shetlands Islands are home to a variety of flora and fauna including Gentoo and chinstrap Penguins and fearsome Southern Giant Petrels. On Deception Island, the ship passes through Neptune's Bellows and into the flooded caldera where one can find hot springs, an abandoned whaling station and thousands of Cape Petrels along with Kelp Gulls, Brown and South Polar Skuas and Antarctic Terns. If the ice conditions permit, you sail into the Weddell Sea on the eastern side of the Antarctic Peninsula where the colossal tabular icebergs can look intensely blue in the clear Antarctic light. Here you may visit Paulet Island, a volcanic cone with half a million pairs of Adelie Penguins! You are sure to enjoy the experience of mixing with this noisy raucous braying mass of compulsive pebble stealers.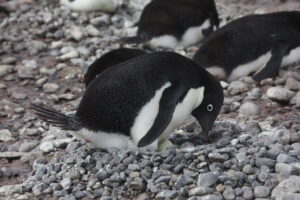 Days 8 & 9 Giant icebergs and a good chance of Fin Whale sightings enliven this segment of the voyage which is also the best place to spot Antarctic Petrels. Depending on ice and weather conditions, the aim is to venture into the pack ice to find the best possible position for viewing the forthcoming solar eclipse.
Day 10 This is the 'big day' when the ship positions itself in the centre of the moon's shadow, and if possible, some distance into the Scotia Sea drift ice, for an unforgettable experience as the moon passes across the sun, darkening the otherwise perpetually light Antarctic summer sky! The ice edge will be at about 60°S, 41°W, and some coordinates for the path of the eclipse are as follows;
7.06 UTC: 58.47.7 S – 42.45.2 W, 1.39 minutes, 8° above the horizon
7.08 UTC: 60.42.4 S – 40.59.8 W, 1.42 minutes, 9° above the horizon
7.10 UTC: 62.22.3 S – 39.48.0 W, 1.44 minutes, 11° above the horizon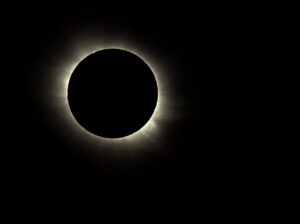 Day 11 Sailing north toward South Georgia, there may be sea ice along the way, while South Polar Skuas and pure white Snow Petrels could be among the many seabirds trailing the vessel.
Days 12 – 14 You get your first sight of the breathtaking beauty of South Georgia, which will always be in view during these exciting days, as you follow the dramatic and rugged east coast of the island, with several landings along the way, while Cooper Bay is a superbly scenic place for cruising in the Zodiacs, alongside a large rookery of Macaroni Penguins, with numerous Fur and Elephant Seals on the beach, while also watching Light-mantled Albatrosses glide gracefully by. On land the expedition will explore the beaches of Gold Harbour, Salisbury Plain and St. Andrew's Bay, which has the largest King Penguin colony in the world! In addition to the many thousands of King Penguins, which will have chicks of all ages, including cuddly fluffy brown 'adolescents', these sites allow great opportunities to see a variety of stunning landscapes and some spectacular wildlife, including duels between the awesome bull Elephant Seals, which are more numerous on these beaches than anywhere else on earth! One can also expect close encounters with Chinstrap, Gentoo, Macaroni, Rockhopper and Adelie Penguins, while other breeding birds include Grey-headed and Black-browed Albatrosses, Southern and Northern Giant Petrels, Cape, Snow and White-chinned Petrels, Antarctic Prion, Wilson's and Black-bellied Storm Petrels, Common and South Georgia Diving Petrels, Yellow-billed Pintail, Snowy Sheathbill and the endemic South Georgia Shag and South Georgia Pipit. At the abandoned whaling village of Grytviken, where King Penguins now walk the streets, and Elephant Seals lollop around as if they own the place, you may visit the South Georgia museum, with its thankfully long gone whaling history, as well as the grave of Sir Ernest Shackleton, the famous Antarctic explorer who died in 1922. In Fortuna Bay, one may even see the introduced Reindeer on the same beach as the penguins and seals! Imagine all the fantastic photo-opportunities and memories with this lot!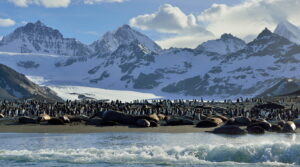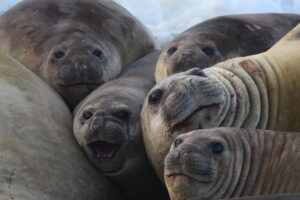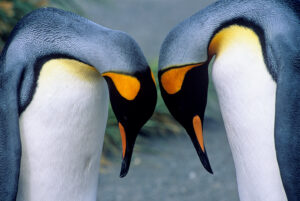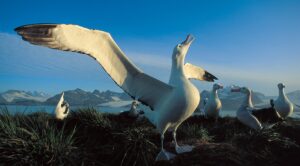 Days 15 & 16 Sailing north for the Falkland Islands, a multitude of seabirds will glide by close to the ship, including several species of albatrosses, shearwaters, petrels, prions and skuas.
Day 17 You land at Port Stanley, a charming Victorian era small town of around 2,100 people, with 'English' pubs and colourful houses with well tended gardens.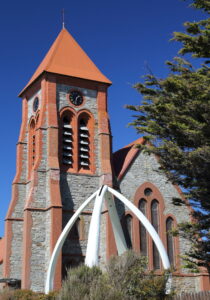 One can also see several century old clipper ships and memorials to the 1982 Falklands War, while the small but interesting museum, covering the early days of settlement up to the Falklands War, is well worth a visit. One can also check out the local birdlife such as Southern Crested Caracara, Brown-hooded Gull, White-crested Elaenia, Long-tailed Meadowlark, Austral Thrush, Black-throated Finch, Black-chinned Siskin and the endemic Falkland Steamer Duck.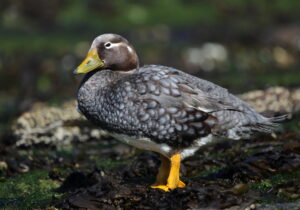 Day 18 You sail along the north coast of East and West Falkland with landings along the way to enjoy the abundant and approachable wildlife, including specialities such as Striated Caracara, Blackish Cinclodes and the endemic Cobb's Wren, plus Upland and Ruddy-headed Geese, Blackish and Magellanic Oystercatchers, Surfbird, Two-banded Plover, White-rumped and Baird's Sandpipers and Dark-faced Ground Tyrant.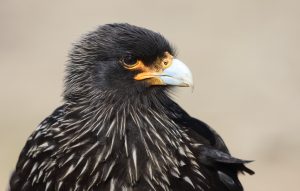 Besides the various species of birds which live here, there should also be great chances to see lively Peale's and Commerson's Dolphins in the coastal waters.
Day 19 Sailing back towards the mainland the ship will once again be shadowed by an exciting variety of seabirds such as storm petrels, shearwaters and diving petrels, with plenty more Black-browed Albatrosses as it rounds Cape Horn at the southernmost tip of South America.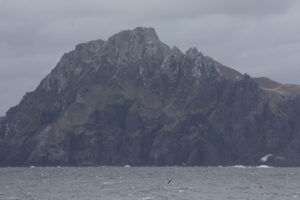 Day 20 After a final breakfast on board it's time to say farewell to newfound friends among the passengers and crew, and transfer at around 9am to Ushuaia airport.
Cost £12920 This is excellent value compared to other wildlife tour providers.
What the price includes:
Nineteen night cruise, including all meals, snacks, tea and coffee, in a twin porthole cabin with private facilities, all shore excursions and activities by Zodiac, lectures and leadership by the expedition staff, use of rubber boots and snowshoes, luggage transfer from the pickup point in Ushuaia to the vessel on day one, group transfer from the vessel to Ushuaia airport on day twenty, all miscellaneous service taxes and port charges, comprehensive pre-departure material and wildlife checklist.
Deposit: £2350
Single supplement: £8990
Additional information:
It is advisable to arrive in Ushuaia one day before the voyage departs.
On the Antarctic Peninsula in December, temperatures range from -2 – +4°C. There is a 53% chance of rain or snow each day, with a monthly total of 2.3 inches in December, which is about the same as we get in the UK in this month. In South Georgia in December, temperatures range from 0 – 7°C. There is a 35% chance of rain each day, with a monthly total of 3.3 inches in December, which is slightly more than we get in the UK in this month. In the Falklands in December, temperatures range from 4 – 15°C. There is a 48% chance of rain each day, with a monthly total of 2.9 inches in December, which is slightly more than we get in the UK in this month.
The published cruise itinerary is provisional and may vary at the discretion of the Captain or Expedition Leader, according to the weather and local circumstances, or to take advantage of opportunities to see wildlife. Landings from the sturdy Zodiacs are supervised by highly skilled Oceanwide Expeditions crews and are not difficult. Passengers range in age from 30 to 90, with the majority being 45 to 65, and the cruise is not very physically demanding. The ship has an infirmary and a doctor for dealing with minor illnesses, but you will be travelling in a remote area without access to sophisticated medical facilities, and so it is essential to have travel insurance to cover your evacuation in the event of an emergency.
As spaces are limited and highly sought after, I recommend booking as early as possible in order to secure your place. If you are making a single booking and wish to share, please let me know as soon as possible and I will contact you as soon as I have someone willing to share, or alternatively you could share a larger cabin with other same sex passengers, in which case the tour price may be reduced accordingly.