We sail from Puerto Madryn on the coast of Patagonia to the Falkland Islands and onward to South Georgia for an unsurpassable wilderness and wildlife experience. The Falklands are home to the endemic Falkland Steamer-Duck and Cobb's Wren, and restricted range specialities like Blackish Cinclodes and Striated Caracara, plus the world's largest colony of Black-browed Albatross and five breeding species of Penguins; Magellanic, Macaroni, Rockhopper, Gentoo and the mighty King, totalling around one million birds! As well as all these birds, literally within touching distance, we can also see South American Sea Lions and a variety of whales and dolphins. With a 106 mile long spine of snow covered peaks rising to 9625 feet, the stunningly beautiful and rugged island of South Georgia is home to an amazing wealth of wildlife, including two endemic species of bird, the South Georgia Shag and South Georgia Pipit, plus the magnificent Wandering Albatross, with an amazing 11.5 foot wingspan, huge King Penguin rookeries and some of the world's largest colonies of the awesome Southern Elephant Seal, the world's largest seal, with staggeringly colossal 20 foot long bulls weighing up to 8,800 pounds! It is said that at the height of the breeding season there is more wildlife per square foot in South Georgia than anywhere else on earth! This natural wealth includes 7 million penguins, 2 million Antarctic Fur Seals, 250,000 albatrosses and half of the world's Elephant Seals! South Georgia is also the world's most important breeding site for birds like Grey-headed Albatross (80,000 pairs, representing 50% of the world population), White-chinned Petrel (2 million pairs), Macaroni Penguin (2.7 million pairs), Common Diving-Petrel (3.8 million pairs) and Antarctic Prion (22 million pairs!). No wonder South Georgia is therefore ranked number 34 in the top 100 birding sites of the world! Imagine getting close to all of this and more, while the journey is worth it solely for the spectacle of seeing the titanic bull Elephant Seals duelling on the beaches. With so much to see here, this expedition spends longer than most around the spectacular coasts of South Georgia.


On this voyage of discovery, we sail aboard the m/v Janssonius. Built in 2021 to comply with the International Maritime Organization's mandatory Polar Code for safe and environmentally sound operation in polar regions, this Polar Class 6 vessel is one of the most structurally fortified and technologically advanced ships afloat. The ship is fitted out with the latest technologies including a stabilized ice-strengthened hull, LED lighting, steam heating, biodegradable paints and lubricants and fuel efficient low carbon emission engines. With comfortable en-suite cabins, a large observation lounge and bar for a panoramic view of the changing scenery, a dining room serving excellent cuisine prepared by international chefs and a highly experienced and professional nautical crew, expedition staff, hotel staff and a doctor, this is the ideal vessel for a South Atlantic voyage. You could be one of no more than 170 privileged explorers, able to enjoy this extraordinary cruise, with landings by sturdy Zodiacs, to some fabulous and remote areas, which would otherwise be totally inaccessible.
This voyage operated by Oceanwide Expeditions, the world's leading polar expedition operator, is our sequel to fantastic Polar Bear quests to Svalbard in 2007, 2016 and 2018, a wonderful cruise to Antarctica in 2009 and another great cruise to The Falklands in 2018. Given these five unforgettable experiences, I cannot emphasise enough just how good these trips are, thanks to the professionalism of Oceanwide Expeditions.
With so much fabulous scenery and wildlife to see, even non-birding partners will love this trip.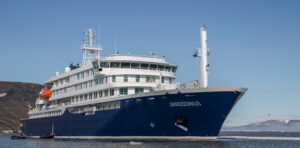 Day 1 This afternoon we embark from Puerto Madryn on course for the Falkland Islands and as we sail out of Puerto Madryn we may well see Southern Right Whales in Golfo Nuevo and at any time on this South Atlantic adventure, there is always the possibility of sighting other whales such as Blues, Fins, Humpbacks, Minkes, Long-finned Pilots and Orcas.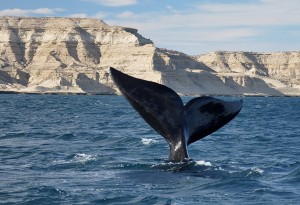 Days 2 – 3 Sailing southeast into the south Atlantic, the vessel will be shadowed by an interesting variety of shearwaters, storm-petrels, diving-petrels and albatrosses.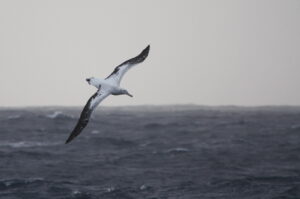 Days 4 & 5 Our first sight of land will be the offshore island of Steeple Jason, the wild and remote home of South American Sea Lions and the world's largest colony of Black-browed Albatrosses, a staggering sight with over 110000 nesting birds! Garrulous Rockhopper Penguins also nest amid the organised bedlam, overseen by swaggering Striated Caracaras, watching like hawks while waiting to pounce on any opportunity for a free meal. Offshore we have a good chance to see Peale's and piebald Commerson's Dolphins, while nearby Carcass Island is home to abundant birdlife including Magellanic and Gentoo Penguins, Kelp, Upland and Ruddy-headed Geese, Falkland Steamer-Duck, Crested Duck, Austral Thrush, Long-tailed Meadowlark, Blackish Cinclodes, Cobb's and Sedge Wrens, Black-chinned Siskin and a variety of waders like Blackish and Magellanic Oystercatchers, Surfbird, Greater and Lesser Yellowlegs and White-rumped and Baird's Sandpipers.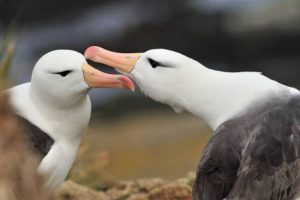 Days 6 & 7 On the voyage east to South Georgia, we cross the Antarctic Convergence and enter Antarctic waters, where the sea temperature drops by as much as 10 degrees Centigrade in just a few hours. Near the convergence an upwelling of nutrient rich water attracts a multitude of southern seabirds which shadow the ship, including various species of albatross, shearwater, skua, petrel and prion.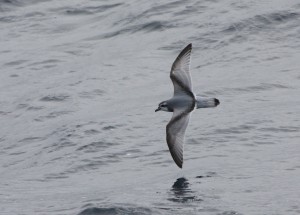 Days 8 – 14 We get our first sighting of the breathtaking beauty of South Georgia, which will always be in view over the next few exciting days, as we circumnavigate the island, with numerous landings by Zodiac along the way. First stop is probably Prion Island where we may witness the courtship display of Wandering Albatrosses upon meeting their partners after 18 months at sea! Meanwhile, the huge chicks from the previous season are almost ready to fledge. Nearby King Haakon Bay offers the chance to see Antarctic Fur Seals and marvel at the massive bull Elephant Seals as they fight for breeding rights with the females which are busy giving birth. The bird life here includes Antarctic Prions, Blue Petrels, Common Diving-Petrels, the bizarre Snowy Sheathbill and the South Georgia Pipit, while nearby Salisbury Plain, has the world's second largest King Penguin colony, numbering around 250,000 birds! Amid the clamour will be chicks of all ages including cuddly fluffy brown juveniles. Following the west coast of the island to the southern tip we reach the spectacular Drygalski Fjord, enclosed by 6,500 foot snow-clad peaks, and a superbly scenic place for cruising in the Zodiacs. Sailing north along the east coast we next reach Cooper Bay with a large colony of Chinstrap Penguins as well as Gentoos and Macaronis, plus White-chinned Petrels, blue-eyed South Georgia Shags and Antarctic Terns. Next stop is Gold Harbour with more Elephant Seals and another huge King Penguin colony, followed by Royal Bay for a stunning Zodiac ride beside the majestic Ross Glacier and a mere 30,000 pairs of King Penguins! A little further north is Saint Andrew's Bay, another of the world's largest colonies of Elephant Seals and home to around 150,000 King Penguins! Moving on we reach Cobbler's Cove where breeding birds include Macaroni Penguins, Light Mantled Sooty Albatrosses and Northern Giant Petrels. At the nearby abandoned whaling station of Grytviken, King Penguins now walk the streets and Elephant Seals lollop around as if they own the place! This is now the site a Whaling History Museum as well as the grave of Sir Ernest Shackleton, the famous Antarctic explorer who died here in 1921, while nearby Husvik offers the chance to see Gentoo Penguins, Antarctic Prions and South Georgia Diving-Petrels. Fortuna Bay is yet another beautiful site, teeming with wildlife including Brown Skuas and Antarctic Terns, where we may even see introduced Reindeer on the same beach as the penguins and seals!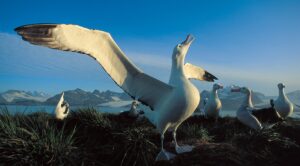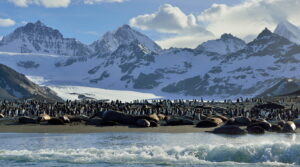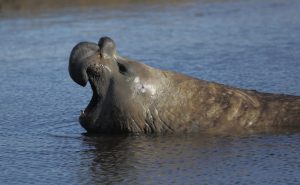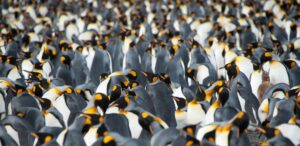 Days 15 – 19 We are now westward bound for Tierra del Fuego at the southern tip of South America. With the possibility of sea ice along the way, our route across the Drake Passage which separates South America from Antarctica will be shadowed by a rich variety of seabirds including South Polar Skuas, immaculate white Snow Petrels and impressive Southern Giant Petrels.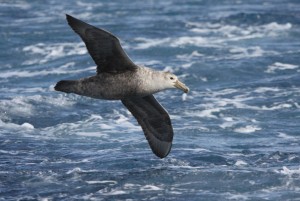 Day 20 Passing Cape Horn, our voyage ends in Ushuaia at 'the end of the world' in Tierra del Fuego, where the rugged pinnacles of the Andes plunge into the beautiful Beagle Channel.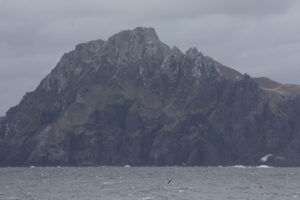 Cost £9585 This is about 10% less than booking direct with Oceanwide Expeditions.
Single supplement; £6725
Deposit; £2585
What the price includes:
Nineteen night full board cruise to The Falklands and South Georgia in a twin porthole cabin with private facilities, the services of your guides during the cruise and wildlife checklist.
Although flights are not included, they could be booked on your behalf if required.
Additional information:
A visa is not required for British citizens to visit Argentina (the start and end points of the cruise).
In the Falklands in October, temperatures range from 2 to 9°C, with an average of 6°C. There is a 58% chance of rain each day in October, with a monthly average of 1.3 inches, which is less than we get in the UK in this month. In South Georgia in October, temperatures range from -2 to +2°C, with an average of 0°C. There is a 71% chance of rain (or even snow) each day in October, with a monthly average of 3.8 inches, which is more than we get in the UK in this month.
The published cruise itinerary is provisional and may vary at the discretion of the Captain or Expedition Leader, according to the weather and local circumstances, or to take advantage of opportunities to see wildlife. Landings from the sturdy Zodiacs are supervised by highly skilled Oceanwide Expeditions crews and are not difficult. Although there will be up to 170 passengers on board the cruise ship, our group will be a small contingent. As spaces are limited and highly sought after, it is advisable to book as early as possible in order to secure your place(s). If you are making a single booking and wish to share, please let me know as soon as possible and I will contact you as soon as I have someone willing to share.
Passengers range in age from 30 to 90, with the majority being 45 to 65, and the cruise is not very physically demanding. The ship has an infirmary and a doctor for dealing with minor illnesses, but you will be travelling in a remote area without access to sophisticated medical facilities, and so it is essential to have travel insurance to cover your evacuation in the event of an emergency.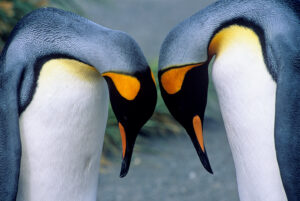 A different cancellation policy applies to this trip as follows;
Any cancellation must be notified in writing and will take effect from the day that it is received. The following set of charges will normally be levied:
Up to 90 days before departure – 20% of tour price
60 – 89 days before departure – 50% of tour price
1 – 59 days before departure – 100% of tour price