This fabulous cruise embarks from Tromsø, the 'Paris of the North', on 14th January, in time to witness the 'polar dawn' on 15th January, when the sun rises at this latitude for the first time since 27th November! During the cruise we can experience the polar twilight between 9am and 2pm, followed by unpolluted dark skies, making northern Norway one of the best places to witness the magical Aurora Borealis. These spectacular 'Northern Lights' occur on clear nights as solar winds collide with the earth's magnetosphere, creating shimmering, glowing bursts of colour ranging from red, through green to blue and violet, according to the altitude at which the solar particles collide with the Earth's atmosphere. This amazing natural phenomenon should be on everyone's bucket list and yet there will be plenty more highlights besides. In winter huge shoals of Herring congregate in the sheltered waters of the beautiful Norwegian fjords, attracting large numbers of whales. As well as close encounters with Orcas and Humpbacks which follow the Herrings, we can also hope to see awesome Sperm Whales, between their deep dives in search of Giant Squid. Amid the breathtaking scenery we can also hope to see a few exciting 'northern' birds such as White-billed Diver, King Eider, Velvet Scoter, Long-tailed Duck, Ptarmigan, White-tailed Eagle, Gyr Falcon, Purple Sandpiper and Glaucous Gull.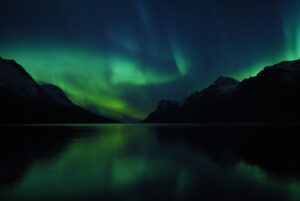 On this voyage of discovery, we sail aboard the s/v Rembrandt van Rijn. The vessel was originally built in 1947 as a Herring lugger, and refurbished as a three mast passenger schooner in 2011. With comfortable en-suite cabins, a dining room serving excellent buffet meals prepared by an international chef, open deck viewing areas for spotting the whales amid the changing scenery, and a highly experienced and professional nine man nautical crew and two expedition guides, this is the ideal vessel for our 'whale safari'. You could be one of no more than thirty-two privileged explorers, able to enjoy this extraordinary cruise to some fabulous and remote areas to experience the beautiful landscapes and the magic of the Northern Lights.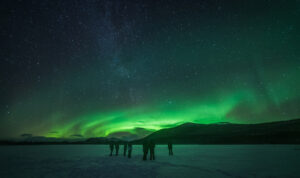 This voyage operated by Oceanwide Expeditions, the world's leading polar expedition operator, is our sequel to fantastic Polar Bear quests to Svalbard in 2007, 2016 and 2018, a wonderful cruise to Antarctica in 2009 and another great cruise to The Falklands in 2018. Given these five unforgettable experiences, I cannot emphasise enough just how good these trips are, thanks to the professionalism of Oceanwide Expeditions.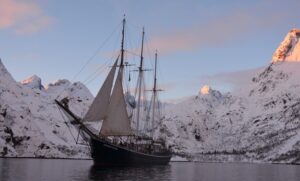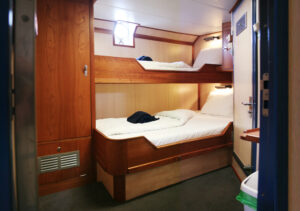 Day 1 We depart Heathrow on an SAS flight to Tromsø, via Oslo and transfer to the port to board the vessel and set sail around 8pm. The route taken switches in mid January from a north route to a south route and so the actual route taken by this cruise will be decided by the Expedition Leader, according to weather conditions and previous wildlife sightings.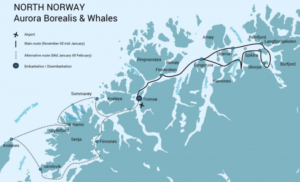 Days 2 – 6 Depending on our chosen route, we will either sail north via the fjords as far as Kvaenangen to the east, or south to circumnavigate the island of Senja as far as Andfjorden to the west. Along either route we shall be on the lookout for the numerous whales that live here and shall also visit remote bays and fishing villages, with plenty of possibilities for hiking (snow shoes will be provided if needed) and for viewing the Northern Lights (clear skies permitting).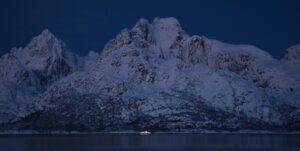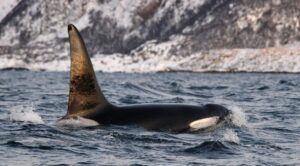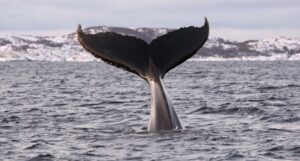 Day 7 We arrive back in Tromsø around midday, with free time to explore the town's attractions or to stay on board and watch the night sky perform its magic show.
Day 8 After a final breakfast on board, we disembark by 9am and transfer to the airport to check in for the return flight home via Oslo. We arrive at Heathrow this afternoon, with plenty of unforgettable experiences amid the magnificent scenery of northern Norway.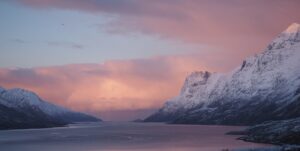 Cost £2295  Please ask about cabin availability.
Single supplement; £1075
Deposit; £900
What the price includes:
Return flights from Heathrow to Tromsø via Oslo with SAS, all transfers in Tromsø, seven night full board cruise in a twin inside cabin with private facilities, the services of your guides during the cruise and wildlife checklist.
Additional information:
In Tromsø in January, temperatures range from -5.6 to -1.3°C, with an average of -3.5°C. There is a 50% chance of snow each day, with a monthly average of 4.4 inches, which is roughly double the amount of precipitation that we get in the UK in this month.
The published cruise itinerary is provisional and may vary at the discretion of the Expedition Leader, according to the weather and local circumstances, or to take advantage of opportunities to see wildlife. Passengers range in age from 30 to 90, with the majority being 45 to 65, and the cruise is not very physically demanding as long as you can walk a few hours each day, although you are welcome to stay on board the ship if you prefer.
It may be necessary to obtain a certificate of a negative COVID-19 rapid antigen test, carried out by a recognised test centre, taken within 24 hours of boarding, although this may not be the case by January 2023.
As spaces are limited and highly sought after, it is advisable to book as early as possible in order to secure your place(s). If you are making a single booking and wish to share, please let me know as soon as possible and I will contact you as soon as I have someone willing to share.