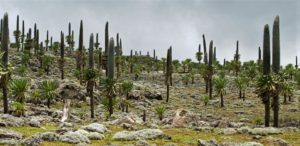 Giant Lobelias in the Bale Mountains
Ethiopia is a land of superlatives with many unique attributes. The central highlands, rising to over 15000 feet, dissected by the Great Rift Valley, and surrounded by semi-desert steppes, have a spectacular wild scenery which is unparalleled in Africa, and the remarkable altitudinal range has created an equally unrivalled ecological diversity within Africa, from desert to tropical forest and Afromontane moorland, with statuesque Giant Lobelias and the highest road in Africa! The topographical isolation of these habitats has resulted in the evolution of 31 endemic mammals including the Walia Ibex, the Ethiopian Wolf and the spectacular thickly-furred Gelada Baboon. Amongst over 900 birds on the Ethiopian list are 34 regional endemics, such as Harwood's Francolin, Yellow-fronted Parrot, Red-billed Pytilia and the exotic Ruspoli's Turaco. The 'jewel in the crown' of these wild riches is the Bale Mountains. At over 9000 feet, these 'islands in the sky' are home to 14 endemic birds including Blue-winged Goose, Spot-breasted Lapwing, Abyssinian Longclaw, Abyssinian Catbird and Black-headed Siskin, earning the accolade of number 21 in the top 100 birding sites of the world! In case this is not enough, our visit coincides with an influx of Palaearctic migrants including Imperial, Steppe and Spotted Eagles.
This exciting tour, perfected over several years by my friends from Ecotours Wildlife Holidays, who will be with us throughout the trip, offers the chance to discover the many highlights of this truly spectacular and fascinating country.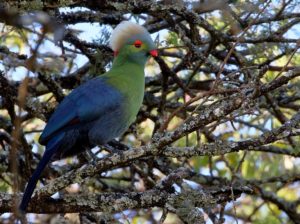 Ruspoli's Turaco
Day 1 We have a direct evening flight from Heathrow to Addis Ababa, with Ethiopian Airlines (to be confirmed). Dinner and overnight in flight.
Day 2 On arrival in Addis this morning, we will be met by our local guide and have breakfast before heading north through the highland grasslands of the Sululta Plain where we might see Black-winged Lapwing and Augur Buzzard as well as endemics like Blue-winged Goose, White-collared Pigeon, Erlanger's Lark, Abyssinian Longclaw, Black-headed Siskin and the impressive Thick-Billed Raven, while also searching for the rare Red-chested Swallow and Banded Martin.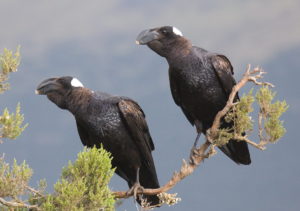 Thick-billed Ravens
After lunch in a small town en route we reach the impressive Jemmu Gorge, about 68 miles north of the capital. The road towards the monastery and the surrounding forest here are good places to see a number of montane species such as Black-winged Lovebird, White-cheeked Turaco, Banded Barbet, Brown Woodland Warbler, White-backed Black-tit, Montane White-eye, Tacazze Sunbird, Brown Parisoma, White-rumped Babbler and Abyssinian Oriole, as well as endemics like Abyssinian Slaty Flycatcher and Brown-rumped Seedeater. Dinner and overnight at the nearby Girum Hotel.
Day 3 We return to the Jemmu Gorge and scan the cliffs and boulders for Erckel's Francolin and White-billed Starling as well as the endemic Rüppell's Black Chat and White-winged Cliff Chat. This is also a good vantage point for Nyanza Swift and soaring raptors such as Lammergeier, Rüppell's Vulture and Verreaux's Eagle, and we might also see a troop of endemic Gelada Baboons.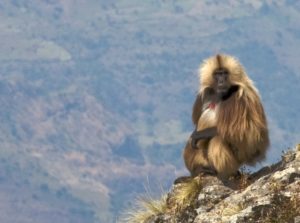 Gelada Baboon
After lunch here we return across the Sululta Plain for an overnight stay at the Dreamland Hotel in Debre Zeyt, to the south of Addis.
Day 4 Heading south along the Rift Valley, shallow Chelekleka Lake is a good place to find African Pygmy Goose, Hottentot and Red-billed Teal and White-backed Duck, along with plenty of other waterbirds.
After lunch we visit Koka Dam on the Awash River. Herons, including the awesome Goliath, are common here and Spur-winged Goose, Black-crowned Crane, African Jacana and African Fish Eagle are often seen, while Rattling Cisticolas and White-browed Sparrow-weavers breed alongside the river.
Our next stop is on the shore of Lake Ziway where impressive numbers of waterbirds congregate, such as Yellow-billed and Marabou Storks, Hammerkop, Black Heron, White Pelican and a selection of Ibises and Egrets, as well as wintering Pallas's and Heuglin's Gulls, while Lesser Jacana is also possible. Journey's end is the Hara Langano Eco Lodge, with private verandas on the shore of Lake Langano, for two nights.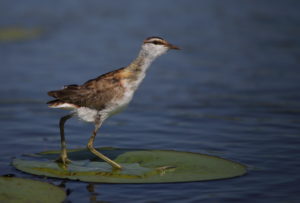 Lesser Jacana
Day 5 This morning we visit Bishangari Forest on the south eastern shore of the lake, where the Acacia woodland might produce Western Banded Snake-Eagle, Bare-faced Go-away-bird and Red-throated Wryneck among others. The forest is also home to a number of endemics and special birds including Scaly Francolin, Lemon Dove, Silvery-cheeked Hornbill, Yellow-fronted Parrot and Abyssinian Woodpecker. Noisy groups of Grey-backed Fiscal Shrikes inhabit the more open areas, and Guereza Colobus Monkeys can be found in the tall fig trees.
This afternoon we explore the dry Thornbush looking for Red-fronted and Red-billed Barbets, Little Weaver and Little Rock Thrush. A walk in the woodland here might produce Clapperton's Francolin, Black-billed Woodhoopoe, Bearded Woodpecker, Von der Decken's Hornbill, Boran Cisticola, Buff-bellied Warbler, Mouse-coloured Penduline Tit, White-winged Black-tit, Grey-headed Batis and Rüppell's Weaver, while the rocky escarpment above the lakeshore holds Blue-breasted Bee-eater, Mocking Cliff Chat, Fan-tailed Raven and Ethiopian Rock Hyrax. In the evening, the area can also be good for Freckled and Slender-tailed Nightjars and Verreaux's and Greyish Eagle Owls. Dinner and overnight at Hara Langano Eco Lodge.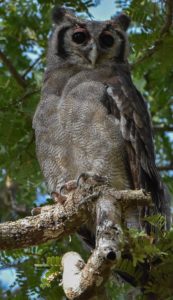 Verreaux's Eagle Owl
Day 6 This morning we drive to Abiyata-Shalla National Park to visit Abiyata Lake, where in good years, thousands of Lesser and Greater Flamingos congregate along the shores, while Common Crane, Kittlitz's and Caspian Plovers, the awesome Abyssinian Ground Hornbill and a variety of ducks and waders are among other species to be seen here.
Next we set off to the fabulous Bale Mountains, one of Africa's most spectacular regions. Our gradual ascent takes us through montane grassland and then Juniper woodland, before reaching the high Afro-alpine moorland of the Bale Mountains themselves, with several roadside stops along the way, as the birding is so great virtually all along the route. Common birds include Red-breasted Wheatear, Groundscraper Thrush, Yellow Bishop and the dark Ethiopian subspecies of African Stonechat. As we gain height highland species start to appear along the road and we can expect to see Moorland Chat, the splendid Rouget's Rail and the unusually tame Chestnut-naped Francolin. There is also a stake out for Cape Eagle Owl on the way.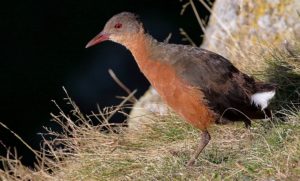 Rouget's Rail
At Dinsho we stop at the national park headquarters to spend some time exploring the area, which has the main concentration of the endemic Mountain Nyala, and we might also see the endemic Menelik's Bushbuck. With the help of a local ranger we can also look for roosting Abyssinian Owl and African Wood Owl. Journey's end is Goba for a two night stay at the Wabe Shebelle Hotel.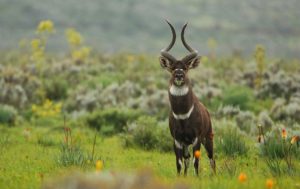 Mountain Nyala
Day 7 We spend a full day in the Bale Mountains National Park, which was established to protect two of the endemic mammals, the Mountain Nyala and the rare Ethiopian Wolf. Here, on an island of tundra in the tropics, a fascinating range of unique flora and fauna exists, with many endemic species. Lobelias, Groundsels and Hypericums have evolved into 'trees', often festooned with epiphytes.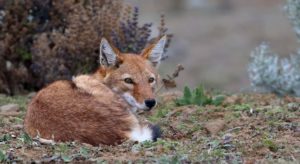 Ethiopian Wolf
Leaving Goba we soon reach nice stands of Juniper-Hagenia forest which are home to several endemic birds including Abyssinian Catbird, plus Abyssinian Ground Thrush. Further on, stands of Hypericum trees host the endemic griseiventris race of Brown Parisoma, while Moorland Francolin and Cinnamon Bracken Warbler frequent dense shrubbery, and Ethiopian Cisticola occurs in the more open areas.
As we reach the Sanetti Plateau, via the highest all weather road in Africa at over 11700 feet, the alpine moorland is covered with stands of Giant Lobelia which grow up to 17 feet tall! We should be able to see the rare Wattled Crane and the magnificent Spot-breasted Lapwing here plus Yellow-billed Duck and African Snipe. The only tropical populations of Ruddy Shelduck, Golden Eagle and Red-billed Chough complete the growing bird list here. We also hope to see the impressive Ethiopian Wolf, which is the rarest wolf in the world, with an estimated population of just 400 – 500 specimens! We should also see its prey, the endemic Giant Root Rat and endemic Starck's Hare.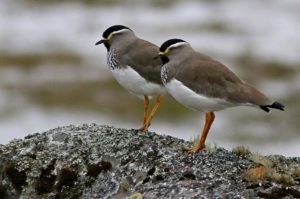 Spot-breasted Lapwings
After crossing the plateau we arrive at the Harenna Escarpment, with an astonishing view across the forest more than 5000 feet below us! The Harenna Forest is considered to be the second largest forest in East Africa and is one of the least explored areas of the country. We descend the escarpment into the forest looking for Mountain Buzzard, African Cuckoo Hawk, African Hill Babbler, Grey Cuckooshrike and flocks of Seedeaters including Abyssinian Crimsonwing and Green-backed Twinspot. At the end of an extraordinary day we return to Goba across the Sanetti Plateau. Dinner and overnight at Wabe Shebelle Hotel.
Day 8 Moving on across the Sanetti Plateau and through Harenna Forest, Scaly Francolin might cross the dirt track in the forest, while raptors overhead may include Crowned Eagle and African Goshawk.
Leaving the forest we reach progressively drier thorn savanna in the remote southern section of Ethiopia, where the birdlife is strikingly different. Flocks of Superb Starlings include the rarer Shelley's Starling and the gorgeous Golden-breasted Starling. Other common roadside birds here include Bateleur Eagle, Red-and-yellow Barbet, Lilac-breasted Roller and Striped Kingfisher. Finally, we reach a dry wadi on the Genale River, home to Ethiopia's most sought after endemic, the exquisite Ruspoli's Turaco. After hopefully excellent views of this stunning bird, we arrive in Negele for a two night stay at the simple Turaco Hotel.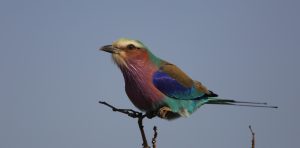 Lilac-breasted Roller
Day 9 To the east of Negele lie the Liben Plains, home to the endemic Liben Lark and so we will begin our day by walking in the plains in search of this special bird, which we hope to see performing its parachute display flight. We should also find the more common but range-restricted Somali Short-toed Lark, as well as Crowned Lapwing, Kori Bustard, Pectoral-patch Cisticola and Plain-backed Pipit.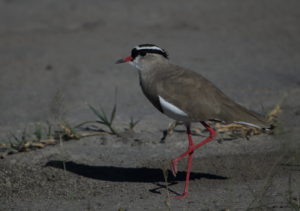 Crowned Lapwing
The surrounding dry woodland and thorn savanna support many dry country species such as Hartlaub's Bustard, Somali and Temminck's Coursers, Gillett's Lark, Dodson's Bulbul, Spotted Palm-thrush, Tiny and Ashy Cisticolas, Grey-headed Bush-shrike, Slate-coloured Boubou, Three-streaked Tchagra, Northern White-crowned Shrike, White-crowned and Magpie Starlings, Dwarf Raven, Salvadori's Serin, Grey-capped Social Weaver and Shelley's Rufous Sparrow. Dinner and overnight at Turaco Hotel.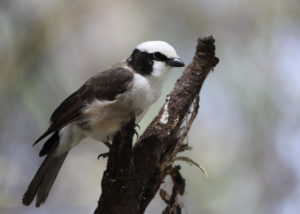 Northern White-crowned Shrike
Day 10 We leave Negele and cross the dry country to the Dawa River to search for the range restricted African White-winged Dove, Black-bellied Sunbird and Juba Weaver.
Next we head for Yabello, not far from the Kenyan border, where the Yabello Wildlife Sanctuary is home to flocks of the unique and extremely localised Stresemann's Bush-crow, only discovered in 1938! We can also hope to see the rare and endemic White-tailed Swallow here, as well many other dry country species such as Pygmy Falcon, Crested and Yellow-necked Francolins, Vulturine Guineafowl, Red-bellied Parrot, Eastern Yellow-billed Hornbill, Black-throated and d'Arnaud's Barbets, Northern Brownbul, African Bare-eyed Thrush, Buff-bellied Warbler, Banded Parisoma, Somali Crombec, Pygmy Batis, Pringle's Puffback, White Helmetshrike, Parrot-billed Sparrow, Black-capped Social Weaver, Purple Grenadier and Somali Bunting. Mammals frequently seen along the road here include Guenther's Dik-dik, Lesser Kudu, Unstriped Ground Squirrel and Gerenuk, a long-necked bush-browsing Gazelle. Journey's end for the next three nights is the Yabello Motel, where Speke's Weavers nest in the gardens.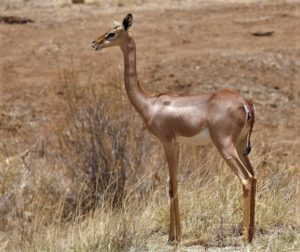 Gerenuk
Days 11 & 12 We have two full days in the Yabello Wildlife Sanctuary, covering almost 200 square miles of dry Acacia savanna and Juniper forest, where we should meet several foraging groups of Stresemann's Bush-crows. Other target birds here are the rare Masked Lark, the wonderful and rare Red-naped Bush-shrike and the equally beautiful Rosy-patched Bush-shrike, along with White-bellied Bustard, Scaly Chatterer, Taita Fiscal Shrike, Straw-tailed Whydah, Short-tailed and Foxy Larks, Yellow-breasted Starling, White-bellied Canary and Northern Grosbeak-canary.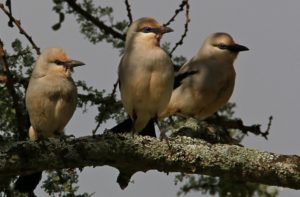 Stresemann's Bush-crows
On one of the evenings here we can also look for Donaldson Smith's Nightjar near Yabello. Dinners and overnights at Yabello Motel.
Day 13 This morning we drive to our next base on the shore of Lake Awassa. Once checked into our hotel we visit the forests and hot springs of nearby Wondo Genet, hoping to find now familiar endemic birds as well as new birds like Half-collared Kingfisher, Narina Trogon, Abyssinian Ground-thrush and Sharpe's Starling. Dinner and overnight at the Oasis Hotel.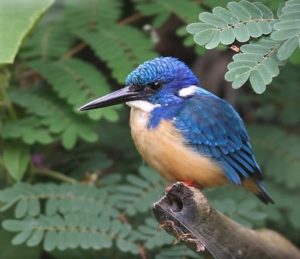 Half-collared Kingfisher
Day 14 This morning, we explore the hotel gardens and adjacent lakeshore. Double-toothed Barbet, Black-winged Lovebird, Spotted Creeper, Slender-billed and Rüppell's Starlings and Vervet Monkeys are usually found in the gardens. Ringed by mountains, Lake Awassa is one of Ethiopia's most beautiful lakes and is rich in birdlife. Along the shores a superb variety of birds can be found including Allen's Gallinule, Malachite and Giant Kingfishers, Blue-headed Coucal and Abyssinian Waxbill, while there are also Hippos in the lake.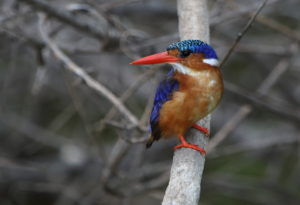 Malachite Kingfisher
From here we retrace our route back towards Addis and head for Awash National Park, a superb area of grassland, savannah and wetlands. On the way we also stop at Lake Beseka and the surrounding black lava fields to look for the rare Sombre Rock Chat, plus Blackstart, Bristle-crowned Starling, Striolated Bunting and troops of Sacred Baboons.
This afternoon we reach our base for the next two nights in Awash National Park and, time permitting, we can look for birds around the lodge. Dinner and overnight at Awash Falls Lodge.
Day 15 Awash is classic African savanna, with good riverine forest and lush hot springs, beneath the distinctive cone of the Fantalle volcano. This is Afar country, where man's earliest known ancestors once walked. A super range of bird species can be found here, and there are also interesting mammals such as Beisa Oryx, Soemmering's Gazelle and Salt's Dik-dik.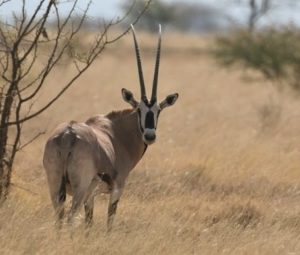 Beisa Oryx
We spend the morning on the Ali Dege Plains to the north where our targets include Somali Ostrich, Arabian Bustard, Spotted Thick-knee, Chestnut-bellied Sandgrouse, Yellow-breasted Barbet, Black Bush Robin, Somali Fiscal and Steppe Grey Shrikes, Chestnut-headed Sparrow-lark and Nile Valley Sunbird among others.
In the afternoon we return to Awash National Park on the lookout for a variety of birds like Lappet-faced Vulture, Buff-crested Bustard, Three-banded Courser, Liechtenstein's Sandgrouse, Red-winged and Singing Bush Larks, Northern Carmine and Olive Bee-eaters, Somali Bulbul, Grey Wren-warbler, Red-fronted Warbler, Shining Sunbird, Chestnut-backed Sparrow-lark, White-headed Buffalo Weaver and Cut-throat Finch. Dinner and overnight at Awash Falls Lodge.
Lappet-faced Vulture
Day 16 After some morning birding around the lodge, and in Awash National Park, we return to Addis, stopping en route in suitable habitats to add a few extra birds to our list.
This evening we enjoy a farewell dinner in a local restaurant, before transferring to the airport for a late night overnight flight home with Ethiopian Airlines (to be confirmed).
Day 17 We arrive at Heathrow early this morning.
Cost £4995  
What the price includes:
Return flights from Heathrow to Addis Ababa with Ethiopian Airlines (to be confirmed) all transport in Ethiopia, fourteen nights' full board en-suite accommodation, reserve entry fees, wildlife checklist and the services of your guides.
Deposit: £1000
Single supplement: £320
Additional information:
The direct flight time between London and Addis Ababa is 7 hours 45 minutes an the return is 8 hours 15 minutes. International visitors to Ethiopia require an e-visa which costs about £40.
It is advisable to be vaccinated against Hepatitis A, Typhoid and Yellow Fever. There is a risk of Malaria below 8000 feet and so prophylaxis is advisable.
We shall be staying in eight different locations, some more remote than others, and all of a good standard.
In November in Addis Ababa, daily temperatures range from 7 – 23°C, with added variation according to altitude. In November in Addis Ababa, no more than 0.4 inches of rain falls, which is roughly one seventh as much as the amount we get in the UK in November, with a 7% chance of rain each day.
We should see over 400 birds and around 30 mammals, with plenty of excellent photo-opportunities.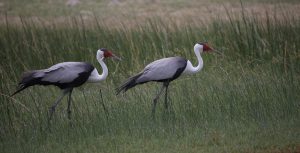 Wattled Cranes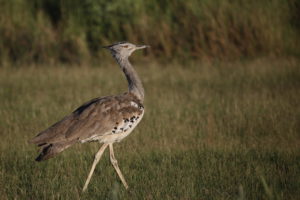 Kori Bustard