Enjoy seeing a stunning variety of exotic birds in a beautiful landscape with a pleasant climate…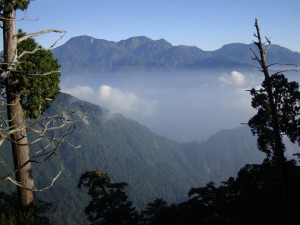 When the Portuguese first arrived in Taiwan, they called it Formosa, meaning the beautiful island. The wonderful scenery is thanks to a spine of forested mountains, which cover almost half of the island, and rise to over 13,000 feet! These mountains are carved by deep river valleys and the resulting topography provides a range of habitats which are home to the second highest bird density on earth! Amongst the 500 or more species recorded here are at least 23 endemics with exciting names like Taiwan Hwamei, Styan's Bulbul, Taiwan Whistling Thrush, Taiwan and Black-necklaced Scimitar Babblers, White-whiskered and Rufous-crowned Laughingthrushes, Collared Bush Robin, Steere's Liocichla, White-eared Sibia and Taiwan Yuhina, plus the stunning Mikado and Swinhoe's Pheasants, and the Taiwan Blue Magpie, which is the national bird of this friendly safe country. Located on the Tropic of Cancer, as well as the East Asian flyway, the island enjoys a pleasant climate in April, ranging from warm to cool according to the altitude, and at this exciting time, the exotic resident birds are joined by thousands of birds from the Asian mainland which is just 62 miles away across the Formosa Strait. So, with all this fantastic scenery and birdlife, along with good food, and an interesting culture, Taiwan has a lot to offer. Throughout a fabulous trip on this amazing bird rich island we shall be accompanied by an experienced local guide.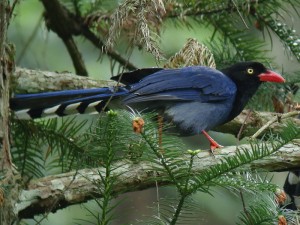 Taiwan Blue Magpie
Day 1 We depart Birmingham or Heathrow on an afternoon/evening flight with Emirates Airlines to Dubai. (To be confirmed once schedules are known). Dinner and overnight in flight.
Day 2 We transfer to a morning onward flight to Taipei, arriving this evening, where we will be met by our local guide and transferred a short distance to our first hotel. Dinner and overnight at the Hotel Riverview in Taipei.
Day 3 We begin this exciting tour with an optional pre-breakfast visit to the nearby Huajiang Wild Duck Refuge, an Important Bird Area which offers a wonderful introduction to birding in Asia, with waterbirds like Eastern Spot-billed Duck, White-breasted Waterhen, Yellow Bittern and Chinese Pond Heron, plus plenty of other possibilities like Red Collared and Spotted Doves, Oriental Turtle Dove, House Swift, Black Drongo, Brown and Long-tailed Shrikes, Grey Treepie, Oriental Magpie, Pacific Swallow, Plain and Yellow-billed Prinias, Light-vented Bulbul, Swinhoe's White-eye, Black-collared Starling and Black-faced Bunting, and all this before breakfast! After breakfast we visit the botanical gardens, home to birds like Taiwan Barbet, Taiwan and Black-necklaced Scimitar Babblers and the magnificent Taiwan Blue Magpie. From here we drive south to Dongshi District via the Xucuogang wetland on the lookout for Chinese Egret, and the Shih-men Reservoir for birds like Taiwan Bamboo Partridge and Taiwan Whistling Thrush. Dinner and overnight at a hotel near Taichung.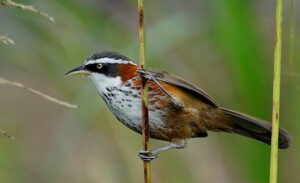 Taiwan Scimitar Babbler
Days 4 & 5 We have the luxury of two full days in the renowned Dasyueshan Forest, where we shall be birding at a range of elevations from subtropical lowlands to temperate coniferous forest at over 6,500 feet. Lower down we are likely to encounter our first Collared Finchbill, as well as Lesser Coucal, Striated Swallow, Lanceolated Warbler and Rufous-capped Babbler. With luck we may also find Grey-capped Pygmy Woodpecker, Bull-headed Shrike, Black-browed Reed Warbler, Middendorf's Grasshopper Warbler and Dusky and Yellow-browed Warblers. Along the roadsides we can hope for great views of Striated Heron, Grey-chinned Minivet and Grey-cheeked Fulvetta, and as we get higher we can also find Bronzed Drongo, Black Bulbul, Striated Prinia, White-bellied Erpornis and the striking Taiwan Niltava, plus White-backed and Grey-headed Woodpeckers and probably the Formosan Rock Macaque. A major star among stars in this forest is the stunning Swinhoe's Pheasant and while waiting for one to show we should also enjoy great views of White-tailed Robin, Steere's Liocichla and Pallas's Squirrel, while a nearby hotspot should produce Taiwan Thrush, Taiwan Yuhina and White-eared Sibia.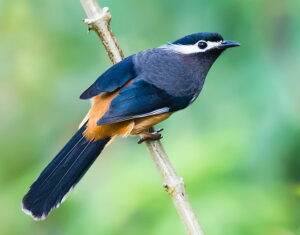 White-eared Sibia
Above our lodge the graceful Mikado Pheasant is a major target and while staking them out along the road, the very confiding White-whiskered Laughingthrush and Maritime Striped Squirrels will no doubt pose for us. Nearby we will be alert for White-browed and Collared Bush Robins, and as we reach the Hemlock and Dwarf Bamboo forest, at the highest points, we may meet the distinctive local race of Spotted Nutcracker, as well as Taiwan Shortwing and Yellow-bellied and Brown-flanked Bush Warblers. Mixed flocks here hold the local crested version of Coal Tit, plus Green-backed and Yellow Tits, Black-throated Bushtit, Fire-breasted Flowerpecker and the cute Rufous-faced Warbler, while all this activity often attracts Collared Owlet. Meanwhile the landscape is breathtaking with distant views of Taiwan's highest peak, Yushan, at over 13,000 feet. The excellent Trochodendron and Pine forest around our lodge is often the best place for Ashy Wood Pigeon, Rufous-crowned Laughingthrush and Brown Bullfinch, while a local waterfall is home to Little Forktail. In the evenings we can search the lodge grounds for Himalayan Owl, Collared and Mountain Scops Owls and the charismatic Red-and-white Flying Squirrel, while the mornings can produce several endemics including Taiwan Barwing, Taiwan Fulvetta, Taiwan Bullfinch, Taiwan Rosefinch, the tiny Taiwan Cupwing and the secretive Taiwan Partridge, plus White's, Dusky, Scaly and Brown-headed Thrushes and Flamecrest. Dinners and overnights at Anmashan Lodge.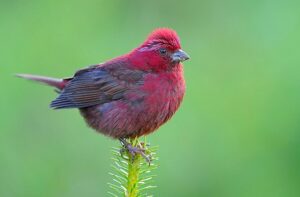 Taiwan Rosefinch
Day 6 After a final morning in this highly productive forest, we drive down to Basianshan in search of lower elevation species including Brown Dipper, Plumbeous Water Redstart, Taiwan Hwamei and Chestnut-bellied Tit. Dinner and overnight in a hotel in Cingjing.
Day 7 Today we drive through the Hehuan Pass in Taroko National Park, on the highest road east of the Himalayas! At over 10,000 feet this is the only place for the endemic subspecies of Alpine Accentor. Dropping down from the alpine areas into Pine woods, we will be on the lookout for Grey-headed Bullfinch, while the heather-like Bamboo will give us a chance of birds like Golden Parrotbill and Taiwan Bush Warbler, plus any species we may have missed at Dasyueshan. We will also keep a lookout for raptors like Mountain Hawk-Eagle. Dinner and overnight in a hotel in Chiayi.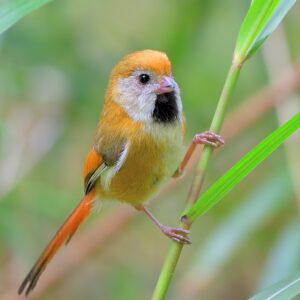 Golden Parrotbill
Day 8 We spend today in the west coast wetlands near Budai, one of the best wintering sites for the rare Black-faced Spoonbill. We can also expect a wonderful variety of other wintering and passage water birds such as Intermediate Egret, Cinnamon Bittern, Ruddy-breasted Crake, Great Knot, Asian Dowitcher, Far Eastern Curlew, Sharp-tailed, Terek, Marsh and Broad-billed Sandpipers, Red-necked and Long-toed Stints, Oriental Pratincole, Gull-billed and Bridled Terns, Black-tailed Gull, Greater and Lesser Sandplovers, Pacific Golden Plover, Greater Painted Snipe and Pheasant-tailed Jacana. Eastern Marsh Harrier and Black-shouldered Kite are also possible along with Oriental Skylark, Golden-headed Cisticola, Vinous-throated Parrotbill and Eastern Yellow Wagtail. After another fabulous day's birding we drive to Kenting on the southernmost tip of the island. Dinner and overnight in a hotel in Kenting.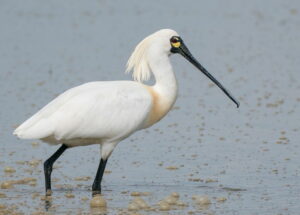 Black-faced Spoonbill
Day 9 This morning we take the early ferry across to Lanyu (Orchid) Island, with the possibility of dolphins, flying fish and seabirds such as Bulwer's Petrel, Streaked Shearwater, Black-naped Tern and Brown Noddy on the crossing. Lanyu is culturally more akin to The Philippines, with local specialities like Taiwan Green Pigeon, Philippine Cuckoo-Dove, Brown-eared Bulbul, Japanese Paradise Flycatcher and a subspecies of Ryukyu Scops Owl (Lanyu Scops Owl) which is endemic to this tiny island. Dinner and overnight in a hotel on Lanyu Island.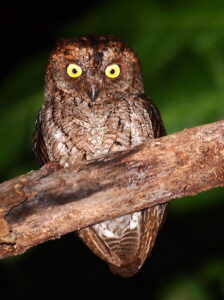 Lanyu Scops Owl
Day 10 After a morning's birding on Lanyu we take the ferry back to the mainland for a visit to Kenting National Park, the last remaining stronghold of the endemic Styan's Bulbul. Dinner and overnight in a hotel in Kenting.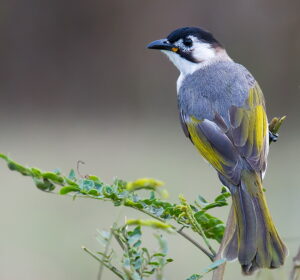 Styan's Bulbul
Day 11 Today we drive north to the spectacular Alishan National Scenic Area, home to raptors like Crested Honey Buzzard, Crested Goshawk, Japanese Sparrowhawk and Black Eagle, plus Common Emerald Dove, Rusty Laughingthrush, Dusky Fulvetta and hopefully, newly arrived spring migrants like Himalayan Cuckoo and Large Hawk-Cuckoo. This evening we can search for Savanna Nightjar and the local subspecies of Brown Wood Owl. Dinner and overnight in a hotel in Guanghua.
Day 12 After a morning's birding in the highlands of Alishan, with another chance for stunning birds like Swinhoe's and Mikado Pheasants, we descend to the Huben area in the western lowlands in search of the spectacular Fairy Pitta. Dinner and overnight in a hotel in Douliou.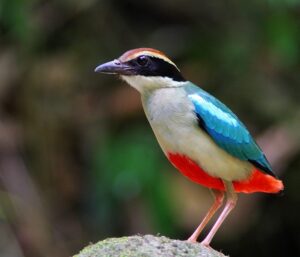 Fairy Pitta
Day 13 After a final morning in search of the Fairy Pitta and other great birds like Malayan Night Heron, Besra and Oriental Cuckoo we return to Taipei for a late evening flight home via Dubai. (To be confirmed once schedules are known). Dinner and overnight in flight.
Day 14 We arrive home this afternoon after a memorable and productive tour of 'the Beautiful Island'.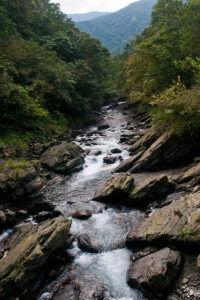 Cost £5375       Single supplement: £575            Deposit: £900
What the price includes:
Return flights from Birmingham or Heathrow to Taipei, via Dubai, with Emirates Airlines (To be confirmed once schedules are known), eleven nights full board en-suite accommodation, all transport in Taiwan, all reserve entry fees, drinking water, field checklist and the services of your guides.
Additional information:
The total flight time to Taipei is around 16 hours 40 minutes, with a stop off en route, according to the airline used.
A visa is not required for British citizens to visit Taiwan.
It is advisable to be vaccinated against Hepatitis A. There is no risk of Malaria.
April is at the end of the cooler dry season when temperatures in Taipei, which is close to sea level, range from 20 – 23°C, although it is obviously cooler at higher altitudes. In April, Taipei receives about 3 inches of rain, which is roughly double the amount we get in the same month in the UK, and there is a 60% chance of rain each day.
We will be staying in nine good mid range hotels, conveniently located near the birding areas.
We can expect to see around 150 bird species including all the endemics, with great photo-opportunities along the way.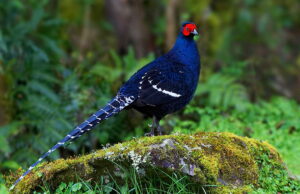 Mikado Pheasant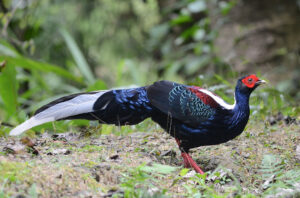 Swinhoe's Pheasant